By Lambert Strether of Corrente.
TPP/TTiP/TISA
"Progressives should not buy into a false and counter-productive narrative that sets the interests of the global poor against the interests of rich countries' lower and middle classes. With sufficient institutional imagination, the global trade regime can be reformed to the benefit of both" [Dani Rodrik, Project Syndicate]. I don't want to be cranky about this, but isn't there a saying about robbing Peter to pay Paul? How about the 0.01%, who are doing very well indeed off the project for the free global movement of capital, take a giant slice of the wealth they extracted from the working people of this country, and give it back. That would be a helpful starting point for "reform to the benefit of both," and an excellent litmus test for the "institutional imagination" Rodrik imputes to them.
2016
Policy
"'She's Baldly Lying': Dana Frank Responds to Hillary Clinton's Defense of Her Role in Honduras Coup" [Democracy Now]. But it she lying, or is she bullshitting?

"I'm the real-life Gordon Gekko and I support Bernie Sanders" [Guardian]. "No candidate other than Bernie Sanders is capable of taking the steps necessary to protect the American people from a repeat of the recent debacle that plunged the nation into a recession from which we have not recovered."

"Statement from Senator Warren on Rejection of Banks' "Living Wills" by Fed and FDIC" (press release) [Elizabeth Warren]. Let me quote a giant slab of it, with a few annotations in square brackets. Nothing here that NC readers do now know, of course:

"There's been a lot of [***cough*** Paul Krugman *** cough ***] floating around lately that the Too Big to Fail banks weren't really responsible for the financial crisis. That talk isn't new. Wall Street lobbyists have tried to deflect blame for years. But the claim is absolutely untrue.

" [and not "shadow banking," as Clinton would have it] . They encouraged reckless mortgage lending both by gobbling up an endless stream of mortgages to securitize and by funding the slimy subprime lenders who peddled their miserable products to millions of American families. The giant banks spread that risk throughout the financial system by misleading investors about the quality of the mortgages in the securities they were offering. The Financial Crisis Inquiry Commission (FCIC) spent years looking into the causes of the crisis and concluded that 'collapsing mortgage-lending standards and the mortgage securitization pipeline lit and spread the flame of contagion and crisis.'

"Big bank executives got rich off that pipeline, but when it all predictably – yes, predictably – blew up, the government lavished their institutions with billions in taxpayer bailouts [including "foaming the runway" with HAMP]. None of those executives lost their jobs in exchange for the taxpayer rescue, and none of them went to jail for the rampant illegal activity that has been subsequently uncovered by the Department of Justice in bank settlement after bank settlement after bank settlement. Some of them, like Jamie Dimon at JPMorgan Chase – whose bank was tagged as a continuing threat to the economy today – are still running the same banks.

" Today's announcement should remind us of the central role that the big banks played in the last crisis – and it is a giant, flashing sign warning us about the central role they will play in the next crisis unless both Congress and our regulators show some backbone, [that is, corruption] that is pervasive in Washington, [***cough ***], and demand real changes at these banks.

I'm not seeing Warren endorsing Clinton anytime soon.
The Voters
"American Narratives: The Rescue Game" [The Archdruid Report]. Fun approach using transactional analysis, although I can't "The Rescue Game" in Eric Berne's admirably trenchant Games People Play, although the roles of Victim, Persecutor, and Rescue occur in many games,
New York
Debate at 9:00PM EST tonight on CNN. Sanders had better bring his best game (which is good) and not lose his temper (since Clinton will seek to discredit him on trivialities). He also should not repeat Clinton's attacks, since that only reinforces them.

"If recent weeks are any indication, Thursday's Democratic presidential debate between Sen. Bernie Sanders and Hillary Clinton in Brooklyn, N.Y., will feature plenty of fireworks" [USA Today].

"Sanders Denounces Supporter's Comment About Corporate 'Whores', in the warmup to Sanders Washington Square rally. (The speaker, Paul Song, issued a clarification almost immediately; his phrasing was "corporate Democratic whores" [Bloomberg].

There's a good deal of pearl-clutching about this in ClintonLand. Some comments: I deprecate the comparison of politicians to whores for a several reasons. First, it's insulting to ladies of negotiable affection. Second, sexual relations simply aren't a good template for political relations, in the same way that a household is not a good template for the government. More crucially, the comparison adds to the confusion about corruption — much of it propagated by the Clinton camp — and not in a good way for Sanders. Most defenders of the establishment tendentiously equate corruption with a quid pro quo; leaving the money on the dresser, as it were. However, as Zephyr Teachout (endorsed by Sanders) urges, corruption is the use of public office for private gain, a practice that's pervasive in official Washington. Playing the whore is a suitable objective correlative for crude payoffs, but not for state-of-the art corruption as practiced in DC today. Goldman's $675K payout to Clinton for three speeches was an investment, and private gain (rather like the cattle futures) that would never have been available to Clinton absent her public office. However, one doesn't invest in a whore. So Song's metaphor, besides being "insensitve," was not adequate to the object of its analysis (corruption) and undercut Sanders message, as well. Not a good look.

"[B]y taking this position that only quid pro quo equals corruption, Clinton supporters are essentially adopting the reasoning of the Roberts court that they claim to abhor – that unless there is direct evidence of overtly trading money for votes, corruption doesn't exist. As Lawrence Lessig has written, Democrats have been slowly embracing this stance for years, but the Clinton campaign seems to cementing it as the party's policy" [Guardian].

"Today, less than a week before the New York primary, the Transit Workers Union Local 100 endorsed Bernie Sanders at a press conference in Brooklyn" [Wired]. "The reason this endorsement matters so much is because it's not just coming from a single powerful individual or publication. The Local 100 is 42,000-members strong. With immediate family included, their reach stretches to roughly 100,000 people. They're already organized, and they understand full well the importance of turning out the vote, as they've done so many times before to protect transit workers' interests in New York City."

"Democratic presidential hopeful Bernie Sanders has a new line of attack against Hillary Clinton tailor-made for New York voters: that she is too soft on hydraulic fracturing" [The Hill]. "Anti-fracking forces in New York are more organized than elsewhere in the country. Community groups popped up several years ago to oppose drilling and fracked gas infrastructure projects in the state and worked to win over New Yorkers and government officials to the cause." Successfully!

"A week after her husband had a tense encounter with black protesters, Hillary Clinton on Wednesday received a lukewarm response from a gathering of black leaders and voters in New York" [New York Times]. Oddly, or not, the story doesn't mention Clinton and Deblasio's humorous skit about "Colored Peoples' Time."

"Aboard the Staten Island Ferry, a snapshot of Donald Trump's New York" [WaPo]. It used to be that reporters would interview the cabdriver. It's my impression that we're seeing more and more reporters interviewing locales and regions, which I think is a good thing.
The Trail
"Verizon CEO Attack on Bernie Sanders Receives Gushing Praise — From Fellow Execs" [The Intercept].

"Jane Sanders: Bernie and I Will Vote Hillary if We Have To" [Daily Beast] (not a direct quote, but in substance correct).

"Bernie Sanders Will Become Democratic Nominee Even If Clinton Leads in Delegates" [HuffPo]. "An iceberg named Hillary Clinton threatens the system of honest graft that provides political power to so many establishment Democrats. Superdelegates and the DNC know that an irreparable fracture within the Democratic Party awaits, if Bernie Sanders isn't the nominee. They'll wait until the last second, especially until after the FBI's decision, to side with Vermont's Senator. Bernie Sanders will win the Democratic nomination, not only because of a progressive political revolution, but also because it's in the political interest of Democratic Party bosses."

Pennsylvania: "43 state House Democrats throw their backing to Hillary Clinton" [Penn Live].

"[A]s a result of the incompetence of his delegate-wooing operation, the Donald's path to a pre-convention majority has narrowed into a tightrope in recent days. Meanwhile, Ted Cruz has been so dominant in the delegate selection process, the Washington Post reports he will likely pick up at least 130 votes in the event of a second ballot — nearly enough to make a Trump victory impossible, barring a fundamental change in the mood of other unbound delegates" [New York Magazine]. But politics, er, trumps the math; a fact this author seems to understand, but many Democrats do not.

"Don't look now but Donald Trump is starting to do some very smart things as he tries to lock up the 1,237 delegates he needs to be the Republican presidential nominee." [WaPo].
Stats Watch
Consumer Price Index, March 2016: "Slowing in shelter prices put the brakes on core consumer prices which, according to the Bureau of Labor Statistics, are no longer on a gradual path of acceleration. The core, which excludes food and energy, rose only 0.1 percent in March following two solid back-to-back gains of 0.3 percent" [Econoday]. "Year-on-year, the core is moving in the wrong direction, down 1 tenth to a 2.2 percent reading that justifies Janet Yellen's doubts whether inflation, not getting much lift from wages, will show much traction this year."
Jobless Claims, week of April 9, 2016: "In yet further confirmation of labor market strength, initial jobless claims fell a very sizable 13,000 in the April 9 week to 253,000" [Econoday]. "This matches the March 5 week for the lowest level since 1973 (a time when the size of the labor market was much smaller)."
Bloomberg Consumer Comfort Index, week of April 10, 2016: "Right when consumer comfort seemed to be at the risk of breaking down, the index rose 1.0 point in the April" [Econoday]. "[C]onfidence readings in general have been holding at firm levels, in contrast unfortunately to consumer spending."
Fodder for the Bulls: "The leading indicators are to a large extent monetary based. Econintersect's primary worry in using monetary based methodologies to forecast the economy is the current extraordinary monetary policy which may (or may not) be affecting historical relationships. This will only be known at some point in the future" [Econintersect]. "Leading Indicators Bottom Line: No recession in the next six months but most suggesting moderate but flat economic growth."
Honey for the Bears: "Yesterday the Federal Reserve released a 19-page letter that it and the FDIC had issued to Jamie Dimon, the Chairman and CEO of JPMorgan Chase, on April 12 as a result of its failure to present a credible plan for winding itself down if the bank failed. The letter carried frightening passages and large blocks of redacted material in critical areas, instilling in any careful reader a sense of panic about the U.S. financial system" [Wall Street on Parade]. Redacted material, eh?
Commodities: "Driven by the rise of battery gigafactories and game-changing Powerwall and energy storage businesses, the world now finds itself at the beginning of a lithium super cycle that is all about securing new supply, much of which is poised to come from lithium superstar Argentina" [Oilprice.com].
Shipping: "Cargo volumes at the nation's West Coast ports appear to be making a comeback from a lackluster year in 2015, reporting gains in the first quarter of 2016 and a hopeful improvement on the export side." [Wall Street Journal, "West Coast Ports Look to Make Comeback in Cargo Volume"]. 2015 being a strike year, "[c]ompared with the first three months of 2014, when the West Coast ports were operating without disruptions, the first quarter of this year saw an improvement of roughly 6% in overall container volume at the Port of L.A.
Shipping: "Thieves targeting California almonds, walnuts " [AP]. "The sophisticated organizations in many cases use high-tech tactics, hacking into trucking companies to steal their identity. Armed with false shipping papers, they pose as legitimate truckers, driving off with loads of nuts such as almonds, walnuts or pistachios valued at $150,000, and some worth $500,000 each."
Media: "There's blood in the pixels again. Since the beginning of last year, media companies with large U.S. digital operations have been shedding employees and even shutting down entirely. In total, more than 1,000 job cuts have been announced over the last 12 months, and industry watchers fear more to come" [Buzzfeed]. "For those cutting jobs — and for those that are still growing — the steady migration of audiences to mobile mega-platforms like Facebook and Snapchat and the abrupt rise of video has businesses scrambling to shift their advertising models."
Media: "If Buzzfeed is screwed, everyone else is REALLY screwed" [Pando]. "To anyone watching, Buzzfeed has already been in the midst of another pivot during the last year– heavily focusing on video. … Internally, this has rankled some of the Buzzfeed New York staff, from what I hear. But the Facebook algorithm is prioritizing video now, so Buzzfeed has to move with it." Hmm. The algorithm has agency?
"Banks look to enter the lucrative business of check-cashing" [AP]. Get rid of those pesky accounts…
"[Bank of America] was one of nearly two dozen companies — including eBay, Burger King and CNN — to say they plan to use the Messenger platform to interact with customers through chat bots, artificial intelligence software that can understand questions and provide answers" [Bank of America]. I'm sure no crapification will be involved.
"The two spoilers in the much anticipated startup downturn? Corporate and international VCs" [Pando]. Lock will expire in under a day…
Today's Fear & Greed Index: 70, Greed (previous close: 70, Greed) [CNN]. One week ago: 68 (Greed). (0 is Extreme Fear; 100 is Extreme Greed). Last updated Apr 14 at 11:05am.
#PanamaPapers
Will Upton Sinclair please pick up the white courtesy phone?
Hope @PrivateEyeNews won't mind a RT on how they got press tax avoidance hypocrisy bang on… Hats off to the Eye. pic.twitter.com/qLPVOmB2e2

— Glen O'Hara (@gsoh31) April 13, 2016
Corruption
"1Malaysia Development Bhd., the troubled Malaysian state fund that's the subject of global investigations, said it could be a victim of fraud if payments of $3.5 billion intended for an Abu Dhabi sovereign wealth fund never made it there" [Bloomberg]. "It's complicated."
"When charter schools close, taxpayer-funded property often goes missing" [Orlando Sun-Sentinel]. To be fair, the losses are in the thousands. But it does make you wonder what a close look at the books would show.
Dear Old Blighty
"Jeremy Corbyn overpays his taxes" [Boing Boing]. If they didn't hate him before, they hate him now!
Militia Watch
"For all intents and purposes, American militias and their supporters act as the de facto armed vanguard of the movement to wrest control of public lands from the federal government" [Gawker]. Tragic, awful, gruesome stories, however; it's as if America has become a distillery that bottles this sort of life: "Carter and his girlfriend, Mandy Sulser, had been living in an RV on Smith's property, a few miles from the Red River (Texas's border with Oklahoma). The couple—both Texans, born and raised—ended up homeless last year after Carter lost his job, Sulser told me. They were living out of her car…"
Water
"Drought-hit Venezuela waits for rain" [Reuters].
"How Do We Get Our Drinking Water In The U.S.?" [NPR]. Explainer (for some definition of "we").
"Drought, suicide and India's water train" [Al Jazeera].
"Coastal cities across the globe are looking for ways to protect themselves from sea level rise and extreme weather. In the U.S., there is no set funding stream to help — leaving each city to figure out solutions for itself" [NPR]. Then again, in Philly: "[G]reen infrastructure is cheaper — especially compared to more traditional engineering approaches like building a large concrete tunnel to hold the extra water. That hole-and-tunnel approach would have cost the city's ratepayers $10 billion and taken decades to complete. The thousands of rain gardens, green roofs, and tree trenches will cost the city around $2 billion."
Gaia
"Next month, the Weather Service will start publishing most of its forecasts, like warnings of extreme weather and daily outlooks, in mixed-case lettering. The agency hopes that the change will make its warnings to the public more effective" [New York Times].
The Jackpot
"Oil companies' coordinated cover-up of climate risks stretches back decades and rivals that of big tobacco companies" [HuffPo].
Class Warfare
"Over the last few years, hedge funds and mutual funds have bought up large tranches of Puerto Rico's bonds at cut-rate prices, hoping the island will pay back its debts in full, thereby giving those financial interests a big payout" [International Business Times]. That gamble, however, has relied in part on the bet that the island will make draconian cuts to social services and worker pensions and use the savings to pay back 100 cents on the dollar to its Wall Street creditors — a bet, in other words, that Congress will prevent the island from simply erasing some of its debt through the kind of bankruptcy protections that are afforded U.S. cities."
"How foreign investors are squeezing out Vancouver's middle class" [The Walrus]. Homes purchased as boltholes or pied a terres and left empty. A global plague of rentiers.
"Very early on, it became clear to me that lower-income respondents minimized the risk of food waste by purchasing what their children like. And often children like food that is calorie-dense and nutrient-poor" [Harvard Gazette]. "It can take children some eight to 15 times to accept the food that they didn't like at first. Vegetables, for example, are a little bit harder to love than macaroni and cheese, and it can take repeated experience to come to like something like mustard greens or Brussels sprouts. The low-income parents were quite attuned to this possibility of waste because their budgets were often so tight that they couldn't take an economic hit in the form of food their children wouldn't eat."
News of the Wired
"Mora-Blanco is one of more than a dozen current and former employees and contractors of major internet platforms from YouTube to Facebook who spoke to us candidly about the dawn of content moderation" [The Verge]. "But as hidden as that army [of content moderators] is, the orders it follows are often even more opaque — crafted by an amalgam of venture capitalists, CEOs, policy, community, privacy and trust and safety managers, lawyers, and engineers working thousands of miles away."
"When a nation is hacked: Understanding the ginormous Philippines data breach" [Troy Hunt]. "[T]he Filipino breach has been very broadly distributed. Not only has it been readily available for download from multiple locations on the clear web, it's been quite extensively torrented too. The genie is well and truly out of the bottle and it won't be going back in."
"Facebook's new login tool lets developers sign up users with just a phone number" [The Verge]. So how long before that's required instead of optional? Could I order a burner phone from Facebook?
"Virus trading cards" [Tabletop Whale].
"What It's Like to 'Wake Up' From Autism After Magnetic Stimulation" [New York Magazine]. Wow.
* * *
Readers, I still need to fix my fershuggeneh contact form! Hopefully noting that fact publicly will serve a lash and a spur to my endeavors. (Meanwhile, thanks to readers, who already have my email address, who sent in images of plants!)
See the previous Water Cooler (with plant) here. And here's today's plant (Furzy Mouse):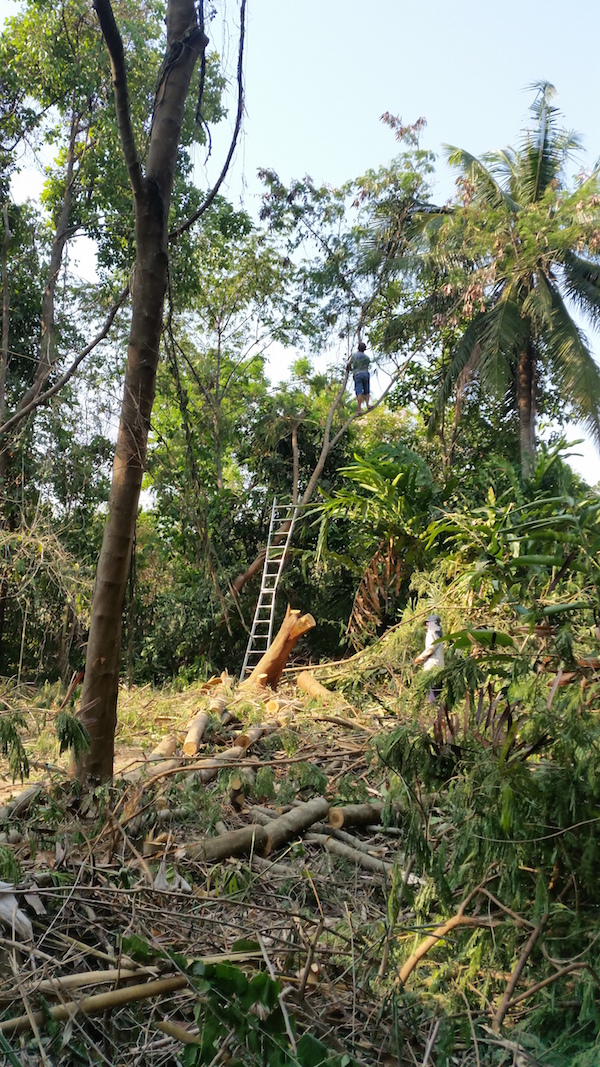 Furzy says "Spring pruning in Thailand." I dunno. "Pruning" seems hardly adequate!
* * *
Readers, Water Cooler will not exist without your regular support. Your tip will be welcome today, and indeed any day. If you enjoy what you're reading, please click the hat!