New Zealand Offshore FSPs are the result of a regulatory loophole that has created a running sore of fraud and money laundering, tainting New Zealand's reputation. Here are pages and pages, four years worth of coverage, from the tenacious New Zealand journalist Gareth Vaughan.
In this post, we will take a walk through one well-documented case that exemplifies the New Zealand Offshore FSP horror, and the reputation risk for New Zealand, and then draw readers' attention to a related but much bigger international offshore scandal, breaking this coming week, "Panamapapers".
Our stalking horse is Breder Suasso Limited, FSP number 360686, and the story starts in July 2014, just when New Zealand's financial regulator, FMA, took over supervision of the FSP register from Companies Office:
Grace Haden, an independent standing for election in Epsom, raised concerns with the regulators about Breder Suasso, which is referred to on overseas websites as a New Zealand bank and as providing banking services, despite not being registered as one here.

She pointed to a photo on the Auckland-based company's website, since removed, which featured a plush reception with an oil painting on the wall. In fact the company has a poky office with room for only a single desk and a line of filing cabinets down one wall.

Breder Suasso admitted the photo was faked for marketing purposes, a detail buried in fine print on the website.

…

Breder Suasso markets offshore accounts to foreigners, telling its clients on its website: "Your account information is kept confidential, our staff highly respect clients confidentiality and secrecy. People will know about your Breder Suasso Account only if you tell them."
Substituting the more specific "tax authorities" for the generic "people" should tell you why that's quite an aggressive marketing angle.
Meanwhile the term "Breder Suasso Account" is as misleading as the faked photo; Breder Suasso is not actually a bank:
The accounts are not its own however, but are set up with Polish Bank Bre Bank
FMA, just beginning to get its eye in to its new duties at that point, took a look and, judging by Breder Suasso's continuing registration, were satisfied that nothing was wrong with any of this.
Next, New Zealand journalist Gareth Vaughan took a seriously deep dive into Breder Suasso in September 2015:
A small office shared with three other companies deep in the bowels of the Outsource IT Tower on Auckland's Khyber Pass Road opposite a reservoir isn't necessarily where you'd expect to find the global headquarters of a financial service provider that claims to be following in the footsteps of three outstanding men from the Dutch golden age.

But this is where you will find what, according to its website, is Breder Suasso's head office. When interest.co.nz visited recently the office was unattended.
Vaughan observes a certain mutability in the business proposition:
Services listed include private accounts, corporate accounts, payment cards and advisory, although the advisory section appears to have been removed from the company's website over recent days.

…

Breder Suasso's website says it doesn't provide services to NZ or US residents, with the latter now having to comply with the intrusive Foreign Account Tax Compliance Act, or FATCA.
It gets cheesier:
There's also a Breder Suasso brochure on NZ trusts. Among other things it says; "The New Zealand Foreign Trust regime is considered to be one of the best if not the best offshore trust regimes in the world today." And; "a properly established trust provides virtually 100% protection against creditors." Plus; "In New Zealand there are many cases of personally bankrupt individuals who have been unable to pay their taxes or have failed in business but who still live in mansions and drive Ferraris owned by their trusts and there is nothing anyone including the Government can do about it."

Other comments in Breder Suasso's NZ trusts brochure focus on property, and obtaining NZ residency.

"You may not have known that property in New Zealand is not taxed for capital gain and that we can obtain loans of 50% of the value of the property. That means that by establishing a trust and buying New Zealand property you can realise long term gains that are tax free." "Buying property in New Zealand can also allow the investors to obtain residency for themselves and their families. Thus the trust can become both an investment, asset protection and migration vehicle rolled into one."

How about mortgagee property?

"We can also assist you in acquiring for sale or mortgagee property in New Zealand, Panama, Las Vegas, as well as opening brokerage, investment, forex accounts or physical precious metal holdings held in the name of your trust."
18 months later, there's been an office move from the embarrassing reservoir-side location, to another serviced office address shared with dozens of other companies, for all the good that will do to the look. The business proposition has changed a lot more, too.
Right now, Breder Suasso just offers bank account opening services and payment cards. The trust and company formation services, the other account opening services and the property acquisition services have all gone, along with the boast about bankrupts driving Ferraris.
There's no sign of Bre Bank any more either, whether under that name, or its more recent manifestation as MBank (it's a Polish subsidiary of German giant Commerzbank). So where are the bank accounts? They can't be in New Zealand: Breder Suasso has no New Zealand clients. The accounts must all be offshore. Up until a few weeks ago, Breder Suasso's corporate account opening service stated that the related account opening agreement was subject to the law of the Marshall Islands. But the brochure has now vanished too.
Meanwhile the Breder Suasso payment card service is a bit hair-raising: up to 100 (or perhaps, just 20: the web site copy is inconsistent) prepaid payment cards may be issued to the employees of any company using Breder Suasso's card service. One wonders what steps Breder Suasso takes to counteract the sort of prepaid card abuse written up here:
Recent ebanking heists — such as a $121,000 online robbery at a New York fuel supplier last month — suggest that cyber thieves increasingly are cashing out by sending victim funds to prepaid debit card accounts. The shift appears to be an effort to route around a major bottleneck for these crimes: Their dependency on unreliable money mules.

…

I've interviewed now more than 200 money mules, and it's hard to escape the conclusion that many mules simply are not the sharpest crayons in the box. They often have trouble following simple instructions, and frequently screw up important details when it comes time to cash out (there are probably good reasons that a lot of these folks are unemployed). Common goofs include transposing digits in account and routing numbers, or failing to get to the bank to withdraw the cash shortly after the fraudulent transfer, giving the victim's bank precious time to reverse the transaction. In isolated cases, the mules simply disappear with the money and stiff the cyber thieves.

In several recent ebanking heists, however, thieves appear to have sent at least half of the transfers to prepaid cards, potentially sidestepping the expense and hassle of hiring and using money mules. For example, last month cyber crooks struck Alta East, a wholesale gasoline dealer in Middletown, N.Y. According to the firm's comptroller Debbie Weeden, the thieves initiated 30 separate fraudulent transfers totaling more than $121,000. Half of those transfers went to prepaid cards issued by Metabank, a large prepaid card provider.
Those are personal prepaid cards. One imagines, though, that the problem is just as acute, if not more so, with corporate cards. Happily, Breder Suasso's web site makes great play of its commitment to comply with "all legal obligations relating to Anti-Money Laundering and Countering Financing of Terrorism (AML/CFT) according to the New Zealand anti-Money Laundering and Countering Financing of Terrorism Act 2009 (the AML/CFT Act)".
Less happily, that stated commitment could all be cosmetic waffle: Gareth Vaughan establishes that Breder Suasso isn't actually caught by the New Zealand anti-Money Laundering and Countering Financing of Terrorism Act 2009 at all:
Breder Suasso, the NZ registered but overseas operating financial service provider that featured in this interest.co.nz article last week, operates outside the territorial scope of this country's anti-money laundering legislation, the Department of Internal Affairs has confirmed.

As noted in last week's article, interest.co.nz had emailed a series of questions to Teodoro De Regibus, who Companies Office records list as Breder Suasso's sole shareholder. A response to the questions, from Breder Suasso's partnerships manager Benjamin Cohen on behalf of De Regibus, was received after last week's story was published.

Among other things Cohen says, "In November 2014, the Department of Internal Affairs fully reviewed our Anti Money Laundering and CFT (countering financing of terrorism) policies with no adverse comments or recommendations of any changes needed to our robust policy of only dealing with low risk clients."
Vaughan adds drily:
The Department of Internal Affairs version of the story is, however, a little different.
Indeed it is:
"In October 2014, the Department initiated a desk based review of Breder Suasso Limited's AML/CFT programme documents. During this review, it was identified that the financial activities conducted by Breder Suasso Limited were not being carried on in New Zealand in the ordinary course of business. On this basis, Breder Suasso Limited's activities were determined to be outside the territorial scope of the Act. In turn, it was determined that Breder Suasso Limited is not captured as an AML/CFT reporting entity in New Zealand," the spokesman said.
So there you have it. Breder Suasso is a registered New Zealand financial services provider, with an ever changing product offering, that doesn't have to comply with NZ AML requirements (but would like you to think that it does), and currently offers no banking services to New Zealand clients, but does offer bank accounts and prepaid cards, somewhere on the planet, possibly via unidentified banks domiciled in the Marshall Islands and mBank in Poland, to unspecified non-New Zealand persons and business entities.
That doesn't look like a particularly transparent or salubrious business proposition. There are a few more pointers.
First, there's this Marshall Islands connection. The Marshall Islands are an interesting tax haven. Their currency is the US dollar, but they mainly crop up as a domicile of entities associated with the post-Soviet offshore finance system, usually alongside Latvia and Cyprus.
So that's where one naturally looks next, and promptly finds Breder Suasso's Latvian company, at another mailbox address, and then, via LinkedIn, Breder Suasso's Cyprus connection: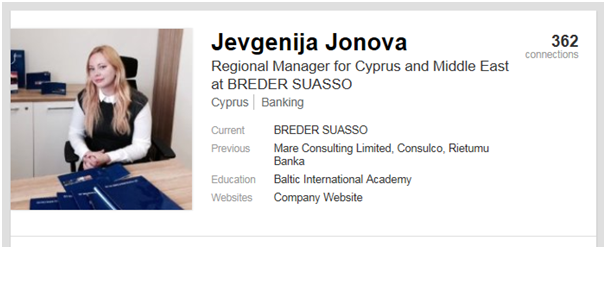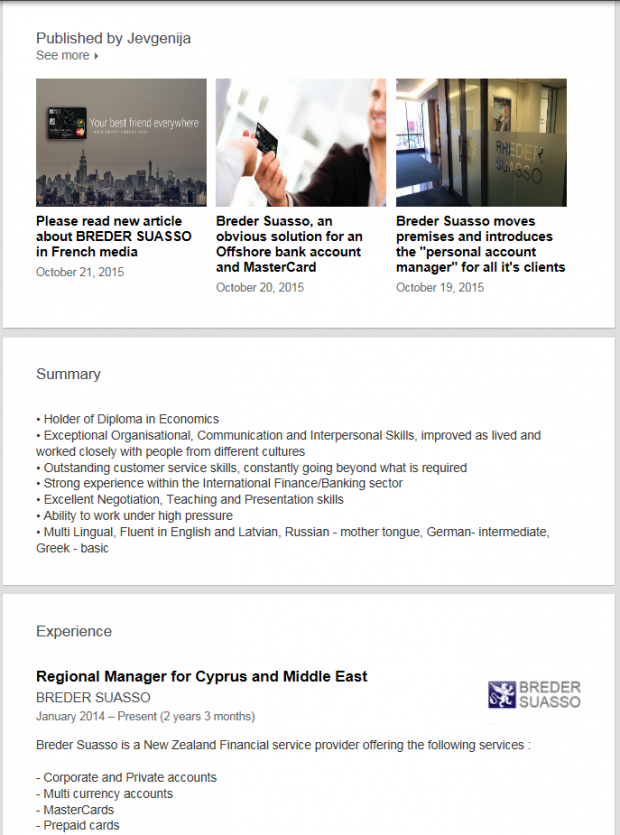 Jevgenija's mother tongue is, unsurprisingly, Russian, and she learnt her trade at Rietumu Banka, which, like many of Latvia's oligarch-controlled boutique banks, has collected the occasional money laundering wristslap from Latvia's financial regulator.
Meanwhile Breder Suasso's subsidiary in Georgia (the US state, not the Eurasian country) doesn't seem to be doing anything much. For instance, it doesn't seem to have a banking licence.
Still, this is enough to make it look as if a lot of what Breder Suasso is doing is connected to offshore finance for Russians, not always the cleanest banking business in the world.
It's possible that Breder Suasso's Polish subsidiary is part of that too, along with Polish mBank. There might be a bit of extra pressure on mBank to be, well, an aggressive business builder at the moment. In January last year, having sold a bunch of Swiss-franc-denominated mortgages to zloty-earning Poles, mBank and other Polish banks were horribly caught out by the instant huge appreciation of the Swiss Franc that occurred when the Swiss announced that they had abandoned attempts to cap its exchange rate against the Euro. In Poland, by August, the whole story had got very political:
Polish banks fell heavily on Thursday after deputies approved a bill allowing homeowners to convert their Swiss franc mortgages into zlotys, a move which could double the cost to lenders to $5 billion.

Poland's financial regulator called for an impact assessment on bank stability if the measure were passed into law.

…

Public opinion is divided over state support for should support Swiss franc mortgage owners, who are mostly well paid professionals.

Shares in Poland's major banks most affected by the proposed changes recovered sharply after Kleina's comments, but at 2:43 GMT were still down by between 6 and 19 percent.

Shares in some of Poland's biggest banks, which are mostly owned by foreign parents, plunged by as much as 24 percent at one stage. Getin Noble, the most exposed to Swiss franc mortgage risk, was still down by 19 percent at 2:47 GMT.

The sector, which includes PKO, BZ WBK, mBank, Millennium, and BPH hold Swiss franc portfolios worth some 144 billion zlotys, or 8 percent of Poland's gross domestic product (GDP).
For the moment, mBank isn't paying a dividend. Its debt is graded BBB- by Fitch, which is just between "good quality" and "speculative". That's not exactly great, for a bank, but not cataclysmic, either; not with Commerzbank backing up mBank.
So anyway…Breder Suasso's business all looks a bit Russian, so far. But there's more: a surprising Francophone connection. Here's Breder Suasso's Brussels department: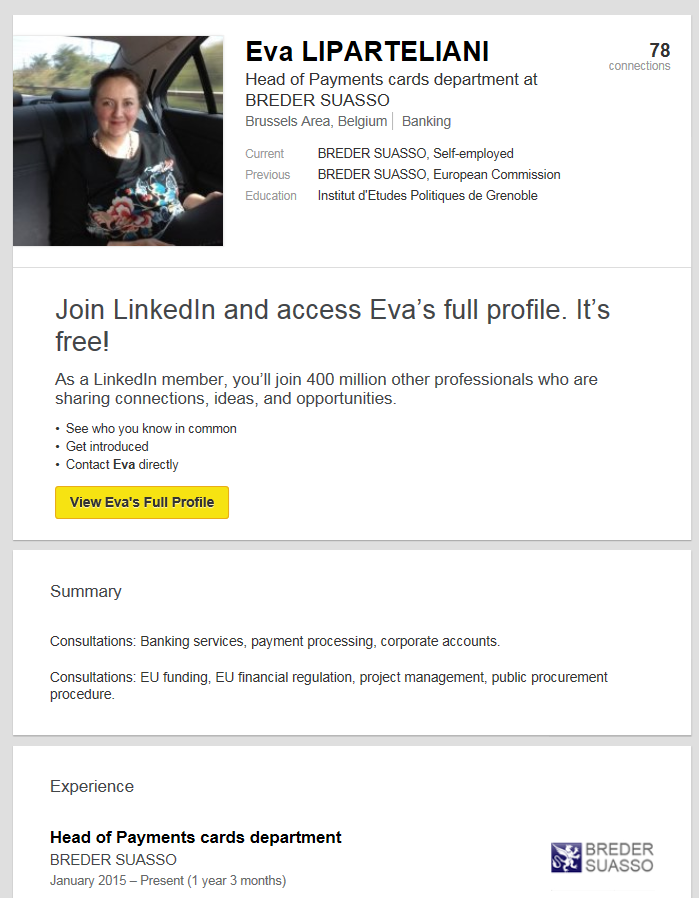 …and some more…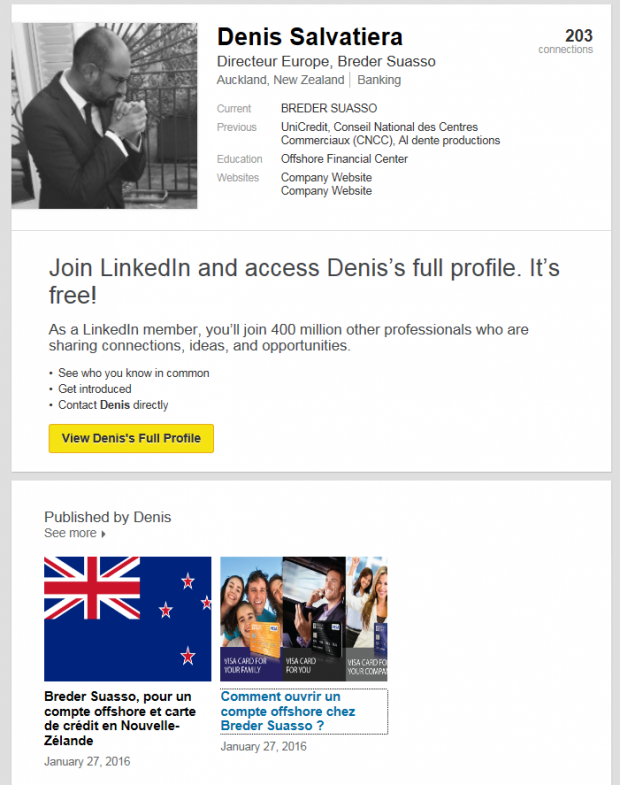 Perhaps, after Swissleaks, there's demand in Francophone territory for something more secure than an HSBC account. From whom: diamond dealers? Dentists? Who knows.
One conclusion involves less guess work: there's damn all indication that Breder Suasso has anything much to do with New Zealand financial services. On the other hand, quite a lot that is nothing to do with New Zealand, and doesn't look all that great, is hanging off that FSP registration.
The least good-looking thing is the resonantly-named Teodoro de Regibus, 100% shareholder of Breder Suasso Limited of New Zealand. Vaughan observes that de Regibus, a resident of Hitchin, UK, according to the New Zealand info on Breder Suasso, appears also to live in Mauritius, where he operates a licensed corporate services firm: Titan Corporate Services Ltd. He's also the sole director of a UK Breder company.
His Hitchin address indicates another bit of pedigree: for 20 years, he was on the board of Mossack Fonseca & Co UK, and of RM Company Services, Mossack Fonseca's UK subsidiary, based in Hitchin. This is of course the same Panamanian Mossack Fonseca found recently on Naked Capitalism supplying companies that facilitated government corruption in Brazil (Petrobras) and Malta (Panamagate) and a giant bank fraud in Moldova. That's barely the start of it: vice.com's 2014 article on Mossack Fonseca, The Law Firm That Works with Oligarchs, Money Launderers, and Dictators has much more. Even that's not the end of it. Coming this week, there's Panamapapers, a huge expose based on a massive email leak from Mossack Fonseca. It may start in Finland, but it certainly won't end there: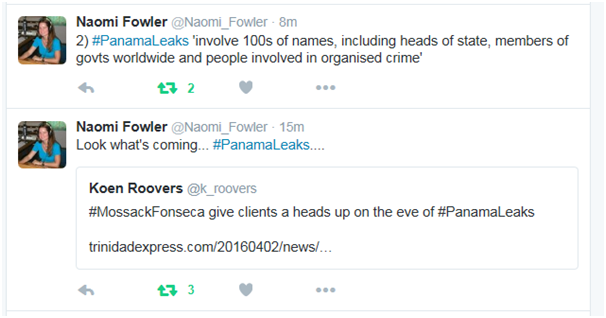 Panamaleaks ties three of this blogger's eccentric long running obsessions, New Zealand FSPs, New Zealand Foreign Trusts, and Mossack Fonseca (especially here and here), into one huge stinky mess.
Intriguingly, Mossack Fonseca are being less than 100% candid with their clients about the age of the data leak. Here, courtesy of Daphne in Malta, is the missive Mossack Fonseca sent out a couple of days ago: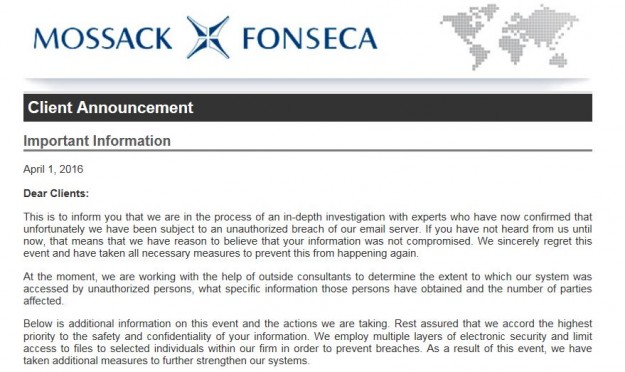 That makes it sound as if the leak has only just happened, doesn't it? But that's just Mossack Fonseca bullshitting its clients. You can read the real story of the leak in a year old post at Naked Capitalism about HSBC CEO Stuart Gulliver's embarrassing connection to a Mossack Fonseca company:
Mossack Fonseca are in it up to their thighs, and Stuart Gulliver has "no idea".

Amazingly, it's now quite likely to get even worse. On the very same day that Gulliver put in his tense appearance at the Treasury Select Committee, the Süddeutsche Zeitung had this (my English):

The Mossack Fonseca Group, of Panama, is a well known provider of shell companies used by tax dodgers and other criminals
Investigators from the USA and other states have obtained the firm's internal documents. Other countries are interested. German tax investigators have bought data relevant to Germany. On the basis of the documents, they are now carrying out raids.
The various groups of officials are operating with selections of firm's records. Süddeutsche Zeitung has all of the data in the internal Mossack Fonseca documents at its disposal, more than 80 Gigabytes. Full evaluiation of the data is nowhere near complete.

There's more:

Thousands of shell companies, registered in the Seychelles, the Bahamas, the British Virgin Islands or in Panama, built by Mossack Fonseca Group, ordered and paid for by Banks, wealth managers and lawyers from dozens of countries, can be found in the secret data on the USB sticks.

…

Clearly, Mossack Fonseca has a problem.

Onlookers can only agree.

It's a spectacular disaster. If, like Mossack Fonseca, your entire business model is predicated on secrecy and deniablity, a massive data leak, including gigabytes of emails, is the one thing that could kill you stone dead.

Mossack Fonseca are likely to find out if it's that bad in the coming months. HSBC and other banks, such as Credit Suisse and Commerzbank (summarizing the German: big tax investigation sparked by the Mossack Fonseca leak), will also have a problem.

For it just so happens that one of the authors of the SZ piece, Bastian Obermayer, is with the ICIJ. This Panama story looks like a natural for one of their leaks series. In fact the current ICIJ "Swiss Leaks" series, featuring HSBC, was the main reason why its execs were suddenly hauled in front of the Treasury Select Committee. Given HSBC's fondness for the Panama connection, 1998-2009 at least, I can't help wondering if there will be a Panama Leaks series soon, and a repeat appearance by Stuart Gulliver before the TSC. I'm pretty sure that even he will have heard of Mossack Fonseca, by then.
Well, Panamapapers has just hit the media, world-wide. Apparently Mossack Fonseca didn't see fit to tell their clients about this well-publicized forthcoming event for a whole year. The unnecessary lack of notice would irritate me, if I was a corrupt head of state, or a person "involved in organised crime". Mind you, as I wrote back in 2011,
…my tip to the fraudsters: you can't trust the Panamanian lawyers that you are dealing with. They are scamming you. If they get into trouble, they will turn you in.
Back in the smaller world of New Zealand FSPs, it's over to MBIE and FMA to figure out what, if anything, needs to be done about Breder Suasso. There might be another wee reputation problem coming round the corner.
And now, it's eyes down for #Panamapapers: for that, follow @icijorg and @occrp on Twitter.
Overview from Süddeutsche Zeitung. The leaks have got a lot bigger: it's 40 years worth of Mossack Fonseca documents.
First of the stories: Putin, in The Guardian (not a huge surprise)
Heads of state and relatives, at the ICIJ
Loads more to come…