By Lambert Strether of Corrente.
Readers, I'll add a little bit more on our exciting election in a bit! Later: Done. –lambert
TPP/TTIP/TISA
"Singaporean Foreign Minister Vivian Balakrishnan was in Washington this week to convince lawmakers of the importance of the Trans-Pacific Partnership. His message: Failure on the part of the U.S. to ratify the deal could be "very dangerous" to America's standing in the Asia-Pacific region" [Politico]. "'What is at stake is American credibility [as in, for example, Vietnam], and there are many leaders in Asia that have gone out on a limb to support the TPP,' he said Thursday afternoon at the Center for Strategic and International Studies. 'If having marched everybody up the hill, you march down now, it would have been better if you never even started on this journey. Getting it passed now is absolutely crucial.'" More from BalakrishanL
[BALAKRISHNAN:] Frankly, my sense of it is at an intellectual level everyone knows it makes sense, it ought to be done. No one seriously argues with me against it at an intellectual level,' he said. 'Yet I know as a politician this is one of those things that people hope gets done but without their fingerprints on it, without having to pay a political price for it. But in life everything meaningful, everything significant does require effort and there is a price to be paid."
Obama, as a lame duck, doesn't have to pay the price, and in fact can cash in, assuming grateful "leaders in Asia" will pimp their local oligarchs for contributions to Obama's Presidential Library (an inherently corrupt institution that should be outlawed and replaced by public archives at the Library of Congress, IMSNHO). Or possibly other reputation laundering efforts.
2016
Policy
UPDATE "Fresh Intelligence: America Expands Its Role in Afghanistan, But Obama Thinks Hillary Can Handle It" [New York Magazine]. "To war-war is always better than to jaw-jaw." –Not Winston Churchill. And then there's this:

As readers know, generally URLs are generated from a post title written by the reporter, and when an editor changes the post title, the URL generally remains the same. Here we have a case of that, and an interesting insight into the hive mind of what Thomas Frank calls the 10%: (1) More troops in Afghanistan is in no way problematic, (2) and Clinton ("Hillary") is, as we used to call Bush, a war-time President. It's also worth noting that the editor just made up the "Obama Thinks Hillary Can Handle It" part. It's pure pom-pom waving. There's nothing in New York Magazine's abstract of the Reuters exclusive that suggests this, and Reuters doesn't even mention her. Churchill also said "In wartime, truth is so precious that she should always be attended by a bodyguard of lies," but we might ask ourself what war is really being fought here, and who is the "her" being protected by lies.

"The future of Sanders' political movement" [Defend Democracy]. Very focused on process. As readers know, I think a critical issue is not process but platform, and the policy details matter less than universality, and everybody (as it were) singing from the same page in the hymnal, albeit with complex harmonies. In fact, the left should have a song, an anthem. A singing congregation cannot be beaten, as Martin Luther knew. And IIRC, the French had one, post-1789.

"Why Hillary Clinton and Obamacare Will Not Solve the Health Care Crisis" [Truth-out].

The Clinton campaign, prompted by Sanders' strong showing and her relationship with the drug and insurance industries, declared war against single-payer this year. Her allies — establishment economists and so-called "left-leaning" (industry-supported) think tanks — promptly followed her lead. These efforts, as Adam Gaffney explains in the New Republic, were attempts "to kill the dream of single-payer," a "cherished policy goal of the left."

There is more that divides liberals and the left than unites them.

"Where Donald Trump and Hillary Clinton stand on 2016's key issues" [Guardian]. Genre piece…
Our Famously Free Press
"It was yet another election day slap in the face for Californians on Tuesday: Hours before voters were to cast ballots that one presidential candidate promised would upend the race, the media declared that the race was actually over" [Los Angeles Times]. Anecdotes from voters on AP's election eve call.

"AP's Clinton 'Victory' Story Breaches Journalism Ethics and Public Trust " [Common Dreams].

UPDATE I didn't run this video, which was making the rounds on Twitter, because I wasn't sure of the provenance. Now the provenance looks good, so here it is:


The images in this Clinton email are labeled "secret win." pic.twitter.com/YR4uCdQTZv

— Christina Bellantoni (@cbellantoni) June 7, 2016

"Secret win." Well, er…. Snopes concludes:

It is true that the Twitter video's claims checked out. The campaign's e-mail was sent out after the 6 June 2016 call by Associated Press, and the embedded image was ambiguously titled "secret-win-V2-060416c_02.png" But "V2" implied at least two versions of the graphic existed, another of which might have shown an entirely different outcome to the 7 June 2016 primaries.

(Yves ran a link to a story from Wall Street on Parade about this in Links, but I'd like to get this completely on the record). Without knowing AP's internal file naming conventions, it's impossible to know whether this shows collusion between the Clinton campaign and AP, or not. If I were running a deadline-driven news organization, it would be worth it to me to prepare graphics for multiple possible outcomes, and in that case "V2" might indeed be a Clinton win, and "V1" a Sanders win. It's a pretty sloppy naming convention, though, because it's not self-documenting, and it's also prone to a fat thumb typing "2" for "1." Readers, just on the off chance: Have any of you ever worked for AP, and do you know what the file naming conventions are?
The Voters
Krugman: "[L]ike it or not, horizontal inequality, racial inequality above all, will define the general election" [Paul Krugman, New York Times]. " cuts both ways. Black and Hispanic support for Democrats makes obvious sense, given the fact that these are relatively low-income groups that benefit disproportionately from progressive policies." I never thought I'd hear a "progressive" call for "race-based political mobilization" as a strategy before, but this has been a wonderfully clarifying election. In a way, one might see Krugman's "horizontal inequality" as the reactionary backlash of a panicked and corrupt political class to Occupy's 1% vs. 99% vertical framing.

"Black voters and the 2016 primaries, Part 3: Turnout for what" [Carl Beijer]. " If a majority or even a plurality [of Black voters] voted for [Clinton] in the primaries, it might make sense to argue that this indicates some kind of significant mandate. As it stands, only a tiny handful of black Americans are voting either way. This could say more about things like barriers to participation in the primaries than it says about what black Americans want, though other polling suggests that they, like most Americans, simply have little confidence or interest in national politics – or that they want even more from their candidates than either Sanders or Clinton were prepared to offer."

"This month, after the primaries are all over, some Sanders supporters will try to answer the question of what's next at an event called the People's Summit in Chicago. The mission of this gathering: to figure out how to turn Mr. Sanders's momentum into lasting change. One of the attendees will be a digital strategist named Winnie Wong. After working with the Occupy Wall Street movement, she helped start the grass-roots group People for Bernie, and has been credited with coining the hashtag #FeelTheBern. She said she saw a connection between the Occupy movement and the Sanders campaign" [New York Times].
The Trail
I've seen Obama looking happier:

"Hillary Clinton's team is moving to shore up an area where she urgently needs help — the campaign has hired Bernie Sanders' director of student organizing to serve as her national campus and student organizing director" [Politico]. Not clear how this fits with "race-based political mobilization." Perhaps they could be asked.

"For better or worse, Clinton's running on Obama's economy" [MarketWatch]. "Clinton herself has said things aren't so hot. She said earlier this year that if elected, she'd put Bill Clinton "in charge of revitalizing the economy." You mean it needs a jumpstart? After eight years of the guy whose endorsement she's been dying to get? … Bottom line: this is still her election to lose. Demographics, the electoral college, 4.7% unemployment and $2.40 gas all work in her favor. The election will likely come down to seven swing states — Florida, Ohio, Virginia, Colorado, Iowa, Nevada and New Hampshire. Obama won all of them four years ago and will campaign heavily for her now. But his 2012 margins were often razor-thin."

Lambert here: 2012 was dull as ditchwater because the body language of the Obama campaign showed he was never behind. But we often forget that Obama struggled to put McCain — McCain! — away in 2008, until the collapse of Lehman put him over the top. We can argue about whose election this is to lose, but we'll know soon enough. I think what is clear is that there are more imponderables this year than at any time since… Since… I don't know when, and I doubt very much that history has stopped throwing us curveballs. Massive gaslighting (as in Bush's 2004 election), election fraud (as in Florida 2000, Ohio 2004, and the 2008 Texas Democratic caucuses), and an October Surprise (playing to Clinton's putative strength in foreign policy): All these are possible, even likely, leaving aside the dogwhistling and scandals. And that's before we get to the fragility of a European system where political and financial risk are very closely coupled, and an increasingly crappy economy here.

"Predicting election outcomes at this point–with all the variables ahead–can be a loser's game. But prediction markets at the moment tilt heavily toward Mrs. Clinton winning in November. One site, PredictWise, which amalgamates a wide array of data–from betting sides to polling averages–now gives a 73% likelihood to the Democratic candidate prevailing in the fall" [Wall Street Journal, "Hillary Clinton v. Donald Trump: A Look at the Numbers"].

"'It's easy for Democrats to attack Mr. Trump,' Turner said. ;You don't get any brownie points from me and other progressives for getting into a Twitter war with Mr. Donald Trump. That's easy.'" [The Hill].

"All the times Warren served as Clinton's attack dog" [Politico]. Warren wasn't looking for brownie points from Turner, however.

"The latest Clinton endorsement? Joe Biden (sort of)" [Los Angeles Times].

"Republican Senator Susan Collins Says She Might Support Hillary Clinton" [New Yorker]. As I've been saying, Clinton wants moderate Republican votes.

"A Republican's praise for Hillary Clinton's nomination" [AL.com]. "Will I be voting for Hillary? No way. Will I get home tonight and talk to my daughter about her? Yes."

US election campaign key dates – via @hunterschwarz @INJO pic.twitter.com/9i4afqnbm5

— Tom McIlroy (@TomMcIlroy) June 9, 2016
California
A lot of the California votes aren't counted. Here's a chart:

Official: 2.6 million ballots uncounted in #CAPrimary including 700k(!!!!) provisional ballots pic.twitter.com/Qv540qXIpC

— Bugei Nyaosi (@bnyaosi) June 10, 2016

And here's an image:

These are Vote by Mail ballots that still need to be counted in Santa Clara Co. Plus whatever comes by Fri #KTVU pic.twitter.com/CSSK2xxpHv

— Janine De la Vega (@JanineKTVU) June 8, 2016

(Those are mail-in ballots.)

UPDATE "Finally today, the L.A. County Registrar-Recorder/County Clerk Dean Logan offers us response to concerns about the seemingly huge number of Provisional Ballots cast during Tuesday's primary" [Bradblog]. A summary, and you can listen to the podcast.
Voter Suppression, Election Fixing, and Fraud
New section. Readers, charges of election fraud are often the first to be hurled by partisans after a close loss, even though they are most incendiary charges that can be made in a democracy, since they discourage political engagement by voters, leading ulitimately to a death spiral. However, as I wrote yesterday, the pattern of voter suppression in the Democratic primaries just past, using low-tech, opportunistic methods at the precinct level, is so pervasive that I think we have to consider the possibility that there may be even worse going on, or to come. So I'm starting this section with some trepidation. I ask you to keep the quality of commentary and links Naked Capitalism-excellent, and that means staying focused, providing lots of sourcing, using your critical thinking skills, proffering no digital "evidence" without clear provenance and a chain of custody, and not citing to sources that would make the blog look bad (to, say, a Democrat oppo researcher [*** cough *** Alex Jones *** cough *** and suchlike]). Don't say "watch the video"; that's assigning work; give a quote or a ideally a transcript. If you're speculating, label your speculations as just that. And if I violate these best practices, you call me out. –lambert

"[Los Angeles] It's not some grand conspiracy, but it's grand theft nonetheless. Sen. Bernie Sanders' voters will lose their ballots, their rights, by the tens of thousands" [Greg Palast] . "There are a mind-blowing 4.2 million voters in California registered NPP [No Party Preference] – and they share a love for sunshine and Bernie Sanders. According to the reliable Golden State poll, among NPP voters, Sen. Sanders whoops Sec. Hillary Clinton by a stunning 40 percentage points." And this is important: "The Sanders campaign was spending time talking policy at giant rallies instead of educating their voters on how to vote. In the rat maze called the American voting system, the painfully amateur Sanders campaign never provided a vote-guiding map.

"Google searches for Hillary Clinton yield favorable autocomplete results, report shows" [MarketWatch].

For example, SourceFed noted in a video on Google's own YouTube service that typing "Hillary Clinton cri" on Yahoo and Microsoft's Bing suggest phrases that link Hillary Clinton to crime. Similarly, typing "Hillary Clinton ind" on Yahoo and Bing suggest phrases that link Hillary Clinton to the possibility of being indicted as a result of her email records.

On Google, however, typing "Hillary Clinton cri" results in suggestions for "Hillary Clinton crime reform" and "Hillary Clinton crisis." Similarly, a search for "Hillary Clinton ind" brings up suggestions on Hillary Clinton and Indiana, independents and India, and not indictment.
At this point, the foily among us will remember that Google's Eric Schmidt has funded a "stealthy startup" working on Clinton's behalf ("The Groundwork"). Here is Vox's debunking of the SourceFed video.
Stats Watch
Consumer Sentiment, June 2016 (preliminary): Consumer sentiment is holding on to its big surge [Econoday]. "And there's acceleration this month in the current conditions component…. Expectations, the second component of the report, did slip but not severely, down 1.7 points to 83.2 which outside of May is still the best reading since August last year. Strength here points to strength in income expectations, especially the outlook for the jobs market." And: "Better than expected" [Econintersect].
ETFs: "Buffett has said that "investing is simple, but not easy." He has also said that "the most important quality for an investor is temperament, not intellect." By that he meant the ability to stay disciplined, ignore recent events and returns, and adhere to your well-thought-out plan'" (FDR, then, like Keynes, would have made a fine investor) [ETF.com] "For investors to be successful, they must understand that, in the market, even 10 years is a relatively brief period. No more proof is required than the -1.0% per year return to the S&P 500 Index over the first decade of this century." The policy implication is that "investing for retirement" as public policy a scam; the time frame is simply too long, unless you're lucky. Now, investing for dynastic purposes is another thing; Buffet's father, after all, was also an investor.
Employment Situation: "Forecasters have sharply lowered their expectations for job growth in the coming year… That is the third consecutive month of lowered expectations for the jobs outlook… If their forecast proves correct, it would be the worst year for job growth since 2010" 2010? Is this a recession call? [Wall Street Journal, "WSJ Survey: Economists Sharply Lower Estimates of Job Growth in the Next Year"]. "'The economy right now is navigating this period where there's going to be lower growth overall and lower profit margins,' said Brian Bethune, an economist at Tufts University." Whenever you hear "the economy," ask "whose economy?" In most cases, the answer will be "Not yours." However, there's always a silver lining: Jobs for economists won't be going away any time soon; they've invested too much in their credentials for that.
Shipping: "Week 22 of 2016 shows same week total rail traffic (from same week one year ago) contracted according to the Association of American Railroads (AAR) traffic data. The improvement seen last week evaporated, and was likely due to the a holiday falling into different weeks between years" [Econintersect]. Oops.
Shipping: "Giant warehouses are springing up across the country as surging online sales send retailers scrambling to find space to house products destined for delivery to customers' homes. Much of the construction is happening in the South, where land and labor are cheap. New warehouses can top one million square feet and contain hundreds of thousands of different types of items" (with handy map, sadly not at the county level) [Wall Street Journal, "Where Are the Warehouses?"].
The Fed, a rare comment from the blogger: "This Bloomberg article highlights the problem with the Fed's communications strategy. The concept of transparency made some sense at the height of the financial crisis when we first visited the zero bound. Nearly eight years later the FOMC would do markets a favor if it did not tell us what it is doing and just let markets figure out what policy actually is. This would make for more prudent risk taking and would lesson the possibility of bubbles" [Across the Curve]. Also, we have the I Ching, haruspication, etc., all of which are cheaper and just as effective!
Today's Fear & Greed Index: 69, Greed (previous close: 79, Extreme Greed) [CNN]. One week ago: 77 (Extreme Greed). (0 is Extreme Fear; 100 is Extreme Greed). Last updated Jun 9 at 12:54pm. Huge drop!
Corruption
"A Beginner's Guide to the Many Investigations Involving Mayor Bill de Blasio" [New York Magazine].
"A California public water district that earned a rare federal penalty over what it described as "a little Enron accounting" loaned one of its executives $1.4 million to buy a riverfront home, and the loan remains unpaid nine years later although the official has left the agency, according to records and interviews" [Los Angeles Times].
"A negative culture almost always organizes itself around secrets that must not be revealed. When that culture is deeply entrenched, trying to reveal what's hidden can be like taking your life in your hands. The shocking demise of New York's Healing Arts Initiative emphasizes the need for nonprofit boards and executives to reinforce the inherent culture of their organizations and consciously build habits of integrity and vigilance that become part of that culture" [Nonprofit Quarterly].
Big Brother Is Watching You Watch
"The FBI has ramped up its use of sting operations in terrorism cases, dispatching undercover agents to pose as jihadists and ensnare Americans suspected of backing the Islamic State, also known as ISIS or ISIL" [Business Insider]. "ritics say that the FBI's tactics only serve to entrap individuals who would never have committed any violence without the government's instigation. 'They're manufacturing terrorism cases,' Michael German, a former undercover agent with the FBI who now researches national security law at New York University's Brennan Center for Justice." Remember: The first one to propose violence is always the cop. And if I were foily, I'd remember that we've already seen how Nevada "journalist" Jon Ralston manufactured a story that Sanders supporters were violent, and put that in the context of the hive mind of our political class preparing future sting operations, say in Philly and/or Cleveland.
Gaia
"But power prices in California fell to their lowest level since at least 2001 last year, and in 2016 so far are trading even lower. The low price of natural gas, thanks to the fracking boom, is largely responsible. But renewables also depress spot prices because those prices are determined by the cost of the fuel source, which for wind and solar is zero" [Reuters].
Class Warfare
"Inspired by Genius: How a Mathematician Found His Way" [Scientific American].
the spirit of Ramanujan does not require finding the next Ramanujan. We would be super lucky to do that, but if we make opportunities for 30 talented people around the world who are presently working in an intellectual desert, or are subjected to inelastic educational systems where they're not allowed to flourish—or if we can provide an opportunity for someone to work with a scientist who could be their G.H. Hardy—then this initiative will be successful.
This is a beautiful interview, well worth a read.
News of the Wired
"Two leaded bronze artifacts found in northwestern Alaska are the first evidence that metal from Asia reached prehistoric North America prior to contact with Europeans, according to new Purdue University research" [EurekAlert].
* * *
Readers, feel free to contact me with (a) links, and even better (b) sources I should curate regularly, and (c) to find out how to send me images of plants (600px minimum, please). Vegetables are fine! Fungi are deemed to be honorary plants! See the previous Water Cooler (with plant) here. And here's today's plant (Diptherio):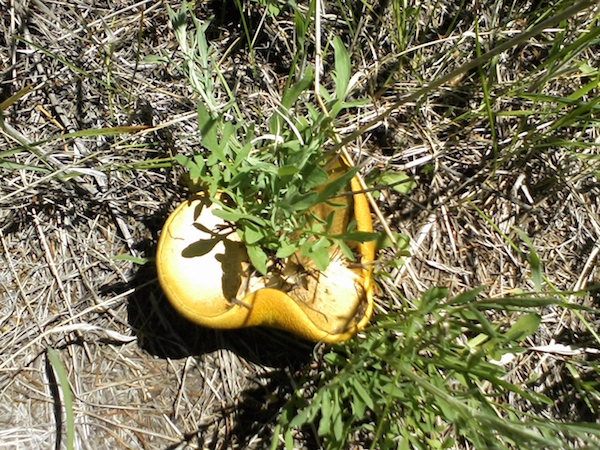 Readers, I'm running out of plants! Whether your intentions are artistic and/or documentary and/or amusing, you know what to do…. I've liked the creativity of plant videos, fungi, stumps, triptyches, and so on, but if your tomatoes are doing well, send them along too!
* * *
Readers, Water Cooler will not exist without your regular support. Your tip will be welcome today, and indeed any day. If you enjoy what you're reading, please click the hat!