To have "skin in the game" is to have incurred monetary risk by being involved in achieving a goal.
"Sovereign Man" is a brand of Simon Black, who is apparently a US national, but a resident of Singapore. Via his website, Black promotes offshore financial services to Americans of a libertarian bent, who share a common creed that shows, in places, a decidedly self-serving nature:
Global economic catastrophe is imminent.
Paper currencies cannot be trusted, but gold is inflation-protected.
Offshore bank accounts are a safe haven from (usually US) government "confiscation".
Tax 'minimization', for instance via asset hiding in offshore vehicles, is tantamount to a praiseworthy form of civil disobedience.
The US IRS doesn't particularly agree with that last bullet point:
Avoidance of tax is not a criminal offense. Taxpayers have the right to reduce, avoid, or minimize their taxes by legitimate means. One who avoids tax does not conceal or misrepresent, but shapes and preplans events to reduce or eliminate tax liability within the parameters of the law.

Evasion involves some affirmative act to evade or defeat a tax, or payment of tax. Examples of affirmative acts are deceit, subterfuge, camouflage, concealment, attempts to color or obscure events, or make things seem other than they are.
Common evasion schemes include:
Intentional understatement or omission of income;

Claiming fictitious or improper deductions;

False allocation of income;

Improper claims, credits, or exemptions; and/or

Concealment of assets.
Libertarian idealist Simon Black also has a Youtube channel. In 2013, the luminaries to be seen there, assisting him in his promotion of international wealth protection schemes at a shindig in Chile, included:
Presumably Mr Farage has followed his own advice, otherwise his video  would be rather hypocritical.
Right now, though, it's not the Eurozone that is the most immediate risk. We're getting set for a messy Brexit: London traders brace for biggest night since 'Black Wednesday', Reuters informs us. No one's really sure what's priced in.
So if Mr Farage is heavily exposed to the British economy, he's taking exactly the same sort of risk, with sterling, that he advises loudly against, with euros. Yet he is surprisingly chilled :
If sterling were to fall a few percentage points after Brexit, so what?
Meanwhile, we already know that the Leave.EU campaign is an expert user of offshore finance. Here is Leave.EU's rather funky Gibraltar structure:
Leave.EU, which has been backed by the UK Independence party (Ukip) leader, Nigel Farage, and describes itself as "Britain's fastest growing grassroots movement", was incorporated in the United Kingdom as a wholly-owned subsidiary of a finance firm based in low-tax Gibraltar that specialises in "international wealth protection".
With that sort of expertise to call on, it's natural to wonder whether Mr Farage has simply followed his own recommendation, got his money out while he can, and stashed his assets offshore: not in euros, and not in sterling either. It's very possible that Mr Farage will be perfectly alright, Jack, in the event of a messy Brexit.
Less well-heeled voters poised to follow his lead, or not, definitely won't have managed their exposure quite so slickly. Around 60 million of us, less a few, have all our skin in this game.
From last week's "Brexit Flotilla", an event that neatly encapsulates the insanity of this miserable referendum, here's the same gentle warning, in pictorial form, via an apposite bit of opportunistic photo cropping: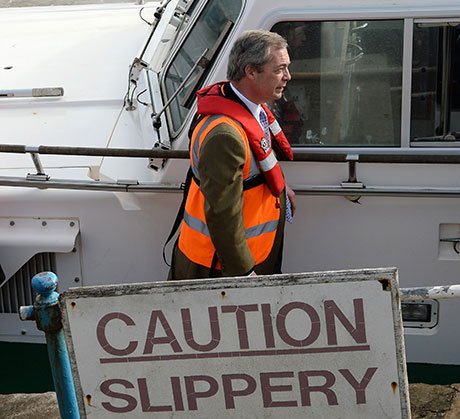 If we knew for sure his money's where his mouth is, it would help us all to make our minds up about the meaning of Mr Farage's sanguine assessment of Brexit risks. There's still a couple of days before the vote: enough time for him to level with us.