Yves here. You have a LOT of links today because there were SO MANY election links, and I still wanted to do a reasonable job of covering the other bases.
Baby elephant which saved a British schoolgirl from tsunami has been found Thai PBS (furzy)
Is it time to rethink the lab mouse? St. Louis scientists say yes St. Louis Public Radio
Dogs were domesticated not once, but twice… in different parts of the world, research shows PhysOrg (Chuck L)
Existential Therapy from the Universe: Physicist Sean Carroll on How Poetic Naturalism Illuminates Our Human Search for Meaning Brain Pickings (Chuck L)
The world is about to install 700 million air conditioners. Here's what that means for the climate Washington Post. I once stayed in a friend's apartment in NYC on some hot days and his a/c died. I found that sleeping with the Vornado (very powerful fans for their size) close to me was cooler than having the a/c on, and I would assume used less energy. But there still was an energy cost.
Scotland Bans Fracking, Forever OilPrice
Internet Boom Times Are Over, Says Mary Meeker's Influential Report Bloomberg (resilc)
Sketchy genetic algorithms are the worst Cathy O'Neil
Samsung: Don't install Windows 10. REALLY The Register (furzy)
"Noncoding" RNA molecules found to create micropeptides SOTT (Wat)
I Had to Leave the U.S. to Stop Pretending to Be an Extrovert Salon
Negative-yield debt breaks $10tn level for first time Financial Times. Madness.
THE QUALITY OF EUROPEAN UNION JUSTICE – HOW TO DISMISS ROSNEFT'S CHALLENGE TO THE LEGALITY OF SANCTIONS John Helmer
Refugee Crisis
Greek detention centre burns in riot between Afghans and Pakistanis euronews (furzy)
Netherlands Is the Tax Haven of Choice for Global Arms Dealers teleSUR (guurst)
France is protesting against Europe Defend Democracy
Paris floodwaters set to peak as more rain forecast BBC
Brexit?
Brexit fears loom large for Fed meeting Financial Times

Support for Brexit is no longer a minority viewpoint on the British left British Politics and Policy at LSE

How Will 'Brexit' Vote Go? Monty Python May Offer Clue New York Times
Syraqiatan
Reuters – U.N. adds Saudi coalition to blacklist for killing children in Yemen euronews (furzy)
Imperial Collapse Watch
Memorial Day Crocodile Tears from Those Who Create Wars by Walter Brasch Dandelion Salad (Judy B)

How U.S. Invasions and War Have Exacerbated Slavery in 3 Countries Alternet

The Truth About Populism and Foreign Policy Foreign Affairs (furzy). What I find remarkable is that the insiders find it necessary to straw man Trump when he has handed them plenty of poorly worked out and even batshit ideas to attack. For instance, this article cites poll data saying 77% of Americans think staying in NATO is a good idea and therefore a President needs to respect that. First, presidents can and do move opinion. But second, Trump has not said the US should leave NATO. He wants the other members to carry more of the costs.
Trade Traitors
Jeremy Corbyn: I Would Kill TTIP Common Dreams (furzy)
2016
20,000 Commit To Anti-Hillary Occupy DNC Daily Caller (martha r)

Sanders picks up more superdelegates Politico (Bill C)

Why Bernie Sanders Is the Best Candidate for Senior Citizens Hollywood Reporter (martha r)

Why the Latest California Poll Should Make Clinton Worry Vanity Fair (martha r). Sanders comes close to even with Clinton among Latino voters.

Sanders Takes LEAD Over Clinton In California George Washington. But look at detail. And that's before you get to vote suppression.

A Sanders win in California could mean 'summer of agony' for Clinton USA Today (martha r)

Jerry Brown's Misleading Clinton Endorsement Medium (martha r)

Placebo Ballots: Stealing California From Bernie Using an Old GOP Vote-Snatching Trick Greg Palast (martha r)

The Real Numbers: New Jersey! John Laurits (martha r)

Why New Jersey Needs Bernie Sanders Common Dreams (Judy B)

is hillary owned by the large corporations? UNU Martha r: "This is a bit of fun–a hive mind exercise. Click if you are curious to see how this question was answered."

ANCA-Western Region Endorses Sanders for the upcoming Calif. Primary Mirror Spectator (martha r)

Trump risks US nuclear war, claims Clinton Financial Times. Huh? She is the one who wants to escalate in the Middle East and is considering Victoria Nuland for Secretary of State, which virtually guarantees a hot war with Russia. This is sheer projection. She accuses of him of risking a nuclear war…by alienating England, Mexico, and the Pope?

Clinton's Foreign Policy Speech Marred by Inherent Contradictions Common Dream (furzy)

Waiting for California and the FBI Common Dream. (furzy). Watching the Clinton decay path.

I felt a shudder down my spine yesterday watching Donald Trump's fusilade against the press. Dan Rather, Facebook (furzy). The press create Trump and they need to stare him down. The courts are so insistent on free speech for corps that they can't restrict it for the press. But yes, this is ugly and the press needs to nip this in the bud.

Republicans Stunned After Trump Reveals That His Presidential Campaign Is Broke PoliticusUSA (furzy). Not sure the Dems running attack ads between now and the R convention will make a lasting impact, since the undecided don't make up their minds till after Labor Day.

Chuck Todd: Donald Trump's behavior at presser 'borderline irresponsible' Today. I said earlier that the biggest event risk for Trump is Trump. He continues to attack Republicans and thus alienate donors. Does he really want to win?

Protestors and Supporters Brawl Outside Donald Trump Rally in San Jose Gawker. Seriously not good. Crowd attacked Trump supporters. Notice, when there was actual violence, it does not appear that the press is calling it "violence"?

Win another one for The Gipper? Newspaper endorses Reagan for president CNN (furzy)

Wasserman Schultz's Challenger, Tim Canova, is Even More "Pro-Israel" Than She Is Counterpunch (martha r). *Sigh* So he as a wart. He actually favors a Palestinian state. Support for Israel is fading regardless. Younger Jews don't identify with it.
Thanks to Activism And Sanders, Obama Changes Course on Social Security Common Dreams (furzy)
The Occupy movement has grown up — and looks to inflict real pain on big banks Washington Post. I'm dubious, given that Trumka of AFL-CIO is involved. Wonder if this is to suck the air supply out of the Sanders activists who also intend to target down-ticket races in 2018. As a long-standing observer of the political scene told me, "Never trust the American labor movement" meaning the leadership.
SEIU Endorses Single Payer (Kevin C)
Getting federal stimulus money turned blue U.S. counties bluer, and red counties redder. How can that be? Washington Post (furzy)
Lunch with the FT: James Baker Financial Times. If nothing else, read penultimate paragraph.
Corruption
Taxpayers wasted billions of dollars on a war on cocaine that didn't work, economists say Washington Post (guurst)

Connecticut Groups Call For Dan Malloy To Remove Insurance Regulator In Anthem-Cigna Merger International Business Times
Fed
Federal Reserve to toughen stress tests for big US banks Financial Times. This claim is bullshit: "Fed governor Jerome Powell said the central bank's move — which is likely to take effect in the 2018 stress tests — would make big banks 'fully internalise the risk' they pose to the economy." Andrew Haldane demonstrated in his 2010 Bank of England paper, The $100 Billion Question, which we've cited repeatedly, that banks cannot begin to pay for the damage they do to innocent bystanders via periodic crises. And Haldane argued that the implication was that they needed to be prohibited from doing crisis-inducing things.
UC paid billions in fees to hedge funds that only mirrored stock market San Francisco Business Times
New Payday-Loan Rules Won't Stop Predatory Lenders Dave Dayen, Intercept
Jamie Dimon says there's stress in the auto-loan market — but there's a problem with that Business Insider. Notice the argument does not obviate Dimon's point.
Evidence of hidden protectionism in the US in the Great Recession VoxEU
Shocking Downturn in New York ISM, Chicago ISM Merely Pathetic Michael Shedlock
Billionaire Steve Schwarzman just went off on the Dodd-Frank Act Business Insider. After his firm was fined $39 million under Dodd Frank, which is couch lint for him (particularly since Blackstone is public and I can't imagine the fine had any impact on the share price).
A 'tsunami' is about to overwhelm the debt market Business Insider
Class Warfare
To Pay for Subsidies to Massive Corporations, States Are Waging War on Poor Families Common Dreams (furzy)

L.A. County Is Proposing To Tax Millionaires In Order To End Homelessness LAist (Qyrs). Someone needs to send the memo to San Francisco and New York City.

Nonprofit Hospital Stops Suing So Many Poor Patients: Will Others Follow? ProPublica (furzy)
Antidote du jour. Chet G sent several fine butterfly photos. This one is a painted lady: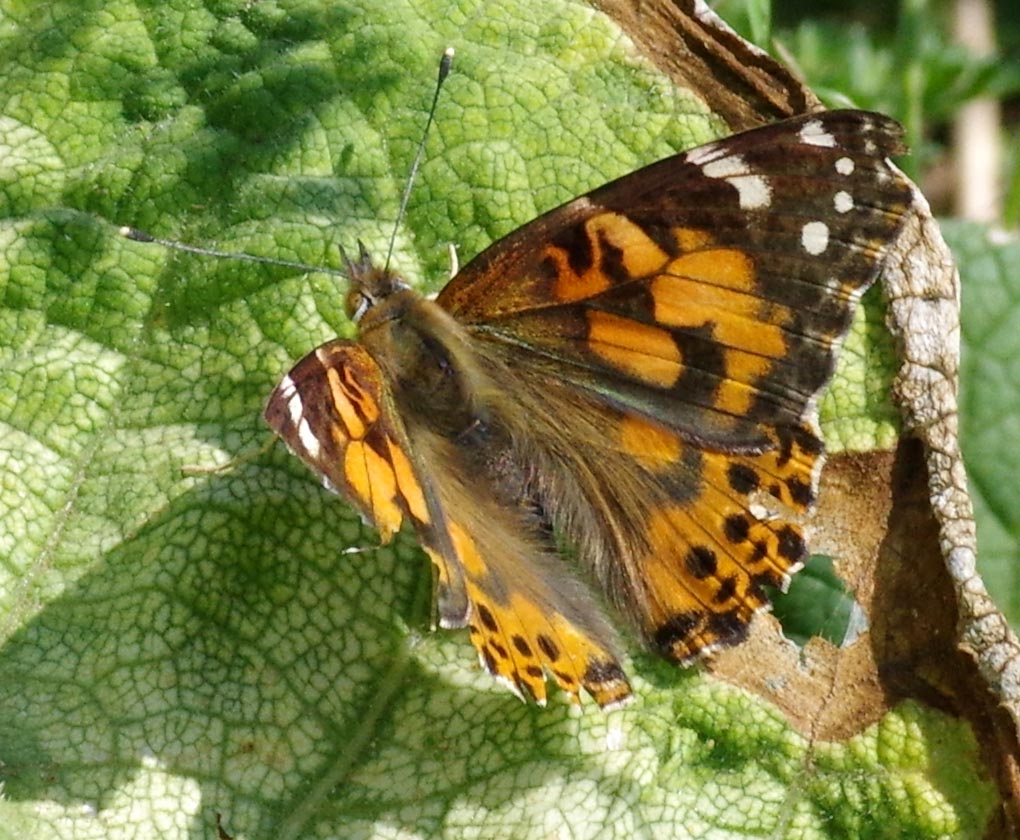 See yesterday's Links and Antidote du Jour here.