By Lambert Strether of Corrente.
2016
Policy
"Donald Trump Sets Conditions for Defending NATO Allies Against Attack" [New York Times]. Somewhere along the line, the Democrat liberal goodthinkers in the administrations decided that pushing our sphere of influence right up to Russia's border — and underlining that with troops and missiles — was a splendid idea, and that defending Latvia was worth a nuclear war. Who are the crazy people, pray tell? (For Clinton's decision-making on war, see here.)

UPDATE "[T]he Republican Party of Donald Trump is one that is openly sparring with the U.S. Chamber of Commerce. It has moved away from the party's long-held beliefs on free trade agreements and immigration. It is not in favor of reining in Social Security and Medicare benefits in pursuit of more fiscal balance. It thinks the biggest foreign-policy gamble by the last Republican president, a war in Iraq, was a horrible failure" [Wall Street Journal, "Republicans Face a Fundamental Question as Donald Trump Remakes Party"]. "These aren't small departures."

"'There has been some added components to [the platform] that reflect the issues that Mr. Trump has raised during the course of the campaign,' [Trump campaign manager Paul] Manafort said during a press briefing at the Republican National Convention here. "We also call for reintroduction of the platform of Glass-Steagall so that would create barriers between what the big banks can do and avoid some of the crisis that led to 2008. … The Obama-Clinton years have passed legislation that has been favorable to the big banks, which is why you see all the Wall Street money going to her" [American Banker]. It will be interesting to see if "Mr. Trump" takes up this theme.

"Gary Johnson says auditing the Fed would cause a 'worldwide panic,' praises the gold standard" [Independent Political Report]. 
Money
"Nine years after Hillary: The Movie, [David Bossie of Citizens United Fame] now is turning one of the biggest weapons of the post-Citizens United era on Clinton. He's the newly installed leader of the Defeat Crooked Hillary PAC, a super PAC funded largely by hedge-fund billionaire Robert Mercer that plans to merge cutting-edge technology and old-fashioned opposition research in a push to sink the Democrats' presumptive presidential nominee" [USA Today]. Pass the popcorn.

"Guest List Offers a Glimpse of the Money Behind Donald Trump" [Bloomberg]. Here are the lists. Enjoy!

"Big-name donors skip Trump event" [Politico]. "A motley assortment of friends are writing checks to the presumptive GOP nominee." Let me translate "motley assortment": Not in my Rolodex.

UPDATE "Peter Thiel's Embrace of Trump Has Silicon Valley Squirming" [New York Times]. From the Department of Schadenfreude….
The Voters
"Will the Rust Belt ever be great again?: Bill Sternberg" [USA Today]. Editor of USA Today interviews voters in bellwether Stark County, OH. 

"Why I'm betting $100 that Hillary Clinton will be a one-term president" [Felix Salmon, Fusion]. "The most interesting Twitter account to follow during these conventions is probably that of Chris Arnade, a financier turned photographer who has been doing an amazing job both of documenting and understanding the anger and frustration of the non-elite, and of explaining it in terms the elite is likely to understand:

Frustrated with broken promises, [Trump voters] gave up on the knowable and went with the unknowable. They chose Trump, because he comes with a very high distribution. A high volatility. (He also signals in ugly ways, that he might just move them, and only them and their friends, higher with his stated policies).

Salmon continues:

[Clinton's] technocratic agenda may or may not be a good idea, but it's not going to resonate with the angry and downtrodden people who see inequality constantly rising and who have nothing to lose by revolting, simply because they have nothing to lose. Those Americans are not all old, and they're not all white, and they're not all Republicans.

Donald Trump has reinvented the Republican Party as the party of the angry and the righteous; his successor will be able to harness that anger to kick Hillary Clinton out of the White House. The Republicans might be a mess right now, but they will be much more powerful, and just as angry, in four years' time. And there's nothing the Democrats can do to stop them.

"A federal appeals court on Wednesday ruled that Texas' voter identification law, one of the strictest in the country, violated the Voting Rights Act and that the state must find ways to accommodate voters who face hardships in obtaining the necessary documents" [New York Times]. This is big, but if the Democrat Party considered voter registration as a year-round party-building function, including getting IDs for the people who don't have them, this wouldn't even be an issue. Of course, they don't, because their goal is not to increase their electorate, as their reaction to the voters Sanders brought in shows.
Conventions
"All Trump has to do now is deliver the speech of his life" [New York Post].

"For Donald Trump's Big Speech, an Added Pressure: No Echoes" [New York Times]. Teeing up the narrative… 

"Cruz gets booed after he declines to endorse Trump" [Politico]. "When it became clear that Cruz was not was not offering a direct endorsement, the crowd broke out in boos that continued for the balance of Cruz's remarks, shouting 'We want Trump' as Cruz wrapped his speech." Whereupon the Democrat Party establishment embraces Cruz, praising his commitment to principle, badassery, and so on. Same people, of course, who were screaming at Sanders to get out of the race. I'm having a hard time remembering a party faction, on either side of the aisle, that's more entitled, or more nimble on what's principle and what isn't, and my political memory goes back to Reagan. Sorest winners in the history of the world, too.

UPDATE "Even before the speech, Cruz had traveled around Cleveland as if holding a parallel convention, meeting with delegates who had supported his unsuccessful candidacy. Ohio Gov. John Kasich, the third of the final three candidates in the race, did the same, both men essentially questioning the legitimacy of Trump's standing. Kasich, the home state governor, refused even to attend the convention" [Los Angeles Times].

UPDATE Shorter: Losers. More: "Cruz's speech had the feel of Ronald Reagan's famous 1964 address, 'A Time for Choosing." The appropriate trope, from Lloyd Bentsen's famous riposte to Dan Quayle: "Senator, I served with Jack Kennedy Ronald Reagan. I knew Jack Kennedy Ronald Reagan. Jack Kennedy Ronald Reagan was a friend of mine. Senator, you're no Jack Kennedy Ronald Reagan." In fact, this snowclone is such a well-known cliche that it's remarkable, or not, that the political press has not deployed it.

"Cruz aides made late push for Trump endorsement" [The Hill]. Rice bowls at stake, and just as good an indicator of Cruz's future chances as the effusions of the Democrat nomenklatura.

UPDATE "When Cruz [at a rally for his own supporters in Cleveland] did allude to the presumptive GOP standard-bearer – 'our party now has a nominee' – raucous booing erupted for about 20 seconds. And in another bizarre twist in a campaign that has had more than its share, Trump's plane with his name painted across its fuselage zoomed overhead at that very moment" [McClatchy]. Another one for the Department of Schadenfreude….

UPDATE "Ed Martin looked around his Missouri delegation and didn't recognize half the people. Veteran North Carolina politicos said the same thing about the contingent from their state. … Delegates sit in their seats during the speeches, rather than engage in the usual lingering and mingling that's always been a staple of these affairs. … Looking for a familiar face? Nominee Donald Trump may be a star in his own right. But on the convention floor, there aren't a lot of recognizable faces among the 2,472 delegates. … This is Trump's convention, all right, a gathering of outsiders and political renegades [McClatchy]. Republican focus grouper Frank Luntz noticed the same thing: People sitting in their seats to actually listen to the speeches.
The Trail
"'One of the things I've been concerned about this week is we're all sitting in our bubble, having a good laugh at this total, as you said, sh*tshow, but the truth is that this plays to a lot of people that he has to win to become the next president,' Moore said of the chaos that has unfolded at the Republican National Convention, like when the crowd starting screaming about locking up Hillary Clinton [HuffPo]. See, I get email from WaPo with the subject line: "How Ted Cruz stole the show." And then I actually read the mail (for a change) and it says that Cruz was "booed off the stage." So who thinks he stole the show? Not the delegates, of course, but the political class. So, my goodness, I was wrong when I trusted a headline that a WaPo editor wrote. Some days, I wish the Acela would go off the rails and catch fire, with all the political class on it (with one or three honorable exceptions, of course. But still).

"Melania Trump on Her Rise, Her Family Secrets, and Her True Political Views: 'Nobody Will Ever Know'" [GQ]. From April 27, but no doubt Brock has been poring over it.
Stats Watch
Leading Indicators, June 2016: "[A] moderately positive view of the economy going into Brexit" [Econoday]. "The LEI rose 0.3 percent in June led as always [!!] by interest rates, where strength is underpinned by the Fed's low rates, and also by unemployment claims which fell in June and are falling further in July. Building permits are also a plus, and may be next month as well based on incoming housing data, as are stock prices which also may be a plus in July based on the market's current climb." But: "Econintersect believes the USA economy is barely expanding at Main Street level, and the growth rate has been declining" [Econintersect]. Handy charts. And notice the potential for financial manipulation at various removes: Interest rates, stock prices, building permits. None of that is "Main Street."
Philadelphia Fed Business Outlook Survey, July 2016: "The Philly Fed is a widely read report for leading indications on the manufacturing sector but maybe they should consider offering a composite headline index as well as the general business conditions index. The latter, based not on a composite of components but the answer to a single subjective question, came in at minus 2.9 for July in contrast, for a second month in a row, to readings in the body of the report" [Econoday]. "The headline in this report has given two straight head fakes, showing strength in June that was not supported by the details and now weakness in what looks to be a very strong July. Taken all together, this report is offering hints of life for a factory sector that, held back by weak exports and trouble in the energy sector, has been no better than flat this year." Hints. And: "The Philly Fed Business Outlook Survey fell into contraction. Key elements significantly improved and returned to expansion. The only other manufacturing survey released so far for this month was in expansion" [Econintersect]. "This is a very noisy index," and sentiment-based. But: " As is the general case, this indicator rose with the oil capex boom then peaked with the collapse in oil capex, and remains in negative territory" [Mosler Economics]. I suppose in a capitalist economy, it would make sense to look at capital allocation.
Chicago Fed National Activity Index, June 2016: "June was a healthy month for the economy led by a swing upward in production and a bounce back in employment" [Econoday]. "June was an important month for the economic outlook, reaffirming strength following what looked like ominous weakness in May."
Jobless Claims, week of July 16, 2016: "Where are auto-retooling layoffs this summer? That's the question, one that may or may not be holding down new jobless claims which are holding at the lowest levels of the recovery and in the history of the series as well" [Econoday]. Here is stat-by-state data [Market News].
Bloomberg Consumer Comfort Index, week of July 17, 2016: "Volatility is appearing in the consumer comfort index which reversed the prior week's surprising surge with a nearly 2 point drop" [Econoday]. "The prior result did not point to much of any Brexit effect on the American consumer while the latest result possibly does." 
Household Income: "And the June 2016 median is now 1.1 percent lower than the median of $57,826 in January 2000, the beginning of this statistical series [from Sentier Research]" [Econintersect]. Best economy ever!
FHFA House Price Index, May 2016: "Home sales have been on the rise and price concessions are likely part of the reason. The FHFA house price index rose only 0.2 percent in May for the weakest performance since August last year and one of the weakest of the whole recovery" [Econoday].
Existing Home Sales, June 2016: "The housing sector is showing traction as existing home sales extended May's gain, rising 1.1 percent" [Econoday].
Housing: "One in 4 online home searches originating in the San Francisco Bay Area is for a place in a faraway city, shows research published by online real estate brokerage Redfin, up from 1 in 7 in 2011" [Bloomberg]. 
Political Risk: "As the U.K. pursues its painful divorce from the European Union and Japan struggles to breathe new life into its economy, Goldman Sachs is urging investors to "take refuge" in S&P 500 SPX, -0.32%  companies with minimal exposure to international sales" [MarketWatch]. 
Political Risk: "'If we were forced to make a choice between access to the British market and preserving the common market in Europe, we would go for the common market,' said [Frank Dollendorf, director of economic affairs for the Bavarian Chamber for Industry and Commerce]" [Guardian]. "A majority of medium-sized and large companies indicated support for the EU taking a hardline stance against Britain after the referendum, with 56% saying they were in favour of the advantages of EU membership being revoked for the UK. The study also shows 58% of German business and political leaders surveyed said they believed an exit from the EU would do 'massive damage' to the UK economy, while 77% believed the referendum outcome would only have 'minor consequences' for the German economy." As Yves has been saying.
Shipping: "There may be demand in the U.S. domestic shipping market, but companies have to look hard to find it. Major measures of freight transport activity effectively moved sideways in June, suggesting that retailers and manufacturers remain cautious in a slow-growth economy with little promise of a shipping surge heading toward the fall" [Wall Street Journal]. 
Shipping: "Union Pacific Corp. said its second-quarter earnings fell 19% as freight demand remains pressured, a trend the railroad operator expects to continue throughout the second half of the year" [Wall Street Journal].
Shipping: "Cargo heads surveyed earlier this month by the International Air Transport Association (IATA), the global airline trade group, said they don't expect profits to improve over the next 12 months due to a cluster of challenges that will continue to plague the business. Global trade demand remains subpar, and cautious businesses appear willing to trade down in transit times by choosing a slower transportation mode in return for lower rates relative to air. About 42 percent of the cargo leaders expect volumes to grow over the next 12 months, the lowest proportion since April 2009" [DC Velocity]. 
Shipping: "Global revenues in the global material handling industry will rise $33 billion by 2021 to reach $148 billion a year as businesses ramp up their investment in equipment to accommodate an increase in consumer spending and the fulfillment operations supporting it, according to a forecast [from analyst firm firm Research and Markets] released yesterday" [DC Velocity]. Makes me wonder if the financials for all those new warehouses we're hearing about factored this in. I bet they did.
Shipping: "In as little as 10 minutes, criminals are able to create counterfeit security devices, such as cargo seals, security locks and keys" using 3-D printing technology [Splash 247]. "After breaking into shipping containers and stealing the contents, the thieves replace the seals with 3D printed replicas to cover their tracks – making it difficult to pinpoint the exact time or location of the theft." I wonder if anybody could 3-D print from (stolen) fingerprint data, and use the printed fingerprint to get into smartphones…. 
Shipping: "Live animal export: Shipping's high risk moving feast" [Splash247]. Ugly, ugly details, and large vessels pitch and roll worse than small ones, causing more injuries.
Today's Fear & Greed Index: 88, Extreme Greed (previous close: 90, Extreme Greed) [CNN]. One week ago: 90 (Extreme Greed). (0 is Extreme Fear; 100 is Extreme Greed). Last updated Jul 21 at 12:17pm. Awww!
Police State Watch
1968's Pentagon Protest: "Despite knowing about the protest well in advance, penetrating the groups planning it and granting permits for the protest and the attempted levitation, neither the Agency nor the government did anything to prevent or de-escalate the situation. Rather than use the database of information about the personalities, psychologies and plans of those attending the protest to have personnel on hand to deal with and defuse any escalating situations, the government responding by pouring out of buildings armed with rifles while helicopters circled overhead" [Glomar Disclosure]. Yes, you read "levitation" right. Protester Abbie Hoffman applied for, and received, a permit to levitate the Pentagon ten feet off the ground. Lot of material in this post worth considering for Philly, I would say.
Black Injustice Tipping Point
UPDATE "Florida policeman shoots autistic man's unarmed black therapist in Miami" [BBC].
UPDATE "Unarmed man shot by Miami police asks: 'Why?' says officer replied: 'I don't know'" [CBC]. Not a confidence builder.
UPDATE "Jennings to pay $4.7M settlement to those jailed over court debts" [St Louis Today]. Some justice for those caught up in the law-enforcement-for-profit meat grinder.
Imperial Collapse Watch
"US air strike in Syria kills nearly 60 civilians 'mistaken for Isil fighters'" [Telegraph]. Oopsie, but another investment in the MIC's self-licking ice-cream cone. Ka-ching.
"U.S. missile defense system is 'simply unable to protect the public,' report says" [WaPo]. After a decade of development and $40 billion. Ka-ching.
Look on my works, ye mighty:
Cold and abandoned. Relics of the Soviet era. #coldwarhist https://t.co/52M6oUQ2l7  @BBCWorld pic.twitter.com/XnxYeVCo8L

— Klaas Meijer (@klaasm67) July 18, 2016
The Looting Professional Classes
"Rahm Emanuel has addressed the nagging question of how exactly the city would finance the property-tax rebate program his administration had proposed to help counterbalance the record tax hike. It turns out the money received from the recent sale of the Chicago Skyway would be used to fund the reimbursements, according to an announcement made on Tuesday"  [Chicagoist]. "The city of Chicago netted a $20 million transfer tax payment earlier this year when the elevated roadway was purchased by three of Canada's largest pension plans. Emanuel's plan would cost $21 million if all eligible homeowners participate, according to the administration." Heating the house by throwing the furniture into the fireplace only lasts so long, but IBGYBG.
Class Warfare
"Stocksy United [is] a cooperative, owned and governed by the photographers who contribute their work. Every Stocksy photographer owns a share of the company, with voting rights. And most of the money from sales of their work goes into their pockets rather than toward the billion-dollar valuations pursued by many venture-backed start-ups" [New York Times]. ww
"Virtually every career path constitutes what the cognitive psychologists Amos Tversky and Daniel Kahneman have called a conjunctive process. To succeed, each of a long sequence of events must occur. "Even when each of these events is very likely," they wrote, "the overall probability of success can be quite low if the number of events is large." Tversky and Kahneman demonstrated the existence of a widespread tendency for people to overestimate the likelihood of success of conjunctive processes" [Quartz]. Shorter: Meritocracy is a crock. As anybody who went deep into debt and didn't grab the brass ring knows.
"With economic growth trending downward globally, many of the world's largest economies are not converting what growth they have left into an increase in well-being for their citizens, according to a report by the Boston Consulting Group" [Bloomberg (Re Silc)]. This chart is interesting, modulo assumptions about "well-being":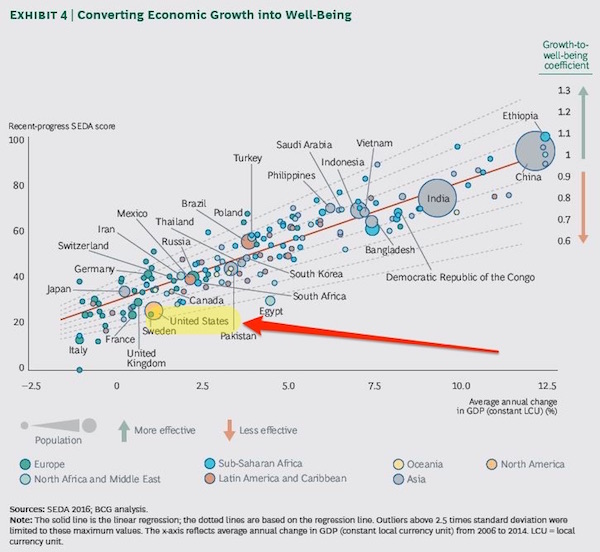 Canada is beating the United States badly. Moar neoliberalism!
"The 26th wave of the Retirement Confidence Survey (RCS), the longest-running survey of its kind in the nation, finds that American workers' confidence in their ability to afford a comfortable retirement has maintained its increase after the record lows experienced between 2009 and 2013. However, retiree confidence in their ability to afford a comfortable retirement continued to increase in 2016. While workers and/or their spouses who have a retirement plan have much larger savings and are also more likely to have taken steps to prepare for retirement, in the aggregate, only a minority of all workers appear to be taking basic steps needed to prepare for retirement" [Employee Benefit Research Institute (Re Silc]. "This move out of the not-at-all-confident group is observed primarily among those reporting they or their spouses do not have a retirement plan (defined benefit, defined contribution, or individual retirement account). Whereas in the recent prior years, increases in retirement confidence occurred among those with a plan." Coincides, perhaps, with the demise of the long-threatened "Grand Bargain" (we hope). 
"How Japan came to believe in depression" [BBC]. "Japan's leaders were rattled. Mental illness had gone from a hush-hush family matter to the focus of a workers' movement. And what had once been a natural expectation that working women especially would "sell their smiles for free" – helping create the eager willingness and inexhaustible good cheer that Japanese customers have come to expect – was now being talked about as "affective labour": emotional or psychological graft." Big Pharma to the rescue, naturally.
News of the Wired
"On Wednesday, in what many experts are calling a milestone in neuroscience, researchers published a spectacular new map of the brain, detailing nearly 100 previously unknown regions — an unprecedented glimpse into the machinery of the human mind" [New York Times]. Terrible. If there's one thing we know about the brain, it's that it's not a machine. My garden isn't a machine. A stalk of grass in my garden is not a machine. A slug in my garden is not a machine, nor is the mycelial mat or its fungus. Nothing organic is a machine. 
* * *
Readers, feel free to contact me with (a) links, and even better (b) sources I should curate regularly, and (c) to find out how to send me images of plants. Vegetables are fine! Fungi are deemed to be honorary plants! See the previous Water Cooler (with plant) here. And here's today's plant (CR):
CR writes: "Nature takes its course at a vacant mansion in Cleveland." Looks like a White Columns burbclave abandoned by the franchise….
Readers, if you want to send me some videos of plants in whole systems (bees and blossoms, for example, or running streams) — I can use them to practice with FFmpeg and hopefully post them. Because of download times, they'll have to be measured in seconds, rather than minutes. Thank you! Adding, I got another one today! Please keep sending them; they will ultimately appear!
I have finally finished sending thank you notes to the people who helped out during the quick and successful Water Cooler Mini-Fundraiser by sending in checks. Thank you, readers! So, to my knowledge, all should have been thanked, and for those of you who used PayPal, if you have not been, and you have checked your spam folder, don't hesitate to complain using my contact form.
* * *
Readers, if you enjoyed what you read today, please use the dropdown to choose your contribution, and then click the hat! Your tip will be welcome today, and indeed any day. Water Cooler will not exist without your random acts of kindness.