Dear patient readers,
I have been intermittently watching the updates of the appalling shootings in Dallas. I hope you will forgive the thin original material in light of this event. A dark day for this country.
In Siberia in 1908, a huge explosion came out of nowhere BBC
My Resistance to Elie Wiesel Jacobin (Chuck L)
Urban Agroecoloy: 6,000 lbs of food on 1/10th acre Urban Permaculture (David L)
US 'didn't really study' impact of toxic chemicals when allowing offshore fracking RT (Wat)
US tax authorities probe Facebook's Irish transfers Financial Times
Mandatory Federal GMO Labeling Is On Its Way Motherboard (furzy)
U.S. Regulator Bans Theranos CEO Elizabeth Holmes From Operating Labs for Two Years Wall Street Journal. The members of her blue chip board should be embarrassed for not having resigned months ago.
Brexit
I am confident US alliance with UK and EU will endure Barack Obama, Financial Times. This is a first, I believe. Public statements affirming the strength of a relationship outside ritual statements at summits are seldom a good sign.
After Greece, Slovenia takes a taste of the European Financial Dictatorship! failed evolution
Lagarde warns of Trump-style protectionism Financial Times
Another Banking Crisis in Europe? This Time, Save Banks, Not Bankers INET
Ukraine/Russia
Putin calls Obama, cancels region visits amidst Donbass escalation Fort Russ. Chuck L: "Is Ukraine about to resume stoking the fires in Donbass?"

Merkel says Russia damaging Europe's security Financial Times
Syraqistan
UK foreign secretary: US decision on Iraqi army led to rise of Isis Guardian (resilc)
Big Brother is Watching You Watch
Imperial Collapse Watch
Whose Century Is It? Life on an Increasingly Improbable Planet Tom Engelhardt

Meet the Neocons' Apologist in Chief National Interest (resilc)

The Problem With Regime Change American Conservative (resilc)
Clinton E-mail Tar Baby
2016
How IBT's reporting is driving a controversy over a major healthcare merger in Connecticut Columbia Journalism Review
Dallas Shooting
Multiple Police Officers Reportedly Shot During Dallas Protest Huffington Post

Five Police Officers Dead, Several Hurt at Dallas Protest Wall Street Journal. The comment section is scary. Open racial hostility. Blaming blacks, Obama, Democrats, progressives. "Obama has the race war he wants." Blaming deaths on Black Lives Matter. Another meme: shooting was to distract attention from Clinton e-mail mess (not making that up). You can hear the next one: DoJ will have no credibility in investigation because headed by Lynch.

It did not help that the Dallas police immediately posted the picture of a suspect, a black man carrying a rifle who was wearing a camo-themed T-shirt. He was the brother of one of the organizers of the protest. He turned himself in and per Guardian's live blog (this as of about 2:30 AM EDT, which means before midnight Dallas time given reporting delays), was released. But this further cements the notion that peaceful Black Lives Matter was behind the shooting, as does this appalling DNC statement.

'Like a little war': Snipers shoot 11 police officers during Dallas protest march, killing five Washington Post

AMBUSH IN DALLAS: SNIPERS KILL 5 POLICE OFFICERS AT PROTEST New York Times

Raw: Video Shows Protesters Flee Dallas Gunfire YouTube

Dallas police excessive-force complaints drop dramatically Dallas Morning News
Black Injustice Tipping Point
You're Overdrafted, They're Overpaid Other Words
Market Suggests 76.9% Chance of No Hikes Through June 2017 Michael Shedlock
Daddies, "Dates," and the Girlfriend Experience: Welcome to the New Pr Vanity Fair
Lacy Hunt on Negative Multiplier of Government Debt Michael Shedlock
Class Warfare
U.S. spending on prisons grew at three times rate of school spending: report Reuters (resilc)

Labor Unrest in China: Workers Launch Wildcat Strikes on Walmart Michael Shedlock (EM)
Antidote du jour (@MeetAnimals). The Himalayan marmot: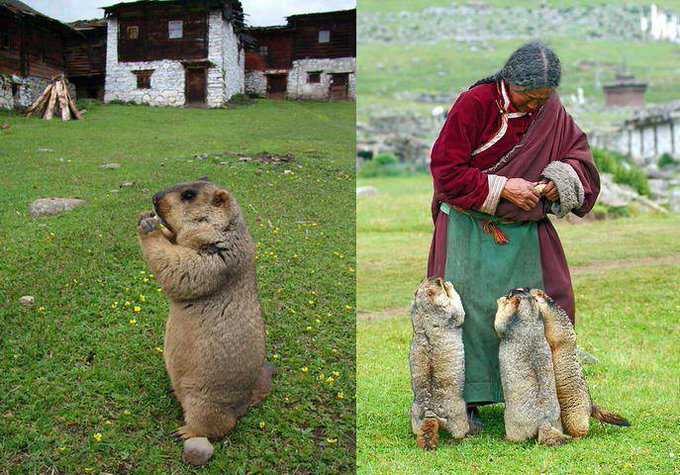 See yesterday's Links and Antidote du Jour here.