By Lambert Strether of Corrente.
More to come on our wonderful election… –lambert
TPP/TTIP/TISA
"It's still about two years away, but we're starting to wonder if either Trump or Hillary Clinton would move to renew trade promotion authority when it's set to expire in July 2018. Under the TPA law passed last year, the president has to request a three-year renewal, basically to give Congress the opportunity to take it away by passing a resolution of disapproval. But if the White House doesn't request an extension, it also would lapse. That might not matter for the TPP, since it was signed this year while TPA was in force. But it could make a difference for the proposed Transatlantic Trade and Investment Partnership, if it's not signed before July 2018" [Politico]. "Even though both candidates [are said to –lambert] oppose the TPP agreement, it's hard to imagine them not seeking a renewal in order to preserve a presidential prerogative, said Bill Reinsch, a distinguished fellow at the Stimson Center and former president of the National Foreign Trade Council. Another trade expert agreed."
"When President Obama looked out across a packed hall at the Democratic National Convention Wednesday night, he could not have missed the large square signs opposing the Trans-Pacific Partnership. They could be seen throughout the sprawling arena. In the Texas delegation and the Oregon delegation, in the Washington delegation and the Wisconsin delegation, delegates waved signs showing the letters "TPP" circled and with a red line slashed through them" [The Nation]. "Mid-way through the president's well-received address to the convention, delegates in a stand directly opposite the stage unfurled a sign that read: 'TPP Kills Democracy.'"
2016
Policy
"As senator, Clinton promised 200,000 jobs in Upstate New York. Her efforts fell flat" [WaPo].

UPDATE "Clinton, Rubio, Cruz Receive Foreign Policy Advice From Same Consulting Firm" [The Intercept] Well, I'm sure the consulting firm, like any good consulting firm, can suit the honey to the particular bee. So no problem there. Anyhow, it's bipartisan.

UPDATE "Dr. Jill Stein's Stiff Dose of Progressive Medicine" [Newsweek]. Strange to see concrete material benefits for working people treated as a "stiff dose" of medicine, but I guess if you're a neoliberal, that's how you'd see it.

UPDATE "Trump to announce fully tax-deductible childcare in economic speech" [The Hill]. Tax deductions are useless if you're too poor to take advantage of them, and in any case, services like this should be free at the point of delivery. I'm sure Trump knows all this. Still, it's refreshing to be pandered too!

UPDATE "FACT CHECK: Donald Trump Unveils His Economic Plan In Major Detroit Speech" [NPR]. As if. Read at your own risk.
Money
UPDATE "[D]irect evidence has emerged for the first time showing a foreign company has indeed donated money to a federal campaign. Documentation obtained by The Intercept shows a company owned by Chinese nationals donated $1.3 million to Jeb Bush's super PAC after receiving advice from a prominent Republican lawyer" [Democracy Now!]. It's a complete debacle. The Democrats are running a candidate who can't organize a simple arms-running operation, and a Republican candidate didn't know how to launder their money. Crapification, wherever you look.
The Voters
Here's Erica Garner, whose account is one of the most fun on Twitter, on the Sanders campaign and black voters:

All and all i loved it. I would do it again and better if I could. Bernie is the best person for the job. https://t.co/4ljydt4iy4

— officialERICA GARNER (@es_snipes) August 6, 2016

And:

The worst was when we would run up in Black churches and bounce before the message or even fail to put offering in. https://t.co/4ljydt4iy4

— officialERICA GARNER (@es_snipes) August 6, 2016

Yeah, sheesh, even this old WASP codger knows you've got to toss something in the collection plate. Now, I think that most campaigns screw up exactly as Garner describes: Staffers exhausted from their parachute ride in don't have time to learn the territory, and stressed out managers driven to madness by the news cycle don't have time to do the kind of work that should be done. And so "the dogs bark, but the caravan moves on." That said, poke around Garner's TL near these tweets and you'll see plenty of similar material. I think the Sanders campaign really needed to break new ground here, and failed to do so. Hopefully, the next Sanders — and there will surely be one — is going to take these lessons to heart.

UPDATE I can't even:

First, the Democrat "stand with" trope is s-o-o-o-o-o shopworn; and it's always used as clickbait, and never when "standing up" would involve any risk, or make a real difference. Second, really? The campaign is about bad words? Civility? Really?
The Parties
"Making Clinton Real." A convention report. [Elizabeth Drew, New York Review of Books]. "What, is Elizabeth Drew still alive?" "You'd never know it."

UPDATE "The political high point of the convention resistance was the Tuesday mass walkout of delegates. While exact numbers are unknown, the clearest evidence (including video and photography of vacated delegation seats) points towards a walkout of likely more than 700 Sanders delegates after the abbreviated conclusion of the roll call vote. The large and well organized Sanders delegations from California and Washington led supermajorities of their delegates outside, leaving a visible void of more than 200 seats between those two states alone" [CounterPunch]. My source, who was present, says more like 400 (and the fact that we don't have even have a clear count is the best evidence of organizational issues in the walkout). Regardless, 400 or 700, that's an impressive percentage of the 1900 Sanders delegates. Sadly, power was lying in the street, and nobody quite picked it up. That's a sadness, but next time.

"Jonathan Chait, for example, recently equated protesters at the Democratic convention with Republican politicians, asserting that the only difference between these two groups of "unhinged extremists" was that the former had been "screaming at the stage" in Philadelphia while the latter had been "screaming from the stage" in Cleveland" [34Justice].

UPDATE "Former CIA agent to launch independent bid for president" [McClatchy]. "Evan McMullin, a former CIA agent and chief policy director for the House Republican conference, announced a bid for president Monday, offering to be 'a leader who can give millions of disaffected Americans a conservative choice for President.'" Awesome! An open split in one of the legacy parties! And then–

The anti-Trump surprise candidate is a former CIA agent and Goldman Sachs guy who does TED talks, he's going to take votes away from HIllary

— Will Menaker (@willmenaker) August 8, 2016
Swing States
UPDATE "The Washington Examiner has selected 13 key counties to watch in eight target states with 114 electoral votes that have been seriously contested in recent elections. Each county has the potential to indicate who will carry these states" [Washington Examiner]. Here they are:

1. Wake County, N.C.
2. Hillsborough County, Fla.
3. Stark County, Ohio
4. Loudoun County, Va.
5 and 6. Boulder and Douglas counties, Colo.
7, 8 and 9. Bucks, Luzerne and Mercer counties, Pa.
10. Hillsborough County, N.H.
11. Cedar County, Iowa
12 and 13. Clark County, Nev., and Maricopa County, Ariz.

Stark County, but no Lannister County? What are the Amish, chopped liver?
Squillionaires and Establishment Republicans for Clinton
UPDATE "Condoleezza Rice, James Baker, George Shultz and Henry Kissinger are among a handful of so-called Republican 'elders' with foreign policy and national security experience — people who have held Cabinet-level or otherwise high-ranking positions in past administrations — who have yet to come out for or against Trump" [Politico]. "A person close to Clinton said her team has sent out feelers to the GOP elders." "Feelers." Eeewww. That said, since James Baker is on the list, "elder" seems not to be synonomous with "war criminal." So, integrity!

UPDATE "Richard Armitage, Henry Paulson, Brent Scowcroft. Three big-name former George W. Bush administration officials in the past few weeks have announced that they are supporting Hillary Clinton in 2016" [WaPo]. Yeah, thanks to The God(ess)(e)(s) Of Your Choice, If Any, that we've got Hank Paulson on board. I mean, it's not like he was ever actually indicted or anything.

UPDATE "Former Reagan political director: I'm voting for Clinton" [The Hill]. My goodness. All this Republican squee. Glad they all bought into the Democrat platform!
Stats Watch
Labor Market Conditions Index, July 2016: " Nonfarm payrolls have risen a more-than-solid 255,000 and 292,000 the last two months but they barely register on the labor market conditions index, which at 1.0 in July and a revised negative 0.1 in June are completely flat" [Econoday]. "Based on the long trend of this [unofficial] index [created by the Fed Research Department], the labor market isn't that strong at all right now, yet Janet Yellen, back at June's FOMC press conference, downplayed the weight that this index carries with policy makers."
Employment Situation (last Friday): "[T]his month, unlike others, the low unemployment rate is not due to more people dropping off of the statistical radar. Instead the labor participation rate ticked up a tenth of a percentage point as more people entered the labor force. Another piece of promise is the number of people who entered the labor force almost equaled those newly employed" [Economic Populist]. " One month does not a pattern make, especially with BLS statistics, yet seeing less people dropping out of the labor force is a welcome change." On the other hand: " So, as previously discussed, I see serious levels of 'slack' remaining, while employment growth continues to decelerate ever since oil capex collapsed in q4 2014. And I see no sign yet that the lost oil capex spending that supported growth before it collapsed is being replaced" [Mosler Economics].
Consumer credit: "Less then expected, last month revised down. No sign of the acceleration in credit we need to support growth here. And the mix between revolving and non revolving not encouraging either" [Mosler Economics].
Coops: "How to Give Rural America Broadband? Look to the Early 1900s" [New York Times]. "Now high-speed internet is finally reaching these remote places, but not through the telecom and cable companies that have wired most of urban America. Instead, local power companies are more often the broadband suppliers — and to bring the service, they are borrowing techniques and infrastructure used to electrify the United States nearly a century ago. In some cases, rural municipalities are also using electrification laws from the early 1900s to obtain funds and regulatory permissions reserved for utilities, in order to offer broadband. 'This is the new New Deal,' said Sheila Allgood, a manager of Bolt, the broadband subsidiary of the Northeast Oklahoma Electric Cooperative."
UPDATE Coops: Kenneth Wunderlin, Treasurer of the Board of Directors of FarmFirst Dairy Cooperative: "TPP is a step forward for Wisconsin dairy farmer" [Chippewa Herald (DB)].
Today's Fear & Greed Index: 83, Extreme Greed (previous close: 85, Extreme Greed) [CNN]. One week ago: 76 (Extreme Greed). (0 is Extreme Fear; 100 is Extreme Greed). Last updated Aug 8 at 1:13pm. Mr. Market is still happy. Will he ever become ecstatic?
Black Injustice Tipping Point
"Historically black church to hold Trump town hall meeting" [Palm Beach Post]. Diversity!
"Today is Day 17 of occupying Freedom Square, a block party protest in opposition to Homan Square, the Chicago Police Department (CPD) 'black site' that is internationally infamous for illegal detention and torture. Set up in a lot adjacent to the Homan Square facility in the North Lawndale neighborhood on Chicago's West Side, the encampment includes an outdoor kitchen, tents to sleep in, a library, play areas, political education and organizing spaces and more" [Truthout]. Hmm. This sounds familiar… But I'm sure there are new twists. Chicago readers?
Dear Old Blighty
UPDATE "Labour leadership: Party to appeal against voting rights ruling" [BBC].
Labour is challenging a High Court ruling giving recent members a vote in its leadership contest, with the appeal hearing expected on Thursday.

The party lost a legal challenge to its rules banning anyone who joined as a member after 12 January from taking part unless they paid an extra £25.

Shadow chancellor John McDonnell had urged Labour not to appeal.

But the party said it would defend the right of its governing NEC "to uphold the rule book".

The court's decision, handed down on Monday, could add anywhere between 126,592 and 150,000 people to the list of those eligible to vote in the contest – according to different estimates.

The ruling is thought likely to benefit leader Jeremy Corbyn over challenger Owen Smith, who earlier branded Mr Corbyn "useless" and said he had "fractured" the Labour Party.
Parliamentary Labour reminds me of the DNC, except without the likeability or competence.
UPDATE Today is the fifth anniverary of the 2011 UK riots; contemporary commentary [Verso]. And a handy interactive map.
UPDATE "Fences: A Brexit Diary" [New York Review of Books (DG)]. Chris Arnade territory…
Health Care
"The biggest [ObamaCare rate] increases — all double-digit percentages — came from two nonprofit cooperatives set up under provisions of the ACA intended to promote competition in a young market: Minuteman Health Inc. of Boston and Maine-based Community Health Options" [Valley News]. A "young" market, forsooth. Markets aren't organic. Ergo, they are not "young." Same horrid category error as the Bush administration's "young democracies."
"Pennsylvania Public Hearing on Rising Health Insurance Rates" [YouTube].
Gaia
"Ecological Wealth of Nations" [Footprint Network]. Handy maps and charts.
Water
"The very last mammoths were dying for a drink" [WaPo]. "As the massive mammoths crowded around smaller and smaller pools of drinking water, they would have trampled the vegetation at the water's edge. The loss of greenery would cause the underlying soil to erode, sending sediments cascading into the same lake their lives depended on. Without rain or snowmelt to refill the basins, St. Paul Island would have quickly changed from a remote refuge to a resource-less trap." Great metaphor… But then the mammoths didn't have Uber for Water.
Class Warfare
"Growth and fairness aren't a trade-off" [Larry Summers, WaPo]. "[A]s a graduate student in the late 1970s, I was taught that it was a 'stylized fact' that the shares of U.S. total income going to profits and to wages, and to the rich and to the poor, were constant. All of this has changed." Note the truly hilarious lack of agency in "all this has changed."
Bill Clinton's "welfare reform" was based in part on a Riverside Countt, CA program called GAIN (ha) [99 Percent Invisible]. "But within a few years it became clear that the 'Riverside Miracle' wasn't so miraculous after all. In the early 2000s, Joe Hotz, a Duke University economist, returned to Riverside to check on how welfare recipients who had gone through the program were doing. They compared these subjects to those participating in other California programs that had focused on education and training. What they found was that the effects of the 'Riverside Miracle' had all but disappeared." Oopsie.
UPDATE "Poor white Americans' current crisis shouldn't have caught the rest of the country as off guard as it has" [The Original Underclass]. "A barely suppressed contempt has characterized much of the commentary about white woe, on both the left and the right." Nothing "barely" about it; if you want to see real hate, get a liberal talking about workers. Incidentally, the article dances all around the phrase "working class" — "modest means," "low-income," "less privileged." Regardless of the verbal flabiness, however, it's a good piece on the state of play. One could only wish that "whiteworkingclass" — I've gummed the terms together since that's standard political class usage — could be replaced by "working class," the people who, regardless of identity politics siloes, rent themselves on a completely crapified labor market.
News of the Wired
"How Teletext and Ceefax are coming back from the dead" [Tech Radar]. Hmm. Will there be cookies? I hope not.
"Abstract and Concrete Categories: The Joy of Cats" [Jiri Adamek, Horst Herrlich, George E. Strecker (PDF)]. I think this is the nerdiest link I've ever aggregated. Maybe there's one person out there who will enjoy it, and can even rip out a useful nugget or two. After all, category errors ("government is like a household") abound.
"Retrotopia: Unnoticed Resources" [The Archdruid Report]. The next part in the series; Texas and the Confederacy are at war. Over oil.
"Brainstorming Is Dumb" [FastCo].
"What is known?" [Deep Gimble II and K, Curated AI]. "A literary magazine written by machines, for people."
"You Can Charge Your Phone Using a Plant Now, If That's a Thing You Want to Do" [New York Magazine]. Puts the "food forest" concept in a whole new light…
* * *
Readers, feel free to contact me with (a) links, and even better (b) sources I should curate regularly, and (c) to find out how to send me images of plants. Vegetables are fine! Fungi are deemed to be honorary plants! See the previous Water Cooler (with plant) here. And here's today's plant (AH):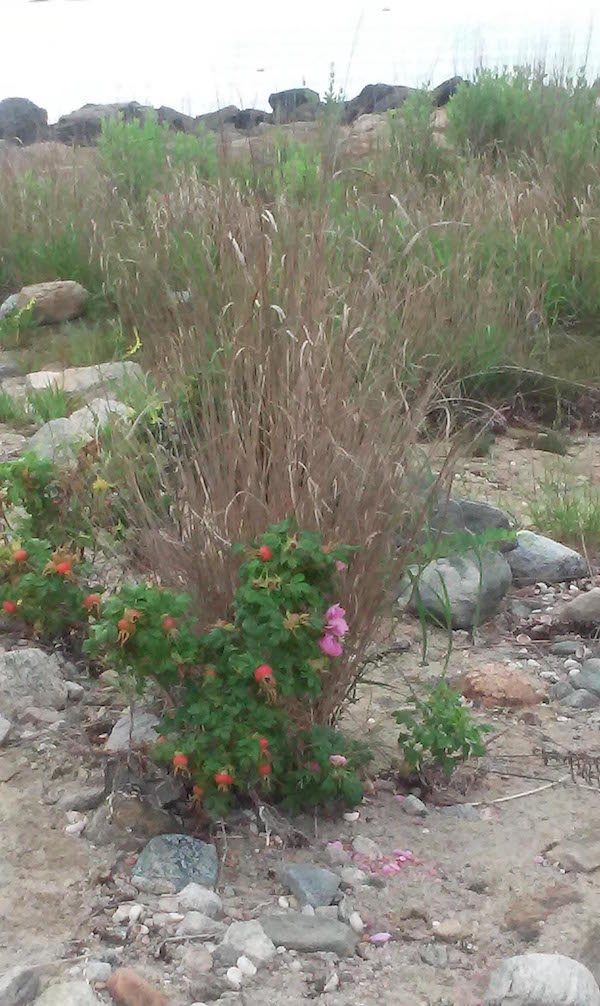 Even though beach roses are said to be "invasive" (dread word) I like them anyhow. They're old-fashioned, not showy.
Readers, if you want to send me some videos of plants in whole systems (bees and blossoms, for example, or running streams) — I can use them to practice with FFmpeg and hopefully post them. Because of download times, they'll have to be measured in seconds, rather than minutes. Thank you! Adding, I got another one today! Please keep sending them; they will ultimately appear!
* * *
Readers, if you enjoyed what you read today, please use the dropdown to choose your contribution, and then click the hat! Your tip will be welcome today, and indeed any day. Water Cooler will not exist without your random acts of kindness.