Yves here. This piece is a bit dense, but that goes with the territory of probing connections between Clinton Foundation dealings and Hillary Clinton's actions as Secretary of State. So I trust you'll get a cup of coffee.
Some of the issues Helmer highlights include the curious practice of Clinton's staff members of referring to a pending sale of GM's Opel operations to a German/Russian consortium as "Magna," which was the name of a Canadian car parts company owned by a Canadian "of Austrian origin". Magna made a donation of between $500,000 and $1 million to the Clinton Foundation. Helmer depicts Russian interest as the biggest beneficiaries, but the Germans expected to be winners too. The German government, including Angela Merkel herself, was firmly backing the deal, and German labor unions were keen to see it go through.
Yet Clinton nixed the acquisition. Was as much as $1 million, um, donation,  not enough? As Helmer writes:
That Clinton had trousered the Magna million, and ATF officials had passed assurances to Deripaska [the Russian oligarch behind Magna] through his $40,000 agent, but then failed to deliver, were what Putin meant when he referred to the "vey original culture" of American dealmaking.
Or is it simply that Clinton as a matter of policy was not consistent on delivering on inducements so as to be able to claim that they weren't quid pro quos, and the Russians were a particularly attractive party to diss?]
By John Helmer, the longest continuously serving foreign correspondent in Russia, and the only western journalist to direct his own bureau independent of single national or commercial ties. Helmer has also been a professor of political science, and an advisor to government heads in Greece, the United States, and Asia. He is the first and only member of a US presidential administration (Jimmy Carter) to establish himself in Russia. Originally published at Dances with Bears
When Hillary Clinton  was US Secretary of State in 2009, she proved she could lie to the German Chancellor Angela Merkel; keep secret her hostility towards Russia even in her secret staff emails; and take money in her back pocket for an $8 billion deal between the US, Germany and Russia recommended by her subordinates. The record, recently revealed in US investigations of Clinton's emails and donations to the Clinton Foundation, shows why the Kremlin assessment of Clinton is hostile and blunt – Clinton invites and takes bribes, but can't be relied on to keep her bargains.

The newly disclosed records show that Clinton decided against allowing a bid by Oleg Deripaska (lead, right), then the second of Russia's auto manufacturers, financed by the Kremlin and the German Government, to buy the Opel car works from General Motors (GM) and become the most powerful carmaker in Europe. Clinton overruled the advice of several of her Department subordinates who were in favour of the Russian Opel bid, including Deputy Secretary of State William Burns (below, left), a former US Ambassador to Moscow. Clinton pitted the State Department against the advice of other US officials on the Auto Task Force (ATF), set up by the White House, the US Treasury and Commerce Department to save General Motors from bankruptcy.

Until the fresh Clinton releases, US reports, and the memoir of Steven Rattner (above, right), head of the ATF and coordinator of the GM rescue plan, have kept Deripaska's role secret.  Rattner's book doesn't mention Deripaska at all; he refers to then-prime minister Vladimir Putin and the state Sberbank in passing just once.
Press investigations of millions of dollars of donations by foreigners to the Clinton Foundation have focused on the Ukrainian oligarch, Victor Pinchuk, but never come close to his Russian counterparts. Neither Deripaska nor any other Russian oligarch has been reported, directly or indirectly, as paying the Clinton family for the back-channel connections, policy influence and business advantage which have been documented in many cases.
A US newspaper investigation of the takeover by Rosatom, the state nuclear monopoly, of the Canadian uranium miner Uranium One has identified the exchange of cash and favour between Bill and Hillary Clinton, and Canadian mining entrepreneurs Frank Giustra and Ian Telfer, who sold out to the Russians, but there is no trace of Clinton deal-making with the Russian themselves.
Hillary Clinton was Secretary of State between February 2009 and February 2013. Between June 2010 and August 2014, she operated a private email server which was kept secret from the State Department at the time. A total of 30,322 emails have been forced into the open by litigation; they were first compiled for publication in March of 2016 by Wikileaks. A further court-ordered release of 242 pages of the emails was issued by Judicial Watch late last month.
There is no mention of Deripaska and references to Russia are sparse. However, there are significant disclosures on Clinton's involvement in Deripaska's bid to buy the Opel car works. In the email indexing and the texts Clinton exchanged with her staff and Department officials, the Opel deal is made to appear as the acquisition of Opel by a Canadian car-parts business called Magna International, owned by by Frank Stronach, a Canadian of Austrian origin.
Russian involvement as the prime mover and beneficiary of the deal was a secret in the secret Clinton emails.

Source: https://wikileaks.org/clinton-emails/?q=opel&mfrom=&mto=&title=&notitle=&date_from=&date_to=&nofrom=&noto=&count=50&sort=0
Huma Abedin, Clinton's deputy chief of staff, wrote wrote to her on August 22, 2009: "The German government has come out strongly in favor of a bid by Canadian Auto Parts Manufacturer Magna and has financing contingent on acceptance of Magna's bid. GM [General Motors] has concerns about this offer. [German Foreign Minister Fran-Walter] Steinmeier was an early supporter of Magna's bid and came out early in the media to show leadership in protecting German jobs. Chancellor Merkel has since co-opted the issue and has thrown the full weight of the German government behind Magna. In May, Steinmeier spoke to you by phone about possible U.S. support for GM and the repercussions for Opel."


Huma Abedin and Hillary Clinton      Frank-Walter Steinmeier and Angela Merkel
Abedin then rehearsed with Clinton what the latter had decided to say in a planned telephone-call with Steinmeier: "Our government is taking a 'hands off' role. Any decision will be made independently by GM, based on commercial considerations. The United States government does not play an active role nor do we have a position on any particular bid."
This was false. Clinton was lying to Steinmeier. Steinmeier knew it; he had to guess why. Abdedin and Clinton decided not to disclose that Clinton's objection to the Opel sale was the Russian involvement – that of Putin's, and of Deripaska's. Clinton was also hostile to the economic integration of the Russian and German car industries as a threat to US car sales worldwide. Abedin emailed Clinton a copy of a newspaper report from the Dow Jones Berlin bureau, which appeared on August 21. The newspaper said Merkel and Steinmeier favoured the purchase of Opel by the "Austrian-Canadian car parts maker Magna International Inc. (MGA), in a consortium with Russian savings banks OAO Sberbank (SBER.RS), and Belgian private equity firm RHJ International SA (RHJI.BT)".
Clinton already knew much more, as did all Officials sitting on the ATF. Not least that was because of the activities of Deripaska's Washington lobbyist, Adam Waldman , and a small firm called Endeavor Group, which he operated at a modest office on K Street in Washington. As Deripaska's retainer grew, Waldman and Endeavor moved up to premises on Pennsylvania Avenue, across the street from the White House.
According to Endeavor's website, Deripaska's retainer was something to be proud about, even boast of at the top of the company's home page,although Deripaska's name was kept in the dark. "One of the world's leading industrialists is interested in both protecting and expanding his global business empire, which extends across Russia, Asia, Africa and North America. Endeavor was engaged to provide general counsel across a range of strategic, legal, regulatory, philanthropic and communications issues, and to facilitate investments, capital raising and merger & acquisition activities across borders. Endeavor acts as a core member of its Client's holding company executive team, and is the sole representative of its Client's myriad interests before the U.S. government."
No mention of Deripaska by name in Endeavor's selfie didn't mean the secret could be kept from the US Government. Here's how Waldman's hiring started on May 8, 2009, as required for disclosure to the US Department of Justice's Foreign Agent Registration (FARA) Unit. No contract was signed, though, so no paper needed to be disclosed. Instead, Waldman reported Endeavor had been "engaged at will". Payments, which began running at $40,000 per month and have risen to almost $70,000 per month, have come from Deripaska through a UK company called Taviner Ltd; a Belize entity called Sea Chaika Corporation, and RTI Ltd., a Jersey company with this unusual record.
Here is how Waldman reported what he was doing for Deripaska:

Days later, when the first press report of the lobbying appeared, Waldman tried to suppress the story and dissemble. Read that story in full.
In May of 2009, Waldman reported he had been lobbying for Deripaska on the Opel deal at a meeting with Rattner of the ATF and Commerce Secretary, Gary Locke: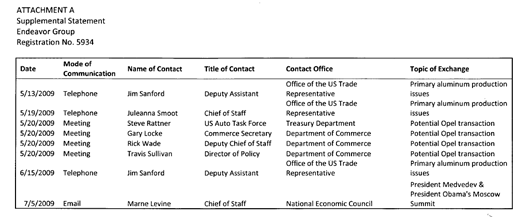 Source: https://www.fara.gov/docs/5934-Supplemental-Statement-20091208-1.pdf 
Over several weeks into August, the negotiations of the Russian takeover of Opel modified
the terms of the new Opel shareholding agreed between the German and Russian governments. GM would sell down its share in Opel to 35%; Sberbank would take 27.5%; Magna, 27.5%; and the German carworkers union, the remaining 10%. Deripaska's GAZ car works and his auto asset holding Russian Machines – although as insolvent at the time as General Motors — were to pay nothing but become the "industrial partner" and Russian producer of Opel cars. For background on the deal as it evolved, read this.
On September 12 Putin, then the prime minister, told a state-financed meeting with US academics called the Valdai Club: "I hope this decision [to purchase Opel from GM] is one of the first steps that will lead us to true integration in the world community." Deripaska had assured him that GM had agreed to sell, and the ATF approved the terms, because that's what Waldman had told Deripaska had been agreed in Washington. "GM made the right decision while taking into account the social consequences," Putin declared.
Two days later, on September 14, Putin told the German newspaper Handelsblatt: "The Russian government, Angela Merkel's government, and the [German] labor unions worked together intensively. There were close contacts. I myself met with representatives of IG Metall [German labor union] in my residence. Today's achievement is the result of these efforts by the Russian and German governments, and the German labor unions".The German government, it seemed to Putin, had agreed to subsidize the deal by providing €1.5 billion ($2.2 billion) in bridge credits and €4.5 billion Euros ($6.6 billion) in credit guarantees.
Catherine Belton, a Financial Times reporter and advertiser for Deripaska, claimedthe deal had been done. It was "a unique opportunity to gain access to much-needed technology for its outmoded car industry and rescue it from the brink of bankruptcy. Sitting on $200bn in oil windfall funds, for once Russia had the financial muscle to help fund the deal, as GM itself teetered towards bankruptcy. Magna meanwhile had pledged to help Opel grow out of the crisis by winning it entry to the Russian market."
There is no sign of Deripaska, his companies, Waldman, or the Endeavor firm on the lists of donors the Clinton Foundation has released. However, Magna International, Deripaska's frontman in the deal, is recorded as giving the Clinton Foundation between $500,000 and $1 million.
This week Craig Minassian, spokesman for the Clinton Foundation, refused to confirm whether the Magna money had been given in 2009. He also wouldn't say whether the Clinton Foundation had received money from associates or advisors of Endeavor. Until Waldman stopped disclosing the firm's names, they included a former spokesman for Clinton when she was a senator for New York; a former cabinet minister from Bill Clinton's two terms; and financiers of Clinton political campaigns.
Between September and November of 2009, Clinton quietly led the opposition to the Opel sale. For details from the time, read this. Deripaska himself admitted in a BBC interview in July of 2009 that Clinton and the State Department were a problem. "They try to push me in a corner," Deripaska said, "maybe believing I would cooperate with them [with information]." He had resisted, Deripaska claimed: "There is a Russian interest I would never go through." Weeks later, when the US Government veto of the deal had become public, Deripaska was asked if the American attitude towards Russian business abroad "is still ambiguous". He replied: "Unfortunately, yes. But in the Opel case, the US Department of State's prejudices are also a problem."
In 2009 Deripaska was asked to say why his US lobbying campaign for Opel had failed. A spokesman for Basic Element, Deripaska's Moscow holding, said that questions about cars should go to the auto division of the holding, Russian Machines. From there, spokesman Yekaterina Pankova said her group would not comment on the Opel-Magna transaction. This week she requested an email but added: "the matter took place long ago so there is a little chance to receive an answer."
On November 5, 2009, immediately after Washington had vetoed the Opel sale, Clinton emailed Philip Gordon , then the assistant secretary of state for Europe. "Will this decision be an issue for us in Germany? Also, I heard a rumor that [US ambassador to Germany] Phil Murphy was called in by Merkel over this? Is that true? See you tomorrow to discuss. Thx.". Gordon replied: "Merkel is pretty steamed. She did not call in Phil Murphy over this, but he was with her in DC when GM called to break the news. (She did not take the call)."
On November 5 in Moscow Putin told a meeting of government ministers: "The last-minute refusal to complete the Opel deal is not harmful to our interests, but it shows that our American partners have a very original culture when dealing with counterparties. We will have to take into account this style of dealing with partners in the future, though this scornful approach toward partners mainly affects the Europeans, not us. GM did not warn anyone, did not speak to anyone… despite all the agreements reached and documents signed. Well, I think it is a good lesson."
That Clinton had trousered the Magna million, and ATF officials had passed assurances to Deripaska through his $40,000 agent, but then failed to deliver, were what Putin meant when he referred to the "vey original culture" of American dealmaking.
Putin and Deripaska were furious at Clinton; Waldman is still on Deripaska's retainer, and the tab has been growing. In Endeavor's latest report to FARA for the six months to May 31, 2016,Waldman reports receiving $295,384.84 in "fees and expenses" from Deripaska. According to Waldman's report, he "promoted UC Rusa.l's business interests; Consulted with UC Rusal on matters related to the global bauxite markets, global forestry initiative, clean aluminium initiative; Chinese metal policy; Extractive Industries Transparency Initiative, mining operations in Guinea and Jamaica; Russian ebola vaccine; energy policies… and served as legal counsel to Mr. Deripaska on a broad range of matters.". The money also appears to be paying the tab for Waldman to advise Russian Foreign Minister Sergei Lavrov "on political and legal matters as requested, including issues related to diplomatic matters."
Waldman's expenses came to $45,493.39, according to the latest report; half of it for travel. No donations to presidential campaigns or political gifts have been identified. Waldman has stopped reporting the names of government officials he has contacted.
In December 2015, Waldman acknowledged that for Deripaska's fees ($268,397.62 for the second half of the year), he was providing "counsel" on "U.S. sanctions developments". The same concern for US sanctions threatening Deripaska personally or his companies was reported in Waldman's June 2015 filing, and in the December 2014 filing.
In his May 2014 report, just weeks after the war in Ukraine had started and Crimea had joined the Russian Federation, Deripaska, according to Waldman, was "investigat[ing] potential joint ventures and other business opportunities in the energy industry in the United States, including biofuel and natural gas."
The war, US sanctions and Russian counter-sanctions have put a stop to Deripaska's ideas of investing in the US. But if Waldman's reports are clearly understood, Deripaska and his companies currently believe they are safe from US sanctions. Deripaska, whose family name originated in Odessa and who has substantial assetsin Ukraine, has told Waldman to drop US sanctions from the Endeavor agenda this year. For details of Deripaska's business relationship in the Ukraine with another Washington lobbyist, Paul Manafort, read this.
Waldman was asked to clarify why Deripaska's bid to buy Opel had been rejected by Washington. He did not reply.