Reflective Camouflage: The Mirror Spider is Covered in Controllable Reflective Patches Core77 (resilc). This is cool.
Dogs ignore bad advice that humans follow ScienceBlog (furzy)
Hundreds of new dams could mean trouble for our climate Science (Dr. Kevin)
First it was Samsung phones. Now it's exploding Samsung washing machines Washington Post (Dan K)
Brexit
Make no mistake, Britain is not a world-beating economy Martin Wolf, Financial Times

May's Real Opposition Lies in Tory Ranks as Brexit Splits Emerge Bloomberg

Sadiq Khan confirms 'London work permit' plans to stop post-Brexit exodus Standard. Huh? The issue is that UK-domiciled individuals will face restrictions on selling products into the EU. This is not something the UK can solve unilaterally, and the EU countries have no reason to play ball. Anglo-style finance has not been their friend, and to the extent they have it, they first want to favor domestic champions and second increase employment in their countries. Nothing in this fantasy changes the incentives of EU members to take as much out of London as they can.

Liam Fox looks to WTO in hint at 'hard Brexit' stance Guardian (MCC). More Brexit fantasies. The WTO is not a default; it has to be negotiated and that takes years, well over five and easily ten.

Ken Clarke: Theresa May has "no idea" what to do about Brexit New Statesman. Deadly.

What does 'hard' or 'soft' Brexit mean? BBC. Vlade:

Looks more and more like UK gov't is in a gambling mood. "[…] initial goal once Britain has left the EU, another option is to apply to 'grandfather' the present trade arrangements with Europe (that is the free movement of goods, services and capital) and then see what the EU's response is.

"Would EU member states really start applying tariffs unilaterally, the question in Whitehall is asked, in the knowledge that the UK would respond in kind."

a) it's not about tariffs (which they still don't seem to get)
b) it's not about EU member states, it's about EU rules. The guys at the borders would have no choice but to stop the UK shipments and run them through the normal non-EU goods procedures.
c) basically they are betting that EU would allow en-masse breakage of rules because of the UK – because if the rules-of-origin, rules-and-regulations compliance go out of window for UK trade, then anyone can use this lever.

So the govt it's a bit like Nazis taking small steps in Europe, betting that no-one is willing to compromise (trade) peace even if it means throwing all sorts of rules and laws under the bus. What the UK govt still fails to understand is that yes, the UK is an important trade partner for EU, but EU is VITAL trade partner for the UK (as in when 40% of your exports stop overnight, your economy dies).
I cringe at the idiocy of the people in power.

…and d) They seem to truly believe that negotiations are best conducted by putting a knife at someone's throat.

I'm afraid they will find their knife is made of rubber, and that that someone is a 500 pound gorilla with a steel bicycle chain in hand.
The Real Scandal Behind the Panama Papers Vanity Fair (resilc)
India Raids Pakistan, Claims "Significant Casualties" Inflicted: Don't Worry It's Just a "Surgical Strike" Michael Shedlock (furzy)
Brussels decides against fining Portugal, Spain Politico. No fines for breaking budget rules.
Refugee Crisis
Turkey hoards well-educated Syrians Politico. One of the reasons that Merkel supported taking Syrian refugees is that Syrians have high educational attainment and good schools. But she's been outgamed.

Fear, suspicion as French hamlet anticipates Calais migrants Associated Press (furzy)
Hot Mess: How Goldman Sachs Lost $1.2 Billion of Libya's Money Bloomberg (resilc)
Ukraine/Russia
On Repression in Ukraine Defend Democracy
Syraqistan
Big Brother is Watching You Watch
Hackers Infect Army of Cameras, DVRs for Massive Internet Attacks Wall Street Journal

Yahoo says hack of 500 million users "state-sponsored," but a security firm calls bullshit Boing Boing (resilc)

Amazon Algorithm Makes Decision about WOLF STREET, Hilarity Ensues Wolf Street (EM)
Imperial Collapse Watch
DANGER – Tensions rising sharply between nuclear superpowers Defend Democracy

The Wholesale Failure of American Foreign Policy American Conservative (resilc)

U.S. Military Is Building a $100 Million Drone Base in Africa Intercept
Clinton E-mail Tar Baby
The FBI director can't defend immunity for Hillary Clinton's aides—which says volumes Wall Street Journal (g)
2016
The Computer Voting Revolution Is Already Crappy, Buggy, and Obsolete Bloomberg
Employment picture darkens for journalists at digital outlets Columbia Journalism Review. Note this part:
A recent report by Mother Jones in which a senior reporter worked four months as a corrections officer exemplifies this tension. The massive 35,000-word report exposed corruption in private prisons but conservatively cost $350,000 to produce and only brought in $5,000 in banner ads.
White House Is Profoundly Wrong About the Most Embarrassing Thing Senate Has Done Intercept
Marijuana Arrests Are At a 20-Year Low Motherboard
Black Injustice Tipping Point
UN Says 'Racial Terrorism' Against Black People in the US Endures, Calls for Reparations ThinkProgress
Wells Fargo
Clawbacks become a vital weapon in finance Gillian Tett, Financial Times

Lawmakers suggest Wells Fargo chief should face criminal charges The Hill

Wells Fargo Troubles Mount With Penalty for Soldiers' Loans Bloomberg
Deutsche Bank
Deutsche Bank Slumps as Hedge Funds Reduce Exposure Bloomberg. Note that these are big boys…although some of the action is in response to pressure by their investors. However, the stock is flirting with the €10 perceived danger zone. This may be the prod for investors to pull back from this toppy market.

Deutsche Bank's Clients Take Steps to Cut Exposure Wall Street Journal

The Deutsche domino FTAlphaville (Richard Smith). But Deutsche would need to have a liquidity crisis, as in be unable to access the financial market. This isn't even remotely like Lehman, since investment banks funded about 50% of their balance sheets with repo. Repo tenors had shortened to overnight and counterparties were increasing their haircuts on collateral, with haircuts on CDOs going to over 95%, meaning no one would accept them. By contrast, it's hard to imagine that the ECB isn't on this case.

Pressure is building for Germany to show it's ready to rescue Deutsche Bank CNBC. Doesn't really explain the politics. The Germans insisted on ridiculous new bail-in rules. They might be dumb enough to try to force Italian banks to do bail-ins (the Germans have to date been unwavering), but that would simply lead to vastly more pressure on DB. So the simpler way for investors to break the Rube Goldberg non-rescue new regime is to go after the clearly TBTF DB.

US seeks pre-election settlement of bank mis-selling claims Financial Times. This works greatly to the advantage of Deutsche. Perceived deadlines in dealmaking means the other party can get concessions easily. Moreover, this story makes official that the DoJ is even less keen than usual to litigate, which again weakens its bargaining position.
R.I. pension system to drop more than half of its hedge-fund investments Providence Journal (Larry A)
Guillotine Watch
From a $50 burger to a $1,000 tasting menu: S.F.'s most outrageously priced food SFGate (Kokuanani)

What Does a $5 Million Townhouse Look Like in Three Different Cities? Bloomberg. And note that $5 million is couch lint for the 0.1%. There are more people than you want to think running hedge funds and PE funds who make $100 million or more a year.

Chelsea Clinton Uses Private Jet to Travel to 'Clean Energy' Roundtable Washington Monthly (Dr. Kevin)
Class Warfare
Why Better Wages Are Tied to Healthcare Costs Barry Ritholtz (resilc)

Elizabeth Warren Trains Her Sights on a New Target Bloomberg. On the student loan front.
Antidote du jour. Craig H: "Our cats, Bill and Ted, were thrilled with the new house, particularly with the birdbath, which I keep cleaned and filled for the local avifauna—a Catflix for the boys' viewing pleasure.". Moi: So nice that he has presumably unrelated males that get along. Mine only occasionally looked like a happy family.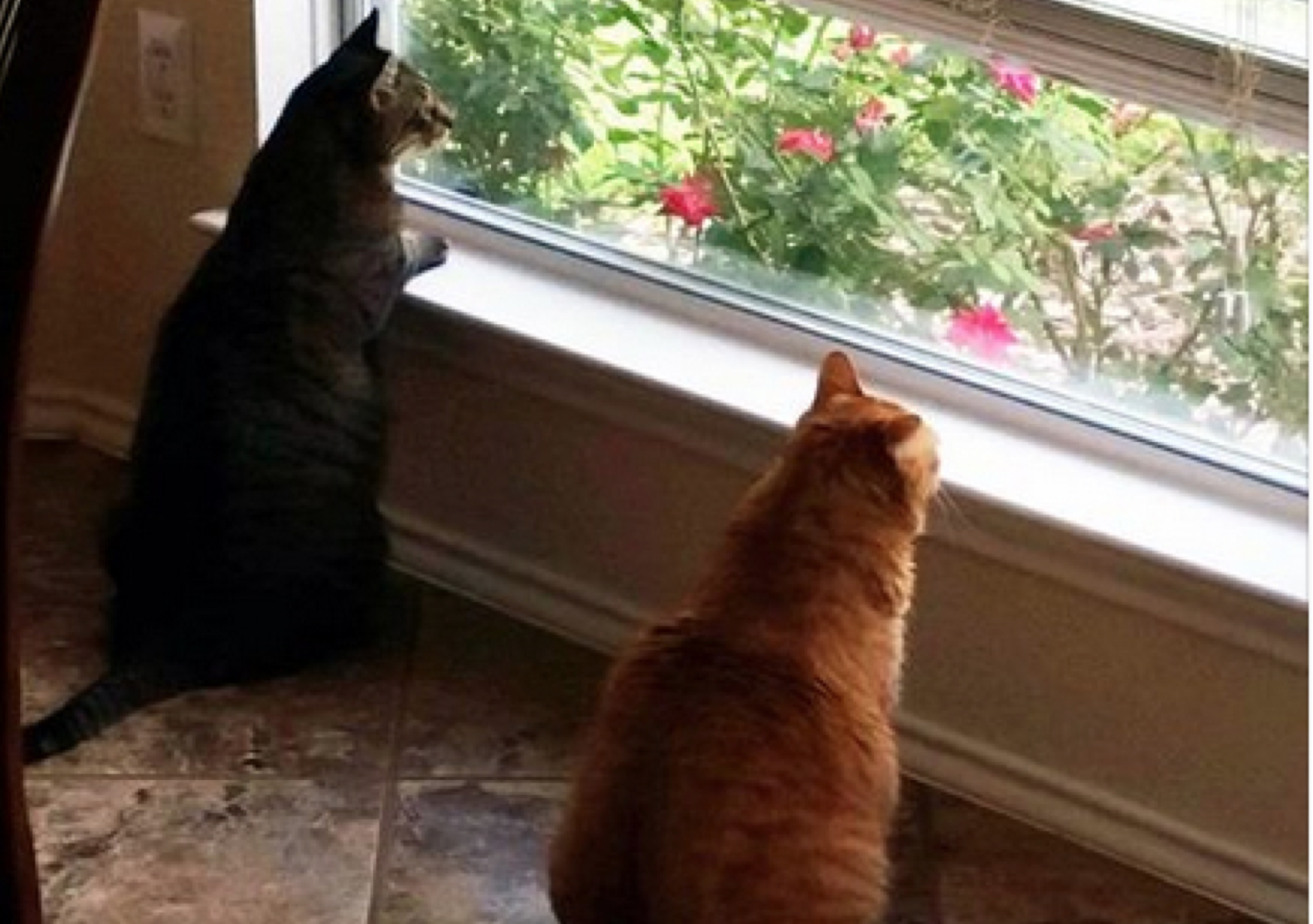 And a bonus gif (Robert H):
See yesterday's Links and Antidote du Jour here.