This is Naked Capitalism fundraising week. 1285 donors have already invested in our efforts to combat corruption and predatory conduct, particularly in financial realm. Please join us and participate via our Tip Jar, which shows how to give via check, credit card, debit card, or PayPal. Read about why we're doing this fundraiser, what we've accomplished in the last year, and our fifth goal, more original reporting.
Just How Welcome Are 'Foreigners' on Japanese Trains? Global Voices (resilc)
Microsoft's tablet deal with the NFL has been a disaster Yahoo (Dan K)
China?
Chinese house prices crash in October MacroBusiness
France begins to clear Calais camp BBC
CETA Panic
EU sets Belgium Monday deadline to back Canada trade deal Reuters. Among other things, the Walloons object to the investor-state dispute settlement process. This is a fundamental feature of the pact and there is no way to come up with a finesse on this issue. You have to love the blather: EU officials are "rushing to assuage the Walloon government's concerns." How about, "What about sovereignity don't you understand?" If the Walloons refuse to back down on ISDS, this deal is toast. Keep your fingers crossed.
Brexit
Theresa May set to reject flexible Brexit deal for Scotland Financial Times

Hilary Benn: Parliament will want to vote on Brexit negotiating plan Politico

Theresa May warned of risk of constitutional crisis over Brexit deal Guardian
Movimiento autonomista le propina duro golpe al oficialismo: Jorge Sharp se queda con Valparaíso elmostrador. Timotheus:
This is potentially huge for Chile and even S. America: a very young independent just crushed the two major party coalitions for mayor of the country's #2 city, Valparaiso. Read PODEMOS in Spain. Chile's post-Pinochet politics for 25 years has been dominated by a neoliberal duopoly with a Democrat-like bunch alternating with a Republican-like bunch (with notes of fascism as they descend from the pinochetista formations of the 1980s). This outcome reflects the deep rejection of both that has been building for a while.
Haiti's Clinton Problem: During his term, Bill Clinton used violent and underhanded tactics to promote US interests in Haiti Jacobin (Joe H)
Syraqistan
Diary Patrick Cockburn London Review of Book (guurst)

The Turks want Mosul and Aleppo "back." Sic Semper Tyrannis (resilc)
The Niger Delta Oil Wars Are Unlikely To End Soon OilPrice. Resilc: "Ee have "advisors" in the north, how soon is the south too?"
Big Brother is Watching You Watch
The DDOS attack yesterday reminds us of how vulnerable we are to flaws in technology Quartz

The Little-Known Company That Enables Worldwide Mass Surveillance Intercept. Lambert: "Wondered what role NZ was playing in 5 Eyes.
Imperial Collapse Watch
Martin van Creveld explains why our armies are becoming pussycats Fabius Maximus

Why won't anyone admit that America is fighting 5 wars? The Week (resilc)
Clinton E-mail Tar Baby
Clinton Ally Aided Campaign of FBI Official's Wife Wall Street Journal
2016
AT&T-Time Warner face uphill battle in Washington Financial Times. Trump has spoken against it (see below); Clinton has been non-committal; Kaine has raised some lukewarm concerns.
Donald Trump rips into possible AT&T-Time Warner deal CNN (EM)
AT&T Is Buying Time Warner Because the Future is Google Wired (resilc)
Variations in party % sampling, 2016 and Oct 2016 polls Spread An Idea. The source of the misunderstanding is that "oversampling" does not mean "overweighting". It means sampling more in a particular slice of the mix to get a more accurate reading on that particular cohort.
Political Road Map: How unlimited cash gets funneled into legislative campaigns Los Angeles Times (resilc)
Banker Deaths and WikiLeaks Deaths Have a Common Thread Pam Martens and Russ Martens (Wat)
Silicon Valley: Under pressure to float Financial Times
Class Warfare
Gary Younge, America's Deserving and Undeserving Dead Children TomDispatch

The Cure For Being A Woman YouTube (Chuck L). One of the things I've come to realize is that I'm much more gender blind than most people are. What is noteworthy to me about this clip is that the subject puts constant fear of physical harm on her short list of what is dysfunctional about being female. That's never been part of my reality, in part due to not being cute when I was young and therefore not having been the object of unwanted male attention, but also having been bigger than all the boys in my classes in both height and weight through adolescence. As a result, I've had only a very few instances where men have tried to intimidate me, like an overweight guy in his 40s coming into the ATM section of a bank branch, going through the motions of getting money, and then asking me at the neighboring ATM to give him cash. I was feeding checks in and reflexively gave him a "What, are you crazy?" look and continued without changing my rhythm. I had been planning to get cash but was not going to do that in front of him. I figured there were multiple cameras and he didn't look desperate or drugged out, so he was unlikely to do anything stupid. He lurked a few minutes and left before I was done processing my checks, so I did in the end get my cash too.

The point of that long-winded story is not being afraid makes you less vulnerable. I've also stared a man down when I could see the impulse to slug me flicker through his eyes, and again, that was reflex on my part, and clearly not what he was expecting.

But if most women really are that afraid most of the time (ladies, pipe up), then the power of the "Trump as bully" trope in rallying women against him makes a ton more sense to me than it has heretofore.

What is the gender pay gap and is it real? Economic Policy Institute. Anyone who has worked on Wall Street will tell you it is real. On top of the undervaluation of work done by women (confirmed by studies that show that the same writing sample attributed to a man will be scored higher than if attributed to woman, and women in the sciences on average have to publish 2.5X as many peer-reviwed papers as men to get tenure), women are perceived to be weaker bureaucratic infighters and are thus targeted more than men. I've experienced, and have also had other women report, that men tried to invade their client relationships in a way they would be unlikely to do with a male peer.

Oakland rent continues to rise, Zillow says KTVU. EM: "Median asking rent up 70% in under 3 years."

America's Middle-class Meltdown: Core shrinks to half of US homes Financial Times (resilc)
Antidote du jour (Tracie H). I believe this is a tapir: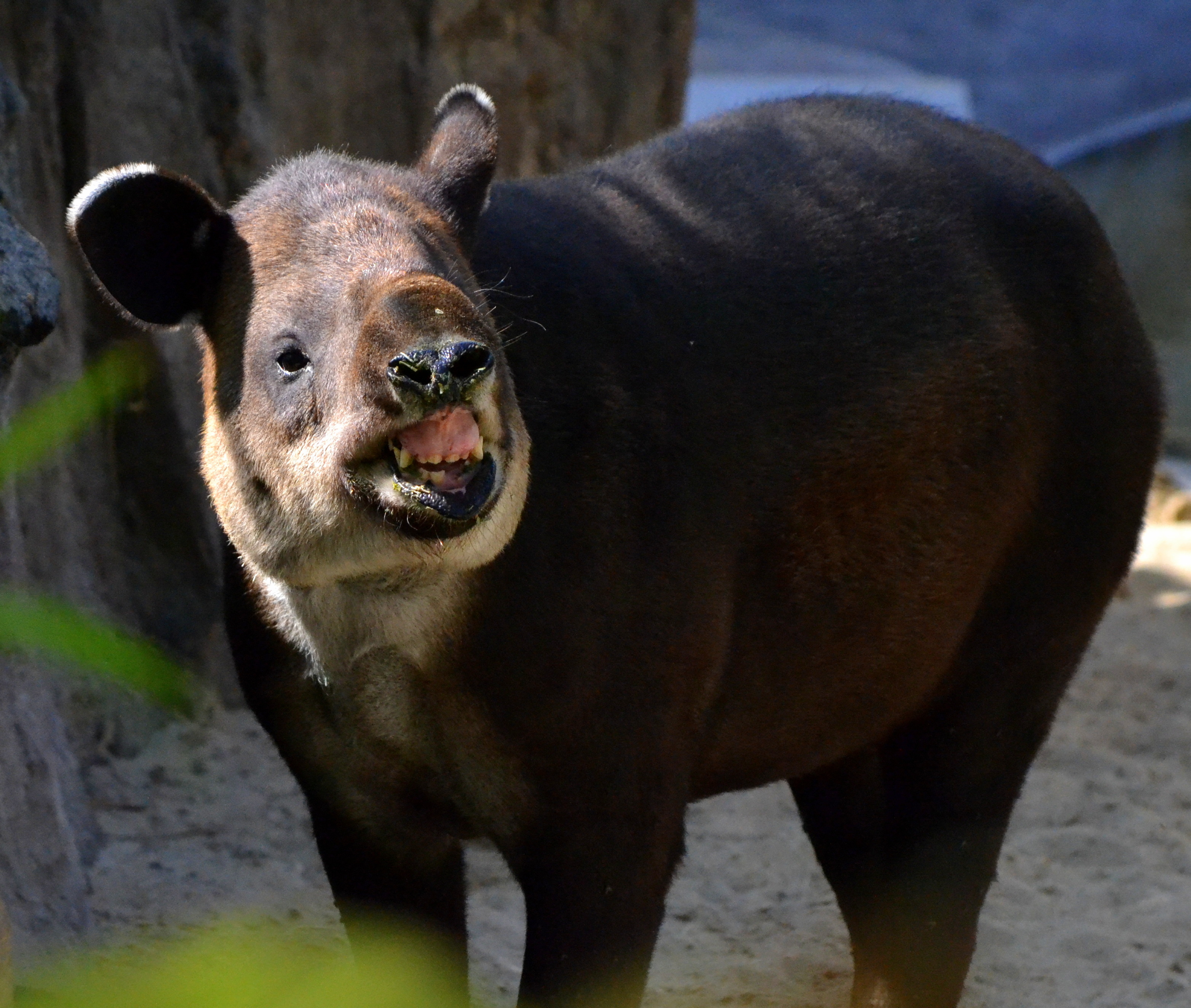 See yesterday's Links and Antidote du Jour here.