By Lambert Strether of Corrente.
2016
Days until: 0. This is it! This seems a propos:
We've updated our Twitter header in honor of the election. pic.twitter.com/mOFT8sUlVD

— Merriam-Webster (@MerriamWebster) November 7, 2016
The Voters
"The Final Forecasts" [Taegan Goddard]. "Every single major electoral vote forecast also gives the advantage to Hillary Clinton. The consensus electoral map that we put together for members over the weekend — join today! — has Hillary Clinton winning with 322 electoral votes with Donald Trump at 215 electoral votes." 2012: 332 Obama, 206 Romney. After all the sound and fury…

"The moment of truth arrives for the USC/L.A. Times tracking poll" [Los Angeles Times]. "The USC/L.A. Times "Daybreak" tracking poll has been the great outlier of the 2016 campaign. Since it started in July, the poll has consistently shown a better result for Donald Trump than other major surveys. Most of the summer and fall, the poll's results have been about six points more favorable to the Republican than the polling averages… Some of the worst failures of polling have come about because pollsters, whether deliberately or not, converged on a single view of an election, in what is often referred to as 'herding.'" Which is the weakness of an approach centered on averages, a la RCP (which I've adopted). If all the lemmings are headed over the cliff, then the spread between lemmings doesn't matter very much. Importantly:

The poll asked respondents whether they were comfortable talking to people about their vote. The survey found that Trump supporters reported themselves as being slightly more comfortable than Clinton voters in talking to family members and acquaintances about their choice.

But Trump voters were notably less comfortable about telling a telephone pollster about their vote. Voters who backed a third-party candidate were even less comfortable responding to a poll. Women who said they backed Trump were particularly less likely to say they would be comfortable talking to a pollster about their vote.

So there really are shy Trump voters!

"The spread of early balloting is forging new habits that are forcing campaigns to rethink how they allocate their resources. And it tends to favor those campaigns that are more technologically sophisticated and can identify, draw out and measure its support over a longer voting period" [New York Times].

"Exit Polls Aren't What You Think They Are" [Medium]. Because statistics. "[Exit] polls are designed first to get granular demographic information, and only as a secondary feature to predict the overall outcome of the election."

"Are There Really Bellwether Electoral Districts?" [Edward Tufte and Richard Sun]. No.
Downballot
"These four races will decide who controls Senate" [MarketWatch]. The tossups, incumbents if any marked with "*": New Hampshire: Kelly Ayotte (R)* v. Maggie Hassan (D); Indiana: Evan Bayh (D) v. Todd Young (R); North Carolina: Richard Burr (R)* v. Deborah Ross (D); Nevada: Catherine Cortez Masto (D) v. Joe Heck (R).
The Trail
"But what almost no one is talking about is that for Trump to get to 270 electoral votes, he has to carry Maine's 2nd congressional district, which has exactly one electoral vote. Maine is one of just two states that apportions electoral votes by congressional district and not by the total state count. The state has four total votes. Two go to the statewide winner, and one each goes to the winner in the two congressional districts. District 1 along the coast is firmly Democratic. And up until either yesterday, District 2 had been in the Clinton tally, too. [But] ME2 is now red, potentially giving Trump the one vote he needs for a win" [John Mauldin, Econintersect]. Which would be why Trump visited Bangor.

Maine CD 2 is the quintessential battleground of frustrated America. The paper mills and other industries have been closing down, and the solid union jobs are not so slowly going away. It's a hard-knock life for many of the residents. When you go out in a fishing boat with a few economists and financial industry types, those guides listen. You become friends after a few days, and they begin to ask very pointed questions, trying to figure out how our conversations about national and global issues affect their lives. Honestly – and you have to be honest with someone who becomes your friend over the years – I cannot tell them that things are going to get any better for a while. In their eyes, of course, I am one of the elites they are frustrated with. I have an easy job, traveling around the world and writing, reading, and talking to people.

And when you go into town and you talk to people, you hear about one hardship after another. So I think it's fitting that this one small district has the potential to determine the future of our country. This is the America I grew up in. I readily admit that it's not the America I live in, but it fits the image that many of us hold in our minds when we think of America. Not the beat of the city, but the pulse of the country.

"When we think of America." Economically, at least.

"[Trump's] threat to jail his political opponent will be discussed and criticized for centuries" [Calculated Risk]. "Centuries." Goodness.

"If we elect a woman as our national leader for the first time in the history of the republic, eight years after electing an African-American man, we may be moving toward democracy at last" [Gloria Steinem, Financial Times, "Clinton has been swiftboated by Trump and his acolytes"]. A strange view of democracy; it seems that identity politicians have their own ideas on legitimacy. And then there's this:

Mr Trump may not have a choice, but American voters do. If Hillary Clinton survives this campaign that has so distorted who she is and always has been, she will stand for women's rights as human rights; for economic ties and in-depth diplomacy; for women as peace negotiators; for an administration that looks like the country; and for a foreign policy that considers the status of women in other countries. As David Gergen, an adviser to four US presidents of both parties, has said, "to empower women … would do so much to advance the world, but it would also restore America's moral standing".

Leaving aside the rich irony of feminist icon Gloria Steinem treating bipartisan hack David Gergen as authoritative, when I read that Clinton would "stand for" "women as peace negotiators," I threw up a little in my mouth. What, after ginning up a war scare with Putin? Tipping the balance toward Libyan intervention? Not to mention Honduras and Iraq? Sad, and clarifying, what's become of Steinem.
Realignment
"But considering that the signs point to something of a split decision in the election — Democrats retaining the White House, the GOP in charge in the House and the Senate in precarious balance — it's hard to imagine sunny political skies in the forecast any time soon" [Chuck Todd, NBC]. "Sunny" for whom?

"The Worst Election Coverage Ever" [Eschaton]. "[T]his year, coverage of a white nationalist presidential campaign, and the concerns of its supporters, was given top billing at every step." Contrast Sanders:

I do not believe that most of the people who are thinking about voting for Mr. Trump are racist or sexist.

— Bernie Sanders (@BernieSanders) November 5, 2016

I think the Brock wing of the Democrat Party, and the Sanders wing of the Democrat Party have some conflicts about strategy.

Fun fact:

Today is #18brumaire. Hold onto your hats, everybody. https://t.co/12BeK9kVuz

— Brandiann Molby (@brandibkworm) November 8, 2016

Hegel remarks somewhere that all great world-historic facts and personages appear, so to speak, twice. He forgot to add: the first time as tragedy, the second time as farce… Men make their own history, but they do not make it as they please; they do not make it under self-selected circumstances, but under circumstances existing already, given and transmitted from the past. The tradition of all dead generations weighs like a nightmare on the brains of the living. And just as they seem to be occupied with revolutionizing themselves and things, creating something that did not exist before, precisely in such epochs of revolutionary crisis they anxiously conjure up the spirits of the past to their service, borrowing from them names, battle slogans, and costumes in order to present this new scene in world history in time-honored disguise and borrowed language. Thus Luther put on the mask of the Apostle Paul, the Revolution of 1789 – 1814 draped itself alternately in the guise of the Roman Republic and the Roman Empire, and the Revolution of 1848 knew nothing better to do than to parody, now 1789, now the revolutionary tradition of 1793-95.

If you ever wondered where came from, now you know! A fine example from the 2016 election is commentators comparing Clinton to Lincoln.
Stats Watch
NFIB Small Business Optimism Index, October 2016: "The small business optimism index rose 0.8 points in October to 94.9, slightly exceeding expectations and extending a rebound from the 2-year low at 92.6 set in April" [Econoday]. "A net 25 percent of owners reported raising worker compensation, a 3 point increase from September. Capital outlays, a leading strength of the index recently and important for future growth, remained at a strong 27 percent, the second highest reading of the recovery." But the NFIB's press release says: "Small business owners are rattled by uncertainty and unable to decide whether to expand, whether to hire, or whether to make other important decisions that might boost the economy" [Econoday]. And: "the highest level this year" [Calculated Risk].
JOLTS, September 2016: "Job openings rose to 5.486 million in September, up from a revised 5.453 million in August but still on the low side of this year's trend. Hires are down in the September data, to 5.081 million from August's 5.268 million to suggest that employers are having a hard time filling slots" [Econoday]. "With it hard to find the right person for the right job, employers are holding onto their existing employees closely as the layoff rate fell… [I'm so old I remember when you could get training at your job! Good times….] Though hiring is down, these numbers nevertheless will confirm worries that wage inflation may be approaching, that employers will have to offer more to bring in the workers they need." Time to screw the workers take away the punch bowl, Janet! And: "The data overall suggests that there was a slight cooling in the labour market during the third quarter, but not enough to discourage a December rate increase from the Federal Reserve" [Economic Calendar]. And: "[A]nother solid report" [Calculated Risk].
Fed Loan Officer Survey: "The latest Federal Reserve senior loan officer survey on bank lending standards reported that standards were basically unchanged for the commercial sector during the third quarter of 2016. There had, however, been some tightening of conditions on Commercial Real Estate (CRE) loans" [Economic Calendar]. And: "Bank credit tends to tighten up as the economy slows, which slows lending and makes matters worse.The buzz word is 'pro cyclical'" [Mosler Economics]. As we've seen, the bright spot in CRE is supply-chain related, e.g. distribution centers. And that's a bet on globalization, no?
Shipping: "Investors are following online retailers into warehouses" [Wall Street Journal]. "Singapore's sovereign-wealth fund agreed to pay $2.7 billion for P3 Logistics Parks and its portfolio of European warehouses… in one of the biggest real-estate deals in Europe this year. The high returns on the industrial properties are a big draw, but the bigger attraction over the long term is the growing need for space to serve e-commerce customers in a European market with a limited number of high-quality warehouses. This is the second big buy in logistics for Singapore's GIC Pte. fund, which bought the Blackstone Group LP's IndCor Properties and its network of U.S. warehouses. The upheaval in the market likely isn't over—another Blackstone property, Logicor, is exploring either an outright sale or an initial public offering of a business that owns 660 warehouses in 18 European countries."
Shipping: "The top U.S. maritime regulator [Federal Maritime Commission Chairman Mario Cordero] says the ongoing consolidation in the shipping industry isn't leading to collusion to fix freight rates" [Wall Street Journal]. Of course not. That's the purpose of setting up a ginormous cartel, right?
Shipping: "The Port of Oakland said today its October export volumes reached a three-year high, increasing 20 percent over 2015 levels and posting the fourth-largest monthly total in its history" [DC Velocity]. "Port executives said that export volumes benefitted from weakness in the U.S. dollar that made U.S. exports more competitive in world markets and a strong agricultural harvest. Oakland is the closet seaport to the verdant growing areas of the Central, Napa, and Salinas valleys, and as a result handles much of the state's agricultural export cargo. The port reported that containerized import cargo volume increased 2 percent in October. Overall loaded container volume—imports and exports—was up 11.4 percent, the port said."
Shipping: "[UPS] is buying medical-logistics specialist Marken Ltd., pushing deeper into the highly specialized and very profitable business of healthcare industry deliveries. The move is a play for high-yield business when many traditional industrial and retail customers are opting for slower, cheaper shipping….Closely-held Marken specializes in transporting clinical trial materials and medicine between 49,000 clinical trial locations around the world, work that is particularly sensitive in terms of time and temperature" [Wall Street Journal]. "For UPS, it also delivers a bigger entry into a growing market, particularly as aging populations in the developed world spend more on health care and clinical research expands."
Shipping: "Packaging machinery shipments in U.S. could reach $8.5 billion in 2020" [DC Velocity] "[T]he fastest-growing machinery types scored by CAGR through 2020 will be the labeling, decorating, and coding (3.9 percent) and the case handling (2.5 percent) machinery groups. That rapid growth is largely a result of new legislation demanding increased labeling and coding, continuing developments in printing technologies, and the proliferation of SKUs, PMMI said. The other machinery groups include: filling and dosing; bottling line; form, fill, and seal; cartoning; palletizing; closing; and wrapping and bundling." Fascinating to see the interface between big data and stuff.
Shipping: "Container ship demolition hits record high" [Journal of Commerce]. "Shipowners have demolished 4.2 times more 20-foot-equivalent units so far this year than in the same period of 2015, with 500,000 TEUs. Most of the activity has occurred in the last three months, which accounted for 41 percent of the demolition thus far in 2016. The demolition activity in the last three months surprised BIMCO [Baltic and International Maritime Council] positively and it exceeded our initial expectation based on the appalling 2015 demolition activity,' said Peter Sand, chief shipping analyst, BIMCO. "The advance is a push in the right direction, as demolition activity is one of the essential measures needed to be taken to rebalance the container shipping industry.'" "Rebalance." No Pakistanis burned to death lately, so we're good!
Shipping: "Southern California chassis shortages recede as Hanjin boxes are cleared" [Lloyd's List].
Retail: "Panjiva Research Director Chris Rogers told Logistics Management that when specifically looking at import numbers for things like apparel, especially winter clothing, and toys, which are both down, it suggests that retailers are not feeling 'hugely confident' about the state of consumer spending. And he added that it is in direct contrast to recent data issued by the National Retail Federation, which is calling for holiday shipping season (the months of November and December) to be up 3.6 percent" [Modern Materials Handling]. From October. But still.
Retail: "A recent survey of shoppers weighed in with their answer to the question, "Do you like Black Friday?" Only 14.7% said that they love it, while 50.7% said it was okay. More than a third — 35.3% — said they hated it. A rather staggering 85% of those surveyed either hated Black Friday or didn't care much about it" [247 Wall Street] (original survey). Throw me in the "hate" bucket!
Housing: "It is so interesting to once again see the 'drive until you qualify' meme permeating the housing industry. People seem to think this is now a new permanent plateau, a new normal, yet ignore the low home ownership rate and the reality that momentum is turning. But of course many are not paying attention – they are stuck in traffic apparently. Mega commutes, rental Armageddon, and insane prices for crap shacks are all part of the game today" [Dr. Housing Bubble]. "If you look at the rise in these mega commutes in the Bay Area and Silicon Valley it shot up in 2010… Something fundamentally shifted here. Of course you have your house humpers saying that this is great and somehow reflects a healthy market but in reality, it simply shows a hyper manic market of people desperate to claw into a crap shack. And many are now having to endure Clockwork Orange like torture in traffic. Many Millennials are simply saying no and are renting closer to work (or living at home with parents)."
Honey for the Bears: "The restaurant recession has arrived" [MarketWatch]. "One factor is pressure on discretionary income from the rising costs of staples such as rent, medicine and education. Then there's the steady rise in the cost of eating out, which has come just as grocery bills are getting cheaper. The cost of food purchased for home use—that is, groceries—has fallen 2.4% in the past year, government data showed in October. That's the biggest decline over a 12-month period since the end of the Great Recession in 2009… Food costs have shrunk because of a global glut in farm products such as wheat, rice, soy and corn. Then there's the effect of U.S. producers increasing the size of egg-laying chicken flocks and cattle herds, which has helped bring down the cost of eggs, beef and milk—egg prices alone have tumbled a staggering 50% in the last year."
The Bezzle: "Amazon.com Inc. could be in the crosshairs of Europe's taxman" [Wall Street Journal, "Europe's Taxman Could Have Amazon in Its Crosshairs"]. "That could be material for Amazon, which operates on thin margins for a large tech company. In 2015, it reported $596 million in profit on $107 billion in revenue—a profit margin of 0.56%."
Currency: "Taking the nation by surprise, Prime Minister Narendra Modi on Tuesday night announced demonetisation of Rs. 1000 and Rs. 500 notes with effect from midnight, making these notes invalid in a major assault on black money, fake currency and corruption" [The Hindu].
Today's Fear & Greed Index: 29 Fear (previous close: 26, Fear) [CNN]. One week ago: 22 (Extreme Fear). (0 is Extreme Fear; 100 is Extreme Greed). Last updated Nov 8 at 11:22am. Mr. Market's knuckles were white there, for a bit.
Guillotine Watch
"Amtrak boosts Wi-Fi speed on Acela Express" [Progressive Railroading]. Moar cowbell.
News of the Wired
"You Can Have Emotions You Don't Feel" [Nautil.us].
"6 reasons to think twice before moving to Canada" [MarketWatch].
* * *
Readers, feel free to contact me with (a) links, and even better (b) sources I should curate regularly, and (c) to find out how to send me images of plants. Vegetables are fine! Fungi are deemed to be honorary plants! See the previous Water Cooler (with plant) here. And here's today's plant: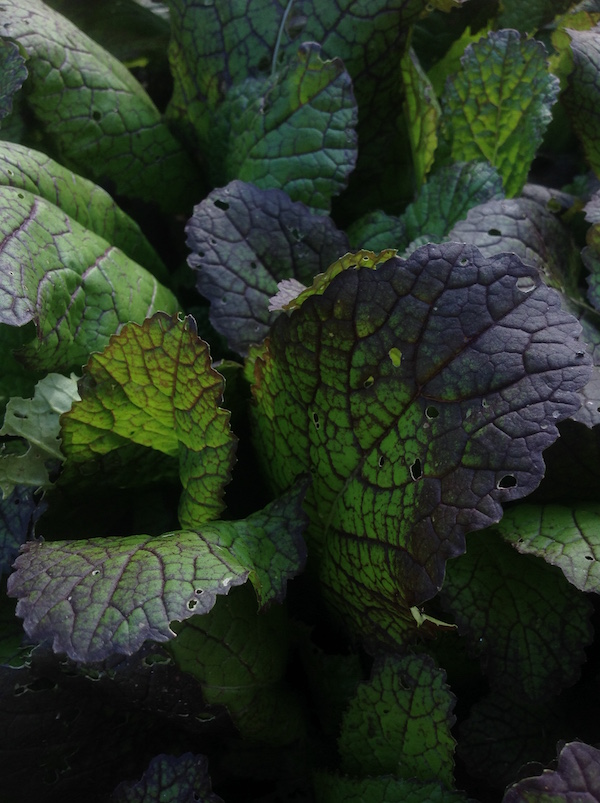 Because it's all about the lettuce, right?
Readers, Water Cooler is a standalone entity, not supported by the very successful Naked Capitalism fundraiser just past. Now, I understand you may feel tapped out, but when and if you are able, please use the dropdown to choose your contribution, and then click the hat! Your tip will be welcome today, and indeed any day. Water Cooler will not exist without your continued help.