Yves here. Is it just me, or is there a dearth of the usual feel good holiday stories? And is that an effort to force us to the movies (or the bottle) for a fix of Christmas/Hanukkah cheer? Please provide items I missed in the comments section. I hope you have a festive and happy celebration.
Hidden Figures: the movie Nature (Chris M)
How to Be a Stoic New Yorker (furzy). Today's must read. I have an unread book of Epictetus. Time to dig it up. The Stoics are also a plot driver in the very much underrated Tom Wolfe novelk A Man in Full (admittedly, the first 50 pages of this very long book aren't up to the level of the rest, so bear with it)
The Long, Lonely Fall of a Heisman Trophy Winner New York Times. Chuck L: "I realize this piece is not exactly in a holiday-cheer vein, but this is also traditionally the season to think on those we've lost in the past year."
Brexit
Jeremy Corbyn: If Theresa May wants an early election, Labour will vote for it Defend Democracy
Outspoken Prince Charles again shows he's not much like Queen Elizabeth II Washington Post (furzy)
New Cold War
CIA chief warns against in-kind retaliation for Russian hacking: NPR Reuters (EM). So we'll hack their voting machines…which I would assume like ours are not connected to the Internet.

Vladimir Putin expresses hope for improved Russia-US relations Financial Times. Heads are exploding over Trump's enthusiastic response.

Russia may play bigger role in N. Korea issues Korea Times
Syraqistan
Big Brother is Watching You Watch
US Government Quietly Starts Asking Travelers for Social Media Accounts Common Dreams (furzy)

Motherboard Series on Smartphone Cracking Motherboard (Bill B)
Trump Transition
2016 Post Mortem
Black Snake Bleeding Out: How DAPL Is Duping Investors Common Dreams (furzy)
Georgia Cop: Let Me Fly Confederate Flag… or Else Daily Beast. The cop has a point, assuming that people in the community know where police officers live. The better move would have been to move the officer off all duties that involved discretion in making charges or subject all such decisions to immediate review (which would be a functional demotion without actual loss of pay or title, so the union and the officer couldn't beef). Maybe a desk job in a precinct? They have those in NYC, but there may not be enough in this town or they may be perceived as cushy.
Point of View: North Carolina is no longer classified as a democracy News & Observer (Mason Dickson)
New McCarthyism
To Go the Way of the Great Auk: the Clintons and the Media Counterpunch

Making Defamation Law Great Again: Michael Mann's suit may continue Washington Post. Note that there has long been a tension between First Amendment rights and defamation, and the pendulum has swung in recent decades even further in the direction of "free speech" rights (the Citizens United decision being another example). This may not be the best decision in terms of reversing that trajectory but it may signal a change in judicial mood.
Ayn Rand and Corporate Tax Cuts Won't Mend the Economy New Yorker
Wells Fargo draws senators' ire on fraud accounts response Winston-Salem Journal
Apple CEO Tim Cook Met With Trump to "Engage" on Gigantic Corporate Tax Cut Intercept (furzy). On the one hand, Silicon Valley has been hugely opposed to Trump, and he hardly needs corporate allies for his tax cut plans. On the other hand, Apple has headline value.
Twitter is 'toast' and the stock is not even worth $10: Analyst CNBC. Cathy O'Neil, who blogs as mathbabe, interviewed for what was nominally a big data job there +4 years ago when big data was really hot. She decided not to pursue it because management was hostile to data analysis and wasn't about to give the person who got the job the authority they'd have at similar social media companies. So as much as I like Twitter, it looks as if they made their bed quite a while ago.
Class Warfare
Antidote du jour (Tracie H). Honey bee on poinsettia, from the South Coast Botanic Gardens: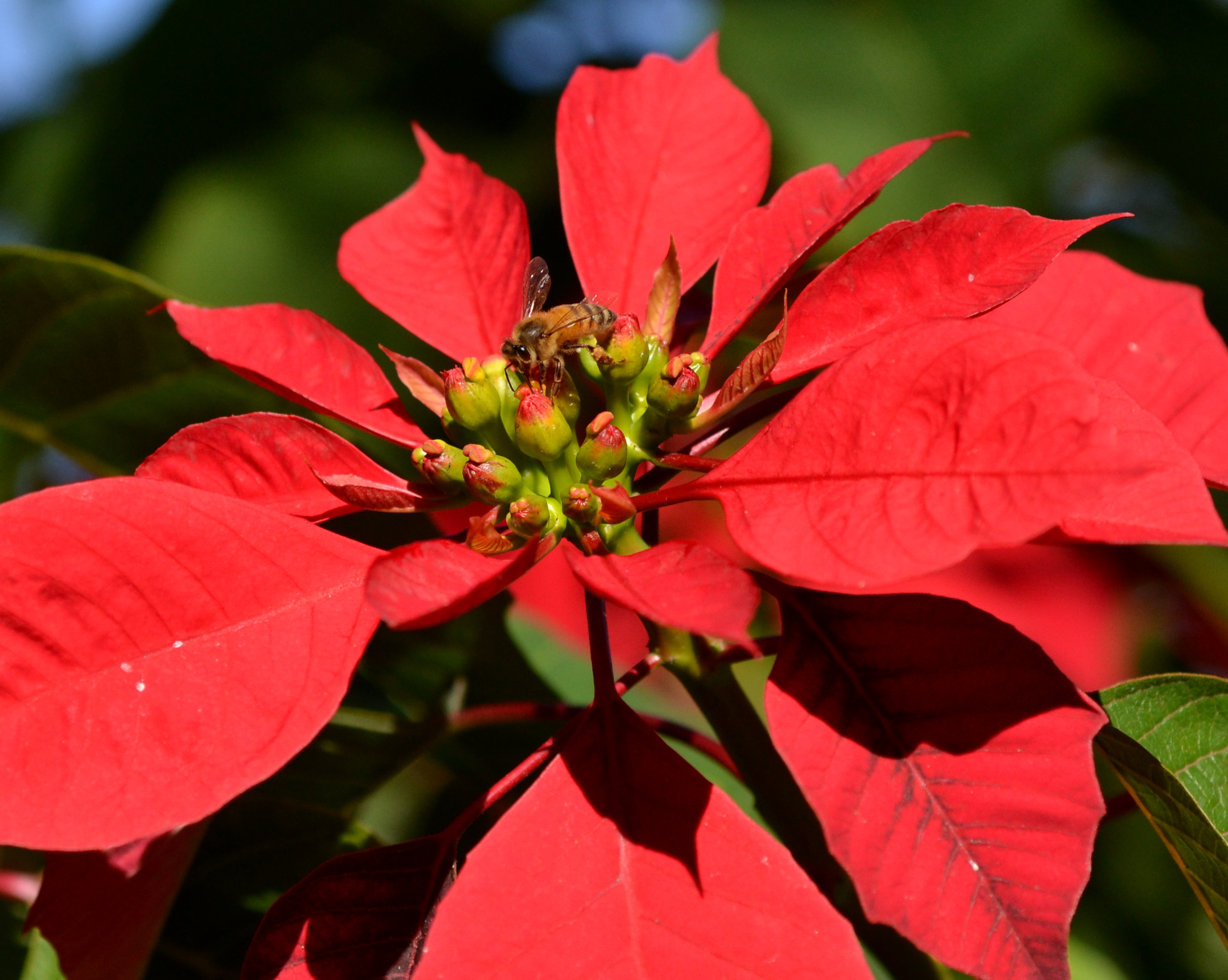 And a bonus video:
See yesterday's Links and Antidote du Jour here.