Close-Up Portraits of Birds Shot in a Photographer's Backyard Colossal (resilc)
Last endangered Mexican porpoises to be rounded up by US Navy-trained dolphins Guardian
One Man's Quest to Change the Way We Die New York Times
A massive volcano is rumbling…right under one of Italy's biggest cities: Report CNBC (Robert H)
Metior passes behind Turrialba volcano YouTube. Robert H: "The volcano has been in a low level eruption for a few months."
This map of 30 years of car crashes should persuade you not to drive in snow Vox. Easy to say if you don't live in the Upper Midwest or the non-coastal parts of New England.
Koolova Ransomware Decrypts for Free if you Read Two Articles about Ransomware Bleeping Computer. Chuck L: "Perhaps too IT-centric for NC but it pegged my weirdness meter."
Holy Cow: Amazon's Plan for Flying Warehouses Core77 (resilc)
Our Unfortunate Annual Tradition: A Look At What Should Have Entered The Public Domain, But Didn't TechDirt (Chuck L)
What the tech industry can learn from pharma trials Financial Times (David L)
The War on Cash
Dirty Money Scientific American
Bitcoin passes $1,000 but only number that matters is zero Financial Times
China?
A human rights activist, a secret prison and a tale from Xi Jinping's new China Guardian (Tom H)
Brexit
Finland introduces basic income for unemployed Aljazeera (margarita). Note this is a workaround to address disincentives in the Finnish social safety system.
Colombia – Inviting NATO to Fight "Organized Crime" – A Menace for Latin America Vineyard of the Saker (Chuck L). Talk about mission creep, on multiple fronts.
Millennial princes snatch at power in Gulf Reuters (resilc)
New Cold War
Still mealy mouthed, with repeater Goebbo-chestnuts like: "associated by authorities with the Russian hacking operation that infiltrated the Democratic Party"; "Grizzly Steppe, which U.S. officials have identified as the [sic] Russian hacking operation"; "overly broad information to companies that was not effective in isolating Russian government hacking", and "We know the Russians are a highly capable adversary who conduct technical operations in a manner intended to blend into legitimate traffic," the official said", plus the prior story links.

This Vermont version is sourced properly at Burlington, with genuine names and ranks, and the story line is important — the utility has an entirely different assessment of what happened from the anonymous "government officials": http://digital.vpr.net/post/botched-washington-post-report-launches-burlington-electric-national-spotlight#stream/0 — and it has this line: "Lunderville [Burlington] said The Post didn't make an effort to contact Burlington Electric until 10 minutes after publishing its story", which WaPo continues to dispute. The "correction" at the tail is a cute joke, too.
Trump Transition
Mark Zuckerberg's 2017 plan to visit all US states hints at political ambitions Guardian. Kill me now.
Senate Moves to Dismantle Health Law Wall Street Journal
Democrats talk up the one Trump nomination they can torpedo Politico. The other one at risk is Tillerson since Dems and Cold Warriors might team up.
Treasury Nominee Steve Mnuchin's Bank Accused of "Widespread Misconduct" in Leaked Memo David Dayen, Intercept. Mnuchin is one of the worst Trump picks (not qualified on top of past corruption) but he is almost certain to be approved.
New Republican Congress reverses ethics move after outcry BBC
House GOP Gives Staff Broader New Powers to Grill Witnesses Bloomberg
Megyn Kelly's Big Mistake Politico
Black Injustice Tipping Point
North Carolina officer caught on video slamming female student to ground Guardian
The Trump Rally May Be Over Come Inauguration Day Bloomberg
U.S. Quietly Drops Bombshell: Wall Street Banks Have $2 Trillion European Exposure Wall Street on Parade
The Fallout From Madoff's Fraud Includes an Ironic Twist for Investors Bloomberg (Li)
Equifax and TransUnion fined for deceptive credit score practices Financial Times
THERE'S A MASSIVE RESTAURANT INDUSTRY BUBBLE, AND IT'S ABOUT TO BURST Thrillist
Class Warfare
Airbnb faces $400m lost bookings in London crackdown Financial Times. Couldn't happen to a nicer bunch.

'Routine' Jobs Are Disappearing Wall Street Journal
Antidote du jour (Kittie Wilson via Lawrence R):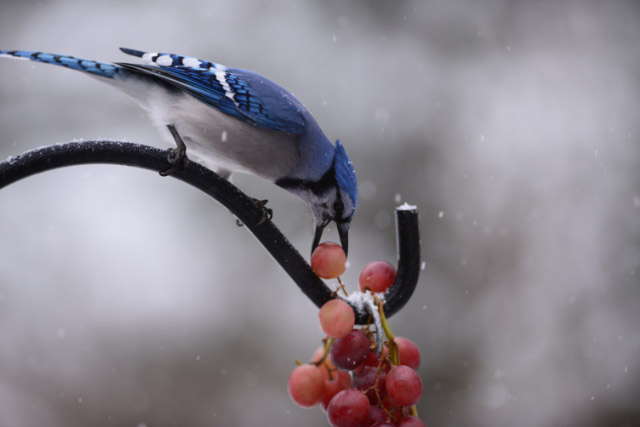 See yesterday's Links and Antidote du Jour here.