The highly-respected medical publication, The Lancet, released an important new study yesterday, Future life expectancy in 35 industrialised countries: projections with a Bayesian model ensemble (hat tip Emma). To the extent it was noticed by the media, this Google News search show that coverage focused on how life expectancies are expected to continue to rise, to the degree that the projected best performer, South Korea, will have better than 50% odds an expected lifespan of 90 years for women.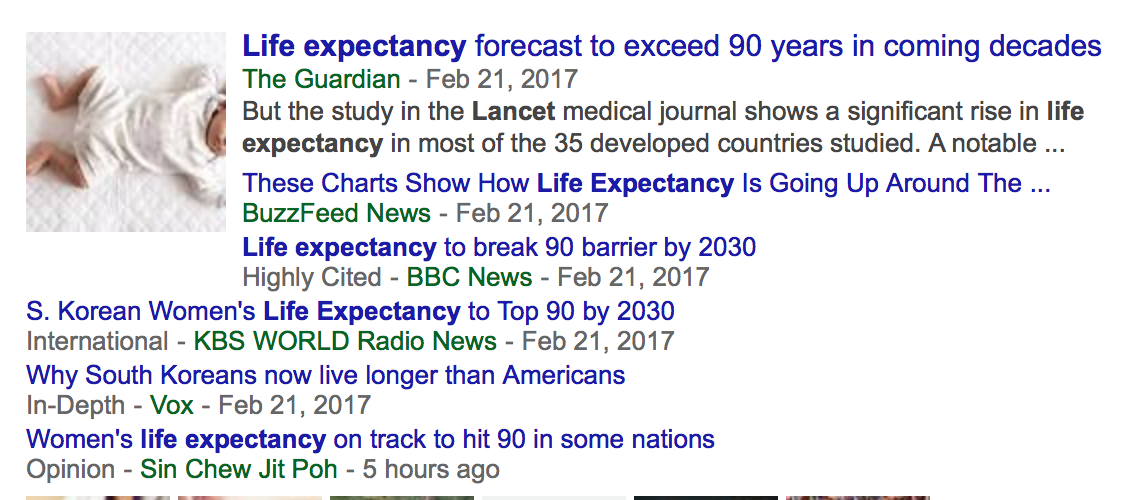 However, the focus on the high performers, which after South Korea are, in order, France, Spain, and Japan, gives short shrift to the continuing fall in the relative performance of the US, which Lancet projects as landing solidly in third world terrain in terms of women's life expectancies. Men show better relative results and do well now by global standards, but they show a much bigger expected relative fall in the upcoming decade plus.
If you look at the data charts, the big reason is that the researchers project the US to show very little in the way of improvement, while they anticipate many other countries to register big gains, to the degree that they leapfrog the US. Japan is even more stagnant, but it now ranks so high that the relative fall is not as dramatic.
This is the high resolution version of analysis of life expectancy at birth as of 2010 and projected to 2030; you can see view it at Lancet here.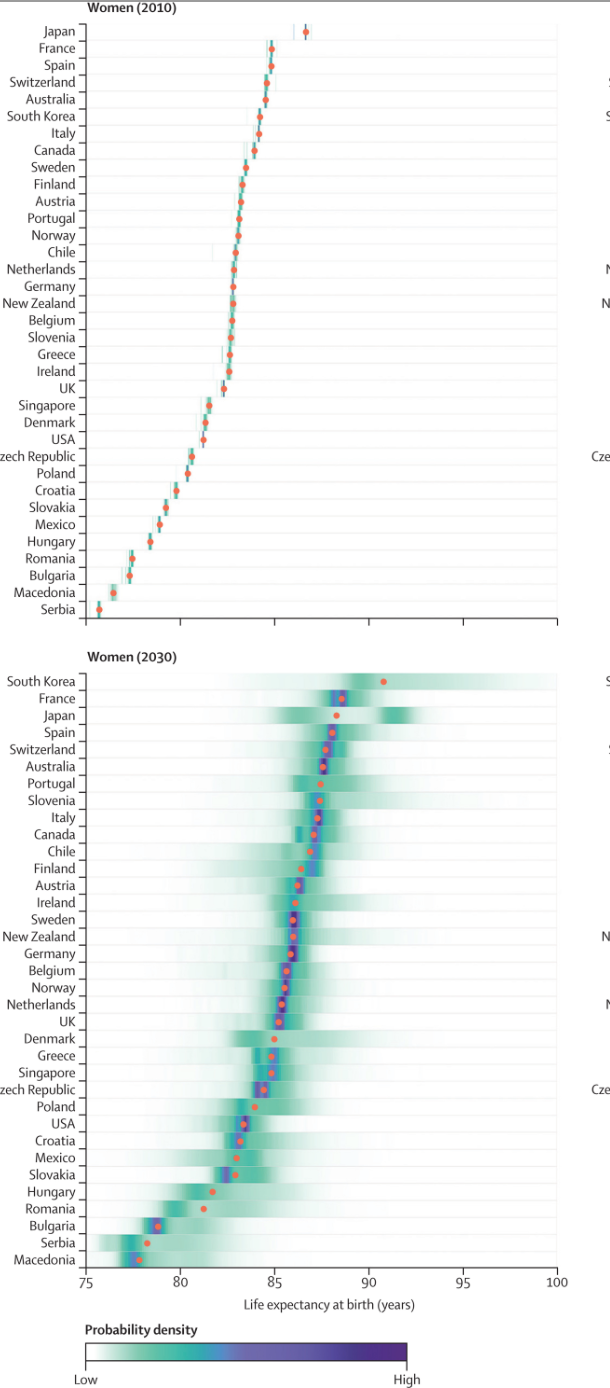 Even with the microtype, you can see that in the 2010 chart, the US has ten countries with lower life expectancies, such as the Czech Republic, Poland Cratia, Serbia, Mexico, and Macedonia. By 2030, the US is forecast to have slipped further, with Poland and the Czech Republic having pulled ahead.
By contrast, men in the US do well by global standards, and one wonders if that reflects biases in treatment. The press has recently started to discuss how certain conditions are chronically underdiagnosed in women, such as heart disease (this was a pet peeve of my first MD, who was a cardiologist). Similarly, most non-psychiatric clinical trials, unless they are of women-only ailments, are conducted on male-only subjects, meaning the efficacy and typical dosages may not translate well to women. Another well-documented bias in the US (and query whether this is less true elsewhere) is that women complaining of pain or sub-clinical conditions are regularly seen as being hypochondriacs, and doctors push antidepressants as the remedy (I've had this happen even after making clear I have high pain tolerance and my medical history shows I rarely seek treatment), while this is apparently less common for men.
Even so, you can see the Lancet team also anticipates a big fall in relative standards for US men: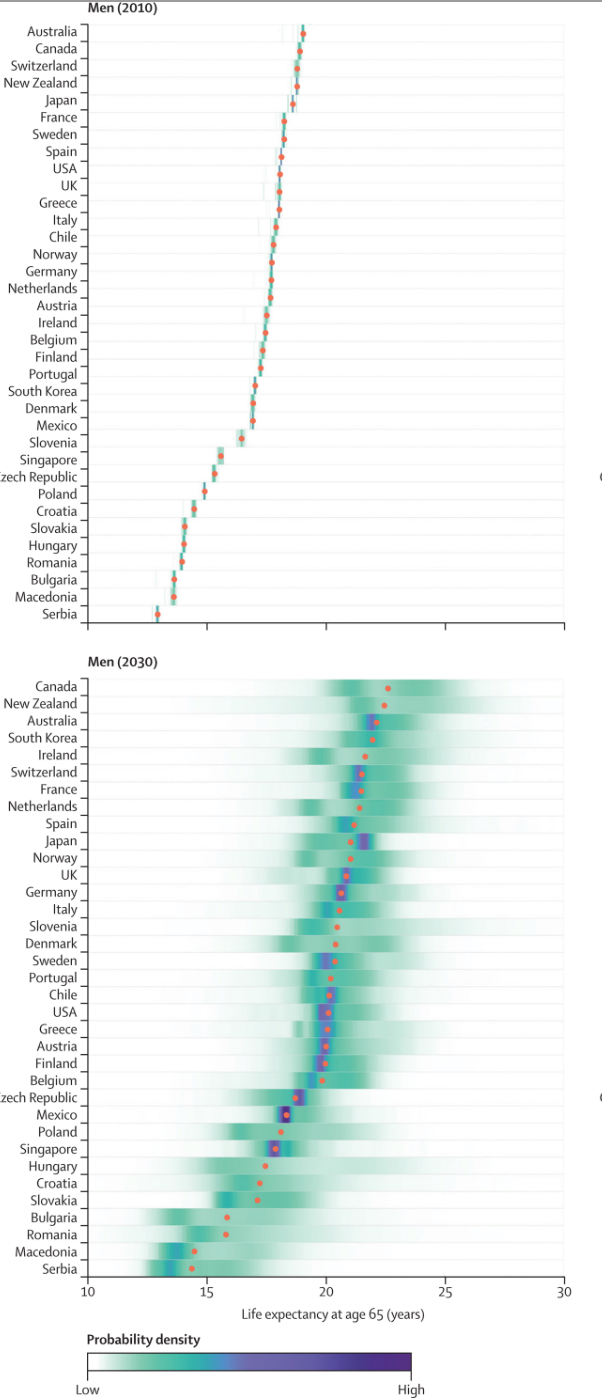 By 2030, the only first world countries with lower forecast life expectancies for men are Austria, Finland, and Belgium (despite having a glitzy central city where rich natives and visitors congregate, Singapore also has large sections where much less affluent Indians and Malays live).
Although forecasting is always a fraught exercise, the paper does seem to be robust from a methodological standpoint; I hope the data experts will weigh in. It has intriguing detail, such "Contributions of mortality decline in three age groups (0–29 years, 30–64 years, and 65 years and older) towards the projected increase in life expectancy at birth." From the text:
Early life expectancy gains in South Korea, which has the highest projected life expectancy, and previous to that in Japan, were driven by declines in deaths from infections in children and adults; more recent gains have been largely due to postponement of death from chronic diseases.These gains were due to broad-based inclusive improvements in economic status18 and social capital (including education) in both countries, which improved childhood and adolescent nutrition (eg, as seen by South Korea and Japan having achieved some of the largest gains in adult height over the past century), expanded access to primary and secondary health care, and facilitated rapid scale-up of new medical technologies. South Korea has also maintained lower body-mass index and blood pressure than most western countries, and lower smoking in women. Finally, South Korea and Japan might have lower health inequalities (eg, for cancer and cardiovascular disease mortality, and for self-reported health status) than some of their western counterparts, especially for women. Other countries with high projected life expectancy are benefiting from one or more major public health and health-care successes. Examples include high-quality health care that improves prevention and prognosis of cardiovascular diseases and cancers, very low infant mortality, low rates of road traffic injuries and smoking (eg, Australia, Canada, and New Zealand), and low body-mass index (eg, French and Swiss women) and blood pressure (eg, Canada and Australia).
Its penultimate paragraph puts the US in focus:
By contrast, projected life expectancy is lower in countries with higher levels of young adult mortality and major chronic disease risk factors, and possibly less effective health systems. These countries also tend to have higher social inequalities, which might lower national life expectancy by affecting the entire population or through the poor health of the worst-off social groups and communities, which in turn affects the national average. Notable among poor-performing countries is the USA, whose life expectancy at birth is already lower than most other high-income countries, and is projected to fall further behind such that its 2030 life expectancy at birth might be similar to the Czech Republic for men, and Croatia and Mexico for women. The USA has the highest child and maternal mortality, homicide rate, and body-mass index of any high-income country, and was the first of high-income countries to experience a halt or possibly reversal of increase in height in adulthood, which is associated with higher longevity. The USA is also the only country in the OECD without universal health coverage, and has the largest share of unmet health-care needs due to financial costs. Not only does the USA have high and rising health inequalities, but also life expectancy has stagnated or even declined in some population subgroups. Therefore, the poor recent and projected US performance is at least partly due to high and inequitable mortality from chronic diseases and violence, and insufficient and inequitable health care.
None of this is news to anyone who has been paying attention. But it is nevertheless disappointing to see the major press organs in the US ignore this important report.