Yves here. This post doesn't incorporate the Trump controversy of the day, namely, the escalation of remarkably thinly-sourced accusations about Trump campaign contacts with members of the Russian intelligence community. Aside from the fact that a careful reading of the stories reveals a yawning chasm between the headlines and the content, a Washington-savvy reader pointed out: "If they had a smoking gun, they'd be presenting it to the intelligence committees and having hearings, not flogging it to the press." But he nevertheless thought that relentless hammering on the notion that Trump was in bed with Russia, no matter how thin the evidence, would eventually do real harm.
A DC insider had a different perspective. He didn't regard the intelligence leaks as all that damaging, but thought that Trump was at sea in terms of getting things done inside the Beltway. Given the composition of his team, things were unlikely to get better on that front. Trump is sorely lacking in people who knew how to get the right players on board or at least somewhat placated. Thus Pence muscling aside Christie was a big loss; although Christie might not have taken the job, Christie would have been invaluable to Trump as a chief of staff and would have brought that expertise. Put it another way: Trump has too many billionaires on his team who like him don't know what they don't know. This is consistent with one of our occasional observations: that Trump would wind up being a blustery, hyperkinetic version of a Jimmy Carter: an outsider who got little done because he had far too few DC old hand in his Administration. Carter mistakenly thought Watergate gave him a mandate to do things differently; Trump owed too many favors to marginal players who were willing to back him early and had a hard time getting members of the GOP mainstream to sign on.
This post has a key point toward towards the end: that Trump and the Republicans need to avoid looking "mean spirited" in delivering on their policies, by implication, the ones meant to increase wages and employment. It's hard to see how Trump can do that. His fabulous short temper means that pettiness is already part of his brand image. And that is already being exploited by the media. For instance, we've commented repeatedly on how bog standard transition moves that the press ignored under Obama are being depicted as sinister because Trump. Similarly, one of the big stories last weekend were ICE raids, which the articles insinuated were unusual and harsh. Yet a story we ran yesterday from Grist that was sympathetic to illegal immigrants included this factoid:
The recent "immigration enforcement surge" has gotten a lot of media attention, but even if the government manages to deport everyone who was rounded up over the weekend, it would need to more than triple its pace just to match the Obama administration, which deported 409,849 people in 2012.
By New Deal Democrat. Originally published at Angry Bear
My post from two weeks ago, "No, Trump isn't Imploding" got picked up by a few other sites within the past few days, and I wanted to follow up because we have a fuller picture of public opinion now.
Basically, Trump still isn't imploding. He is holding his base. In fact, there is a little economic evidence that they are putting their wallets where their mouths have been. BUT, on the other hand, the opposition to Trump is revealing itself as broad-based and intense, in a way that hasn't been seen in America since at least the 1960s (if not the 1930s or 1860s).
Here's Gallup's Presidential approval polling through yesterday: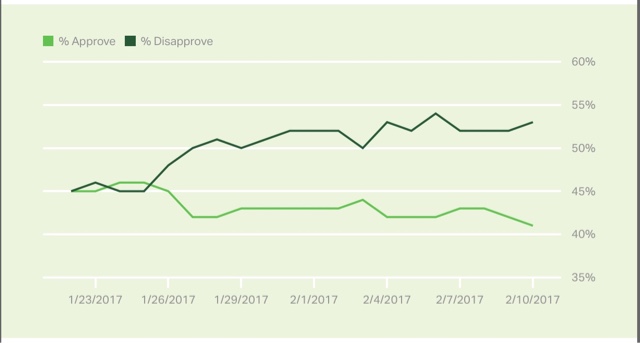 Three weeks after the start of his Presidency, Trump's last approval rating was 41%, down from 45% on his Inauguration Day. He has been between 41% and 43% for the last two weeks.
That's simply not an implosion.  And his GOP base stands behind his controversial Executive Decrees.  For example, here's the breakdown on support for his Muslim exclusion decree:

While Democrats are almost universally opposed, the support by GOPers is similarly almost universal.
But while Trump isn't imploding, the opposition to him is broad, as shown in the increase of disapproval ratings shown above from 45% on Inauguration Day to 53% in the past week.
Moreover, the opposition is intense, as shown by the 45% support for Trump being impeached as evidenced by a PPP poll several days ago: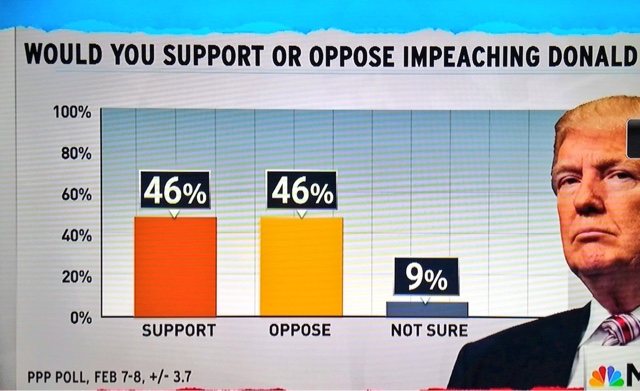 In short, the mushy "bipartisan-y" center so worshiped by the likes of the late David Broder has all but disappeared. Red and blue America are at complete loggerheads.
There is some evidence, by the way, that the optimism of GOPers, as shown in Gallup's economic confidence survey: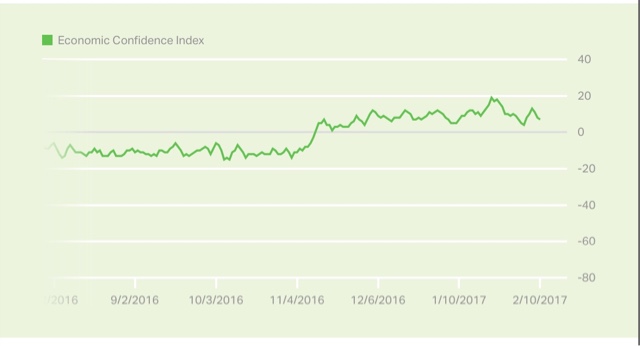 is showing up in real consumer spending. January is typically the month in which consumers spend the least.  Two weeks ago I noted that so far spending was lackluster.  Well, that has changed.  In the last 21 days, consumers are spending close to 25% more than they did one year ago: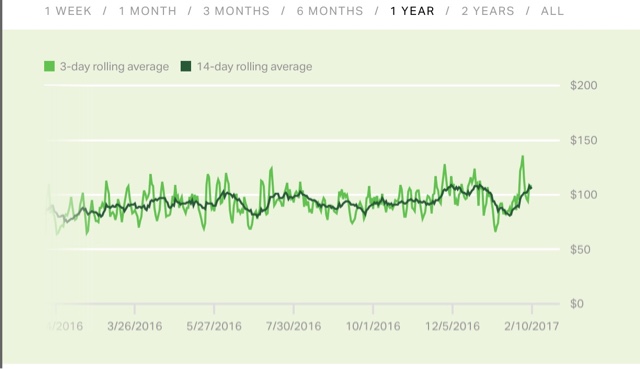 This spending is at the highest level since before the 2008 recession.  I have no way of knowing whether this spending is motivated in part by Trump's presidency, but the coincidence is there.
In the short term, notice that the Congressional GOP has largely gone silent.  No big statements by Paul Ryan or Mitch McConnell, and no big Congressional legislation being shepherded to Trump's desk so far. I think they are in a wait-and-see mode.  There is nothing for them to gain with their base by opposing Trump now.  But if he does implode, they don't want to be associated with that implosion.
In the longer term, for Democrats, Trump and the GOP are going to be judged on whether or not they deliver the goods to a majority of Americans, and do it in a way that does not appear mean-spirited. That means, for example, deporting Illegals who have engaged in violent crimes or theft. It does not mean splitting up families by deporting the working parents of American children who have been here for several decades and whose only wrongdoing was using a false Social Security number.  It also means delivering on jobs and wage growth — something that I doubt very much Trump of the GOP will be successful in doing.
While a number of statistical analyses of the 2016 election have pointed to the primacy of racial attitudes, as for example, shown in this graph: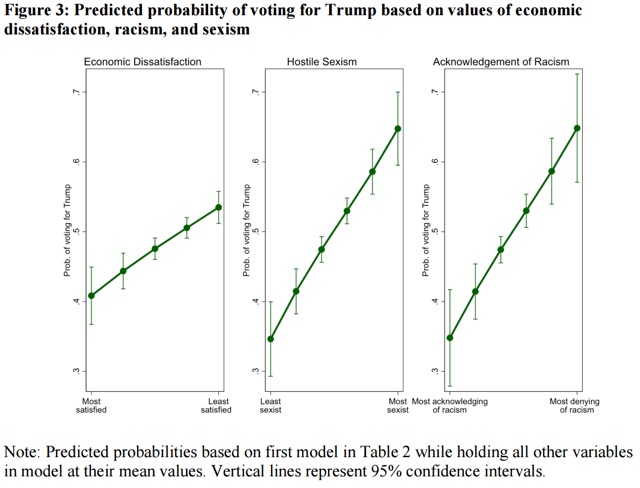 there is not a 100% correlation between that and Trump votes.  In other words, while it may not have been the most common motivator, there were a significant percentage of white voters who did not take Trump's remarks about Muslims or Mexicans seriously, or for that matter that he was really going to repeal ObamaCare.  This last group are the swing voters who can be persuaded back into the Democratic camp by candidates who reject Wall Street and embrace economic progressivism.