Greece continues to suffer horribly on the austerity rack as its European creditors pretend that its unsustainable debts can be paid. The IMF wrote in its latest Greek debt sustainability memo, released this month, that even if Greece does everything asked of it, its growth will be too low for it to be able to manage its debt burden in the long term. That means the IMF under its own rules should not provide further funds unless some of the debt is written off. However, as we explain below, that is something the European lenders, which constitute the bulk of the funding, will never accept.
Normally, regardless of the degree of IMF unhappiness, one would expect, as in the past, the organization would eventually fall into line and participate. But with Trump in, the IMF may be able to wriggle free.
Why the IMF Wants Out of Greece
Last summer, the IMF finally started calling out the charade by signaling it wanted out of future Greek rescues. It's not clear whether the organization recognized that its standard harsh playbook has much lower odds of working ("working" very narrowly defined) when a country can't depreciate its currency to get an export boost, or that its conventional analysis showed that Greece was hopeless.
The reason that Greece has become such an important case for the IMF is that Greece is far and away the IMF's biggest borrower. The IMF is not supposed to be in the business of rescuing sort-of or actual advanced economies. It is in theory a few-year salvage operation for emerging countries that have currency crises. Thus the developing economies that make up nearly half of the votes on the IMF board are very unhappy with how much IMF staff resources and funding capacity is going to Greece.
In addition, the IMF, after a default by Argentina in the early 2000s, has an official "no more Argentinas" policy, meaning it will not extend credit to a country whose program will not result in debt sustainability.
The sticking point with Greece is that the European member states that have been providing most of the funding to successive Greek bailouts have hit the limits of extend and pretend. They have been giving Greece some debt relief in the form of lowering interest rates and extending debt maturities. But maturities so attenuated now that further extensions won't have much impact in lowering the real debt burden.
Since 2015, the IMF has therefore been calling for principal reductions of Greek debt to make the amount more manageable. But that is utterly unacceptable to the countries lending to Greece. Under their budget rules, the rate reductions and maturity extensions won't be recognized as losses until years down the road when actual repayments are made, and then they will be spread our over decades. By contrast, if they were to reduce principal, they'd have to show the loss now. And under Maastrict rules, members would further have to raise taxes to fund the loss, which would be contractionary and extremely unpopular.
The IMF has already had two staff-led rebellions, one last year, when a memo was leaked to Wikileaks, and one the year before that. This 2016 post recaps both incidents plus gives more background:
Wikileaks obtained and published an official transcript of a conference call among Poul Thomsen, the program chief for Europe, Delia Velculescu, the head of the mission in Greece, and another official, Iva Petrova, that took place a mere two weeks ago. The conversation makes clear that the IMF team is frustrated by the fact that Brussels, meaning the European Commission, is sticking to fiscal surplus targets for Greece that the IMF regards as unrealistic, meaning there is no way Greece can achieve those goals…

Recall that the IMF had what appears to have been a staff revolt last year, via a leak of a debt sustainability memo for the upcoming, so called "third bailout" of Greece that made it crystal clear that Greece's debt was not sustainable. "Sustainability" is supposed to be a bedrock requirement for IMF participation. Lagarde managed to tamp down the consternation over the leak and kept the IMF in the negotiations, while also insisting that Greece needs significant debt relief.

Yet here it is, nearly nine months later, and none of the fundamental elements of the impasse of last summer have changed…

The governments of the Eurozone, contrary to the IMF, fantasize that they can make the numbers work by wringing even deeper spending reductions from Greece, even though Greece is proof that lowering fiscal spending, particularly in a weak economy, results in GDP falling so far that the debt to GDP ratios get worse, not better. And that's before you get to the fact that reducing government services below a certain level results in failed states. Readers speculate that the reason that hasn't already happened in Greece is the strength of family-based support systems.

The final boundary condition to bear in mind is that Germany, not just the German government but also the Bundestag, which has to approve any deal, regards IMF participation as essential. The Bundestag regards the IMF seal of approval, that the deal passes their debt sustainability analysis, as a precondition for approval. The administration (and the rest of the Troika) wants the IMF in because only it has the manpower and expertise to supervise the compliance of a stage with a "program," meaning the austerian "reforms" that are a condition of receiving bailout funds.
The short version of what happened next is that Greece was forced to capitulate on key issues and the IMF provided some short term funding while saying it was not satisfied that the Greek plan was viable.
The IMF's Latest Grim Health Report on Greece
The new sustainability report is a precondition for IMF participation in the next round bailout, which needs €6.2 billion by July so Greece can roll over some maturing debt. It does not make for pretty reading. Earlier versions of this chart have been featured prominently in previous IMF reports on Greece: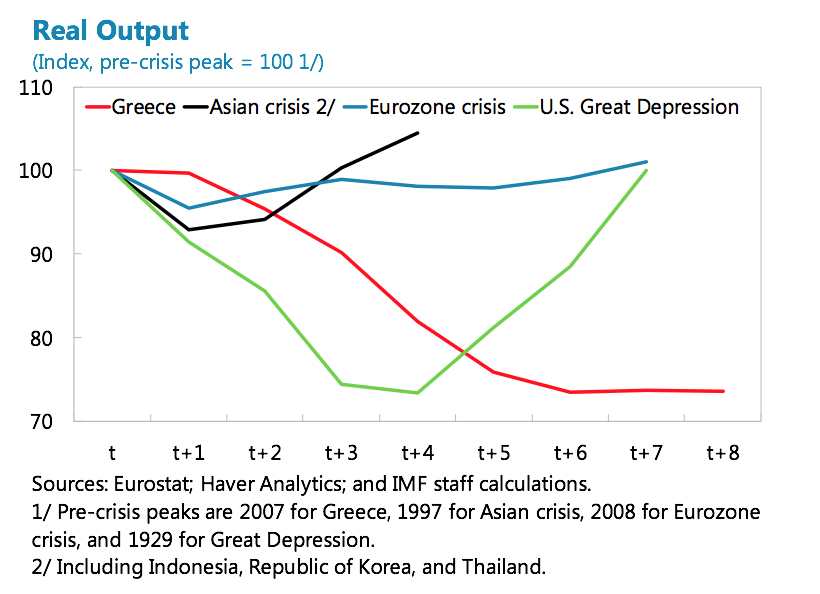 This is the IMF's bottom line. "Fiscal consolidation" is Newspeak for "cutting spending and increasing taxes":
 Fiscal policy:  Given its cyclical position, Greece does not require further fiscal consolidation at this time beyond what is currently underway. Medium-run fiscal targets should be supported by preferably fiscally-neutral high quality reforms that broaden the personal income tax base and rationalize pension spending to allow the public sector to provide adequate services and social assistance to vulnerable groups, while creating the conditions for investment and more inclusive growth.  Fiscal reforms should be complemented by efforts to address tax evasion and the large tax debt owed to the state.

 Financial sector: NPLs should be reduced rapidly and substantially to allow for a resumption of credit and growth. This requires additional efforts to strengthen and implement fully the debt restructuring legal framework and enhance supervisory tools. At the same time, bank governance needs to be further strengthened and capital controls eliminated as soon as prudently possible, while preserving financial stability.

 Structural reforms: More ambitious labor, product and service market reforms are needed to enhance competition and support growth. A return to the previous less flexible labor market framework should be avoided, as this would put at risk the potential gains for investment and job creation.

 Debt relief: Even with these ambitious policies in place, Greece cannot grow out of its debt problem. Greece requires substantial debt relief from its European partners to restore debt sustainability. 
Translation: Even with Greece wearing the austerity hairshirt making reforms, it can't dig its way out of its hole. The only way is to cut the debt burden.
Naturally, Eurocrats deem this conclusion to be unacceptable and insist the IMF is wrong, even though the IMF has been brought in precisely because it is the supposed expert in these matters. And on top of that, IMF forecasts are routinely wrong by virtue of being far too optimistic, not pessimistic. The Euroskeptic Telegraph reports on the ruckus:
The assessment opens up a fresh split with Europe over how to handle Greece's massive public debts, as the IMF called on Europe to provide "significant debt relief" to Greece – despite Greece's EU creditors ruling out any further relief before the current rescue programme expires in 2018.

Jeroen Dijsselbloem, the Eurogroup President repeated that position on Tuesday, saying there would be no Greek debt forgiveness and dismissing the IMF assessment of Greece's growth prospects as overly pessimistic.

The renewed divisions over how to handle the Greek debt crisis has raised fresh questions over whether the IMF will be a full participant in the next phase of the Greek rescue – a key condition for backing from the German and Dutch parliaments…

Greek GDP has started to grow, expanding by an estimated 0.4 per cent last year, but it is on a very weak path. IMF economists expect the country to grow at less than 1 per cent per year over the long-term, which is too low for it to pay down its debts.

That means Greece's "public debt remains highly unsustainable, despite generous official relief already provided by its European partners," the IMF believes.
Normally, IMF participation would be a given because, if all else failed, pressure would be brought to bear at the board level. European countries have about 1/3 of the votes, and the US, 1/6, which together gives them a majority.
But will the US break with its past pattern? Trump is hostile to Germany as a trade competitor. His advisers have also been trying to pursue bi-lateral trade deals with EU members even though that is against EU rules. Trump is seen as so hostile to the EU that Theresa May's first meeting included a pitch for a strong NATO and Europe.
Thus it isn't hard to imagine that the Trump Administration won't pressure the IMF to continue to participate in the upcoming rescue. Admittedly, Steve Mnuchin is likely to take the point of view that market disruption is too high a price and will persuade his boss.
Roubini Global Economics similarly thinks the possibility of the IMF worming its way out or reducing its role isn't impossible, but is confident Greece will get its funding regardless. From its report today:
At the end of the day, Greece will get its money. Whether the IMF remains part of the program is less clear; but in today's political climate, Germany cannot afford to cut Greece loose.

This strengthens the hand of the IMF and of Greece in their respective negotiations; but expect talks to go to the wire, with much volatility along the way.
Indeed.