Jerri-Lynn here: Maybe California won't secede just yet after all….
By Wolf Richter, a San Francisco based executive, entrepreneur, start up specialist, and author, with extensive international work experience. Originally published at Wolf Street
Do Trump and California suddenly see eye-to-eye on high-speed rail?
President Donald Trump met with airline CEOs at the White House on Thursday. At the core of the discussion was the overhaul of the Federal Aviation Administration, including changes to the "totally out of whack" national air-traffic control system. He had other goodies for the airline CEOs.
Afterwards, Southwest Airlines CEO Gary Kelly told reporters that the meeting had been "delightful." It seems they'd gotten pretty much what they'd wanted. "We are very well-aligned on some very key topics: income tax reform, regulatory reform, and especially growing our industry," he said.
But something wasn't picked up by the US media, though it was picked up by hedge funds and other speculators: In his remarks, Trump mentioned high-speed rail in the US. And on Friday, Japanese stocks dealing with high-speed rail systems soared on huge volume! And even in China, it happened.
In his remarks (transcript) to the aviation CEOs, Trump said this about US high-speed rail, while complaining about airports:
As an example, some of you were saying yesterday to me that you go to China, you go to Japan, they have fast trains all over the place. We don't have one. I don't want to compete with your business — (laughter) — but we don't have one fast train.
And a few sentences on US airports and the Middle East later, he added:
And we have an obsolete plane system, we have obsolete airports, we have obsolete trains. We have bad roads. We're going to change all of that, folks. You're going to be so happy with Trump. I think you already are.
"We're going to change all of that, folks." And that apparently includes high-speed rail in the US.
This was followed up by Japanese Prime Minister Shinzo Abe, who after his meeting with Trump on Friday in his remarks (transcript) mentioned investment by Japan Inc. in the US, and then veered into high-speed rail and what Japanese companies with expertise in high-speed rail could do in the US to help move these projects forward. It would be nurtured with federal stimulus funding:
With President Trump taking on the leadership, I'm sure there will be — major-scale infrastructure investment will be made, including the fast-speed train.

Those of you who have rode on the Japanese Shinkansen, I'm sure you would appreciate the speed, the comfort and safety with the latest maglev technology. From Washington, D.C. to New York, where Trump Tower exists, only one hour would it take if you ride the maglev train…. Japan, with our high level of technical capability, we will be able to contribute to President Trump's growth strategy.
But in the US, no one paid attention to this…
Not even those Republicans who've been vigorously opposing the high-speed rail project in California which has been steeped in controversy from the official day one, which was in November 2008, when California voters approved a proposition for funding the project. By early 2012, even I, a supporter of high-speed rail to connect large urban areas that are not too far apart, was beginning to snicker about how we'd been baited-and-switched and how it has gone nowhere. Today, it still has gone nowhere, though the price tag has changed and more money has evaporated.
So are Trump and California suddenly seeing eye-to-eye on something? Namely high-speed rail? And will Trump – who'd threatened to "defund" this "out-of-control" state – include California's high-speed rail project in his $1-trillion infrastructure wish list, if it ever takes off? Governor Jerry Brown did you listen to Trump's remarks?
Other states too have high-speed rail projects, including Texas and Florida. So for suppliers of high-speed rolling stock, technology, signaling, etc., this could be big bucks.
Speculators such as US hedge funds that gamble in Japanese stocks certainly seem to think so – at least for the moment.
Nippon Sharyo, of which Central Japan Railway Company holds 50.1%, makes trains, including the high-speed Shinkansen trainsets. It already has a plant in Illinois. Its shares soared 18% on the Tokyo stock exchange on Friday early on to a high of ¥332 before easing back to ¥322, up 14.6% for the day. Volume soared to nearly 5.3 million shares: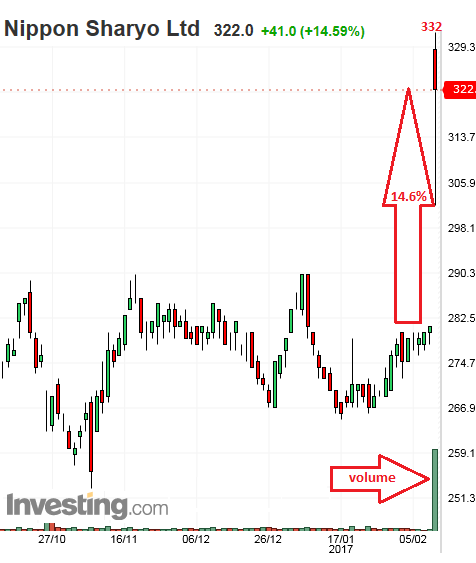 Daido Signal, which makes railway signaling equipment, after surging as much as 15% in early trading on Friday, ended the day up 9.2%.
Shares of Kawasaki Heavy Industries jumped 4.5% on Friday. Commuter trains and subway trainsets of Japan's largest manufacturer of rolling stock are already cruising around US cities, and it produces trains in the US. So it might have a leg up.
Even in China, Trump's high-speed rail enthusiasm caught on. CRRC, which makes rolling stock including high-speed trainsets, saw its shares jump 5% early on.
Alas, as so many times, these Trump-induced stock surges or plunges tend to run out of steam before reality sets in once again as the traders that follow Trump's every breath abandon the trade. In early trading on Monday, Nippon Sharyo is down 1.6%, Diado Signal is down 1.9%, but Kawasaki Heavy edged up 0.5%.
High-speed rail in the US progresses at snail's pace, if at all. Just trying to lay the track, which needs to run in as straight a line as possible and tends to cross private land where landowners and homeowners really don't want a high-speed train go by every 20 minutes, triggers endless court battles. This is in part why the project in California has become such a fiasco. So real investors, rather than just short-term traders, who want to ride this to big profits better be ready to practice infinite patience.
It remains unclear how this scenario fits into Trump's plans to deal with the US trade deficit with China, Japan, and other countries – after 25 years of apathy. Read… This Is How Out-Of-Whack US Trade Relationships Really Are