30+ Pics Proving That Every Cat Is A Satan Bored Panda
Indonesian man's body found inside python – police BBC (resilc) :-(
Great Escape: Hubble Finds Supermassive Black Hole Breaking from Its Own Galaxy Sputnik News (Chuck L)
Solving the mystery of the Arctic's green ice PhysOrg (Chuck L)
A.I. Versus M.D. The New Yorker (resilc)
China
China completes major militarised islands MacroBusiness. While you were busy worrying about Russia….

America has been trumped in the South China Sea Financial Times
Report: Australia world's worst money laundering property market MacroBusiness
Brexit. I know I should post, if nothing else to let our UK and Continental readers chat it up, but there is so much noise out there there now I feel like letting everyone else have their say.
Germany Tries to Catch Up with Startup World Der Spiegel. Resilc: "While we gut research and fund more warzzz."
Shift to right following election in Bulgaria WSWS (micael)
New Cold War
Cyber Firm Rewrites Part of Disputed Russian Hacking Report VOA (resilc). Important.

Trump's Hope for Rapid Reset With Russia Fades Wall Street Journal
Big Brother is Watching You Watch
Comcast-Funded Civil Rights Groups Claim Low-Income People Prefer Ads Over Privacy Intercept (martha r)

Lots of anger in the comments section of Breitbart against the GOP for revoking the Obama privacy regs for ISPs. https://t.co/KZRGMgaWg6

— Matt Stoller (@matthewstoller) March 29, 2017
Imperial Collapse Watch
U.S. War Footprint Grows in Middle East, With No Endgame in Sight New York Times

War and Propaganda Counterpunch (resilc)
Trade Traitors
Trump Administration Signals It Would Seek Mostly Modest Changes to Nafta Wall Street Journal
Trump Transition
Obamacare
Democrats Against Single Payer Jacobin (martha r). Never forget that, except in 2009, the health care industry has long been the top lobbyist in DC. That is all you need to know regarding how the Democrats will behave with respect to single payer.

Here's when we'll know the future of Obamacare Washington Post. Important. The Republicans can try to Obamacare into a death spiral, soon.
Rooting for failure Center for Politics (UserFriendly)
Wasserman Schultz to Sanders: Dems are already a grassroots party The Hill. Kill me now
More and More Americans Are Down with Weed, Survey Says Vice (resilc)
The Senate's final report on Iran-Contra showed extent to which the investigation had been stonewalled MuckRock (Chuck L)
Oroville 29 March New DWR Spillway Footage You Tube. Maggie K: "Detailed updates provided by Juan Brown who is a pilot by trade and lives in the Oroville Dam area. He reports on all of the press conferences, shows dam water level spreadsheets, uses DWR drone footage & photos to help explain, very little speculation, concise." Find earlier ones here.
Police State Watch
Drone Video Shows The Horrifying Scale Of The Volkswagen Buyback Jalopnik (YY)
The Hidden Monopolies That Raise Drug Prices Prospect (Chuck L)
Private equity firms cherry-pick buyers for loans Financial Times
The Invisible Hand Dissent (micael)
Class Warfare
U.S. College Grads See Slim-to-No Wage Gains Since Recession Bloomberg

More than ever, employees want a say in how big companies like IBM and Wall Street Journal (NWS) are run Quartz (Chuck L)

The Drug Overdose Epidemic in America's Suburbs Bloomberg (resilc)

Caterpillar workers react with anger, suspicion to UAW contract ratification WSWS (micael)

Unions give Trump list of infrastructure priorities as White House looks for projects to greenlight McClatchy (resilc)

Study suggests scientific work force is aging — as younger scientists struggle to find good jobs Inside Higher Ed (resilc)

TECH AND THE FAKE MARKET TACTIC Anil Dash (Chuck L). From early March, still germane and very clever. Uber as the prototypical fake market, and what else might be in store.
Antidote du jour. Karrin H:
Thought I'd share this picture of my horse's new filly. She's a delight that sends my mind ruminating on all sorts of things the human world contrives to distract me from. We really need regular contact with plants and animals to be spiritually healthy! Today I watched an entire nap, marveling at my mare's constant and intense watch over her baby, nose carefully covering every inch of this new little body while it slept. There's so much we animals have in common there, but we humans fall for this sense of otherness that is probably an emergent property of our neocortex.

Anyway, cute!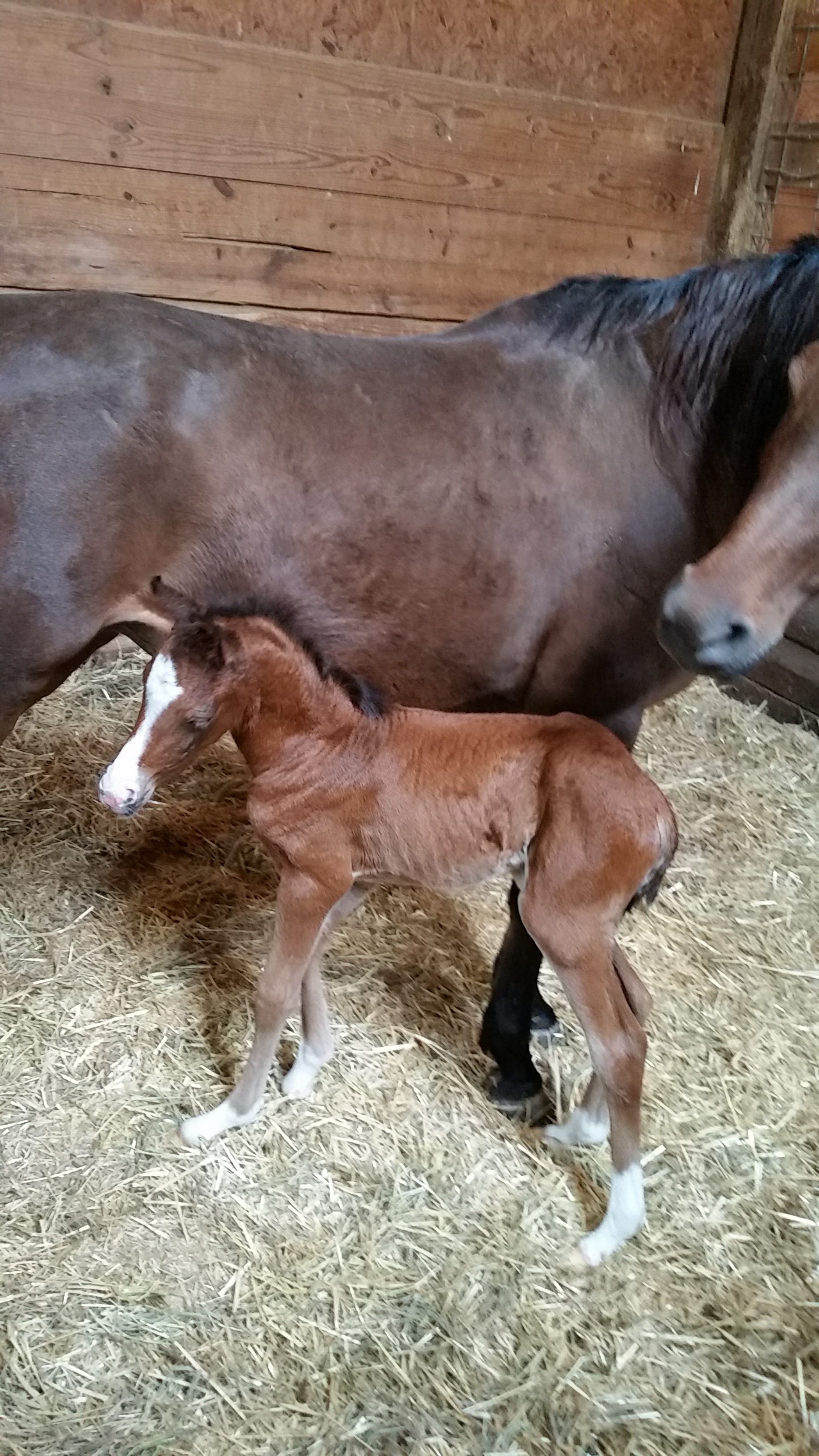 See yesterday's Links and Antidote du Jour here.