By Lambert Strether of Corrente
Readers, this is light partly because, as usual, I thought the post I just put up wouldn't take as long as it did, but also because I must perform a tiresome bureaucratic task that many Americans perform this time of year. I'll put up some more politics links shortly. I hope your Easter (if you celebrate it) went well! And talk amongst yourselves to make up for my dereliction! –lambert
Politics
New Cold War
UPDATE Newer readers may not be familiar with this classic:
2020
"Trump Raises Millions for 2020 Re-election Bid" [New York Times]. Hoo boy.
2017
GA-06: "'I loved George W. [Bush], but I could not vote for Donald Trump,' Vicki Ingram, a retiree in the district told me. Ingram was one of the people who split their ticket in 2016; she voted against Trump but for Tom Price. Most of the Republican candidates running to replace Price had alienated her with negative campaigning, so this week she attended a Jon Ossoff event at the encouragement of her husband. 'I'm sick to death of both parties,' she said, before mentioning that she liked Ossoff's positivity. When I asked if she could see herself voting for the Democrat, she said, 'Absolutely"" [Alternet]. 2016 all over again! And come on. Let's be reasonable: Can you see Bush voters going for Thompson or Quist? I rest my case!

UPDATE KS-02: "Sen. Bernie Sanders (I-Vt.) said Sunday that Democrats should've done more to support the party's candidate, James Thompson, during the special House election in Kansas last week" [The Hill]. "'It is true that the Democratic Party should have put more resources into that election,' Sanders told host Jake Tapper on CNN's 'State of the Union.' 'But it is also true that he ran 20 points better than the Democratic candidate for president did in Kansas.'" Burn!
Realignment and Legitimacy
UPDATE "'So many of our people are giving up on the political process. It is very frightening. In the last presidential election, when Trump won, we had the lowest voter turnout over — in 20 years. And in the previous two years before that, in the midterm election, we had the lowest voter turnout in 70 years,' Sanders said. 'We're going to be fighting to see that the Democratic Party becomes a 50-state party. You can't just be a West Coast party and an East Coast party'" [Politico]. That time before Howard Dean lost his mind, implemented the 50-state strategy, won the House and the Senate in 2006, and then Pelosi promptly took impeachment off the table (and IMNSHO, Bush's warrantless surveillance program provided ample grounds for impeachment). In other words, it's not enough t have a 50-state strategy without hacking out the Democrat deadwood, of which there is rather a lot.

UPDATE On the upcoming Perez/Sanders dog-and-pony show: "Bernie Sanders, the left-leaning senator from Vermont who shook up last year's Democratic presidential primaries, will join Tom Perez, the national party's new chairman deckchair, in Mesa next Friday as part of their "Come Together and Fight Back Tour'" [Arizona Republic]. "The rally at the Mesa Amphitheatre, 263 N. Center St., is part of an effort that the Democratic Party says is aimed at strengthening its presence in each of the 50 states and building a party that 'focuses on grassroots activism and the needs of working families.'" So much flaccid DNC rhetoric there: (1) "Fight back"; Democrats are perpetually "fighting back" or "fighting for," as if that were an end in itself. But they're never winning. (2) As far as "grassroots activism" goes, no Sanders activists need apply; that is the very clear message sent by Obama (and Clinton) installing Perez and not Ellison (and giving zilch to the activists who worked on the Thompson and Quist campaigns). (3) "working families." I know it's focus group-tested, guys, but it leaves out singles, and it impicitly disrespects alternative living arrangements. "Workers" or "working class" will do fine, thank you. I don't fault Sanders for trying to make lemonade out of these lemons, because the record shows he can get through to voters on his issues, and that has to be done, but this enervated, flaccid, stale, halitosis-like apparatchik-generated rhetoric from the Democrat nomenklatura, faithfully recirculated by The Republic as if it were meaningful, doesn't help.

UPDATE "The Violent Clashes In Berkeley Weren't 'Pro-Trump' Versus 'Anti-Trump'" [Esquire]. "To frame Saturday's events as a fight between supporters of the president and his denouncers roundly misses the key tensions undergirding the confrontation: that of anti-fascists versus white nationalists." I saw plenty of images from Berkeley on the Twitter. What struck me was the absolutely remarkble number of cameras (and cellphones held up in the air). The phrase "media circus" comes to mind. If the Black Bloc were serious, they'd take over the Winter Palace some FOX TV station and start broadcasting. As it is, they remind me of nothing so much as soccer hooligans. The thrill of it all.

UPDATE "The "sucker punch" at the Berkeley riot reveals the rot in our politics" [Fabius Maximus]. "Cheering violent rioters is especially daft for the Left, as they are a gift to the Right. Every appearance builds support for the Right — and for the police. It is an instinct response, like that of cats to snakes. Hundreds of years of history have taught the middle class that leftist mobs hate and despise them."

UPDATE "There isn't a "deep state," really. There are competing bureaucracies, and they all have their mouthpieces in the press" [Eschaton]. With Flexians occupying key bureaucratic positions, and passing messages between bureaucracies, perhaps…
Stats Watch
Empire State Manufacturing Survey, April 2017: "Activity is thankfully cooling in the Empire State manufacturing area, to a general conditions index of 5.2 in April vs unsustainably strong levels of 16.4 and 18.7 in March and February" [Econoday]. "Delivery times appear to be grinding to a halt indicating an outright bottleneck in the supply chain…. There's been a burst of factory strength all year in the Northeast with the next Philly Fed report, which was the first regional report to begin lifting off, on Thursday."
Housing Market Index, April 2017: "Home builders remain strongly upbeat with extending strength in traffic a major highlight. The housing market index did slip 3 points in April but the 68 level is still very strong" [Econoday].
Retail Sales (Friday): "Worse than expected and downward revisions as well. Seems related to what looks like a continuing credit collapse" (charts) [Mosler Economics].Also: "the inventory-to-sales ratio is 1.48 which is at recessionary levels."
The Bezzle: "Tesla Has Something Hotter Than Cars to Sell: Its Story" [New York Times].
Money: "How the Great Kaan Causeth the Bark of Trees, Made into Something Like Paper, to Pass for Money Over All His Country" [Marco Polo, The Travels of Marco Polo (PDF)].
Today's Fear & Greed Index: 29 Fear (previous close: 25, Extreme Fear) [CNN]. One week ago: 37 (Fear). (0 is Extreme Fear; 100 is Extreme Greed). Last updated Apr 17 at 1:32pm. Good thing Kim wasn't gifted with a nuclear test by his grateful populace…
Our Famously Free Press
"Conspiracy Theorists Welcome in Corporate Media–if They Have the Right Targets" [FAIR].
Black Injustice Tipping Point
"What are the drums saying, Booker?" The Curious Role of the Black Public Intellectual" (PDF) [Adolph Reed]. A classic description of a social type.
Class Warfare
"Macroeconomic Conditions and Opioid Abuse" [NBER]. "As the county unemployment rate increases by one percentage point, the opioid death rate per 100,000 rises by 0.19 (3.6%) and the opioid overdose ED visit rate per 100,000 increases by 0.95 (7.0%)."
"Loans 'Designed to Fail': States Say Navient Preyed on Students" [Dealb%k, New York Times]. "New details unsealed last month in the state lawsuits against Navient shed light on how Sallie Mae used private subprime loans — some of which it expected to default at rates as high as 92 percent — as a tool to build its business relationships with colleges and universities across the country."
News of the Wired
"The Social Graph is Neither" [Pinboard Blog]. Important!
News you can use:
HAECCITY is the philosophical quality of being this and only this, and nothing else.

— Haggard Hawks (@HaggardHawks) April 14, 2017
And, if you think about it, quite a propos to the Pinboard Blog post preceding.
* * *
Readers, feel free to contact me with (a) links, and even better (b) sources I should curate regularly, and (c) to find out how to send me images of plants. Vegetables are fine! Fungi are deemed to be honorary plants! See the previous Water Cooler (with plant) here.
And here's today's plant (Re Silc):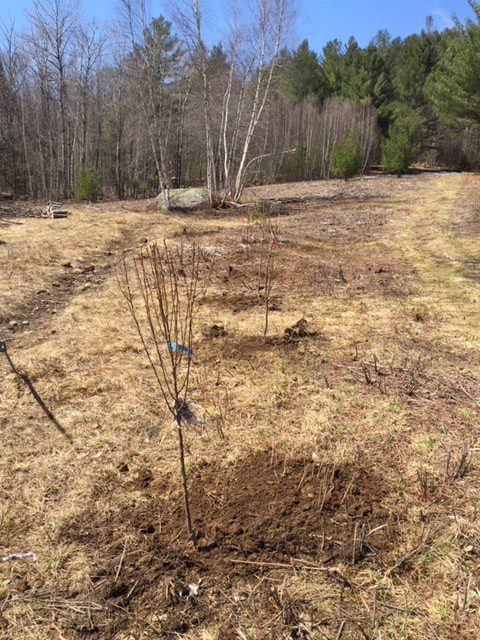 Resilc writes: "7 plums in today." Now is the time! Readers, are any of you putting in shrubs or trees?
Also, some pretty plants from Costa Rica (Washington's Blog).
* * *
Readers, Water Cooler is a standalone entity, not supported by the very successful Naked Capitalism fundraiser just past. Now, I understand you may feel tapped out, but when and if you are able, please use the dropdown to choose your contribution, and then click the hat! Your tip will be welcome today, and indeed any day. Water Cooler will not exist without your continued help.