How to tell April the Giraffe is in labor: Watch her tail Syracuse.com. Bob: "Stating the obvious." But this gives you an excuse to track down the webcam if you are curious.
Jupiter spectacle for earthlings on April 8 The Nation (furzy)
First world survey finds 9,600 tree species risk extinction PhysOrg (Katharine)
Potentially explosive methane gas mobile in groundwater, poses safety risk: study PhysOrg (Katharine)
New form of Android malware is the most sophisticated and dangerous ever discovered ThaiTech (furzy)
Facebook to use photo-matching to block repeat 'revenge porn' Reuters (furzy). Why did this take so long?
China?
These Are the States With the Most to Win and Lose From Trade With China Bloomberg (resilc)

Why Xi Jinping Needs to Tread Carefully When He Meets Trump Blooomberg
Brexit. I should be posting on Brexit, but the news basically is that May is already retreating from positions she insisted were crucial, like negotiating a trade deal in parallel with the exit (she's conceded there will need to be a transition period) and needing to continue to submit to European rules and the jurisdiction of the ECJ.
Theresa May softens stance on Brexit roadblocks Financial Times. Notice the clumsy attempt at a finesse: "You've used the phrase transitional phase; I have used the phrase implementation period."
Berlin embraces its own hard Brexit Politico.
Country Report Germany 2017 Including an In-Depth Review on the prevention and correction of macroeconomic imbalances European Commission (guurst). I must confess I only skimmed this report. It calls GDP growth of under 2% "robust". Help me.
As goes France, so goes the EU Politico
Fixing the Euro's Original Sins: The Monetary – Fiscal Architecture and Monetary Policy Conduct Thomas Palley
The privatization of Sweden ExpertGrupp. Micael: "Some facts about the Sweden Sanders is talking about. Highly privatized."
Syraqistan
America's Support For Saudi Arabia's War On Yemen Must End Nation (Sid S)

Ghouta redux? Was this attack real? Sic Semper Tyrannis (resilc)

It's WMD all over again. Why don't you see it? Peter Hitchens, Daily Mail (Chana)

Blowback Irrussianality (Chuck L)

"I told you so…" – Idlib Province Sic Semper Tyrannis Chuck L: "For months Col. Lang has been saying the most important thing the R+6 should do was to nip the ISIS build up in Idlib province in the bud."
Big Brother is Watching You Watch
Most Americans unwilling to give up privacy to thwart attacks: Reuters/Ipsos poll Reuters (EM). Translation: Most Americans have figured out that having the surveillance state hoover up their personal data is not about fighting terrorism, and efforts to position otherwise are no longer persuasive.

Workplace Surveillance Is The New Office 'Perk' Vocativ (micael)

Messages show New York police surveillance of Black Lives Matter Reuters (EM)
Trump Transition
As The Susan Rice Scandal Explodes, The Russia Election Hacking Story Gets Murkier Investors Business Daily (Dan K)
Beware of the return of the Clinton dynasty Edward Luce, Financial Times. A wild indicator of sorts. Luce was Larry Summers' speechwriter and regularly carried Dem party water. This looks to be a sign that a lot of insiders are Not Happy about the Clinton's plans to hang on to power.
U.S. court rules 1964 civil rights law protects LGBT workers from bias Reuters (EM)
AN ENEMY OF THE WALL STREET FORECLOSURE MACHINE IS RUNNING TO UNSEAT A GOP LAWMAKER IN CALIFORNIA David Dayen, Intercept
Greens, GOP team up to sue Democrats Metro. Jeff E: "Green and GOP candidates join to file federal lawsuit to void election in Philly's 197th district. Honkala had many hundreds of volunteers but only ended up with 282 votes versus the Democrat's 1,970. The GOP candidate got 198."
Fed Officials Expect to Whittle Down Portfolio Later This Year: Minutes Wall Street Journal
Tanker Traffic Points At Much Tighter Oil Markets OilPrice
It Looks Like JPMorgan Is Building a Robo Adviser Bloomberg (resilc)
YOU'LL NEED THIS MUCH MONEY TO LIVE COMFORTABLY IN THE 50 BIGGEST CITIES IN AMERICA GoBanking
Policies believed to stabilize the financial system may actually do the opposite, study finds PhysOrg (Chuck L, Katharine). This sort of thing is maddening. Don't these clowns bother looks at prior work? Richard Bookstaber wrote an entire book, Demon of Our Own Design, on the issue of "tight coupling" where processes run in a sequence too fast to be interrupted. Many other people, ranging from Andrew Haldane to Simon Johnson to your humble blogger have written about this issue at length. In a tightly coupled system, you must reduce the tight coupling first in order to reduce risk. Any other approach will increase risk.
Guillotine Watch
Class Warfare
Antidote du jour. From Robert H, a Chinese crested dog: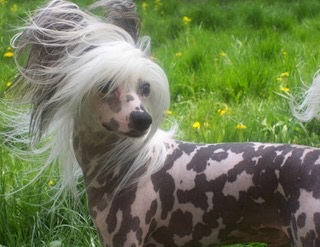 And a bonus video. YY: "Shoebills seem to be the most recent favorite animal on the web…" In this video, the head looks dinosaur-like. There are two other videos, here and here, where the birds looks cuter.
See yesterday's Links and Antidote du Jour here.