China President Xi Jinping's visit to the US has set off a lot of mischief. First we had a North Korean missile launch, then the US airstrike on Syria, and now Philippines President Duterte poking a stick in China's eye. Even if Duterte doesn't follow through, his latest threat is a reversal of his recent policy of making nice to China. From Reuters (hat tip furzy):
Philippine President Rodrigo Duterte on Thursday ordered troops to occupy uninhabited islands
and shoals it claims in the disputed South China Sea, asserting Philippine sovereignty in an apparent change of tack likely to anger China.

The firebrand leader, who on the campaign trail joked that he would jet ski to a Chinese man-made island in the South China Sea to reinforce Manila's claim, also said he may visit a Philippine-controlled island to raise the national flag.

"The unoccupied, which are ours, let's live on it," Duterte told reporters during a visit to a military base in Palawan, near the disputed waters.

"It looks like everyone is making a grab for the islands there. So we better live on those that are still unoccupied. What's ours now, we claim it and make a strong point from there."

Duterte's plan is unlikely to sit well with China, which lays claim to almost all the South China Sea, especially as it comes amid a fast-warming relationship in recent months.

China, Malaysia, the Philippines, Taiwan, Brunei and Vietnam contest all or parts of the South China Sea. This has led to confrontations between China and some of its neighbors over the strategic trade route.
CNN provided a map of the competing claims: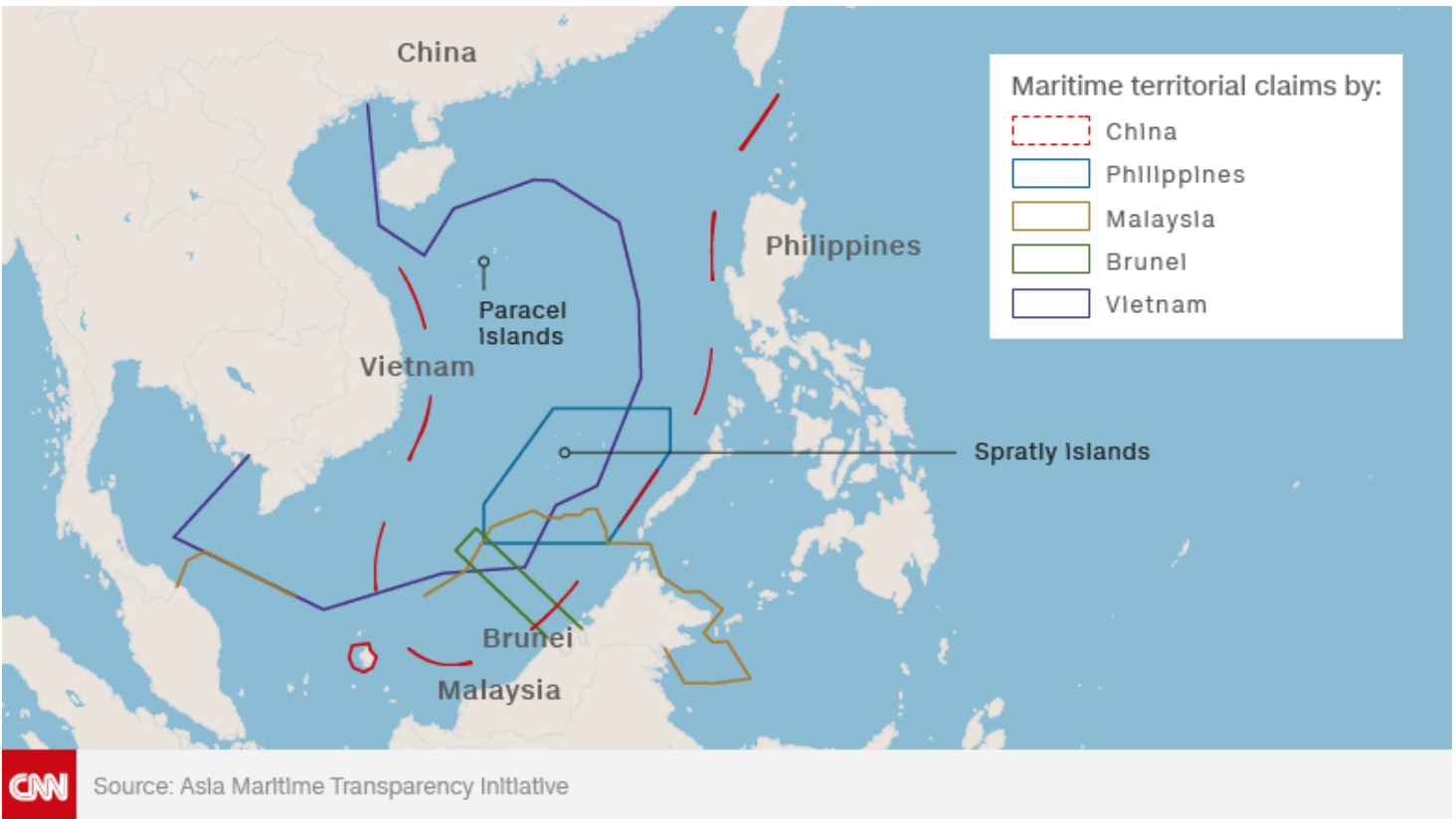 Reports are quick to point out that Duterte has a history of wild talk that isn't always backed by action. From CNN:
Under Duterte's predecessor, Benigno Aquino, Manila won a landmark case at an international tribunal in the Hague, which ruled China had no legal basis for the bulk of its claims in the waters.

Duterte's administration has been cozying up to Beijing since his election last year, and territorial disputes have been pushed to the background.

In a visit to the Chinese capital in October, Duterte said to Chinese President Xi Jinpingthat "America has lost now. I've realigned myself in your ideological flow."…

"By cozying up to China and trash-talking America, Duterte has achieved something that Washington couldn't deliver: a peaceful resolution to the Scarborough Shoal standoff," Ashley  Townsend, a regional expert at the University of Sydney, wrote for CNN Opinion at the time.

Duterte's latest comments seem to mark a departure from his previous policy, and suggests a desire to pursue the type of militarization Beijing has been accused of bringing to the region.

"Even those, those vacant (islands) that are considered ours, let's live there," Duterte said.

"It's like we're all competing to take these islands. And what's ours now at least, let's take it and make a strong point there that this is ours."

He said the Philippines should "fortify" its territory: "(We) must build bunkers or houses there and make provisions for habitation."
Yet another reason to keep an eye out on the South China Sea hostilities.