By Lambert Strether of Corrente
Trade
"As a candidate, Donald Trump promised to make NAFTA 'much better' for working people. Today's notice is markedly vague. But Trump's NAFTA renegotiation plan that leaked in late March described just what the corporate lobby is demanding: using NAFTA talks to revive parts of the Trans-Pacific Partnership (TPP), like expanded investor incentives to offshore jobs that could make NAFTA even worse for working people" [Lori Wallach, Public CItizen]. "The obvious measure of whether NAFTA renegotiation is intended to benefit working people is if Trump makes clear he will eliminate NAFTA's special investor rights that make it easier to offshore American jobs and attack our laws before tribunals of three corporate lawyers who can award the firms unlimited sums of taxpayer money. If corporate elites are allowed to dictate how NAFTA is renegotiated, the agreement could become more damaging for working families and the environment in the three countries. And modest tweaks will not stop NAFTA's ongoing damage, much less deliver on Trump's promises for a deal that will create American jobs and raise wages. Already the 500 corporate trade advisers who got us into the TPP have been consulted on NAFTA renegotiations, while the few labor advisers were shut out of that March meeting. And the public and Congress are being left in the dark about negotiating plans and goals."
"Organizations representing grain, produce, dairy and livestock farmers said NAFTA is largely working for their industries, especially the integrated supply chains that allow goods to move freely across borders. Since NAFTA's implementation in 1994, U.S. agricultural exports to Canada and Mexico have more than quadrupled, growing from $8.9 billion in 1993 to $38.6 billion in 2015, USDA data shows" [Politico]. I'm not sure what the Mexican farmers think about that, though.
"Fixing Trade Agreements In Five Simple Steps" [Electronic Frontier Foundation]. "Trade experts agree that without five simple fixes, Americans will continue to reject new trade deals…." No. This is all about process, specifically "transparency," a favorite neoliberal panacea. Do the experts really think that people won't reject a transparently bad deal?
Politics
Policy
"While President Trump and Administration officials have not made their intentions clear in regards to the United States remaining in the Paris Agreement, a large faction of well-known companies have made it very clear they want to remain part of it" [Logistics Management],
2020
"Is John Kasich finishing the tour, or just getting started?" [Matt Bai, Yahoo News]. "An enthusiastic, born-again Christian, Kasich criticized an executive order, issued by President Trump the day before, that lifted some restrictions on politicking in places of worship. 'I don't believe these religious people ought to be endorsing candidates,' he said. "They ought to be figuring out how to clothe the homeless or feed the poor, not all of this political nonsense.'" Especially since government shouldn't be doing that?
2018
"Paula Swearengin, 42, is an accounting clerk and single mother of four from Coal City, West Virginia. On March 9, she announced that she would challenge Manchin in the Democratic primary. She is a newcomer to politics and an early beneficiary of Brand New Congress, a political action committee founded by former members of Senator Bernie Sanders's presidential campaign" [The New Republic]. Interesting interview:

I don't care if the DNC backs me or not. This is a people-funded campaign. The DNC has failed us in many ways here in West Virginia. They failed us when they nominated one of the biggest-polluting coal barons in West Virginia: Governor Jim Justice, who mines three miles from my house and puts silica dust in my children's lungs. That's a failure of the Democratic Party. I hope we rise up and realize that, Democratic or Republican, we all have the same set of values. We all want clean water for our children, clean air for them to breathe, and to not worry about our families getting buried miles deep in a coal mine and suffocating to death.
2017
MT-AL: "In the race for Montana's at-large House seat, Republican Greg Gianforte led Democratic Rob Quist by six points in a poll conducted by a Democratic super PAC late last month" [Roll Call]. FWIW…

MT-AL: "U.S. Sen. Bernie Sanders' rally Saturday for Rob Quist has been moved to the Adams Center in Missoula, which holds up to 7,500 people" [The Missoulian]. "Quist, the Democratic candidate for Montana's lone U.S. House seat, was originally set to appear with Sanders, the former Democratic presidential candidate, at the Wilma, which holds 1,400 people with standing-room only."
Health Care
"Harkin: O-Care Should Have Been Single-Payer But 'We Blew It'" [Talking Points Memo (2014)]. ""We had the votes in '09. We had a huge majority in the House, we had 60 votes in the Senate," Harkin told The Hill, saying that the first Congress of President Barack Obama's administration should have passed 'single-payer right from the get go or at least put a public option (which) would have simplified a lot.'" So when you hear a Democrat loyalist say "We didn't have the votes" on single payer, you can throw this in their face share this with them.
Realignment and Legitimacy
"Change Dot Ugh: The Popular Petition Site Profits Off Progressivism" [Paste]. "But the truth is that when you fill out a Change petition, you're giving your information to a company that sells it to the highest bidder. The popular petition site uses your well-intentioned activism to profile you and sell you sponsored content — and most of its 150 million reported users don't realize it. Change isn't interested in change. It's interested in profit.Billy Penn (DB)].
Stats Watch
No Econoday stats today.
State Employment and Unemployment Summary: "Unemployment rates were lower in April in 10 states, higher in 1 state, and stable in 39 states and the District of Columbia, the U.S. Bureau of Labor Statistics reported today. Nineteen states had jobless rate decreases from a year earlier, and 31 states and the District had little or no change. The national unemployment rate, 4.4 percent, was little changed from March but was 0.6 percentage point lower than in April 2016" [Bureau of Labor Statistics].
Rail: If coal and grain are removed from the analysis, rail over the last 6 months been declining around 5% – but this week it IMPROVED 0.6 % (meaning that the predicitive economic elements improved year-over-year). Also consider rail movements are below 2015 levels – even though they are above 2016 levels" [Econintersect],
Retail: "While rivals like Target Corp. are reporting sagging sales and declining foot traffic, Wal-Mart's same-store revenue rose 1.4% in the first quarter…. The gains complement a 63% surge in U.S. e-commerce sales, and indicate that the company's strategy of investing both in store improvements and online operations is starting to pay off. Those efforts include a campaign to reduce inventory in stores that has placed additional pressures on suppliers. Wal-Mart is also blurring the lines between its e-commerce and brick-and-mortar businesses by encouraging customers to pick up online orders in stores. One problem Wal-Mart hasn't cracked: how to boost sales without sacrificing margins" [Wall Street Journal].
Retail: "Why predictions of a 'retail apocalypse' are overblown" [CNBC]. "Brick-and-mortar is not in fact defunct. Instead, it is evolving, and successful retailers are embracing a shopping experience that blends a variety of platforms and that ultimately creates the engagement necessary for a brand's success…. As shown by the renewed appeal for showrooming in the apparel retail industry, digital retailing and brick-and-mortar are complementary."
Retail: "How a Lack of Liquidity is Tanking Retail—And Who's to Blame" [Sourcing Journal]. "The common culprits blamed for the retail flame out are a shift in consumer shopping habits and the rise of e-commerce sales. And while both have done plenty of damage on their own, one additional factor is responsible for making store chains less able to weather the tempest: a glut of leveraged buyouts that too often have become a business distraction and a financial drain…."
Real Estate: "Blackstone Group LP, the world's biggest private equity fund, told investors to dial back their expectations for property returns as the "great run" of the past five years becomes harder to replicate" [Bloomberg].
Shipping: "Uber Freight finally hits the road by launching brokerage services in Texas" [DC Velocity]. "It chose to formally start in Texas because of the state's large volume of traffic, according to Eric Berdinis, Uber Freight's senior product manager." Really? Not regulatory arbitrage?
Shipping: "With Uber Freight, Travis Takes on Trucking" [Wired]. "Travis"? WTF, Wired? "Still, Uber holds an advantage when it comes to software and managing data. But, as in its campaign to topple the taxi industry, it all hinges on pricing. Existing brokerages typically take a 12 percent cut on deals they arrange, Petersen says; Uber isn't revealing its rate, but it has the cash and expertise to do the same job for far less." "Cash" is a delicate way of saying "squillionaires playing the ponies," isn't it?
Shipping: "[Uber] it appears happy to burn through its cash, a model which could allow it to take less than the typical 12% cut that truck brokerages take" [The LoadStar]. "[Uber] says it will determine pricing based on market conditions and experience." And the cash. As you just said.
The Bezzle: "U.S. Startups Fail to Attract Expected Crowd of Small Investors" [Bloomberg]. "It's been a year since U.S. rules went into effect enabling anyone — not just the ultra-wealthy — to buy a slice of a startup. Turns out, few are interested." Maybe the marks small investors were't as stupid as Obama and the investment community thought?
The Bezzle: "Riding Shotgun With Uber CEO Travis Kalanick" [Fortune]. Wretched excess in Uber's new headquarters building. Too much stupid money sloshing about.
The Bezzle: "Snap Inc. is being sued by a former employee who claims the company, parent to social media app, Snapchat, inflated growth metrics ahead of its March 2017 initial public offering. According to his complaint, which was initially filed in January in Los Angeles County Superior Court, Anthony Pompliano alleges that he was lured from Facebook in 2015 to Snapchat to focus on user growth and engagement and was fired after he refused to go along with inflated figures to make the company look better" [The Fashion Law].
The Bezzle: "We got one of Apple's patented round pizza boxes" [The Outline]. "The box is thin and round… Like all Apple products, the proprietary standard of the box makes it incompatible with third-party products…. As Apple watcher John Gruber wrote when Steve Jobs resigned in 2011, 'The same thought, care, and painstaking attention to detail that Steve Jobs brought to questions like 'How should a computer work?', 'How should a phone work?', 'How should we buy music and apps in the digital age?' he also brought to the most important question: 'How should a company that creates such things function?'" Here's what I know: Apple makes the Mac gets incrementally worse with every release. That goes for hardware (no more MagSafe connector, shitty MacBook Pros, stagnant desktops) and software. iOS is a mashed together botch of inconsistent affordances, and OS X gets more like iOS every release (in addition to not fixing long standing horrors, like Apple Store). Then again, to long on the bright side, go long dongles, at least for now.
The Bezzle: "Hedge fund-backed pharma company that fed opioid crisis now seeks to profit from treating it" [LittleSis]. Tha's a neat trick!
Political Risk: "Watch These Corners of the Market to Gauge the Chances for Trump's Agenda" [Bloomberg].
Five Horsemen: "Apple bounces best from yesterday's smash" [Hat Tip Jim Haygood].
Today's Fear & Greed Index: 50 Neutral (previous close: 43, Greed) [CNN]. One week ago: 62 (Greed). (0 is Extreme Fear; 100 is Extreme Greed. Last updated May 19 at 11:57am. Mr. Market's angst reduced by special prosecutor?
Our Famously Free Press
"Facebook blocks Pulitzer-winning reporter over Malta government exposé" [Guardian]. Good thing Facebook's blocking progress is formal and open, with an appeals process. Oh, wait…
Gaia
"Arctic stronghold of world's seeds flooded after permafrost melts" [Guardian]. "[T]he Global Seed Vault, buried in a mountain deep inside the Arctic circle, has been breached after global warming produced extraordinary temperatures over the winter, sending meltwater gushing into the entrance tunnel…. 'It was not in our plans to think that the permafrost would not be there and that it would experience extreme weather like that,' said Hege Njaa Aschim, from the Norwegian government, which owns the vault." Eesh.
"Songlin Fei, a forest ecologist at Purdue University in West Lafayette, Indiana, and his colleagues tracked the shifting distributions of 86 types of trees using data collected by the US Forest Service's Forest Inventory and Analysis Program during two periods: from 1980 to 1995 and between 2013 and 2015 for all states. They found more species heading west than north, probably partly because of changing precipitation patterns, the team reported on May 17 in Science Advances1. 'That was a huge surprise for us,' says Fei" [Scientific American]. "'This study suggests that, in the near-term, trees are responding to changes in water availability more than to temperature changes,' he says."
Class Warfare
"Unemployment in the U.S. Is Falling, So Why Isn't Pay Rising?" [Bloomberg],
News of the Wired
"Cooking in the Archives: Bringing Early Modern Manuscript Recipes into a Twenty-First-Century Kitche" [Archive Journal]. "Taste is the elusive element that we try to recreate when we cook these historical recipes. The recipes in this archive are dominated by strong tastes: fresh and dried herbs, fragrant spices, citrus, offal, cream, custard, distilled orange flower and rose waters, wine and sack. Many recipe books include recipes for preserving these very flavors, including flower waters, syrups of violets, rosemary tincture, homebrewed liquors, and preserved fruits and vegetables of all kinds. It's an archive of intense flavors that capture each ingredient and each season in its prime."
"DARPA's Synthetic Biology Initiatives Could Militarize the Environment" [Slate]. "Among other initiatives, researchers at DARPA are attempting to engineer insects to deliver protective genes to plants; to transform bacteria and yeast into factories to produce on-demand chemicals and fuels; and to develop methods to reverse any threats posed by gene drives. (Gene drives are a mechanism, both natural and human-induced, that drives genetic traits through a population, in some instances to suppress a population.)" What could go wrong?
* * *
Readers, feel free to contact me with (a) links, and even better (b) sources I should curate regularly, and (c) to find out how to send me images of plants. Vegetables are fine! Fungi are deemed to be honorary plants! See the previous Water Cooler (with plant) here.
And here's today's plant (pq):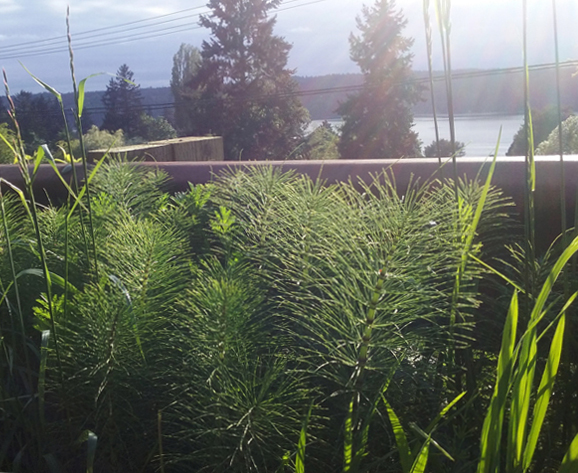 pq writes: "The 4/26/2017 daily plant photo was taken on April 23, this one on May 17. I can't swear they're the same plants, because the entire shoulder along the guardrail has exploded into a jumble of horsetails, blackberry, tansy, and tall grasses. But it's close enough." That is the great thing about Spring!
* * *
Readers, Water Cooler is a standalone entity, not supported by the Naked Capitalism fundraisers. Please use the dropdown to choose your contribution, and then click the hat! Your tip will be welcome today, and indeed any day. Water Cooler will not exist without your continued help.