Yves here. I'm running this post for several reasons. One, economics routinely ignores history, including the history of its own ideas. For instance, Adam Smith has been hopelessly cherry-picked to the point of misrepresenting some of his important observations. But second, this post conveys the notion that businessmen re-investing in their communities was a type of charity, as opposed to good business or (horrors!) a corporate duty.
The authors seem oddly ignorant of the fact that the idea that companies should maximize shareholder values is an idea promoted by economists, and not a legal duty. Moreover, it is a comparatively recent idea and conflicts with older ideas of the responsibilities of corporate officers and board members.
From a 2014 post:
One of my pet peeves is the degree to which the notion that corporations exist only to serve the interests of shareholders is accepted as dogma and recited uncritically by the business press. I'm old enough to remember when that was idea would have been considered extreme and reckless. Corporations are a legal structure and are subject to a number of government and contractual obligations and financial claims. Equity holders are the lowest level of financial claim. It's one thing to make sure they are not cheated, misled, or abused, but quite another to take the position that the last should be first.

If you review any of the numerous guides prepared for directors of corporations prepared by law firms and other experts, you won't find a stipulation for them to maximize shareholder value on the list of things they are supposed to do. It's not a legal requirement. And there is a good reason for that.

Directors and officers, broadly speaking, have a duty of care and duty of loyalty to the corporation. From that flow more specific obligations under Federal and state law. But notice: those responsibilities are to the corporation, not to shareholders in particular…Shareholders are at the very back of the line. They get their piece only after everyone else is satisfied. If you read between the lines of the duties of directors and officers, the implicit "don't go bankrupt" duty clearly trumps concerns about shareholders…

So how did this "the last shall come first" thinking become established? You can blame it all on economists, specifically Harvard Business School's Michael Jensen. In other words, this idea did not come out of legal analysis, changes in regulation, or court decisions. It was simply an academic theory that went mainstream. And to add insult to injury, the version of the Jensen formula that became popular was its worst possible embodiment.

One good source for the fact that economists, rather than legal decisions, were the basis for the acceptance of this idea, is a 2005 article by Frank Dobbin and Dirk Zorn, "Corporate Malfeasance and the Myth of Shareholder Value." This paper looked back to the 1970s, the era of diversified and often underperforming firms (remember the conglomerate discount?). Deregulation, high inflation, and a lax attitude towards anti-trust enforcment stoked a hostile takeover boom. Economists celebrated this development as disciplining chief executives and moving assets into the hands of managers who could operate them more productively. In reality, the success of these early deals depended mainly on asset sales, both of non-core operations and of hidden sources of value, like corporate real estate, as well as leverage and slashing bloated head office staffs (the across-the-company headcount efforts became more prominent in the 1990s).

But I'm now reading an advance copy of terrific book, Private Equity at Work by Elaine Appelbaum and Rosemary Batt, which adds important detail to the Dobbin and Zorn's account. It's done a remarkably impressive job of marshaling data about the private equity industry and explaining how it operates, which means debunking its claims about how it adds value. And even its asides are rigorous. For instance, its four page treatment on the origins of the "maximize shareholder value" line of thought showed real mastery of the source material.

Appelbaum and Batt trace the origins of the managerial model of capitalist enterprise to the New Deal securities laws. They helped institutionalize dispersed shareholding, and with it, a separation of ownership and management. From the 1930s onward, there was an active debate between two schools of thought. Adolf Berle and Gardiner Means were concerned that this new approach neglected shareholder interests. By contrast, Harvard law professor Merrick Dodd contended that large-scale corporations had broader social aims, including providing employment and useful goods. By the early 1950s, the Dodd view had clearly prevailed.

Although the writers of that era would never have used this framing, large corporations created reasonably efficient internal markets. Both employers and their workers benefitted from investing in a workforce that was also their main source for supervisors and managers of all levels. Indeed, middle and senior level executives hired in from the outside often found it hard to adapt to these well-established, tightly knit corporate cultures (note that well-established does not necessarily mean "well functioning"). The tendency of companies to promote from within versus the generally lower odds of succeeding in another company meant that most employees' best prospects were within their current company, which gave them strong incentives to make it successful.

This was also the era when unions had clout. That assured that productivity gains were shared among workers, management, and investors. The fact that labor participated in these improvements helped propel a robust consumer economy, fueling more business growth. These enterprises typically took a long-term view, and used retained earnings to fund investments and research.

This model prevailed until the 1970s. Even though corporate profits as a percent of GDP grew in the 1970s even under stagflation (after the oil shock recession of 1974-5 had passed), return on capital had plunged from 12% in 1965 to 6% in 1979. Appelbaum and Batt describe the rise of the diversified corporation as one of the biggest culprits. They'd become popular in the 1960s as a borderline stock market scam. Companies like Teledyne and ITT, that looked like high-fliers and commanded lofty PE multiples, would buy sleepy unrelated businesses with their highly-valued stock. Bizarrely, the stock market would valve the earnings of the companies they acquired at the same elevated PE multiples. You can see how easy it would be to build an empire that way.

But these sprawling conglomerates had lots of managerial downside. Top brass often didn't understand the operations of these new businesses. They became more dependent on finance staff to impose metrics across businesses to have a handle on what was going on. The formerly virtuous internal labor markets became balkanized and less salutary. And at a higher level, the various businesses were more likely to operate like fiefdoms competing for corporate resources. Finally, because the top executives treated these units as portfolio holdings that could be sold at any time, they were less certain of the necessity and value of investing in them.
Back to the current post. One way to think about this history is that it illustrates one of the many problems of the idea that a promise as ambiguous as equity can and should be sold on an anonymous, arm's length basis. Owning a stock means only "We'll pay you dividends if we make enough money and are also in the mood. And yes, you have a vote, but we can dilute that when we feel like it."
Historically, equity investors were more like venture capitalists: they invested in companies where they knew the management personally, were kept appraised about the strategy and results, and often played an active role in promoting the venture. By contrast, even thought the US securities laws of the 1930s were designed to make investing in such dodgy securities as stock safe for arm's length parties, the truth is that public companies, as professor Amar Bhide described in 1994, always suffer from deficient governance. Anonymous and transient shareholders will never be able to have the access to management and operations to make an informed assessment of how good they are. And public companies can never share much information about their strategies and plans because they are competitively sensitive.
To return to the theme of this post, another oversight by the authors is not considering that other cultures also define the duties of company-operators differently than Anglo-American norms. For instance, in Japan, the top priority is creating/preserving employment rather than profits. During Japan's lost decades, company executives, who were never lavishly paid relative to low level workers, compressed pay of middle and senior managers and top executives to keep firings to as low a level as possible.
By Catherine Casson; Mark Casson, Professor of Economics, University of Reading; John Lee, Research Associate, Centre for Medieval Studies, University of York; and Katie Phillips, PhD student in Medieval Studies, University of Reading. Originally published at VoxEU
Community engagement and responsible use of profits are issues of increasing concern to contemporary businesses. While interest in these issues is often seen as a recent phenomenon, in fact it has medieval origins.
Profit and community were reconciled in the Middle Ages in a way that we can learn from today. Medieval merchants believed that their pursuit of profit should promote the common good of the communities where they lived and worked. They re-invested profits from their business activities into philanthropic projects.
England in the Late 13th Century
England in the late 13th century had a dynamic economy (Britnell 1993). Manufacturing and service sectors existed alongside agriculture (Hatcher and Bailey 2001). National and international trade was conducted by enterprising merchants, aided by new institutions that lowered transaction costs. Legal advances created a lively property market and commodity trade while improvements in water management and bridge-building aided transport and infrastructure.
Towns grew dramatically, both in number and size. The period from around 1200 to around 1350 is now recognised as a period of commercial growth that was as significant as the later Industrial Revolution (Britnell and Campbell 1995).
Individualistic capitalism was not the basis for this 13th century expansion, however. In contrast, family ties and community loyalty were strong. Successful entrepreneurs used their new-found wealth to support their local community. They invested in new infrastructure to improve transport links and security and financed hospitals to care for the poor and infirm (Casson and Casson 2013, 2014).
New Evidence on Medieval Cambridge
Using recently discovered documents on medieval Cambridge, we have investigated how money was made through property speculation and how the profits of successful speculation were spent. Our analysis is based on over one thousand properties recorded in the so-called 'Second Domesday' – the Hundred Rolls of 1279 (Maitland 1898, Raban 2004).
Property markets developed in medieval England as burgage plots were laid out in new or expanding towns by local landowners ('lords'), with the king's permission. To acquire a plot, a burgess had to pay a perpetual rent and erect a building conforming to local plans. He could bequeath or sell his plot. Capital gains could be taken as lump sum payments or as an additional perpetual rent paid to the seller (Goddard 2004). Plots returned to the rent-recipient (e.g. the lord) if rent was not paid (Holt 2010, Keene 1985).
While the operation of commodity markets and local trade during the commercial expansion of the 13th century has been explored by economic historians, the operation of the property market has been under-researched in comparison. Our research combines statistical analysis of medieval records with detailed analysis of the backgrounds of the individuals and institutions that developed property portfolios. We identify patterns in rents, highlight strategies used to assemble property portfolios and examine how the profits of property speculation were spent (Rubin 1987).
Cambridge in the 13th century was not yet a famous university town, but rather an inland port whose merchants specialised in wholesale agricultural trade (Lee 2005). The town had origins dating from at least the 10th century, and in 1068 a castle was constructed there, followed by three religious houses in around 1092, 1133, and 1203. The River Cam provided a navigable network of waterways to Ely, Peterborough, and Huntingdon, and to ports at Wisbech and Lynn.
At the time of the Hundred Rolls, visitors from London would enter through the Trumpington Gate, with the King's Mill to the left and the King's Ditch on the right. Heading north, the visitor would enter the business district, with the market to the right, just behind Great St Mary's church – one of 14 churches in the town. On the left would be buildings later demolished to make way for King's College Chapel.
Continuing up the High Street past the Jewry would bring the visitor to the Round Church. On the left would be Hospital of St John the Evangelist, later re-founded as St John's College (Lineham 2011). Continuing to the Great Bridge (now Magdalene Bridge) the visitor would pass St Clement's Church, through the area where the wealthiest people resided. Passing over the bridge would provide a view up the River Cam of the great stone house (now called the School of Pythagoras) where the influential Dunning family lived.
The visitor would then ascend the Huntingdon Road, with the castle (now a mound near Shire Hall) to the right and views over the grounds of St Radegund's Nunnery (now Jesus College) towards Barnwell Priory. A walk up the Newmarket Road would lead to hospital of St Mary Magdalene with its chapel (still standing today), and the site of Stourbridge Fair (Zutshi 1993).
Property Hotspots in Medieval Cambridge
Property was a desirable asset in medieval Cambridge, much as it is today. Medieval speculators invested in a variety of properties (Figure 1). Land was popular, including fields, curtilages (the area of land around a building), vacant urban land and crofts (land adjoining dwellings, often used for agricultural purposes).
Buildings were also invested in, both residential (messuages – houses with land and often outbuildings – and houses) and commercial (shops and stalls – usually temporary structures in marketplaces). Statistical analysis of the levels of rent shows that messuages and shops were the most valuable properties.
Figure 1 Types or property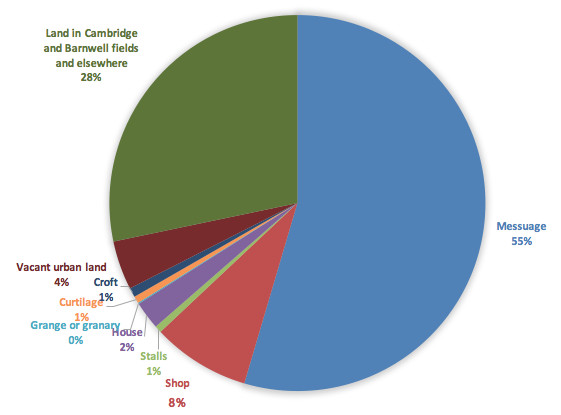 Property hotspots with high-rents can be identified in three parts of medieval Cambridge: at the road junction by the hospital; west of the market; and near the river just south of the hospital (Figure 2). Areas of notably low rents were near the castle, the area of Trumpington Street, and the suburb of Barnwell.
Figure 2 Map of medieval Cambridge showing property hotspots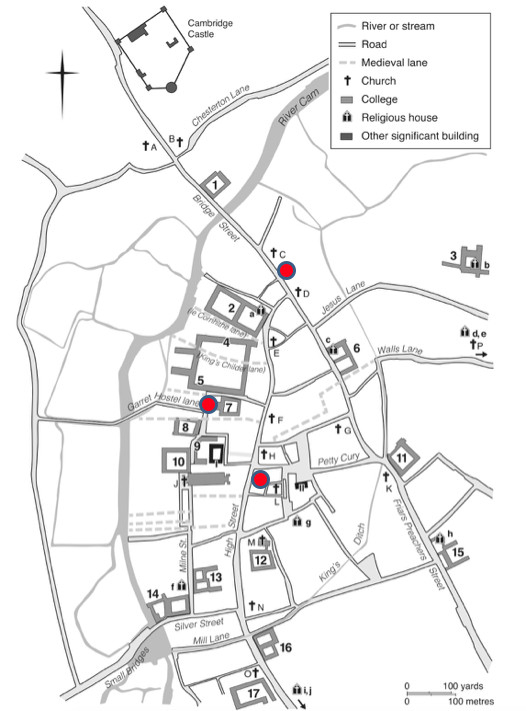 Source: Adapted from Lee (2005).
Individuals and institutions both owned property (Table 1). Family bonds often underpinned ownership. Cambridge was home to several families who had acquired property through the military service of their Norman ancestors, including the Dunning family who owned 12 plots in 1279. Property was passed down through generations. The Wombe family benefitted in 1279 from a portfolio amassed by an ancestor (Hundred Rolls, Roll 1, folio 3). The commercial revolution posed some challenges for this 'old money'. The Dunnings mismanaged their assets and eventually left Cambridge (Gray 1932).
Table 1 Types of (rent-paying) owners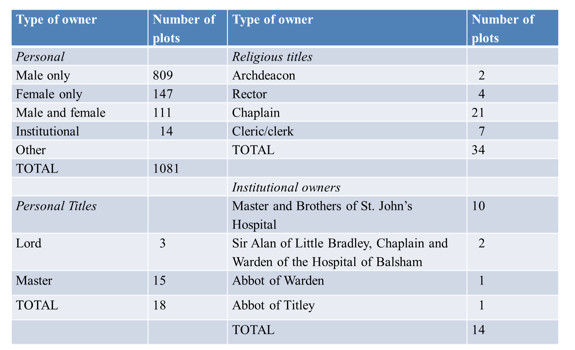 Profits from the property market were recycled back into the community through donations to religious houses, hospitals and churches. Owners allocated more rental income to charitable giving (51%) than to private individuals (Figure 3). The Barton family, for example, were important patrons of The Crutched Friars and the Nuns of St Radegund's while the Dunnings gave land to Barnwell Priory, the Hospital of St John and St Radegund (Gray 1898; Miller 1948; Underwood 2008).
Figure 3 Types of recipients of rental income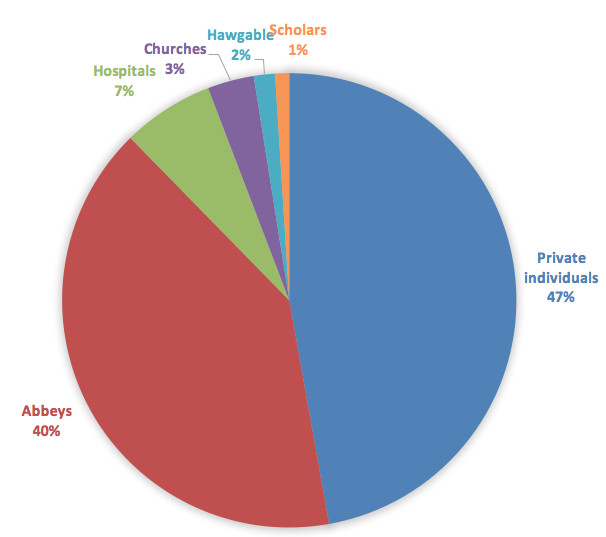 The Black Death and its Aftermath
The 14th and 15th centuries brought new challenges. The catastrophic outbreak of plague in 1348-9, known as the Black Death, probably halved the population. Major Cambridge landowners, including Barnwell Priory and Corpus Christi College, were attacked during the Peasants' Revolt of 1381. Properties were cleared and streets obliterated to create a new site for King's College Chapel during the 1440s.
Yet the townspeople continued to make gifts to the monasteries, friaries, and the hospital of St John, and increasingly to new institutions, the religious guilds and the colleges. New academic colleges were founded and the university grew in size and stature, helping Cambridge to weather the economic storms of the later Middle Ages, and laying the foundations for the town's later prosperity (Lee 2005).
Profits from property speculation benefitted individuals, family dynasties and the urban community as a whole. Compassionate capitalism involved high levels of charitable giving to hospitals, monasteries, churches, and colleges, which helped to disseminate the economic benefits of the 'winners' of the commercial revolution.
This self-sustaining system, however, faced challenges due to social upheaval after the Black Death, and the increased financial burdens placed on merchants and towns in order to fund warfare in France. When prosperity returned in the Tudor period a more ruthless form of capitalism took root, whose legacy remains with us today.
See original post for references