By Wolf Richter, a San Francisco based executive, entrepreneur, start up specialist, and author, with extensive international work experience. Originally published at Wolf Street
Most auto industry gurus were once again too optimistic with their dreary forecasts for new vehicle sales in the US. Kelley Blue Book had figured they'd drop 3.1% in April year-over-year to 1.45 million units. Forecasts in terms of the seasonally-adjusted annual rate of sales – a key industry metric – ranged from 16.9 million SAAR at Baum & Associates and at Goldman Sachs to 17.5 million SAAR at LMC Automotive. The analyst average forecast was 17.1 million SAAR, down 0.35% year-over-year.
But customers were under sticker shock, and were hobbled by other issues, and what the auto industry produced was this:
Total sales in April fell 4.7% year-over-year to 1.426 million vehicles, according to Autodata; cars sales plunged 11.1% and even truck sales edged down 0.1%.
Year-to-date sales, at 5.49 million vehicles, are now down 2.4%. At this rate, this will pan out to be the dreaded "car recession."
Sales in terms of SAAR fell 3% year-over-year to 16.88 million. The pessimists among the forecasters were almost there.
So April had one fewer selling day than April 2016, but this didn't come as a surprise to forecasters. And SAAR accounts for it.
Note: These are unit sales (deliveries) by franchised dealers to their customers, and by manufacturers to large fleets and to their own employees under their employee programs.
A 4.7% drop in sales, bad as it is, wouldn't qualify for #carmageddon. These things happen. But here's the thing: Automakers had shelled out $3,465 in incentives per new vehicle sold, on average, according to TrueCar estimates. A record for the month of April. It beat the prior record of $3,393, set in April 2009. It amounts to about 10% of suggested retail price, similar to March. The last period when incentive spending was at this level of MSRP was in 2009 as the industry and sales were collapsing.
The #carrmageddon point to watch: despite the 13.4% year-over-year surge in incentive spending to nearly $5 billion, total vehicle sales fell 4.7%! When these massive incentives fail to even slow the sales decline, serious problems lurk beneath the surface.
This table shows the largest automakers, their year-over-year sales performance – the sea of red ink – along with average per-unit incentive spending and total incentive spending: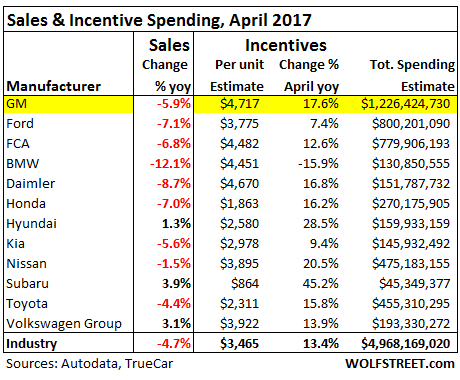 GM shelled out the most incentives on average per vehicle, in total $1.23 billion. In March, it had spent about $1.3 billion. At this rate, GM is spending just under $4 billion per quarter in incentives. By comparison, in its Q1 earnings, GM reported "North America" revenue of $29.3 billion. At this rate, it is spending about 13% of its North American revenues on US incentives.
But it's just not working out. Total sales dropped nearly 5.9%, to 244,200 units, with car sales plunging 12.5% and even truck sales falling 3.2%. A gruesome detail: Silverado-C/K pickup sales plunged 20% to 40,154 units. Total retail sales (not including fleet sales) fell 4% to 191,911 vehicles. GM ended the month with 100 days' supply, up from the nail-biter level of 98 days at the end of March.
GM Chief Economist Mustafa Mohatarem tried to put a positive spin on the situation:
"When you look at the broader economy, including a strong job market, rising wages, low inflation and low interest rates, and couple them to low fuel prices and strong consumer confidence, you have everything you need for auto sales to weather headwinds and remain at or near historic highs."
Ford sales dropped 7.1% to 214,695 vehicles in April year-over-year, with car sales plunging 21.2% and even truck sales falling 1.7%. While SUV sales inched up 1%, pickup sales dropped 4%. To accomplish this, Ford blew $800 million on incentives.
And bloated inventories are hounding the automakers. According to WardsAuto.com, there were over 4 million new vehicles sitting on dealer lots and increasingly on rented parking lots at zombie retail malls. April was the fourth month in a row with dealer inventories above 4 million. The last time this happened was in 2004!
The situation of ballooning inventories, massive incentives, and falling sales is confronting automakers with tough decisions – and there are no good options: pile on even more incentives, only to see sales decline further and gut profits, which is what happened leading up to the collapse of the industry during the Great Recession; and/or cut production and deal with the fallout; or cut incentives, fasten the seatbelts, and hang on.
Consumers are now getting accustomed to these incentives, some of them reaching $8,000 or more per vehicle. Without them, consumers would just say no. Incentives are addictive. You cannot just withhold that drug. It would crush sales. That's why it is so difficult for automakers to get off incentives once they got on them in a big way.
A number of automakers didn't make the above list because their market share is too small, including Volvo, Mazda, Porsche, Jaguar, Ferrari, Maserati, and Tesla.
Tesla sold 3,850 car in April, according to Autodata, 44% fewer than Porsche, giving it a market share of about a quarter of a percent (0.27%), compared to GM's 244,200 units and market share of 17.2%. Yet today, Tesla shares give it a market cap of $52 billion, compared to GM's $50 billion. That's how crazed this stock market has gotten.
So it's tempting to short Tesla even as the bloodletting among Tesla shorts has become legendary. Read….  4 Short Sellers Explain Why They Target Tesla – But Don't Try to Do this at Home