By Lambert Strether of Corrente
From my desk in my weedy garden in Maine. The honeysuckle is blooming. Not unpleasant!
* * *
Trade
"U.S. Trade Representative Robert Lighthizer said on Wednesday there was no deadline for completing NAFTA trade talks between the United States, Canada and Mexico even as lawmakers warned that U.S. business would be hurt by prolonged negotiations" [Reuters].
"Any potential vote in Congress on a NAFTA 2.0 isn't going to divide Republicans and Democrats, if [U.S. Trade Representative Robert] Lighthizer gets his way. The veteran trade attorney, who also has a fair bit of Capitol Hill experience under his belt, made clear on Wednesday at the Senate Finance Committee hearing that one of the primary goals for the renegotiation of NAFTA is to come away with a model trade agreement that lawmakers from both parties are comfortable getting behind" [Politico]. "'I just want to assure you that I'm very focused on the fact that when you bring something back it has to pass, and that there's almost no margin for error,' the top U.S. trade official said in response to a question from Sen. John Cornyn (R-Texas). 'My hope, to be honest, is that we'll end up with a model agreement that has a substantial number of Democrats as well as Republicans.' To that end, Lighthizer toed a careful line throughout the hearing in an attempt to appease Democrats pushing for a high-standard trade agreement while avoiding making promises that he could not keep."
Politics
Policy
"Why the White House Is Reading Greek History" [Politico]. This is Graham Allison's schtick paradigm, the Thucyides Trap, which casts America (Sparta) as the dominant power, and Athens (China) as the rising power, urging that conflicts between two such powers are not inevitable, but common. I need to study up on my Greek history, but my impression is that matters weren't quite so simple (and I well remember how the Kagans popularized a similar narrative as a means of getting us into the Iraq War).
Health Care
Steven Brill: "[The AHCA] doesn't repeal the Affordable Care Act. [Brill] told MSNBC's Stephanie Ruhle that what the anticipated bill instead does is strip out Medicaid funding to deliver tax cuts" [MarketWatch]. "As to the "replace" component, Brill has been every bit as dismissive…. Back in January, also as a guest on MSNBC, Brill had said he was willing to be that 10 years after the 2010 passage of the Affordable Care Act, a.k.a. Obamacare, there would still be no replacement — in large part because Obamacare was a Republican-style plan at its inception, rendering redundant any Republican replacement." As I've been saying…

"Discussion Draft" of the Senate Bill [www.budget.senate.gov].

UPDATE "Meet the 13 Senators Deciding on Your Health Care Behind Closed Doors" [Time]. Not only the Senators, but their contributors.
Ossoff Loss
UPDATE Oh my:


Jon Ossoff actually ran this. How is it not satire? pic.twitter.com/v3aJyAabwV

— Luke Savage (@LukewSavage) June 21, 2017

UPDATE What she said:


Ossiff promised to "stand up for dynamic, forward-looking fiscally responsible economic policy." Time to ditch this garbage message.

— Stephanie Kelton (@StephanieKelton) June 22, 2017

UPDATE "Many consultants told me that the Ossoff campaign left much of the black-turnout work to outside groups and third parties, which is status quo in a regular election, but that's not the game-changing strategy you need in the most expensive congressional race in American history" [The Root]. "Democrat Archie Parnell lost to Republican Ralph Norman by a mere 4 percentage points, 51 to 47 percent, in a district that went for Trump by 20 percentage points in November. What was the difference? Consistent and creative African-American turnout efforts by the Democratic candidate throughout the entire campaign led to—wait for it—incredible jumps in turnout! Politics can be a simple game when you actually target your own voters instead of someone else's."

UPDATE Department of Schadenfreude:

"our biggest concern if we lose is that it validates what the left has been saying for over a year, not that it validates trumpism/the AHCA" pic.twitter.com/YPOcwUBvKe

— Paul Blest (@pblest) June 21, 2017

"Pelosi to critics: 'I think I'm worth the trouble'" [The Hill]. "'When it comes to personal ambition and having fun on TV, have your fun,' Pelosi said during a press briefing in the Capitol, referring to her detractors making the cable news rounds." Pelosi:

I love the fray. I'm not disrespectful of people's views. I respect any positive things that people want to say or , as long as constructive. But when it's blatantly self-serving and beyond the normal competition that the press so enjoys focusing on, if all the press were focusing on , mean-spirited bill?

Note the word salad; I've helpfully underlined the slips. And asking for focus on health care is pretty rich when (a) the Democrat leadership has been consumed by Putin Derangement Syndrome, and (b) Pelosi vehemently opposed #MedicareForAll. So who's "heartless"?
Realignment and Legitimacy
"A Call to Revive America's Political Center" [Morton Kondrake, RealClearPolitics]. "The center—it's weak, but it does exist—has to be bolstered by our national heavyweights. Accomplished and respected people such former Secretaries of State James Baker, Condoleezza Rice, Colin Powell and George Shultz; former Defense Secretaries Leon Panetta, and Robert Gates; business leaders like Kenneth Chenault of American Express, Ellen Kullman of DuPont, Google's Eric Schmidt, Howard Schultz of Starbucks, Jeff Immelt of GE, Microsoft's Bill Gates and Paul Allen, Amazon's Jeff Bezos, and Mark Zuckerberg and Sheryl Sandberg of Facebook. Retired top military figures like Adms. Mike Mullen, James Stavridis and Bill McRaven and Gens. Stanley McChrystal, James Jones and David Petraeus. Plus, ought-to-have-been presidential candidates Mitch Daniels and Michael Bloomberg. This is just an examples list and it's incomplete. The point is that Americans of this caliber must come together—and I mean meet face-to-face—and resolve to act jointly in service to their country." Yes, it would be wonderfully clarifying if a number of oligarchs came together and decided to rule openly.

* * *

Lambert here. Speaking for myself, my cold take on the "Russian hacking" story: (1) I want to see evidence, not claims about evidence. That evidence would include (a) solid attribution, always an issue, (b) which systems were affected, and (c) how the vote was affected (for example, how online bots affected particular precincts; so far, I have seen no anecdotal evidence of this, which I would expect). So far as I can tell, we got nuthin' on (a) or (b) — a good start, at least on email hacking, would be for the DNC to hand over its server for independent examination — and all sides agree (c) never happened. (2) The claims about evidence are made by intelligence officials from the NSA (lied about mass surveillance), CIA (tortured, and lied about that), and the FBI (regularly entrapped — under Hero of the Republic Mueller — many "terrorist" schlubs as agent provocateurs). In my view, everything intelligence officials assert, unless it's against interest, should be discarded as completely tendentious, absent independent confirmation. That also goes for all claims made by partisans of both parties, especially office holders. There's not much to the story — very much unlike Watergate — when you do that. In strong form, the claims made both by the intelligence community and the Democrats amount to charges that: (1) the 2016 election was not legitimate, and (2) an elected President is a Russian dupe or stooge. (Certainly the Clintonite faction believes, and says, these things.) These are extraordinary claims, and demand extraordinary evidence, but what we have, so far as I can tell, is a ginormous argument from authority made by officials who, at least in the CIA and the NSA, would long ago have been prosecuted for crimes by a functional political class, and who are deeply interested in the political outcomes of the claims they make. To put this another way, if anybody can show me there's more to this story than, at the very worse, "games great powers play," I'll become much more interested. And please don't try to get me excited about bots on Facebook; they're certainly not a casus belli. Until then, my advice to the political class would be to "man up" (or "woman up," as the case may be).

"Yes, it's clear Russia (with Vladimir Putin's full approval) orchestrated cyberattacks designed to influence the 2016 contest, and also pushed fake news" [New York Post]. "But the hack, and release via WikiLeaks, etc., of Democratic emails produced nothing game-changing. The biggest impact was to confirm the obvious: The Democratic National Committee favored Hillary Clinton from the start. And fake news mainly feeds people's existing prejudices — which serves Putin's goal of undermining our democracy, but fails to flip votes from one party to the other. Johnson also made it plain that Democrats didn't take the problem too seriously: 'The FBI and the DNC had been in contact with each other months before about the intrusion, and the DNC did not feel it needed DHS's assistance at that time.'" I dunno. DHS is domestic. How does Johnson know? (Presumably the answer is in the hearing transcript.)

"Election Hackers Altered Voter Rolls, Stole Private Data, Officials Say" [Time]. "'The integrity of the entire system is in question,' says [the former top Democratic staffer on the House Intelligence Committee, Michael Bahar], 'So you need the system to push back and find out what happened and why, so it never happens again.'" As far as the vote goes, the answer isn't some daft DHS high-budget program to protect electronic voting machines (which is doubtless a DHS empire-building institutional imperative in this story). The answer is hand-marked paper ballots, hand-counted in public.
Stats Watch
Leading Indicators, May 2017: "The index of leading economic indicators started the year off fast but has been slowing the last two reports" [Econoday]. "Most components have been showing strength with the exception of building permits, which have been down, and manufacturing hours which have been flat. The latest results point to steady but no more than moderate economic growth." But: "The rate of growth may be improving on this index. Because of the significant backward revisions, I do not trust this index" [Econintersect].
Coincident Indicators: "generally the coincident indices [The Philadelphia Fed's Coincident Index, the Aruoba-Diebold-Scotti business conditions index, Conference Board Coincident Index, ECRI's Coincident Index, and the Chicago Fed National Activity Index] are showing weak growth except for the CFNAI which is showing stronger than average growth (however the CFNAI is subject to significant backward revision)" [Econintersect].
Kansas City Fed Manufacturing Index, June 2017: "Solid" but "masks however trouble for orders" [Econoday]. "New orders slowed 5 points in the month to 4 which is the lowest reading since August last year. And backlog orders fell into contraction, to minus 6 from May's plus 12 for the lowest reading since November last year." And but: "The data overall will maintain confidence in the outlook, although there will be fresh doubts surrounding pricing trends with the evidence suggesting that manufacturers are unable to pass-on price increases" [Economic Calendar]. And: "The Kansas City region was hit hard by the sharp decline in oil prices, but activity has been expanding as oil prices increased. It is too early to tell if the recent decline in oil prices will impact the Kansas City region again" [Calculated Risk].
Bloomberg Consumer Comfort Index, week of June 18, 2016: "eased 6 tenths" but still "very strong" [Econoday].
FHFA House Price Index, April 2017: "Sales may be uneven but home prices are on the rise" [Econoday]. "The housing sector may have fumbled into the Spring selling season but home prices nevertheless are one of high points of the nation's economic data and are a major positive for household wealth." My house isn't an ATM, and if it were, that still wouldn't make it wealth. And: "The data is likely to maintain expectations that financial conditions are still relatively loose which would underpin the case for a continued policy normalisation over the next few months" [Economic Calendar].
Jobless Claims, week of June 17, 2016: "little changed" [Econoday]. And: "The overall market impact was very limited with near-term inflation developments likely to have a more important impact on Federal Reserve tightening plans with the Fed remaining very confident in the overall labour-market outlook" [Econintersect].
Retail: "Amazon.com Inc. is reaching deeper into the supplier world in its bid to carve more business away from retailers. The e-commerce giant has a new deal with Nike Inc. to sell some of the sporting apparel maker's products" [Wall Street Journal]. "[W}ith traffic to traditional stores falling, Nike has been ramping up efforts to sell directly to consumers, especially its own e-commerce efforts. The supplier needs the outlets: the Sports Authority chain collapsed last year under the online competition, and moves by suppliers including Adidas and Under Armour Inc. to Amazon have added to the pressure on sporting goods retailers, stress that will only grow as Nike follows the same path."
Commodities: "How China, Not Obama, Waged The War On Coal" [Forbes]. "Chinese coal production has declined for three consecutive years, coinciding with the slowing of industrial growth, but according to BP's Statistical Review of World Energy 2017, released this week, it has never declined more than it did in 2016. At the beginning of 2016 China enacted a series of policies designed to reduce a supply glut, including closing 1,000 mines and restricting mining days to improve the profitability of the ones that remained open. 'The impact of these measures was really stark,' [BP Group Chief Economist Spencer Dale] said, calling it a "magnificent policy.'"
Concentration: "[Wal-Mart] is telling some technology companies they can't run applications for the company on Amazon's cloud-computing service if they want to do business with Wal-Mart… [Wall Street Journal]. "Wal-Mart says it simply doesn't want 'our most sensitive data' on a competitor's platform. Some technology vendors say other large retailers also have requested that service providers move away from Amazon Web Services. That push highlights the potential conflicts that are rising as Amazon spreads beyond the nuts-and-bolts of retailing, a growing question in the logistics field as the e-commerce giants builds shipping infrastructure that provides both business and competition to truckers and other operators. For Wal-Mart, there's no doubt AWS provides troubling competition, bringing Amazon big profits that help offset tight retail margins." So it would seem natural to break up Google into a search company, a data center company, and an e-commerce company (and throw away the vanity projects). Even those three businesses would be behemoths. And I'm so old I remember when Google search didn't suck!
Shipping: "Capacity cuts still key to restoring container shipping equilibrium, says Fitch" [Lloyd's List]. That, and concentration!
Shipping: "Southern U.S. ports breaking cargo records thanks to new Panama Canal" [WorkBoat]. "The expansion also coincided with a population boom that has made the south home to 10 of the 15 fastest growing cities, according to the U.S. Census Bureau, meaning there is a growing market for goods being imported. At the same time, manufacturing growth throughout the south means shipping lines also can pick up American-made exports to transport abroad."
Shipping: "Supply chain strategies for the Asian century" [Lloyd's List]. "By 2030 Asia will represent 66% of the global middle-class population, compared to 28% in 2009…. There are huge opportunities in Asia as the middle classes grow exponentially, driving increasing demand for consumer products, especially throughout the region's third and fourth-tier cities…. To address Asia's geographic, economic, and political complexities, supply chain strategies need to embrace and address the developing regulatory environments, evolving infrastructure networks and up-and-coming talent pool."
Supply Chain: "A report in Fast Company had a very interesting take on the Amazon-Whole Foods deal as it relates to the supply chain" [Logistics Management]. "'Just as it has built an operating system for e-commerce, Amazon is now poised to create one for our food supply chain. It would allow [Amazon CEO and Founder] Bezos to offer the highest-quality, safest, freshest, and cheapest groceries anywhere on the planet,' the report states. 'The supply chain and distribution challenges that Amazon is already mastering are part of what landed Whole Foods in a position to be acquired in the first place.'" Not sure how that fits with local food sovereignty. And it would seem to reinforce every bad tendency in America's already horrible diet. And it's clear, for example, that Amazon can't even get stuff like genuine Apple power supplies right — I know, because some of mine burnt out. Or the Egyptian cotton that's not the advertised thread count, and is mixed with polyester. So will Amazon really be able to cope with adulterated food?
Shipping: "Small, lightweight shipments handled through traditional conveyance systems have dominated e-commerce's early days. But the broadening of online inventories now gives consumers and businesses access to goods of all shapes, weights, and sizes. These include so-called large-format items that weigh more than 150 pounds and usually require two people to deliver and perhaps install, as well as relatively light but bulky products that are incompatible with conveyors. These could be skis, mattresses, treadmills, or desks. Or they could be furniture items ordered on Seattle-based Amazon.com Inc., the world's largest e-tailer, which recently announced it would enter the space" [DC Velocity]. "[T]hose getting into the market must adapt to a new world. Not only are drivers entering a customer's most private environment, but they are usually delivering a high-cost product that, in many cases, must also be assembled. Unlike 'traditional' e-commerce shipments, which can be returned with relatively little inconvenience to the customer and cost to the retailer, a late delivery of a large-format item, damage to the item during delivery, improper installation, or just plain buyer's remorse ratchets up the cost to the retailer as well as the provider. If any of those scenarios occurs, the driver must then go into 'save the sale' mode, according to Stoffel of Werner. 'It's a very different business when you are interacting with the customer in their home,' said O'Shea, who has been doing last-mile for years. 'For drivers, it's not what they're used to. They bump docks.'" Fascinating, since robots are unlikely to be able to do this…
Shipping: "Manufacturers and retailers bracing for FedEx Corp. to follow rival UPS Inc. in imposing a peak shipping-season per-package surcharge will have to brace themselves a little while longer" [DC Velocity]. "FedEx danced around analysts' questions about a possible surcharge during its conference call late yesterday to discuss its fiscal 2017 fourth-quarter results."
The Bezzle: "The current value of all the bitcoin in the world is worth about $41 billion, according to [HowMuch.net]" [MarketWatch]. "That is undoubtedly more money than most Americans will ever see in their lifetime. But when it comes to bragging rights, bitcoin really is the poor relation."
The Bezzle: "As Apple prepares to show off new features for the iPhone and other devices at its developer conference on Monday, the company is grappling with an uncomfortable issue: Many of its existing features are already too complicated for many users to figure out" [New York Times]. No Human Interface Guidelines, one reason iOS will forever remain inferior to OS X. Just a steaming pile of random hacks.
IT: "2017 Data Breaches Nearly 30% Higher Than 2016's Record Pace" [247 Wall Street]. "The business sector leads them all in the number of records compromised so far in 2017, with more than 7.5 million exposed records in 420 incidents. That represents 55.4% of the incidents and nearly 64% of the exposed records so far this year." Don't worry. When cash is digital, this problem will go away. Oh, wait…
Five Horsemen: "Amazin' and Alphabet are vying neck & neck for the lead, as the big AAPL languishes" [Hat tip, Jim Haygood].
Today's Fear & Greed Index: 51 Neutral (previous close: 42, Fear) [CNN]. One week ago: 52 (Neutral). (0 is Extreme Fear; 100 is Extreme Greed. Last updated Jun 22 at 1:41pm.
Gaia
"TVs, dishwashers and fridge freezers have been found to guzzle up to twice as much energy as advertised on their energy labels, in a wide-ranging EU product survey" [Guardian]. "When tested under real-world conditions, the €400,000, 18-month investigation found widespread overshooting of the goods' colour-coded A-G energy classes, due to the outmoded and selective test formats on which these have been based…. In an echo of past 'defeat device' scandals, another TV set increased its energy consumption by 47% when tested in a cycle based on real-world viewing, instead of the European standard measurement."
"Many U.S. underground natural gas storage wells at risk for leaks" [Harvard School of Public Health]. "More than one in five of the 15,000 active underground natural gas storage wells in the U.S. appear to be at risk for serious leaks due to obsolete well designs, according to a study by Harvard T.H. Chan School of Public Health researchers. The wells are similar in design to that of the Aliso Canyon gas storage facility in California that leaked for about four months in 2015-16 and is considered the largest single accidental release of greenhouse gases in U.S. history."
"The Company Behind the Dakota Pipeline Is Spilling Toxic Fluid in Ohio" [Bloomberg].
Health Care
"Op-Ed Single-payer healthcare for California is, in fact, very doable" [Los Angeles Times]. "How would California cover this $331-billion bill? For the most part, much the same way it covers healthcare spending right now. Roughly 70% of the state's current spending is paid for through public programs, including Medicare and MediCal. This funding — totaling about $225 billion — would continue, as is required by law. It would simply flow through Healthy California rather than existing programs. The state would still need to raise about $106 billion a year to cover the cost of replacing private insurance. This could be done with two new taxes…. Relative to their current healthcare costs, most Californian families will end up spending less, even with these new taxes, and some will even enjoy large gains." This is a hard argument to make. But it must be made.
"Analysis indicates that insurance expansion improves access to care, health, and survival" [Harvard School of Public Health]. Really? I would have thought it was health care that did that. Anyhow: "The Harvard Chan researchers synthesized the most rigorous evidence from the past decade, drawing on findings from more than 40 papers, including major studies of their own. The body of evidence showed that coverage expansions have produced significantly higher rates of being able to afford needed care, and having access to preventive services, primary care, chronic illness treatment, medications, and surgical care. In turn, these changes have led to a wide range of improvements in health."
Class Warfare
"L.A. County foster care agency botched many more payments than initially reported" [Los Angeles Times].
News of the Wired
"Jean E. Sammet, an early software engineer and a designer of COBOL, a programming language that brought computing into the business mainstream, died on May 20 in Maryland. She was 89" [New York Times]. Missed this one. "Grace Hopper, a computer pioneer at Sperry Rand in the late 1950s, led the effort to bring computer makers together to collaborate on the new programming language. Ms. Hopper is often called the "mother of COBOL," but she was not one of the six people, including Ms. Sammet, who designed the language — a fact Ms. Sammet rarely failed to point out. "
* * *
And here's today's plant (Meeps):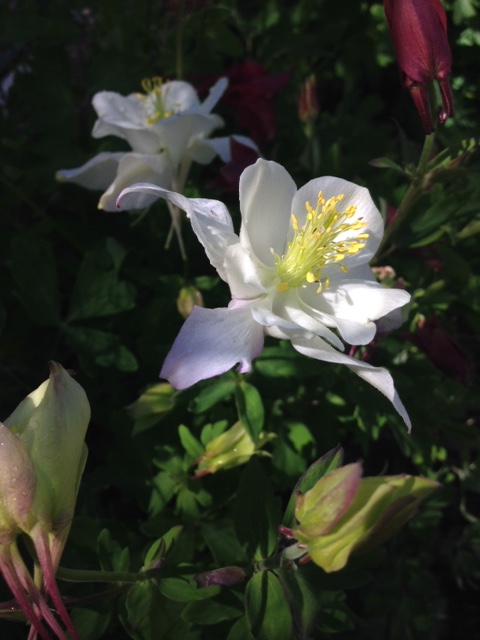 Meeps writes:
A white Columbine in dappled morning light.

And Ossoff lost! Hooray!
I love Columbines
* * *
Readers, Water Cooler is a standalone entity, not supported by the Naked Capitalism fundraisers. Please use the dropdown to choose your contribution, and then click the hat! Your tip will be welcome today, and indeed any day. Water Cooler will not exist without your continued help.