By Lambert Strether of Corrente
Readers, I'll be back in a bit after I've found out how the Republicans' "gut check" lunch on health care went.
Trade
"Zombie Trans-Pacific Partnership agreement lurches on" [The Conversation]. " Did the TPP die? Or is it now a bloody zombie? Many of the 11 remaining member countries have ratified the agreement, or plan to. Chile and Canada have both hosted meetings to consider ways to resurrect it."
"Trump Administration Opens Marathon Nafta Hearings" [Wall Street Journal]. "Witnesses represent wide variety of interests, including entertainment, fashion, agriculture, [and] more… the variety of speakers shows the widespread interest in the pact, with a long list of industries, unions and activists looking to protect what they've gained since the 1994 launch, to make up for what they've lost, or to take advantage of the opportunity for change…. In the month after U.S. Trade Representative Robert Lighthizer's mid-May notification to Congress that the pact would be renegotiated, his agency got more than 12,000 public comments on the matter, crashing the server and forcing him to extend the comment period."
Politics
Health Care
UPDATE "Still Short, GOP Delays Health Care Vote" [Roll Call]. "The Senate will not vote on Republicans' health care bill this week, a Senate GOP aide said Tuesday, despite continued pressure from conservative activists and the Trump administration to act….Senate Health, Education, Labor and Pensions Chairman Lamar Alexander told reporters there is no path for voting on proceeding to the health care reconciliation bill until after the July Fourth recess." Hoo boy (1)

UPDATE "McConnell told GOP senators that he wants to make changes to the bill, get a new Congressional Budget Office score and have a vote after the holiday" [CNN]. So now that we know how to read a CBO cost estimate, we can compare… And: "Behind the scenes, staffers for McConnell were trading potential legislative proposals with key offices, and McConnell himself met privately with Sen. Ted Cruz for nearly an hour." Eeeeeew….

UPDATE "The decision Tuesday to delay the vote planned for this week follows announcements by at least five Republicans that they'll vote to block Senate debate on the current version of the bill. McConnell needs support from at least 50 of the 52 Republicans to move forward with the measure" [Bloomberg]. "But . McConnell and Senate GOP leaders haven't discussed possible changes with members concerned about some of the bill's provisions, two senators said. 'I have not heard back from the leadership with any suggestions for changes,' [Senator Susan] Collins said."

UPDATE "Negotiations on Tuesday that leaders hoped would move senators toward yes only exposed the fissures in the Republican Party. Conservatives were demanding that states be allowed to waive the Affordable Care Act's prohibition on insurance companies charging sick people more for coverage and are asking for a more expansive waiver system for state regulators. They also wanted more money for tax-free health savings accounts to help people pay for private insurance" [New York Times]. "Senators from states that expanded the Medicaid program — and Senator Susan Collins, Republican of Maine — would not brook many of those changes, especially the measure to severely undermine protections for people with pre-existing medical conditions."

UPDATE "Mitch McConnell Isn't Playing 13-Dimensional Chess" [FiveThirtyEight]. "McConnell's strategy is fairly obvious: He wants to pass legislation that lowers taxes on the wealthy and reduces government spending to the largest extent politically practicable." Because movement conservatism. "These sorts of opportunities are rare. Republicans hold both branches of Congress and the White House, and these periods don't always last for very long; Barack Obama and Bill Clinton lost their House majorities after two years in office, never to win them back again, for instance. So McConnell has come out swinging for the fences."

UPDATE "President Obama tried to move us forward with health-care coverage by using a conservative model that came from one of the conservative think tanks that had been advanced by a Republican governor in Massachusetts," [Warren] told the Wall Street Journal. 'Now it's time for the next step. And the next step is single payer.'" [Roll Call]. Hoo boy (2). So, will she co-sponsor a bill with Sanders?

Everybody understands the stakes but the Democrat Establishment:

Spicer: choice is GOP plan or Bernie's $32T single payer. "That's what the alternative is. It's not a question of Obamacare vs. the AHCA"

— Lachlan Markay (@lachlan) June 26, 2017

The feel-good moment of the year:

Dem Sens Gillibrand & Schatz join Sen Booker & Rep Lewis in their sit-in on the Senate steps protesting GOP health care bill

— Chad Pergram (@ChadPergram) June 27, 2017

I mean, facing the biggest policy battle of the decade, what more do you need than a little virtue signaling? Now let's talk about Putin.

The Finance 202: As health-care bill teeters, GOP donors eye a tax rewrite on deck" [WaPo]. "[T]he stuttering health-care debate is holding up action on a wholesale rewiring of the tax code, which, if successful, could translate into an immediate economic boost [ha ha]." Sure, but why not trade some tax advantages for one or two votes on BCRA? Because that's all McConnell needs? Lateral move!
New Cold War
"Dead Man Talking: Comey Finally Delivers – Part Two" [Nina Illingworth]. "[D]espite making for very dramatic television, Comey's testimony on the Russia parts of "Russiagate" really didn't tell us anything new; we already knew Mike Flynn (and not Donald Trump) was under investigation, we already knew that the FBI took Crowdstrike's word for it when blaming Russia and we already knew that the investigation itself had moved on to more important matters like Trump's attempt to quash the FBI investigation into Mike Flynn and possible shady financial arrangements by Trump's family. Overall, most of the former FBI Director's testimony lined up fairly well with what we know about the most recent (largely defanged) iteration of 'Russiagate' and at no point in time did anything Jim Comey said actually prove or even attempt to prove the two (ridiculous) core accusations that originally made up the Trump-Russia conspiracy theory; even if pro-Kremlingate media are now purposely attempting to suggest otherwise… In other words; there are sharks from both sides of the American tribal divide circling and James Comey's testimony has lined the waters with chum; expect carnage sooner rather than later my friends." Most definitely worth a read.

"For once, Trump is right about Obama" [Richard Cohen, WaPo]. "Every once in a while, as often as a blue moon or a politician forgoing the use of the word 'frankly,' I utter a soft 'Right on' in response to something President Trump has done or tweeted. This occurred recently when he took Barack Obama to task for his weak — and tardy — response to Russia's meddling in the U.S. election. For a moment there, Trump forgot that Vladimir Putin can do no wrong. But for that rare moment, the president was absolutely right. The Obama administration's response to Russian meddling was ineffective and oddly torpid. It was also secretive." Fascinating to watch the political class pivot!
Realignment and Legitimacy
"Democrats field a glut of House candidates in 2018 but remain divided on how to win" [WaPo]. "After a string of defeats in special elections this year, activists across the country are pitted against Washington-based leaders and strategists about what the message and the tactical plan should be to win the 24 seats needed to take control of the House. Democrats as well as independent observers believe that figure is attainable given historical trends, Trump's and the congressional GOP's sustained unpopularity and the ballooning number of candidates with gold-plated résumés willing to run. What they don't agree on is how to do it — by exciting the base with a liberal economic message and fiery candidates in the model of Sen. Bernie Sanders (I-Vt.), or by keeping the party's doors open to moderates and independents with centrist contenders, ideally with business or military experience." Because the military has won so many wars, and business is trusted. Oh. OK. Let me translate here: "What they don't agree on is a platform of universal direct material benefits for voters, especially working class voters or candidates that lame Democratic strategists think are vaguely charismatic — and above all, self-funding! — who will keep explaining why we can't have nice things."

"Meet The Gay Wunderkind Just Elected Secretary Of The DNC" [New, Now, Next]. "The 27-year-old LGBT activist joined the DNC at 17, before he could even vote." Great. Where is he on #MedicareForAll? Probably nowhere; he supported Clinton ("never, ever") not Obama. On the bright side, he wants to be President someday.

"Trump won, and Amy Siskind started a list of changes. Now it's a sensation." [Margaret Sullivan, WaPo]. Clickbait headline, interesting project. "Soon afterward, Siskind began keeping what she calls the Weekly List, tracking all the ways in which she saw America's taken-for-granted governmental norms changing in the Trump era." I'm suspicious, however, of this "norms" talking point, since it seems apolitical but isn't; it takes the power of those who set and enforce the norms as a given. Isn't "taken-for-granted governmental norms changing" — note lack of agency — another way of saying "We used to make the rules and now we don't?" Of course, norms can be valuable; the Clintonite redefintion of corruption as only a quid pro quo will prove to be enormously destructive. Not to say that the Administration isn't violating plenty of good norms all on its own; but the degradation of America's political class is clearly a systemic, and not a partisan, issue.
Stats Watch
S&P Corelogic Case-Shiller HPI, April 2017: "Early Spring turned out a disappointment for the housing sector and is reflected in Case-Shiller's home price index" [Econoday].
Consumer Confidence, June 2017: "Unusual strength in the consumer confidence report" [Econoday]. "But the message of this sample continues to be one of outsized strength. When this strength, however, will translate into outsized gains for consumer spending has been a central question for the economy all year." Survey vs. data yet again….
Richmond Fed Manufacturing Index, June 2017: "Manufacturing activity in the Fifth district expanded for the eighth consecutive month in June and bounced back to a stronger pace after May's sharp slowdown" [Econoday]. "[T]he drag on the June improvement surprisingly came from the employment front."
State Street Investor Confidence Index, June 2017: "The State Street Investor Confidence Index fell 1.6 points in June to 101.0, showing global institutional investors still increasing their equity allocations but to a lesser degree than in the previous month. Confidence declined most among Asian investors" [Econoday].
UPDATE Commodities: "Gold Plunges After 1.8 Million Ounces Were Traded in One Minute" [Bloomberg].
UPDATE Commodities (I suppose): "Fake news of a fatal car crash wiped out $4 billion in ethereum's market value yesterday" [Quartz].
The Bezzle: "Fake news of a fatal car crash wiped out $4 billion in ethereum's market value yesterday" [Quartz].
The Bezzle: "Google faces $1bn Brussels fine for abuse of dominance in search" [Financial Times]. "EU antitrust officials have formally recommended that the search giant be found in breach of competition regulations for using its near-monopoly in online search to steer customers unfairly to its own Google Shopping service."
The Bezzle (one hour ago): "Google Fined Record $2.7 Billion in E.U. Antitrust Ruling" [New York Times]. "By levying the fine against Google — more than double the previous largest penalty in this type of antitrust case — Margrethe Vestager, the European Union's antitrust chief, also laid claim to being the Western world's most active regulator of digital services, an industry still dominated by Silicon Valley. 'In Europe, companies must compete on the merits regardless if they are European or not,' she said on Tuesday. 'What Google has done is illegal under E.U. antitrust rules.'" Look, rentier is a European word, mkay?
Political Risk: "A letter obtained by POLITICO is circulating without letterhead or signatures among members of Congress and rages against what supporters of the powerful American tech industry say are heavy-handed, politically motivated EU antitrust tactics levied against American companies. Lobbyists are trying to get U.S. lawmakers to sign on to its message" [Politico]. "The letter being circulated in the U.S. Congress is unlikely to faze Commission officials. More concerning from their point of view is how U.S. President Donald Trump reacts upon discovering Brussels is levying a large fine on Google — no friend of Trump, but still an American icon."
Political Risk: "Why Americans Feel So Good About a Mediocre Economy" [Bloomberg]. "Why the divergence between the "soft" numbers of confidence surveys and the "hard" numbers of the real economy? One possibility is that this is just a momentary spot of economic weakness, and the numbers that measure sentiment point to better days in the near future. But survey numbers have been rosy for a half-year now, so if these surveys were doing their job of forecasting the real economy, it seems like the good times they predict would have started to show up in the data by now." As Langston Hughes did not exactly write:
What happens to a dream deferred, when the surveys and the data diverge?

Does it dry up
like a raisin in the sun?
Or fester like a sore—
And then run?

Does it stink like rotten meat?
Or crust and sugar over—
like a syrupy sweet?

Maybe it just sags
like a heavy load.

Or does it explode?
Honey for the Bears: "Bankruptcy guru Edward Altman sees similarities to 2007 in the credit market today" [Yahoo Finance]. "'It's been a terrific market for investors for quite a long time and if anything is concerning it's that we now are more than eight years into a benign credit cycle,' Altman, a professor at NYU Stern School of Business, told Yahoo Finance. 'We've never had such a long benign cycle. And just that one little fact is something that we should be concerned about because if it comes to one and it could come to an end very dramatically.' … Altman is perhaps best known for the Z-Score, a formula he created 50 years ago that's used to predict bankruptcies. Since that time, he noticed that bankruptcies have gotten increasingly bigger. '[What] I've seen over the years is larger and larger companies filing for bankruptcy on a regular basis. On average, in the United States, something like 15 more than $1 billion companies, in terms of liabilities, go bankrupt every year, on average,' Altman said. 'This year already it's 13. Last year, it was almost 40.'"
UPDATE The Fed: "U.S. Federal Reserve Chair Janet Yellen said on Tuesday that she does not believe that there will be a run on the banking system at least as long as she lives" [Reuters]. Damn. What's that sawing sound?
The Fed: "The lopsided tug-of-war [between vendors and buyers] goes some way to explaining why Federal Reserve Chair Janet Yellen and her colleagues are having such a hard time lifting inflation to their 2 percent goal. For companies from arts-and-crafts retailer Michaels Cos. to industrial giant ABB Ltd., the focus is on cutting costs, not raising prices" [Bloomberg]. "An increasingly ingrained corporate mindset sees pricing power as a relic of the past after years of minimal inflation. The brave new world is one dominated by stiffer competition from technological breakthroughs and globalization, and downsized demand from a slower-growing and aging population. In spite of that, Fed policy makers are pressing ahead with plans to tighten credit by raising interest rates and reducing the central bank's bond holdings. They're betting that a scarce supply of workers will force companies to pay employees more and then boost prices to protect their profits, in line with a theory called the Phillips Curve that's about six decades old."
Today's Fear & Greed Index: 56 Greed (previous close: 53, Neutral) [CNN]. One week ago: 48 (Greed). (0 is Extreme Fear; 100 is Extreme Greed. Last updated Jun 27 at 1:20pm.
Black Injustice Tipping Point
The bankruptcy of identity politics:
SCOOP: The Congressional Black Caucus is calling on Uber to hire people of color for its many open executive jobs. https://t.co/f1jSDEq5gp

— Tony Romm (@TonyRomm) June 26, 2017
Our Famously Free Press
"David Pecker decides what will be on the cover of the following week's National Enquirer. Pecker is the longtime chief executive of American Media, Inc., which owns most of the nation's supermarket tabloids and gossip magazines, including the Star, the Globe, the Examiner, and OK!, as well as the flagship Enquirer. Pecker's tabloids have few subscribers and minimal advertising. Virtually all their revenue comes from impulse purchases at the checkout counter. … Pecker is now considering expanding his business: he may bid to take over the financially strapped magazines of Time, Inc., which include Time, People, and Fortune. Based on his stewardship of his own publications, Pecker would almost certainly direct those magazines, and the journalists who work for them, to advance the interests of the President and to damage those of his opponents—which makes the story of the Enquirer and its chief executive a little more important and a little less funny" [Jeffrey Toobin, The New Yorker]. Of course that nice young Jeff Bezos is not only going to dispose of Becker's checkout counters, he owns his very own tabloid. So there's that.
Dear Old Blighty
"Six injured after protest turns violent over death in police custody" [Metro UK]. My cabdriver did say "London is angry"….
But the Queen's hats tho:
The Queen is trolling the remainers pic.twitter.com/aBXBs9bXsN

— Russian Market (@russian_market) June 21, 2017
More from Corbyn:
Corbyn at #Glastonbury: "Nothing was given from above by the powerful, it was only ever gained from below by the masses of the people." pic.twitter.com/D2YceosOhA

— Jacobin (@jacobinmag) June 24, 2017
Health Care
"Maine's e-prescribing mandate for opioids offers window into similar legislation in other states" [MedCity News]. Dirigo, in the saddest possible way…
Gaia
"No country on Earth is taking the 2 degree climate target seriously" [Vox]. "The actions necessary to hold to 2 degrees, much less 1.5 degrees, are simply outside the bounds of conventional politics in most countries. Anyone who proposed them would sound crazy, like they were proposing, I don't know, a war or something. So we say 2 degrees is unacceptable. But we don't act like it is." Good summary of the field of play, well worth a read.
Class Warfare
Saw this headline yesterday in the 7-11:
This should have been the headline of every newspaper every day for the last 150 years. pic.twitter.com/xGTClJWtQF

— Erik Loomis (@ErikLoomis) June 26, 2017
I put to the online version in Links today, which has a headline that expresses a smaller truth: "These workers' lives are endangered while contractors running nuclear weapons plants make millions."
"As more young people decide to pursue four-year degrees, college towns are siphoning students out of the rural heart of the Farm Belt and sending them, degrees in hand, not back to Oskaloosa but to the nation's urban centers" [Wall Street Journal]. Colonialism… Ghandi getting his law degree in London, the imperial metropolis, for example.
No new jobs north of 38° latitude…
The best cities for job seekers https://t.co/oImzI3bHir pic.twitter.com/oCAaXi7MTO

— USA TODAY Money (@USATODAYmoney) June 26, 2017
News of the Wired
"Did UK Producer Goldie Just Confirm the Identity of Banksy?" [Vulture]. "In a recent interview on Scroobius Pip's podcast Distraction Pieces, UK jungle producer Goldie might have done just that by potentially letting slip the first name of Banksy: 'Give me a bubble letter and put it on a T-shirt and write 'Banksy' on it, and we're sorted. We can sell it now. No disrespect to Robert, I think he is a brilliant artist. I think he has flipped the world of art over.' The 'Robert' Goldie mentions could be none other than Robert Del Naja, a lifelong friend of Goldie's and a member of the band Massive Attack.?" All shipshape in Bristol fashion… Any Massive Attack fans (note capitals) in the commentariat?
"World's first ATM machine turns to gold on 50th birthday" [ATM]. "[D]ecades since it heralded a transformation in the way people obtained and used cash, the world's first ATM was turned into gold for celebrations of its fiftieth anniversary. The brainchild of Scottish inventor Shepherd-Barron, the first ATM (automated teller machine) was opened on June 27, 1967 at a branch of Barclays bank in Enfield, north London, the first of six cash dispensers commissioned by the bank. English actor Reg Varney, who starred in the British TV comedy show "On The Buses", was the first person to withdraw cash from the new machine."
* * *
Readers, feel free to contact me at lambert [UNDERSCORE] strether [DOT] corrente [AT] yahoo [DOT] com, with (a) links, and even better (b) sources I should curate regularly, (c) how to send me a check if you are allegic to PayPal, and (d) to find out how to send me images of plants. Vegetables are fine! Fungi are deemed to be honorary plants! See the previous Water Cooler (with plant) here. And here's today's plant: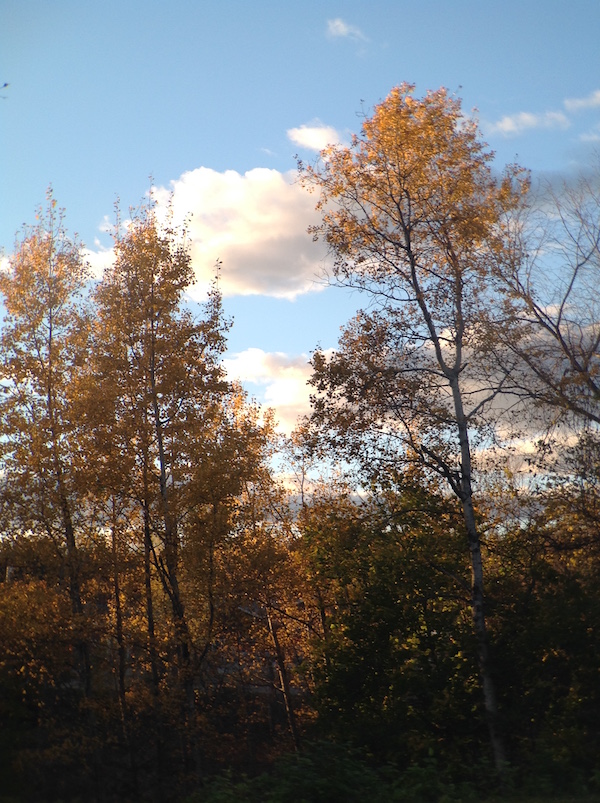 Evening, near the house.
UPDATE Now that that the 2017 Water Cooler fundraiser post is up, I can say that directions for sending a check will include a request to send me a parallel email so I can thank you. I was not able to thank all you sent me checks this year, because I was unable to connect physical mail identities to online identities. Apologies!
* * *
Readers, Water Cooler is a standalone entity, not supported by the Naked Capitalism fundraisers. Please use the dropdown to choose your contribution, and then click the hat! Your tip will be welcome today, and indeed any day. Water Cooler will not exist without your continued help.