Is this the friendliest creature on the planet? Meet the giant rodent who gets on with EVERYONE in the animal kingdom (even caimans) DailyMail (Li)
An Inquisitive Manatee Repeatedly Attempts to Connect With a Human In a Transparent Canoe Laughing Squid (David L)
Serious cat-titude! Owners snap their ungrateful pets shunning their expensive toys and beds in favour of discarded paper bags and leftover cardboard boxes Daily Mail (Li). Trust me, these are funny.
U.S. Flag Recalled After Causing 143 Million Deaths Onion (UserFriendly)
America's violent birth: Why we shouldn't be surprised that U.S. politics is a blood sport now Salon
Happy Independence Day Ian Welsh (martha r)
Your Human Right to Revolt: When is it OK to Overthrow Your Government? 4th of July Edition, 2017 John Laurtis (martha r)
Tying loose ends? Gravitational waves could solve string theory, study claims Guardian (UserFriendly)
"Explosive methane will create two million jobs!" Hypergeometric (Philip P)
Texting on the move makes you walk weird, study finds CNET
U.S. government seeks to intervene in Apple's EU tax appeal: source Reuters. Wowsers. Apple's tax structure is egregious and also unique. See here for details. Key point: "So most of the EU sales income was taxed nowhere."
North Korea
South Korea's facing another debt bubble Asia Times
Europeans Are Drinking Themselves to Death Bloomberg (UserFriendly)
Refugee Crisis
For Europe and migrants, it looks like 2015 all over again Politico

Bill Gates warns that Germany's open door policy to migrants will overwhelm Europe and urges leaders to 'make it more difficult for Africans to reach the continent via current routes' DailyMail (Li). US MSM protecting Gates by not reporting on these remarks.
Greece: Revolt Betrayed Defend Democracy
Brexit
Labour party calls on May to drop ECJ 'red line' Financial Times

Severing ties with the EU starts in DAYS as transferring of laws to begin NEXT WEEK Express
A Corbyn-led government should start by scrapping the Prevent Strategy Open Democracy (Sid S)
Parent fights to omit gender on B.C. child's birth certificate CBC. Baby did get a gender-blind health card.
​Khadr to get apology, compensation over $10M as lawsuit settled Toronto Star (Sid S)
New Cold War
The Memo: Trump faces high stakes meeting with Putin The Hill

Playing Chicken with Nuclear Annihilation Consortium News (Sid S)
Syraqistan
Tillerson Ready to Let Russia Decide Assad's Fate Foreign Policy (UserFriendly)

Russia may deploy military in Syrian buffer zones within weeks Reuters
Imperial Collapse Watch
The Price of America's Endless Wars Consortium News

US still has no path to peace in Afghanistan, bipartisan senators say Guardian
Big Brother is Watching You Watch
How to See What the Internet Knows About You (And How to Stop It) New York Times

Google Could Soon Have Access Sensitive Genetic Patient Data— We Should All Be Worried Newsweek. I am at a loss to understand why anyone would voluntarily allow their genetic data to be collected, save cases like a family history which points to having the BRCA gene, and even then I am not so sure. Given the way the world operates, you are certain not to be able to keep that information private.

WikiLeaks Exposes CIA Targeting Linux Users With OutlawCountry Network Traffic Re-Routing Tool HotHardware (resilc)
Trump Transition
Is Steve Bannon Trying to Get Trump Impeached? Vanity Fair (resilc)
Obamacare
The Chickenshit Club by Jesse Eisinger — what happened to the DoJ? Financial Times (Adrien)
The Democrats Are Eisenhower Republicans Jacobin (UserFriendly). Unfair to Eisenhower. The top Federal income tax bracket in his day was 91% and he called those who wanted to abolish Social Security "stupid".
Did Endless War Cost Hillary Clinton the Presidency? Reason. UserFriendly: "Evidence for something you've long been saying. Full paper."
Illinois Senate Overrides Rauner's Veto of Spending, Tax Bills Bloomberg
Puerto Rico faces off with bondholders over statehood The Hill
Ill-Funded Police Pensions Put Cities in a Bind Wall Street Journal
Federal Reserve Says Not to Worry About a Financial Crisis AntiMedia (UserFriendly)
Has U.S. Shale Wrecked Its Own Recovery? OilPrice
Class Warfare
Better Ways to Measure Your Boss's Pay Wall Street Journal. Important:

In 2015—the last year for which full data is available—the average pay of the 500 highest-paid U.S. executives was $17.1 million according to fair-value estimates, but $32.6 million according to realized pay. Fair-value pay has been lower than realized pay in every year since at least 2006

And this is astonishing to see in the pro-capitalist Journal:

The sheer size of realized-pay numbers is one concern. For most of corporate history such riches were associated with risk-taking entrepreneurs, not managers. It is doubtful investors need to fork out so much for managerial talent, and the practice encourages anti-business sentiment, populist politics and eventually regulations like the U.S. pay ratio, part of the Dodd-Frank reforms.

How Middle-Class America Got Fleeced Bloomberg. UserFriendly: "Holy cow and from April Bloomberg nails neoliberalism to the wall."

EU court adviser sides with France in battle with Uber Politico

When feminism's wonders aren't for all women Toronto Star (Sid S). From last month, still germane.
Antidote du jour. Lambert: "Feral or at least collarless cat having cleaned hamburg bits and condiments off my plate." Moi: That cat is not feral. It is either a current or recent pet. It's way too skilled at imploring. Lambert said it looked worn, so perhaps it got lost or its former humans moved away (his town has a pretty high level of transients for Maine). So I think it's working on getting Lambert to adopt him/her. Lambert isn't sure about a house cat, but he could use a barn cat for his basement and Maine winters are cold so there may be a commonality of interest.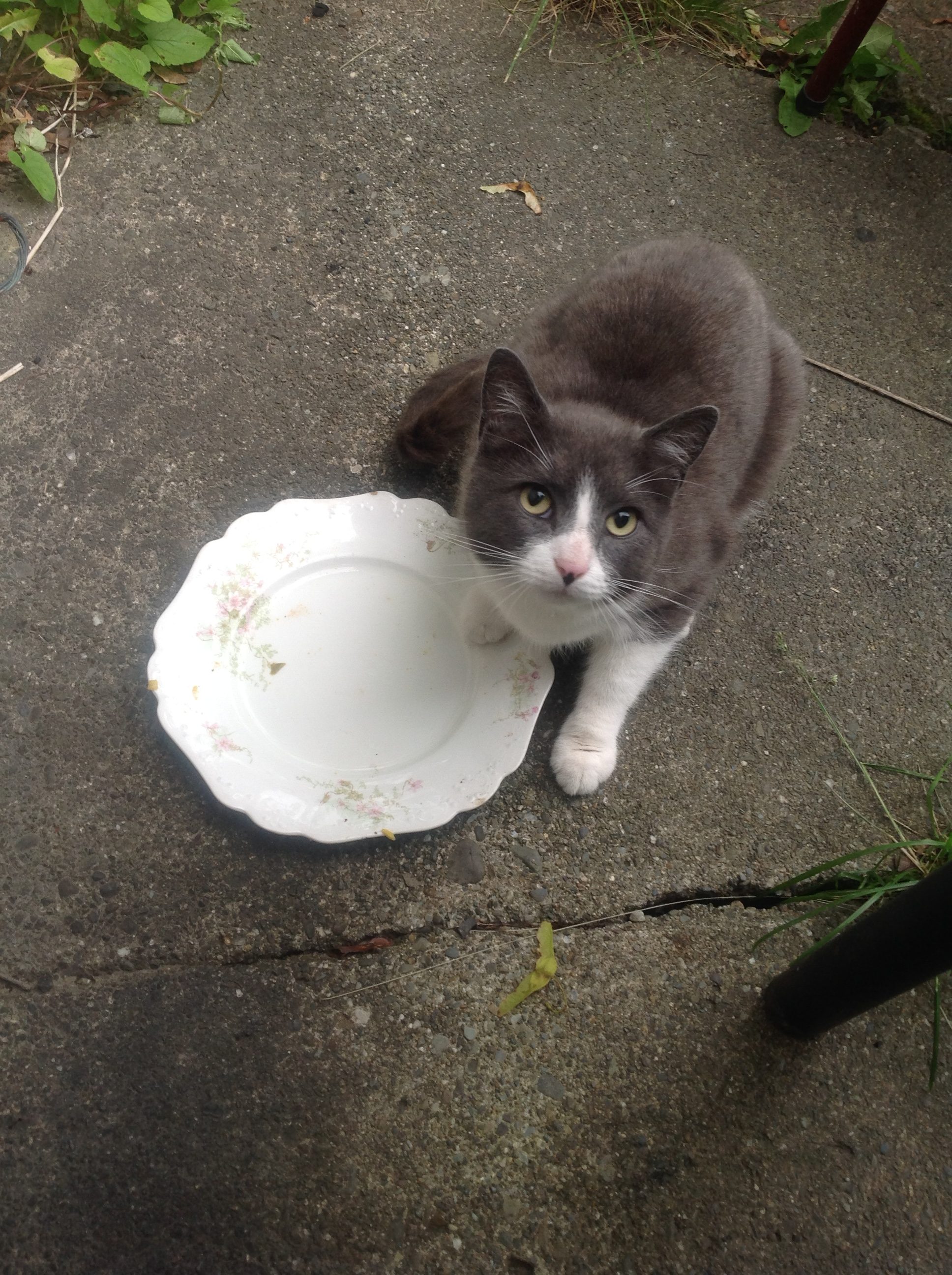 See yesterday's Links and Antidote du Jour here.