By Lambert Strether of Corrente.
This post attempts to describe the state of play on AHCA/BCRA/ObamaCare replacement and/or repeal (a ginormous hairball of bad craziness that I'll label "TrumpUncare," which should not be taken to imply that Trump has taken a coherent position on anything, except violating his campaign promises). Since the state of play is inordinately complex, this post is inordinately long. However, its structure is simple, and it's designed to show that the drivers for TrumpUncare's success or failure are predominately local (and as a corollary, that most of the coverage you read in the Beltway press is worthless). Adding: The post is also inordinately late, for which I apologize, but I wanted to get the whole thing on the table immediately, since the Senate has now returned.
In the first section, I'll look at the Senator, Jerry Moran (KS), who inspired me to take the approach I have taken. Then I'll briefly review the math, and list the Senate Defectors who are standing in the way of TrumpUncare's passage. In the next section, I'll rule out a number of oft-bruited monocausal national explanations for TrumpUncare's political difficulties, in the form of maps. In the final section, I will look — as best I can[1] — at the local pressures that the Senate Defectors face. I've numbered every section so you can skip over the boring bits. I'll conclude with a few reflections.
(1) The Math, the Defectors (and Something Not the Matter With Kansas)
First, let's look at Senator Jerry Moran (KS). From The Times, on July 6, as Senators left for their recess:
Unlikely Defector Underscores Challenge for Senate Health Bill
"Unlikely" to The Times and the Beltway, perhaps. Could it be that more locally focused coverage would have helped? More:
For about 90 minutes on a hot summer day, this tiny town in northwest Kansas, with fewer than 300 people, took on an improbable role at the center of the national debate over the future of health care. Mr. Moran did something that almost none of his Republican colleagues are doing over the Fourth of July recess: He stood in front of his constituents at a town hall-style meeting.

Mr. Moran faced probing questions about health care, exposing constituents' deep concerns about the bill, though the gathering was notably polite. Dressed crisply in a suit, white shirt and red tie, Mr. Moran stood at the front of the packed room with the crowd of more than 100 spilling outdoors through an open doorway in the back.

Mr. Moran represents a state Mr. Trump won by about 20 percentage points. He won his own re-election by an almost two-to-one ratio. He does not have to contend with pressure from a governor who has been publicly critical of the bill, unlike colleagues from states like Nevada and Ohio. And yet he has become an unlikely Defector as Mr. McConnell tries to find the votes to pass the measure, starting next week.

In Palco — about halfway between Kansas City and Denver, and near where Mr. Moran grew up — the senator outlined how he was assessing the bill. Would it make premiums more affordable while still preserving coverage for people with pre-existing conditions? Would it help or harm the availability of health care in communities across Kansas?

"I am a product of rural Kansas," he said. ", of a physician in your town, of a pharmacy on Main Street."

The debate over repealing the health law is playing out in a year when Kansas has been buffeted by political turmoil and blunt challenges to conservative policy making. After years of budget woes, state lawmakers voted to reverse course from the sweeping tax cuts championed by Gov. Sam Brownback, a Republican.

They also . Thirty-one states have expanded Medicaid under the health law.

Mr. Moran came out last week against his party's plan to repeal and replace the Affordable Care Act.

Dozens of members of the Kansas Legislature, including numerous Republicans, signed a letter to Mr. Moran and Mr. Roberts saying that the repeal bill that passed the House in May would have "a profound negative impact on Kansas." And hospitals, family physicians and other health care providers urged the senators to oppose the Senate bill.

But it remains to be seen whether Mr. Moran will stick with his opposition.
This article struck me forcibly because I hadn't seen keeping rural hospitals open as a driver in "preserving" ObamaCare. But here it is, and as soon as you think about rural Kansas, it makes sense. (Keeping hospitals as such open is not a driver; hospitals are widely distributed, and aren't necessarily a driver for other Defectors). Assuaging local concerns like this makes legislating hard. (Unless you've got the clout of a Max Baucus, and you can legislate single payer for one town in your state.) And the legislating is even harder when the bill is poised on a knife-edge, as TrumpUncare is:
While Republicans enjoy majority power in the upper chamber with 52 seats, the party can only afford two defections to pass the bill with Vice President Pence likely casting a tie-breaking vote.
And there are a lot more defections than two. The Cook Political Report summarizes the math, and the state of play:
[O]n health care, con­gres­sion­al Re­pub­lic­ans are damned if they do and damned if they don't. The fact that the ini­tial plan from Sen­ate Ma­jor­ity Lead­er Mitch Mc­Con­nell's (a pretty smart guy) had at least four Re­pub­lic­ans (Ted Cruz, Mike Lee, Rand Paul, and Ron John­son) who thought it didn't go far enough in elim­in­at­ing Obama­care, and at least five (Susan Collins, Lisa Murkowski, Shel­ley Moore Capito, Dean Heller, and Rob Port­man) that wor­ried it went too far showed that this was a mat­ter of split­ting the baby.
I think Cook's two buckets are a reasonable shorthand, though it's interesting he doesn't label them "moderate" and "conservative." In what follows, I hope to show there's no single explanation for Cook's buckets.
(2) Monocausal Explanations Ruled Out
(2)(a) Ideology
One thing I want to get out of the way is the "moderate"/"conservative" ("right wing") dichotomy. Look at the voting records from FiveThirtyEight: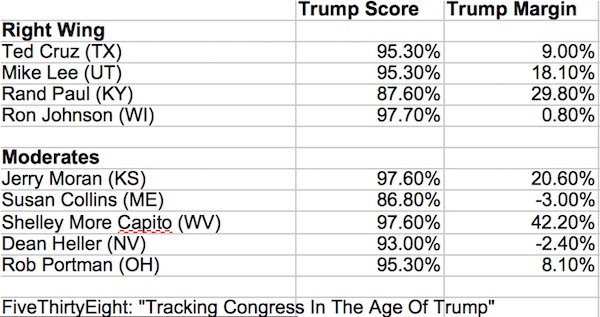 If there is a pattern here that shows who opposes TrumpUncare as a "moderate" and who from the "right wing" I'm at a loss to discern it. In other words, Cook's "too far" and "not far enough" don't map directly to "moderate" and "conservative," since both buckets vote more or less the same. (Granted, the exceptions — there are always exception — are Rand Paul (KY) and Susan Collins (ME), but they are each sui generis, Paul on ideological grounds as a libertarian, Collins as a political icon and the last of the famously moderate and bipartisan "Maine Girls.")
The names of all the Senators in the charts that follow are color-coded as follows:
Red (Cook's "not far enough")
Ted Cruz (TX)
Mike Lee (UT)
Rand Paul (KY)
Ron Johnson (WI)
Orange (Cook's "too far")
Jerry Moran (KS)
Susan Collins (ME)
Shelley Moore Capito (WV)
Dean Heller (NV)
Rob Portman (OH)
(2)(b) Medicaid Expansion
Granted, once people have a concrete material benefit, it's hard to take it away from them: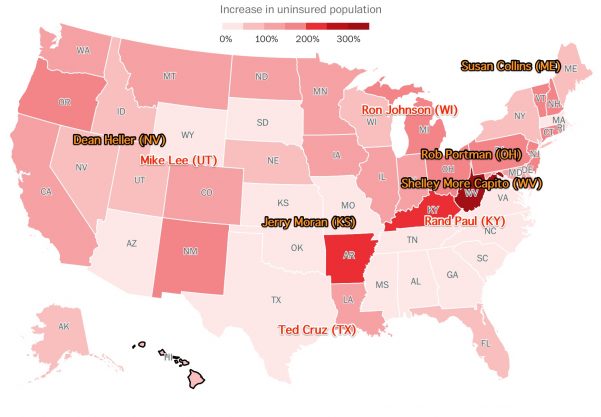 However, with the single exception — there are always exceptions — of Shelly Moore Capito (WV), there doesn't seem to be a pattern among the defectors, either: Ted Cruz (TX) and Jerry Moran (KS) both have light losses; one is in the "not far enough" camp; the other in the "too far" camp.
(2)(c) The Opioid Epidemic
It occurred to me that TrumpUncare's Medicaid cuts might impact treatment for opioids, a very concrete material benefit: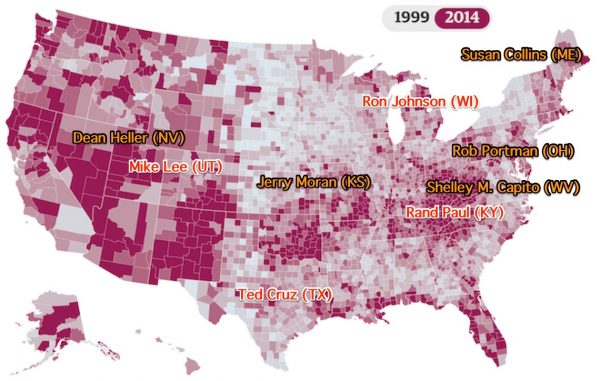 Here again, I don't see a pattern among the defectors. The (deindustrialized) Ohio Valley, for example, has a serious opioid problem, but Portman (OH) and Capito (WV) are in the "too far" camp, and Paul is in the "not far enough" camp. Both Utah and Nevada look like they're in trouble, but Lee (UT) is "not far enough," and Heller (NV) is "too far").
(2)(d) 2016 Margin of Victory
It occurred to me that defecting Senators might be concerned about their re-election, whether in 2018 or later, if they take concrete material benefits away from their constituents: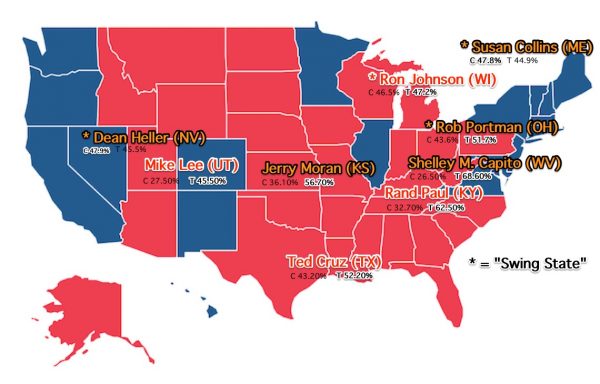 Here again, I don't see a strong pattern. Of the four defector Senate seats open this year, Heller (NV, Clinton by <2%), Portman (OH, Trump by >8%), and Collins (ME, Clinton by >3%) are in the "too far" camp, and Johnson (WI, Trump <1%) is in the "not far enough" camp (though Johnson is unique). The others are all over the map.
(2)(e) 2018 Swing States
It occurred to me that defecting Senators in swing states might be especially susceptible to the pressure of party loyalty, especially from donors: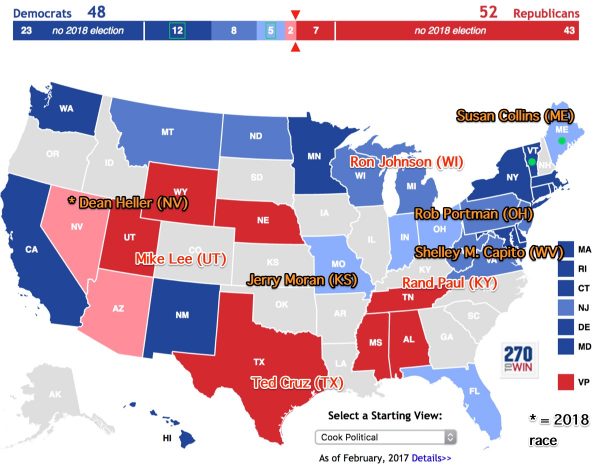 As it turns out, the only case is Heller, and if he's suspectible to party pressure, it hasn't shown up yet.
I imagine a professional, full-time politicians like Mitch McConnell solves a Rubik's cube like this all the time. Beltway pundits, however, do not and cannot; although that humble bloggers can, by taking a look at the local state of play for each defector.
(3) The Local State of Play for the Senate Defectors
First, let's look at the "too far" defectors:
(3)(a) Rob Portman (OH)
Rob Portman is a unique case, because he's made himself a reputation as a leader in finding solutions for the opioid crisis, which TrumpUncare's Medicaid cuts would affect. From the local Toledo Blade:
Sen. Rob Portman is the Senate's leading authority on the opioid epidemic and his party's leading voice of compassion on the matter in Congress. Killing funding for the fight has long been his line in the sand.

Mr. Portman, along with Republican senators Shelley Moore Capito of West Virginia and Susan Collins of Maine, has previously been adamant that any health-care plan should include significant funding for substance abuse treatment and prevention. He was targeting $45 billion over 10 years. The current Senate plan chips in $2 billion for 2018. That is a pittance and, combined with the long-term scale-back of Medicaid, could be catastrophic.
(More on Shelley Moore Capito below.) Portman also carries a lot of weight in his caucus. Politico:
As a former member of the House leadership and one-time OMB director who was reelected by a big margin in November, Portman carries a lot of weight among his fellow Republicans. It's not that Portman controls these fellow GOP votes. It's that with someone like Portman opposed, it makes it much easier for wavering Republicans to vote no as well.
And Portman is getting pressure from the health insurers and the hospitals (different from the pressure from constituents in Kansas about rural hospitals). From the Cleveland Plain Dealer:
Two days after Sen. Rob Portman announced that he couldn't support the bill advanced by Senate GOP Leader Mitch McConnell, the CEOs of the MetroHealth System, UC Health, Summa Health System, Premier Health and Sisters of Charity Health System sent Portman a joint letter to thank him for his opposition and urge him to "remain steadfast unless our patients – your constituents – and the providers they trust to take care of them are better protected."
Let's not forget that opioid treatment is a profit center! And then, besides insurance company profit, there's the prospect of more "good jobs" drying up. In Jefferson County:
[Here are some] effects the Republican healthcare plan would have on Trinity Health Systems, the hospital network that is by far the county's biggest employer.

Trinity Interim CEO Joe Tassi told me the bill would translate to a loss of $61 million over 10 years, in the form of Medicaid funding cuts, which likely would lead to a loss of jobs and reduction in services.

"It's not a closure situation for us, but it's clearly a reduction impact on jobs," Tassi said.

Why I wrote this: Plenty has been made of President Donald Trump's economic message, and his promises to restore industry in places like Jefferson County. But the reality is today many of these communities rely on the healthcare sector to prop up their economies.
So much for those working class volatility voters? All this said, Portman doesn't seem much for profiles in courage. Local blog Plunderbund:
Here's a tweet from the AP at 1:48 PM today breaking the news that the GOP can't find enough votes to support their awful health care bill

And here's the tweet from Rob Portman, two hours and twelve minutes later, where he finally takes a stance on the bill.
Finally, it does seem that Portman has a price. From the Dayton Daily News:
Kasich, in D.C. for a board meeting with Siemans, told reporters at the National Press Club that he does not support the Senate bill as written. He said he had urged Portman not to accept "a few billion" to fight the nation's opioid epidemic in exchange for drastic cuts to Medicaid, saying that the former would be "like spitting in the ocean."
That Kasich thinks Portman can be bought off with a smidgeon of money for his signature issue implies to me that McConnell must think Portman can be rolled. Since Portman is said to be good at issuing "inkblot test" statements "that can be read any number of ways," we may not know which way he jumps for some time.
(3)(b) Dean Heller (NV)
Dean Heller is a unique case, because got a tight race in 2018, in a state whose Republican governor Brian Sandoval is strongly for Medicaid expansion. (Portman's governor, Kasich, is also for his Medicaid expansion, but Portman isn't running and if he were he'd have plenty of margin.) The Hill:
Heller has served in the seat since 2011, when he was appointed to fill the seat of then-Sen. John Ensign, a Republican who resigned amid an ethics probe. He won reelection in 2012 by a 1-point margin.
Heller's assessment (backed by Sandoval) is that taking concrete material benefits away from his voters is bad. Again Politico:
The previously uncommitted Heller stunned many Republicans recently when he appeared next to Sandoval at a Las Vegas news conference and ripped the GOP's draft repeal bill, even saying supporters' claims that the bill would bring down premiums are a "lie." Sandoval was the first Republican governor to opt in to Obamacare's Medicaid expansion in the fast-growing state, a move that netted more than 200,000 new enrollees.

Observers believe their best chance to get his support is reworking the way the bill rolls back Obamacare's Medicaid expansion and puts the entire program on a budget, changes that would reduce federal Medicaid spending by $772 billion over a decade, according to the CBO. Sandoval has been critical of certain parts of the Affordable Care Act and says the law needs fixing, but he has railed against the GOP's plans for Medicaid because of what they would mean for his state budget and its uninsured rate.
(And it's hard to see how Cruz's "Consumer Choice" amendment would "rework" "the way the bill rolls back Obamacare's Medicaid expansion."
Now, it is true that Heller faced both an air war from donors and primary threats from talk show hosts. However:
For Heller, the considerations about Medicaid expansion and repeal promises might all take a back seat to a more pressing reality. He's up for re-election next year — a Republican in a state that has gone blue for the last three presidential elections.
But it seems Heller has made up his mind to defy both forces and hang on for dear life. Washington Times:
Nevada Sen. Dean Heller has found plenty of reasons this year to break ranks with fellow Republicans — including President Trump.

On everything from President Trump's budget to the Obamacare repeal to the ultimate parochial issue of the federal government's plans for a nuclear waste repository at Yucca Mountain — the classic parochial issue for a Nevada politician — Mr. Heller has balked at his party leaders' plans.

He's also the most vulnerable GOP incumbent heading into 2018, and Democrats are already pouring money into the state, looking to force him into a corner on the hot-button issues like health care.
That's a lot of bridges to have already burned. What's one more?
(3)(c) Susan Collins (ME)
Susan Collins is a unique defector, being impregnable in the state that likes to leverage its small size with Senators who can vote with either party, or at least be seen to. I have always wondered why the administration didn't dangle a nice fat "good jobs" contract for destroyers at Bath Iron Works before her, and my current theory is that she told the leadership to back off. Why? Because she's running for governor, and, like governors Sandoval and Kasich, thinks Medicaid in its current form is good for the state (and better than TrumpUncare). She's certainly sending a strong message here:
"Never before, in the 15 times that I've marched in this parade, have I had people so focused on a single issue," Collins told The New York Times while marching in the July 4 parade in Eastport, on a small island close to Canada. "I heard, over and over again, encouragement for my stand against the current version of the Senate and House health-care bills," she told The Washington Post. "People were thanking me, over and over again. 'Thank you, Susan!' 'Stay strong, Susan!'" Murkowski, parading in Wrangell, Alaska, said that most of the people who spoke to her at the festivities did not indicate "for or against" the bill. "They just say, 'Make sure you're taking care of our interests,'" she said. "In fairness for those that do the 'for or against,' everybody is pretty much [saying] they don't think this is good for us."
Note that Maine is not a Medicaid expansion state, so Collins' constituents are worried about existing Medicaid and the existing ObamaCare marketplace.
(3)(d) Shelley Moore Capito (WV)
And finally, there's Senator Shelley Moore Capito, who seems unique in any number of ways. First, recall that West Virginia, as shown in section (2)(b), suffers by far the most withdrawal of a concrete material benefit under TrumpUncare. Then, she seems be doing the very reverse of issuing Portman-like ink blots. Politico:
But if Capito is feeling the heat in a state that Trump won by more than 42 percentage points, she isn't showing it. Back here in West Virginia, where more than 30 percent of families rely on Medicaid, she doesn't hesitate at the prospect of casting the vote that kills the GOP's repeal effort.

"I only see it through the lens of a vulnerable population who needs help, who I care about very deeply," the 63-year-old lawmaker said in an interview. "So that gives me strength. ."
"If I have to be that one person." Hoo boy. And unlike Portman, she's not going to be bought with opioid money. The Washington Examiner:
Sen. Shelley Moore Capito suggested Thursday that the $45 billion in funding to fight opioid addiction added to the Republican healthcare bill would not be adequate on its own to win her support for the legislation.
Hoo boy. Capito doesn't support the Cruz Amendment, either. From the local Gazette and Mail:
Since then, Republican senators such as Ted Cruz, R-Texas, and Mike Lee, R-Utah, have called for an amendment, "The Consumer Freedom Option," that would allow insurance providers to offer coverage that does not comply with key aspects of the Affordable Care Act, so long as they also offer plans that do. However, Capito said she's not ready to vote for a plan that takes away from some of the ACA's most popular provisions.
Now, let's look at the "not far enough" defectors:
(3)(a) Ron Johnson (WI)
Ron Johnson is a unique case. For one thing, "before his first Senate campaign, Johnson was a businessman whose company packaged medical devices." For another, he's "promised not to run again." Also:
He is not politically indebted to the Senate GOP leadership, which actually reduced its planned ad buys for Johnson's race last year when they (and many others) thought he was headed for defeat…. Nor is he all that indebted to President Donald Trump. …. But Johnson got about 74,000 more votes than Trump statewide because he did markedly better in Wisconsin's most populous areas, including the GOP's base counties in the suburbs outside Milwaukee.
Here's a summary of the state of play in Wisconsin from the local Journal-Sentinel:
Caller after caller on his telephone town hall last Wednesday complained about the GOP proposal, including its Medicaid rollbacks, a part of the bill that Johnson supports.

Johnson told her that by his definition — the pure dollar amount being spent from one year to the next — Medicaid wouldn't be cut. It's a debatable definition, since the slower spending growth in the GOP bill, combined with inflation and population change, would result in fewer people being covered than under the current law.
Johnson feels like an outlier, to me: A classic Republican business type, with a bone-deep commitment to cutting back big gummint, and, if he is the sort to hold a grudge, the incentive to stick it to the Republican leadership. Although he's faced protests, it's hard to see how McConnell can bring pressure on him.
(3)(b) Rand Paul (KY)
Paul is a unique case, as a libertarian; he frames both ObamaCare and TrumpUncare as a bailout of the insurance companies. This story from over the recess, made a big splash in Kentucky. From the local Courier-Journal:
Paul met with community leaders in Shelbyville on Monday to hear their stories and concerns with health care, making a push for his association health care plan, which would allow people to join large groups for cheaper health insurance.

"We need to let everyone get out of the individual market for health care," Paul said.

In addition to local government and community leaders, the crowd at the Farm Bureau Insurance building included several small business owners.

Mary Courtney, a farmer in Shelbyville, said her rates are sometimes $1,400 a month for health insurance because the family farm can't enter into a larger group for reductions.
More on Courtney from local station WHAS:
While the government does not require the Courtneys offer health insurance to their seasonal employees, they say they represent a large group of Americans who need health care reform, young farmers.

We budget around $50,000 a year (on health care) and the reason for that is because we have a very high monthly premium, then we have a high deductible and it seems like, with a family of six, if somebody doesn't have a health issue it seems like somebody else does," Mary said.

She described being grandfathered into an insurance plan when the Affordable Care Act took effect.

That plan allowed one of their children to have required care from a specialist out of state. But as time wore on, the insurance company took away that option leaving them in search of a new plan.

"We did some digging", Mary explained. "As much as it went against my core, to go on the state funded programs. But then we couldn't get coverage for him if we needed it, out of state."
So, first ObamaCare sent Courtney to HappyVille. And then ObamaCare sent her to Pain City. No wonder she's upset. The Chamber of Commerce agrees. Local station WDRB:
Agreement seems to be in short supply these days when it comes to health care, but there's one thing that kept cropping up at Sen. Rand Paul's roundtable discussion at the Shelby County Farm Bureau on Monday.

"The rising cost for larger employers who are in a position to offer health care and for small businesses … it's just out of reach for them," said John Wheeland with the Shelby County Chamber of Commerce.
And Paul has a price. The Courier Journal once more:
U.S. Sen. Rand Paul said Thursday that he'd be "closer" to supporting the GOP's health care bill if more language loosening association health plans found its way into the measure.

Association health plans allow certain organizations, like professional or trade groups, to offer insurance. In theory, then, small businesses, individuals or groups could band together and buy coverage, gaining bargaining leverage with more people.

"What's great about this situation is that it doesn't require a mandate. It requires liberalization of the law," Paul said at an afternoon press conference in Louisville. "It doesn't cost anything — we're legalizing competition."
(I've got to say that I immediately translated "associations" into the sort of heavily regulated private systems that countries like the Netherlands and Switzerland have; and that Paul and the Democrats should talk. Of course, Paul won't accept heavy regulations, so talking to Democrats isn't on. However, Pauls' fellow Kentuckian Mitch McConnnell isn't talking to Paul either; he is, however, talking to Ted Cruz.)
(3)(c) Ted Cruz (TX)
Ted Cruz is a unique case, as a once and future Republican Presidential candidate. To that end, he's morphing from an ideologically-driven crusader into a compromiser who can "get things done." The Texas Tribune:
Cruz paints a picture that he is now functioning as a cohesive force among Republicans. For Cruz to be speaking this way is no small matter. Over his first four years as a senator, he singled himself out as an immovable bulwark against moderates in his own party. That helped sour relationships with many of his fellow Republicans.

A little over a year ago, as Cruz and Donald Trump were the leading candidates in the hunt for the GOP presidential nominations, Republican leaders opted to not put up a fight against the unpredictable real estate mogul rather than back Cruz's bid.

At the time, some operatives suggested Cruz should return to the Senate and focus on repairing relationships in the same way that U.S. Sen. John McCain did after he lost the GOP nod to President George W. Bush in 2000. And at least on health care, Cruz appears to be doing just that.

U.S. Sen. Lamar Alexander, a senior Republican from Tennessee, turned out to be the emissary and pulled Cruz into working on a repeal bill. Cruz is in deep enough in the negotiations that he has repeatedly hosted fellow Republicans in his own conference room to build the foundation for a deal.
The BCRA is now being rescored by the CBO, with and without the Cruz's "Consumer Choice" amendment, which the New York Post summarizes:
The Cruz amendment would let any insurer who offers ObamaCare-compliant policies also sell insurance that doesn't meet the one-size-fits-all mandates. That would let healthy, younger people buy affordable coverage — without subsidies, but also without forcing them to subsidize insurance for older folks.

Federal taxpayers as a whole would be directly helping the folks that most Americans believe should get assistance, while everyone else would be free to choose a policy that works for them, rather than one that satisfies a wish-list drawn up by Democrats in Congress nearly a decade ago.
The wee problem? From the San Antonio Express-News:
It's that the entire individual market would fall apart under Cruz's plan because of adverse selection — the idea that people with higher health costs will self-select into more generous coverage.
So, either McConnell believes throwing people with pre-existing conditions under the bus will fly, or he's giving Cruz rope to hang himself:
McConnell is expected to place greater responsibility on Sen. Ted Cruz, R-Texas, to pitch his controversial amendment that would allow insurers to offer plans that don't meet ACA requirements – provided they also offer some that do. McConnell could ask Cruz to speak to Republican senators as soon as Tuesday, according to a person familiar with his strategy. Cruz has often talked about his amendment in the senators' regular Tuesday lunches, but the burden of building support for the bill could be left to the firebrand conservative.
(3)(d) Mike Lee (UT)
Finally, Mike Lee — who backs Cruz's "Consumer Choice" amendment — is a unique case, simply because Utah is a unique state. By way of example, from the Salt Lake City Tribune:
When the Rev. Scott Dalgarno looks out at members of his Wasatch Presbyterian Church congregation on Sundays, his mind goes to what will happen to them if the Senate Republican health care bill passes.

Some are insured through the Affordable Care Act. Others are on Medicaid. Losing access to those services would wreak havoc on their lives.

These people "are worried about bankruptcy," the Salt Lake City faith leader said Wednesday as he joined a group of about 30 Utahns who met with Sen. Mike Lee's staffers at the Wallace F. Bennett Federal Building in Salt Lake City to voice concerns about the measure.
Sure, but why am I thinking the view of a Presbyterian "faith leader" — or protesters — might not carry great weight in Utah, given (for example) the Mormon supermajority in the legislature? (I'm not saying that Mormon religious views are the driver here — Harry Reid, pro-ACA and anti-single payer, is a Mormon, after all — but that the political terrain in Utah is unique (see here).
Conclusion
As readers know, I'm very reluctant to make any kind of call on TrumpUncare, because Republicans have been so very feral and focused on getting things done; the House bill, after all, ultimately passed. (And who knows? Maybe the same dynamic will play out here; in the game of "pass the parcel" for health care responsibility, perhaps the Senate would prefer that Trump be the one holding it when the game ends.)
With the caveat out of the way, passage of TrumpUncare as BCRA, as BCRA + "Consumer Choice", or as a revised AHCA seems highly unlikely to me, as does the simple repeal of ObamaCare with no replacement. (Even if the repeal didn't take effect until 2019, or even 2021, that would be a terrible look that proves Republicans are unfit to govern.)
First, a common but by no means universal explanation is that taking away concrete material benefits from people who already have them is politically hard. This is true in Maine, Nevada, and Ohio, although as background noise it's present everywhere.
Second, it's not clear what McConnell has to bargain with, even if he does have $200 billion in savings to throw away in the BCRA. My thought was always been to bribe the opiod epidemic states after backing out the tax cuts for the rich, but apparently $45 billion isn't enough for Capito, and that's a non-starter in Maine, was well. I can't see the "Consumer Choice" amendment as doing anything other than burnish Cruz's halo for 2020, if it even does that; every Senator will have gotten an earful about pre-existing conditions, and the magic of the marketplace will throw them under the bus.
Third, if you do the math and take each unique case into account, I read Heller as a solid "no," since he's bucking the leadership on everything else and he's backed by his governor, I read Collins as a solid "no," since not only does she — Lambert gets sentimental here — care about the constituents of her small, rural state, she wants to run for Governor, and I read Capito as a solid "no," since $45 billion won't buy her off; she wants more, but there's no more to be had. McConnell can afford to lose two; that's three. I'm pleasantly surprised by Moran, and he's a bit like Collins, in that he too, seems to care about his rural constituents, and his state seems split, at the state level, between "too far," and "not far enough" on issues like taxes. I rate Moran as a possible "no." That's four. I rate Portman as weak, so still four (depending on what pressure Kasich can bring to bear). And that's before we get to Cruz, Lee, Johnson, and Paul. I might throw Paul in, since McConnell will not meet his price, bringing the number of defectors to five.
And now, we shall see! I hope I'm right. Which Republican will want to be the third?
Readers?
NOTE
Perhaps McConnell will end up working with Schumer on some minor fixes, and he and Schumer both will sell the deal as exorcising the dread spectre of single payer? Stay tuned!
APPENDIX
UPDATE Numbers to call:
"Too Far'
Jerry Moran (KS). DC: (202) 224-6521. Hays: (785) 628-6401. Manhattan: (785) 539-8973. Pittsburg: (620) 232-2286. Wichita: (316) 631-1410. Olathe: (913) 393-0711.
Susan Collins (ME). DC: (202)224-2523. Bangor: (207) 945-0417. Biddeford: (207) 283-1101. Caribou: (207) 493-7873. Lewiston: (207) 784-6969. Portland: (207) 780-3575.
Shelley Moore Capito (WV). DC: 202-224-6472. Charleston: 304-347-5372.
Rob Portman (OH). DC: 202-224-3353. Cincinatti: 513-684-3265. Cleveland: 216-522-7095. Columbus: 1-800-205-6446 (OHIO). Toledo: 419-259-3895.
Dean Heller (NV). DC: 202-224-6244. Las Vegas: 702-388-6501. Reno: 775-686-5770.
"Not Far Enough"
Ted Cruz (TX). DC: (202) 224-5922. Austin: 512) 916-5834. Dallas: (214) 599-8749. Houston: (214) 599-8749. San Antonio: (210) 340-2885. Tyler: (903) 593-5130. McAllen: (903) 593-5130.
Mike Lee (UT). DC: 202-224-5444. Salt Lake City: 801-524-5933. St. George: 435-628-5514. Ogden: 801-392-9633.
Rand Paul (KY). DC: 202-224-4343. Bowling Green: 270-782-8303.
Ron Johnson (WI). DC: (202) 224-5323. Milwaukee: (414) 276-7282, Oshkosh: (920) 230-7250.