By Lambert Strether of Corrente
Politics
2020
"Dems begin lining up 2020 staff, cash" [Mike Allen, Axios]. Bourbons begin learning nothing, forgetting nothing. "Be smart: A huge challenge for Democrats is that the energy, action and money are on the left (the Warren-Sanders wing). But winning in 2020 will require winning over working-class, more centrist voters who helped put Trump in office." #MedicareForAll, duh.

"The fact that President Trump's approval rate is at historic lows despite a relatively robust economic outlook, suggests it could fall much lower if we enter into a recession" [Political Risk].

UPDATE "History shows ethanol isn't going anywhere" [Des Moines Register]. Not while the Iowa Caucus is the first in the nation, anyhow!
New Cold War
"The Trump-Russia story survives, even as evidence of collusion fades" [Ed Rogers, WaPo]. "Anyway, the previously gathering storm of Russian collusion seems to be breaking up into a few unconnected showers that won't soak Trump. Lightening won't strike, Trump's presidency won't be killed. He won't even catch a cold. Trump's associates could be in trouble for offenses that occurred before the Trump campaign even started. Others may be embarrassed by their amateur language and behavior during the campaign, and a few may look evasive or dishonest as a result of their attempts to justify or deny their actions once the investigation began." Rogers is a Republican, and while not a #NeverTrump supporter, not a pom-pom waver either. Anyhow, the totally-in-good-faith-always liberal Democrats seem to have moved on to fresh memes and postures new. A blessing, I suppose.
Realignment and Legitimacy
"Black Bloc underpants gnomes" [Medium].

"Why Is Everyone So Craven?" [Slate]. Brutal take-down of the Democrat nomenklatura:

Resistance-minded Democratic Party politicians have become fond of declaring that Donald Trump is trampling, assaulting, and attacking the ideals of American democracy by ignoring corruption rules, bullying institutions like the FBI, letting Russia off the hook for sabotaging our last election, etc. And it's true: Trump is abusing, molesting, and committing genocide against every standard of honesty and ethical conduct that has ever existed in United States public life. But the institutional Democrats' newfound and ostentatious affection for the sacred principles of civil society can ring hollow, and two recent stories involving well-connected Democrats faced with decisions between upholding small-d democratic ideals and helping powerful interests maintain their power demonstrate why that is.

Fun!

UPDATE Ominously:


"The fascist route to power has always passed through cooperation with conservative elites…." pic.twitter.com/iUuJYKkX5c

— Matthew Yglesias (@mattyglesias) September 1, 2017

For some definition of "conservative"; see above.

UPDATE "Antifa, Arpaio and Donald Trump's All-American Reichstag Fire" [Nina Illingworth]. A bill of particulars (with an, er, inflammatory headline.) Incidentally, if I wanted to start a Reichstag fire, I'd hardly want to wait for spontaneous combustion; I'd make sure to infest arsonist groupuscules with agent provocateurs. #JustSaying.

"These Southern Cities Are at the Heart of the Struggle Against White Supremacy" [The Nation].

"Can Citizens Be Framed? How Information More than Emphasis Changes Opinions" (pdf) [Thomas J. Leeper, Rene Slothuus].

"Milwaukee County Sheriff David Clarke resigns" [CNN]. A Democrat, because "Big Tent." There's a good deal of speculation (wrong here, too) that photogenic and bemedalled loose cannon Clarke will take a job with the administration, but so far nothing. Maybe a 5:00 Friday Horror?
Stats Watch
Employment Situation, August 2017: "August payroll growth, though solid, missed expectations while wage data clearly disappointed" [Econoday]. "But a major positive in the report, and one correctly signaled by regional factory reports, is a 36,000 surge in manufacturing payrolls that includes a 10,000 upward revision to July to a 26,000 increase and a 9,000 upgrade to June to a gain of 21,000. Construction payrolls are also solid, up 28,000 in August following a 3,000 decline in July. An offset to manufacturing and construction is weakness in retail which, after six straight monthly declines, added only 1,000 jobs despite Amazon's plans to hire 50,000." But: "The participation rate was unchanged at 62.9% from 62.8% with the number of people employed reported to have fallen close to 75,000 for the month" [Economic Calendar]. But: "The headline jobs number was below expectations, and there were downward revisions to the previous two months. And the unemployment increased slightly. Overall a disappointing report" [Calculated Risk]. But: "The household and establishment surveys were poorly sync'd this month. This was a crummy report – you know that when manufacturing and construction were the primary drivers in a service economy" [Econintersect]. (Note that CR reports the Census bureau says data collection was completed before Harvey, meaning effects will show up in the next series. Econintersect, quoting Sentier Research, implies without stating that Harvey affected this series.)
Employment Situation, August 2017 (more): "Opinion: The jobs report shows a spike in auto jobs — and that doesn't pass the smell test" [MarketWatch]. "The question is, why are auto makers hiring just when sales and production are slowing and while inventories are high? The increase doesn't pass the smell test… August is always the strongest month for hiring in autos, as the plants resume full-scale production after a summer lull for retooling. On a not-seasonally adjusted basis, hiring in autos was 30,000 in August, the best since 2013…. If production and sales are trending lower, hiring more workers doesn't make sense. And yet that is what the Bureau of Labor Statistics reported for August, based on its survey of businesses. Most likely, the data showing a spike in hiring is simply noise. It didn't happen, and will probably be revised away."
Personal Income (yesterday): "Personal income growth remains weal as per the charts, which also showed a sharp drop in the personal savings rate, which generally forecasts reductions in spending" [Mosler Economics]. And see the FRED charts: "Consumers are both dipping into savings to spend and slowing the growth of their borrowing as well- an historically unsustainable combination."
Institute for Supply Management Manufacturing Index, August 2017: "Led by production, ISM's manufacturing composite easily exceeded expectations" [Econoday]. "today's production reading also contrasts with this morning's employment report where manufacturing hours declined noticeably in August. But the ISM sample has been reporting unusual strength all year and none stronger than this month, in fact none stronger in more than six years." Here we go: "Sample sizes for private data like the ISM can number less than several hundred and responses are always voluntary. These methodological facts could be behind the ISM's enormous strength this year. Still, factory payrolls in this morning's employment report were indeed unusually strong and do lend support to reports such as these." An "unusually small" "voluntary" (that is, self-selected) survey surely shades into an expression of class interest? Performative speech, as it were? And: "This was above expectations of 56.6%, and suggests manufacturing expanded at a faster pace in August than in July. A solid report" [Calculated Risk]. And but: "The data overall should bolster confidence in the US outlook and the potential to raise interest rates further" [Economic Calendar]. What punchbowl? Where? Whose? How? And but: "ISM manufacturing index and Markit PMI movements have correlated with Industrial Production Manufacturing index only half the time in the last 12 months. Based on these surveys and the weak district Federal Reserve Surveys, one would expect the Fed's Industrial Production index to be little changed. Overall, surveys do not have a high correlation to the movement of industrial production (manufacturing) since the Great Recession" [Econintersect].
Purchasing Managers Manufacturing Index., August 2017: "Strong hiring but weak production is the factory story in this morning's employment report and is repeated in PMI manufacturing data" [Econoday]. "The PMI's sample reported the strongest hiring in six months and also gains for new orders that reflected domestic demand, not export orders which were flat. The first rise in backlogs since April helped spur the hiring. But the month's production, like the headline, was the weakest since June last year." Maybe it takes some time to learn the job…
Construction Spending, July 2017: "Strength in residential building makes for a better construction spending report than indicated by the headline" [Econoday]. "The real weakness in the report is on the nonresidential side where private spending, reflecting weakness across all components and especially commercial building, fell 1.9 percent for a yearly decline of 3.6 percent. Public building is likewise soft with the educational category down 4.4 percent in July. Though housing permits have been flat, the residential numbers in this report are solid. And strength for construction payrolls in this morning's employment report might be hinting at better results for construction spending in the August report. Note that the unfolding effects from Hurricane Harvey will be difficult to gauge based on mixed results following prior hurricanes." But: "This was well below the consensus forecast of a 0.6% increase for July, however spending for previous months were revised up. Still a disappointing report" [Calculated Risk]. But: "There continues to be significant backward revisionto the date – this month was up but it did not change the trends. The rolling averages declined. Also note that inflation is grabbing hold – and the inflation adjusted numbers are showing moderate contraction in this sector" [Econintersect]. "The employment gains year-over-year are near the same than the year-over-yearg rowth in construction spending."
Consumer Sentiment, August 2017 (final): "At a final 96.8 for August, consumer sentiment fell back sharply vs the month's preliminary reading" [Econoday]. "The report attributes the strength to optimism over income prospects and notes that news events, including the violence in Virginia and tensions with North Korea, had very little effect on the results. Early reaction to Hurricane Harvey was too limited to assess but judging by reactions to Hurricane Sandy in 2012 and Katrina in 2005, this index could be in a for a dip during September."
Retail: "retailers still use Labor Day weekend as an opportunity to move merchandise off the shelves in the lead-up to the holiday shopping season. The weekend is also a last-ditch opportunity for many shoppers looking to score back-to-school bargains" [MarketWatch]. The article recommends avoiding fall apparel and boots, Halloween costumes [(!!)], and electronics.
Harvey: "Some Texas ports reopen with restrictions, while Louisiana refineries continue operating despite Harvey" [Splash 247]. A good wrap-up of ports and refineries in the Harvey-affected Gulf area.
Commodities: "The hit to refinery operations is leading gasoline and other fuel prices to rise sharply, especially in the Gulf Coast region, and analysts are projecting shortages well beyond Texas. Average diesel prices in Texas were up yesterday by 4.4 cents per gallon from a week ago, according to the American Automobile Association, and were up 3.8 cents nationally in that time" [Wall Street Journal].
Shipping: "Shipping operations are moving again along the Texas coast. Port Houston is reopening its container terminals today and the Port of Galveston will also resume normal operations" [Wall Street Journal]. "Officials say the sixth-busiest container port in the U.S. came through the storm without much evidence of flooding on terminals and no visible damage to containers, cranes or refrigeration equipment. Parcel carriers are restoring flights and delivery services, and vessel schedules show seven ships arriving at the port today, although the larger networks to move goods are still recovering. BNSF Railway says its idled system is moving in parts of the region and that repairs are being made as floodwaters recede. Trucking networks are feeling the impact, with spot prices for shipping into Texas soaring 25%, according to Truckstop.com economist Noel Perry, because the region is producing very little that can be transported out and pay for the return trips. That will change as cargo starts flowing through ports, however, and commerce starts moving through the region."
Shipping: "The 'Act of God' defense in freight claims disputes" [DC Velocity]. "The quintessential example of a successful 'Act of God' defense arises in the context of weather: hurricanes, tornadoes, blizzards, floods, lightning storms, etc. These are generally considered to be 'pure' events of nature. For instance, no amount of human ingenuity (or diabolical cunning) has yet succeeded in creating a hurricane*, causing a tornado, or generating a blizzard. As a result, extraordinarily severe weather has often given rise to a valid 'Act of God' defense. However, determining whether or not the defense is available in a particular case demands a much more nuanced analysis." For which, naturally, you hire a lawyer… which probably is a good idea, actually. If this is you, read the whole thing. * Of course, anthrogenic climate change really isn't an "Act of God," is it? Although that's a nice theological point. Waiting for a theory of the case, here.
Supply Chain: "Asia's e-commerce logistics boom prompts avalanche of investments" [Lloyd's Loading List]. A list of companies, basically.
The Bezzle: "Buckingham Palace attack: suspect was 'Uber driver lost on way to Windsor'" [TheTimes]. "An Uber driver accused of a terrorist attack in which three police officers were hurt with a Samurai sword outside Buckingham Palace is understood to have got lost en route because of a sat-nav mix-up." So this is the Uber version of "the knowledge"?
The Bezzle: "[ICO] stands for Initial Coin Offering. It's a combination of venture capital and cryptofinance" [Macrobusiness]. Seems legit! "[C]ompanies are raising money by selling digital 'tokens' to investors, most of whom typically pay in Bitcoin, Ether, or some other cryptocurrency. Tokens often represent shares in the startup company, just in the same way that Apple stock represents shares in Apple. And, just like shares of Apple, investors can buy and sell their tokens in the market. There are countless startup companies now issuing tokens. And, just like the price of the cryptocurrencies themselves, many ICOs have soared in price. There's a token issued by Stratis, for example, that is up 101,168% since its ICO last summer. The NXT token is up 672,989%. Those are not type-o's. There's another token that's actually called "F*ck" which is up 370% in the last 24 hours…. It's not to say that there aren't any good businesses issuing tokens. But it's pretty clear this trend is a massive bubble." Anybody want to launch a "[family blog]" IPO?
The Bezzle: "Dara Khosrowshahi Has Already Succeeded As Uber CEO" [DealBreaker]. Khosrowshahi promised an IPO in "18 to 36 months." "Khosrowshahi has the maturity and experience of running a public company to know that it's not an inherent 'cucking,' and he apparently also has the basic common sense to understand that you don't take almost $9 billion in venture funding and then set your IPO for the third quarter of Never F*cking Ever. The man knows that being CEO also means that you work for someone. Kalanick never did." Planet Earth months, I assume?
Today's Fear & Greed Index: 45 Neutral (previous close: 44, Fear) [CNN]. One week ago: 27 (Extreme Fear). (0 is Extreme Fear; 100 is Extreme Greed). Last updated Sep 1 at 12:36pm. The swing away from fear continues….
Governing
"Governors Offer Their Plan to Fix Obamacare. Will Congress Listen?" [Governing]. This is the bipartisan Kasich/Hickenlooper plan. I can't wait to see liberal Democrats take it up as a cudgel to bludgeon #MedicareForAll, yet again.
Class Warfare
"UW-Madison's new CROWE think tank funded by Koch, Bradley" [The Capital Times (JK)]. "Campus officials say donors won't set agenda for the Center for Research on the Wisconsin Economy led by Noah Williams." Hey, Noah! What's a nice economist like you doing in a place like this?MR SUBLIMINAL Bud from Legal rushes in, yelling "Say you're kidding!" Kidding! To be fair, it's not like the Koch Brothers are Google or something. JK comments: "IMO, this represents the complete capitulation of a once proudly progressive university to rightwing economics. Note the proposal was approved 17-0 with 2 abstentions by the economics faculty, received endorsements from the public policy institute, the institute on poverty, and the applied economics department (the three places at UW one might hope to find alternative economic perspectives), was promoted by the dean of letters & sciences (an economist) and approved by the chancellor (also an economist). Sad."
"This grim map shows all the places working-class Americans can't afford to live" [MarketWatch]. Handy map (via); "Each bubble represents a city. The color corresponds to the amount of money the average American family has left over at the end of the year after paying for their living costs, like housing, food and transportation. The darker the shade of red, the worse off you are."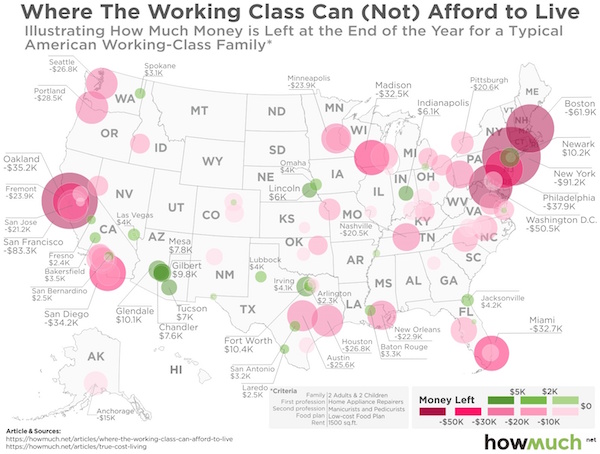 "To reach its conclusions, HowMuch.net crunched data from the Bureau of Labor Statistics for income levels, the National Bureau of Economic Research for tax data, and the U.S. Department of Agriculture for the cost of food… You probably don't need a map to tell you, but ." Flyover! So, the whole "just move" (+ "git trained") prescription is the steaming pile of crapola we always knew it was, right? But why are the bubbles red, and not blue?
"U.S. Employers Struggle To Match Workers With Open Jobs" [NPR]. This is not, in fact, a "skills mismatch" post; it's about hysteresis on the hiring side.
News of the Wired
"On leaving twitter (for now)" [Chris Arnade, Medium]. "I looked at it for a few minutes, and did the only thing you can do to "Sell the hype." I logged off." Which is really a shame for the rest of us, because Arnade did great, important, early work.
These are the brainiacs who want to censor Internet news with algos and blacklists. Google News: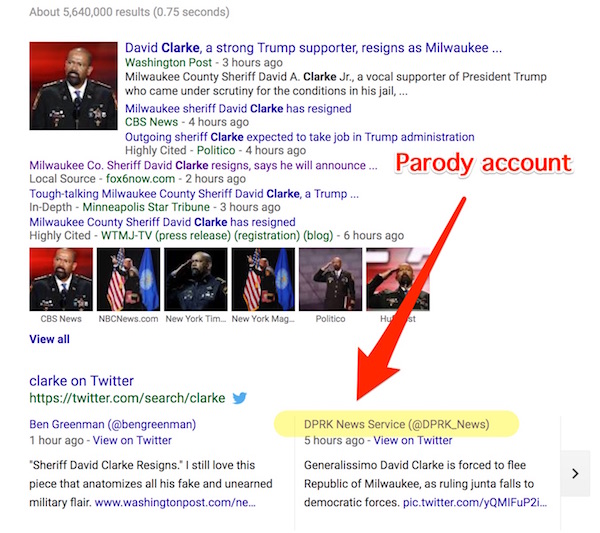 To be fair, "Generalissimo David Clarke" is an apt description. Nevertheless…
* * *
Readers, feel free to contact me at lambert [UNDERSCORE] strether [DOT] corrente [AT] yahoo [DOT] com, with (a) links, and even better (b) sources I should curate regularly, (c) how to send me a check if you are allergic to PayPal, and (d) to find out how to send me images of plants. Vegetables are fine! Fungi are deemed to be honorary plants! If you want your handle to appear as a credit, please put it in the subject line. Otherwise, I will anonymize by using your initials. See the previous Water Cooler (with plant) here. Today's plant (EM):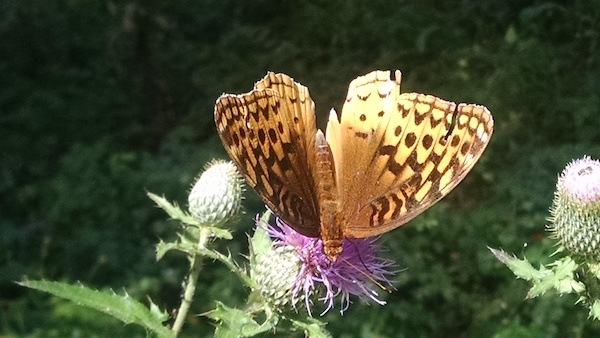 Lovely!
* * *
Readers: Do feel free to use the dropdown and click the hat to make a contribution today or any day. Here is why: Regular positive feedback both makes me feel good and lets me know I'm on the right track with coverage. When I get no donations for five or ten days I get worried. More tangibly, a constant trickle of small donations helps me with expenses, and I factor that trickle in when setting fundraising goals. So if you see something you especially appreciate, do feel free to click the hat!
Query: I got a note from reader J in Massachusetts to which I responded, but AOL bounced it. Can reader J contact me with an address that won't do that, so I do not seem discourteous? Thank you!