★★★TODAY★★★ Bangor, Maine Meetup: Today, Friday, September 15, at 6:00pm, the Bangor NC Meetup will be held at Giacomo's with me, Lambert; I will be wearing a grey hoodie, a purple shirt, and will carry a black computer shoulder bag, or have it near me. Looking forward!
By Lambert Strether of Corrente
Trade
"The Trump administration may still be hesitating over whether to keep a controversial provision for resolving investment disputes in the new NAFTA deal it is trying to negotiate with Canada and Mexico, but its two trading partners are not having the same doubts" [Politico]. "A USTR spokeswoman declined to comment when asked if the Trump administration had made up its mind on the issue, which could ultimately determine whether Congress approves or rejects the revised pact. Many Democrats say they will vote against the deal unless the ISDS provision is dropped. But major business groups have sent a strong signal that they could oppose the new NAFTA if ISDS is left out."
"Commerce Secretary Wilbur Ross confirmed without hesitation on Thursday that USTR is considering proposing the implementation of a "sunset" proposal in NAFTA, or a provision that would automatically terminate the deal after five years unless all three countries agree before then to renew it" [Politico]. "'The five-year thing is a real thing,' Ross said at the POLITICO Pro Policy Summit in Washington on Thursday, adding that it 'would force a systematic re-examination' of the free trade deal. 'If there were systematic re-examination after a little experience period, you'd have a forum for trying to fix things that didn't work out the way you thought they would,' he said. But the Canadian and Mexican ambassadors to the U.S. quickly threw cold water on the idea, warning that such a provision would bring uncertainty to the business and investment environment and hurt industries in all three countries."
Politics
2016 Post Mortem
"Hillary Clinton Looks Back in Anger" [David Remnick, The New Yorker]. Clinton: "I think Trump has behaved in a deplorable manner, both during his campaign and as President," she said. "I think he has given permission to others to engage in deplorable behavior, as we did see in Charlottesville and elsewhere. So I don't take back the description that I made of him and a number of his

You know, to just be grossly generalistic, you could put of Trump's supporters into what I call the basket of deplorables.

Does "half" sound like "core" to you? Even taking the lawyerly qualification into account? Excellent service from Remnick who, as one would expect, doesn't call her on the discrepancy. Well played, all.

"Is sexism what happened to Hillary?" [Matt Bai, Yahoo News]. "Clinton can — and does — point to plenty of evidence to suggest that attitudes toward women skewed the election against her… But it's also true that a lot of recent Democratic candidates, all of them men, performed only incrementally better among these groups [who skewed against Clinton]. And as Clinton herself notes, she also lost among white women, which at least complicates the gender argument. To the extent that Clinton or some of her supporters see sexism as the principal answer here, then I think maybe they're asking the wrong question. The relevant issue isn't really whether gender matters in politics or in the society generally (it clearly does), but rather whether it's the thing that matters most….."

"The Intelligence of Hillary Clinton" [Ian Welsh]. Clinton's reading of 1984 … isn't even wrong.

"History Greenlights Bill Clinton Impeachment Drama 'The Breach'" [Variety]. Too soon?
Trump Transition
"Trump's new world" [Axios]. "The dramatically different information Trump receives daily under the leadership of Chief of Staff John Kelly is an under-looked factor in Trump's decision to double down on his partnership with the Democratic leaders… The result: Trump gets mostly positive feedback for his turn towards bipartisanship. He watches cable news in the morning, and even "Fox and Friends" finds a way to praise his deal with the Democrats. He reads his morning news clips and briefing materials, which are managed by Staff Secretary Rob Porter, under the guidance of Kelly. And during the day it's not possible for a staff member to sneak a story onto Trump's desk that might rile him up and turn him in a wildly different direction in an instant… Kelly now has real control over the most important input: the flow of human and paper advice into the Oval Office. For a man as obsessed about his self image as Trump, a new flow of inputs can make the world of difference."

"The strange case of Donald Trump and the missing infrastructure" [Gillian Tett, Financial Times]. "Dan Slane, a former Trump adviser who has been knee-deep in those infrastructure weeds… was given the task of creating a workable trillion-dollar infrastructure plan… He spent several months consulting with trade unions, business leaders and state politicians. Then, in tandem with Boston Consulting Group and CG/LA Infrastructure, he identified 51 'shovel ready' projects. Some involved desperately needed repairs to existing infrastructure, such as the locks and dams on the Ohio River in Kentucky and Illinois; others were new projects like high-speed rail in Texas and Florida, new subway lines in New York and 30-mile-long water tunnels in California. The consultants estimated these 51 projects could deliver 260,000 jobs, and a big economic boost. And while the price tag was a hefty $230bn, Mr Slane proposed starting with 27 projects that were already planned out, in detail, and which could produce immediate revenues and thus attract private financing. 'Every infrastructure fund in the world contacted me to get involved — Saudis and Chinese and others,' Mr Slane tells me. 'Finding the money is the least of the problem.' In economic terms, the plan looks stunningly sensible (except for diehard fiscal hawks). In political terms, it seems attractive too. But when Mr Slane presented his ideas, something peculiar occurred: they vanished." Sounds like Kelly should get Tett's article on Trump's desk.

"Schumer caught on hot mic saying Trump 'likes me'" [The Hill]. Politicians like to be liked. That includes Trump.
Realignment and Legitimacy
"GIMME A BRAKE (LIGHT) A DIY Guide" (PDF) [DSA New Orleans]. A sample:

This is an excellent paper, rivalling the various Indivisible guides for clarity and logic — but directed, obviously, at a very different audience for very different goals. (Note to DSA NOLA: It would be handy for search if I could copy and paste text instead of having to take and crop a screen shot.)

"'This week looks like a moment where it's crystallizing in a lot of people's minds that Bernie Sanders is the future of the Democratic Party,' says Mark Longabaugh, a Democratic consultant and aide to Sanders' presidential bid. 'There's an assumption within the Democratic Party that a progressive candidate is a weakness. That's not a weakness, that's a strength. We have to lose some of the timidity that the party has had for too long on policy issues. How did Donald Trump end up as president? The public is restless and extremely unsatisfied with the performance of government. You have to make an argument. Put big bold ideas on the table. The public may not agree with every aspect, but they're going to give you credit for trying to do something. Bernie Sanders put it on the table and argued for it'" [US News]. "Just look at some of the names who stood next to him Wednesday to roll-out his universal health care pitch: Sens. Kirsten Gillibrand of New York, Elizabeth Warren of Massachusetts, Kamala Harris of California and Cory Booker of New Jersey. All are prospective candidates for the presidency in 2020 – and 10 months following the party's harrowing 2016 defeat, they found themselves moving towards Sanders ideologically and physically, as each waited for his call Wednesday to make remarks at a Capitol Hill podium."

Lambert here: Personally, I don't think it matters a hoot that Clinton's trying to blow up the Great Sept of Baelor to sell her book. On the inside game: Democrat insiders with a Presidential itch skew left toward Sanders on #MedicareForAll. On the outside game: Lots of pushing left at the state and local levels (Our Revolution, DSA). Of course, everybody loves a train wreck, especially in the Acela Corridor, so Clinton's getting plenty of celebrity-style coverage. Say, I seem to remember Obama was going to get into voter registration and redistricting. We haven't heard much about that, have we? Maybe he could ask Clinton to help!

"There are now signs that President Trump is succeeding in driving a wedge in the GOP between his base and the Republican Congress, blaming his own party for a lack of progress on Capitol Hill, something that could spell trouble for incumbents like Dean Heller in Nevada, Jeff Flake in Arizona, and possibly others" [National Journal].

"[I had a] dockside conversation a few weeks ago with a Maine lobsterman. He had a pronounced antipathy toward President Trump, but he espoused some distinctly Trumpian views of Washington and government. Yet, in the next breath, he was complimenting Bernie Sanders and blasting Democrats for choosing Hillary Clinton over Sanders for the presidential nomination last year" [Charles Cook, Cook Political Report]. When you've lost the Maine lobsterpersons… But then there's this: "Writing on the 16th anniversary of the tragedy of 9/11 makes me recall the brief period of unity that our country experienced after the horrendous events of that day. The harmony took poignant form when members of the House and Senate, Democrats and Republicans, gathered on the Capitol steps that night and sang 'God Bless America.' But not long after that, the fight over whether we should invade Iraq interrupted that brief period of political unity, and now things are worse than before." This is utterly bizarre. The "political unity" between Democrats and Republicans on Iraq — thanks for your leadeship, Hillary! — was virtually complete. The fracture was between the political class taken as a whole, who wanted the war they got, and millions of voters, who (correctly) opposed it.;

"Occupy, 6 years later" [The Week]. "Why did Occupy fail? Perhaps because no one could convincingly articulate what the Occupy movement really stood for…. While it may seem heretical to consider the notion, even the ascendance of Donald Trump finds some of its roots in the Occupy movement. Both in its rejection of "the elites" and its manifestation of working-class resentment of the financial industry's undo influence on government, the Trump train was the xenophobic right-wing offshoot of Occupy populist rage…. Occupy's brief moment in the political spotlight may be best remembered as a confused curiosity. It may also be remembered as the spark of the socialist uprising within the larger Democratic Party, or a primer for the waves of confrontational street protest which have continued in various iterations throughout the decade."
Stats Watch
Quadruple Witching:
Retail Sales, August 2017: "Soft is the assessment for the latest retail sales report which shows early Hurricane effects for some components and also downward revisions to prior months" [Econoday]. "There are not many signs of fundamental strength in August though restaurants did rise 0.3 percent with furniture up 0.4 percent and general merchandise making the plus column at 0.2 percent. Otherwise, give back is apparent in nonstore retailers, which have been very strong but fell 1.1 percent in August, and also building materials, down 0.5 percent after two sharp prior gains. Apparel is also weak, down 1.0 percent but again following solid gains….. This report scales back what had been an accelerating pivot higher for consumer spending which nevertheless remains on course as a contributor to third-quarter GDP. Yet the effects of Harvey, and also of course Hurricane Irma, still have to play out making September's consumer spending results a difficult call." And: "the three month rolling averages of the unadjusted data declined" [Econintersect]. And: "Survey evidence suggests solid confidence among consumers which should underpin spending over the next few months. Given uncertainties surrounding underlying trends, the overall market impact was limited with the data tending to be discounted" [Economic Calendar]. So, solid but melting into air? Apparently so: "The story is the weakness is weather related, as was the cpi increase, though not the downward revision for the prior month. (I suppose getting control of the weather would be a useful policy tool for the Fed to hit its targets?)" [Mosler Economics]. More:
The economy is to some degree path dependent, which in this case means that a slowdown in sales = a slowdown in income which can reduce future sales even after the weather issues clear up, especially given the declining growth rate real disposable personal income, the drop in the growth of borrowing, and the consumer dipping into savings to sustain spending.

In fact, with this month's report and the downward revisions, as per the chart it looks like consumer spending has gone flat, and is now more in line with the deceleration of the credit aggregates previously discussed.
Consumer Sentiment, September 2017 (Preliminary): "Hurricanes Harvey and Irma did cut into consumer sentiment but not by much" [Econoday]. "[W]eakness isn't the story of this report, rather unusual strength. The current conditions component rose 3 points to 113.9 for the best level in nearly 17 years. Assessments of personal finances, like those in the monthly consumer confidence report, are the best of the expansion in strength that belies weakness in wages but is consistent with strength in home values and also the stock market." And: "The data overall continues to suggest a firm trend in consumer spending in the short term" [Economic Calendar].
Industrial Production, August 2017: "The biggest hurricane hit yet comes not in consumption but on the production side of the economy as industrial production fell 0.9 percent in August which is within Econoday's consensus range but against a median call for a 0.1 percent gain" [Econoday]. "Hurricane effects are temporary and will be reversed yet they are certain to affect September's report given extending disruptions from Harvey and Irma's hit on Florida. The manufacturing component of this report tells a key story right now of the 2017 economy: four straight months of trouble that include two contractions. ." And: "The market expected improvement this month in industrial production – and instead got a signiicant decline. Our analysis shows this month was worse than last month BUT the best way to view this is the 3 month rolling averages which also declined" [Econintersect]. "Manufacturing employment growth remains flat year-over-year."
Empire State Manufacturing Survey, September 2017: "Overheating is the signal from Empire State's manufacturing report where strength, which has been enormous, continues to build" [Econoday]. "New orders are up more than 4 points this month to 24.9 to signal the fastest rate of monthly growth in 8 years. Backlog orders are piling up at an unusually strong 8.9 while delivery delays, likely tied at least in part to the supply-chain impact of Hurricanes Harvey and Irma, are at 14.6 which is a record in the 16 year history of this report…. This report needs to cool to avoid dislocations and extended delivery delays in the region's factory sector." And: "The data overall suggests the regional manufacturing sector is continuing to register strong growth which should also boost overall confidence in the outlook" [Economic Calendar]. But: "I am not a fan of surveys – and this survey jumps around erratically" [Econintersect].
Business Inventories, July 2017: "inventory-to-sales ratio is unchanged at a lean 1.38" [Econoday]. "Business inventories have been climbing in line with expectations for future sales but nevertheless ahead of current sales. Another build is expected for July but only a moderate one."
Employment Situation: "Eleven states have reached new all time lows since the end of the 2007 recession. These eleven states are: Arkansas, California, Colorado, Idaho, Maine, Mississippi, North Dakota, Oregon, Tennessee, Washington, and Wisconsin" [Calculated Risk].
Small Business Optimism: See the charts: Optimism peaking while earnings down 11% [Mosler Economics]. Mosler comments: "Trumped up expectations continue even as earnings deteriorate."
Commodities: "Texas Frac Sand In Demand" [Forbes]. "Millions of pounds of sand are pumped down each shale well in the hydraulic fracturing process, and while Wisconsin Northern White is still dominant, it is now used in only two-thirds of US fracs. That's a lot of displaced market share, sources told Mergermarket. Regional Texas sand mines have become an attraction as companies bank on 'Permian headlines' and a diversity of sand types."
Commodities: "New drilling techniques make it possible to use fine-grained local sand instead of shipping in millions of pounds of the stuff from Wisconsin. Going local eliminates transportation costs that can exceed the value of the cargo itself, a proposition valuable enough to convince some investors to cash out of oil and plow the proceeds into Texas sand. The shift is a windfall for truckers, with one mining executive estimating it would take 120,000 truckloads to connect Texas sand mines with local drillers. Much of those volumes were previously moved 1,300 miles by rail" [Wall Street Journal].
Shipping: "Cargo Shipping 101: Goods Moved by Ships" [Port Technology]. What it says on the tin. "Growth in foreign trade agreements such as NAFTA (North Atlantic Free Trade Agreement), TPSEP (Trans-Pacific Strategic Economic Partnership) and AFTA (ASEAN Free Trade Area), is increasing the demand of cargo shipping market."
Retail: "Macy's Inc., the deeply troubled department store chain, says it will add 80,000 workers for the holidays. Most will be in distribution and warehouse operations as the company prepares the logistics for e-commerce sales and what Macy's management hopes will be a busy fourth quarter." [247 Wall Street]. "In Macy's case, it cannot afford the October through December shopping period to be weak. Its downward spiral is already accelerating. So far, closing stores has been its only obvious strategy. It is also among the large retailers saying that online sales are their future. Hiring people will not make it so."
Marketing: "The iPhone X is a case study in how Apple manipulates your desires" [Mic]. Naming, anchoring and charming pricing, planned obsolescence.
Marketing: "Apple's Best Product Is Its Media Strategy" [Buzzfeed]. No other person or entity, no politician or even Hollywood franchise is so able to so fully peel away the layers of our daily reality in service to engineered desire. This is Apple's specialty. Its entire purpose is to make you pay attention to it; to make you want it. And it is very, very good at that…." Worth a read. All the way to the end.
The Bezzle: "Here's What Your Identity Sells For on the Dark Web" [Bloomberg]. "Underground markets also sell full identities of individuals just like you for as little as $10 apiece. They're called fullz, "dossiers that provide enough financial, geographic and biographical information on a victim to facilitate identity theft or other impersonation-based fraud," the report explains. Fullz can help a criminal get past those irritating "secret questions" that sites ask to verify your identity." News you can use!
The Bezzle: "[P]arents clearly worry about getting judged for the [school] lunches they pack" [Moneyish]. "So time-crunched, judgement-avoidant parents are throwing money at the problem, literally. Yumble — which offers vegetarian, gluten- and dairy-free options — delivers school lunches to your doorstep in many East Coast cities for about $7-$8 per meal. Options include turkey kale balls, quinoa pizza cups and pulled beef sliders… Over on the west coast, Organic Kids LA will deliver certified organic items like herb butter salmon or or a Cali Goddess salad to your child's school for between $6-$8 per meal. For another $4, you can get them a cold-pressed juice, $2.50 for a smoothie or $1.25 for a water."
The Bezzle: "There's still one big reason why people aren't buying their groceries online" [Quartz]. "[T]here's still one big reason why so many people still aren't buying groceries online: They prefer to handpick items themselves." No duh! "According to survey data from Morgan Stanley, 84% of people say they decided against ordering groceries online because they preferred to physically see and choose their groceries. That was unchanged from the results in 2016, when 84% of respondents also felt that way… Amazon has also struggled to get produce picking right for AmazonFresh, its grocery delivery service. At its Seattle fulfillment center, the company used to waste nearly a third of the bananas it purchased because Fresh only sold the fruit in bunches of five. Workers would discard any bunches of three or four, and tear off and throw out the extra banana on a bunch of six, a research paper by a student at MIT explained in 2015." Well, what the heck. Groceries are a high-margin business. Oh, wait…
The Bezzle: "It turns out that when SoFi executives and employees weren't banging the 'collateral' out of each other in parked cars or office bathrooms, they were being less than honest with loan applicants about how their loan applications were being evaluated" [DealBreaker]. "According to conversations with numerous former SoFi employees, the company's "FICO-Free Zone" loan product actually relied quite heavily on evaluating applicants by their FICO score. After very publicly announcing in early 2016 that SoFi would no longer use FICO scores to evaluate loans, sources tell Dealbreaker that the company saw defaults tick up and made the internal to decision to reintegrate FICO data. No announcement of the shift back was ever made, the "FICO-Free" language disappeared from the website and some evidence of the SoFi's move away from FICO was even scrubbed from the company's blog…. But this whole thing seems less like a concerted effort to deceive than a big idea getting quickly out of hand. Our sources describe a hungry and motivated startup bent on disrupting the lending industry but handicapped by an inadequate algorithm and one simply too shorthanded to deal with a deluge of loan applications. It almost feels like Theranos 2.0, but with less turtleneck and more Fintech."
The Bezzle: "You'll never use a filthy public bathroom again if this start-up has its way" [CNBC]. "A San Francisco start-up called Good2Go wants to make it easy to find clean, well-lit bathrooms in any major city. And you won't have to touch a single surface inside them, either. ." Sounds legit. Me, I'm don't want to touch the surface of a single venture capitalist, but we all have our quirks.
The Fed: "Last week's news that Federal Reserve Vice Chair Stanley Fischer will retire next month leaves a gaping hole of four vacancies on the central bank's board, and offers President Donald Trump an unparalleled opportunity to shape U.S. monetary policy for the foreseeable future" [DealBreaker]. "It's hard to overstate how much these nominations will impact the future of the U.S. financial system. … And, while Trump's nominations in other policy areas have ranged from curious to terrifying, all the rumored candidates for Fed posts have been a surprisingly vanilla and qualified group of standard Republican policymakers."
Today's Fear & Greed Index: 75 Extreme Greed (previous close: 68, Greed) [CNN]. One week ago: 38 (Fear). (0 is Extreme Fear; 100 is Extreme Greed). Last updated Sep 15 at 11:17am. Cruising altitude!
Health Care
"Joe Lieberman on Bernie Sanders' Single Payer Bill: 'Wonder Drug Stuff' Sold at 'County Fairs'" [Daily Beast]. Hat tip, Al Gore, for giving The Father of the DHS — and Obama's mentor — a national platform.
"The Single-Payer Surge" [US News]. "[W]hen it comes to health care, Sanders is winning the long game, making single-payer a de facto part of the Democratic platform."
"Love Bernie Sanders' plan or hate it, he's describing a model in which health care resources are allocated differently. He and his allies don't want to build something new on top of a multi-payer system; they want to replace it with a single-payer system. The financing change comes with how we'd pay for care, not how we'd maintain what we have and add new benefits" [MSNBC]. "By any fair metric, this change would save an enormous amount of money. Republicans may balk for other reasons, but the cost argument is nonsense."
Gaia
"The claim that building more pipelines to carry Canada's oil sands production to ports for export will unlock significantly higher prices for bitumen is not supported by either past or current market conditions, a new study shows" [Mining.com]. "According to Jeff Rubin, senior fellow at the Centre for International Governance Innovation, overseas markets pay even lower prices for bitumen than in North America, so there is no economic case for additional pipeline capacity to tidewater or expanded oil sands production."
Our Famously Free Press
"But a new report from the Pew Research Center shows that the reality is more complex. Creating what he calls a "information-engagement typology," researcher John Horrigan identified five distinct groups of people based on their interest and engagement with new information: The Eager and Willing represent 22 percent of the U.S. adult population and have the highest levels of trust in information sources as well as the most interest in improving their own digital literacy. The Confident (16 percent of adults) in contrast are just as have just as much trust in information sources, but don't feel a strong desire to improve their digital skills" [Nieman Labs]. Handy table: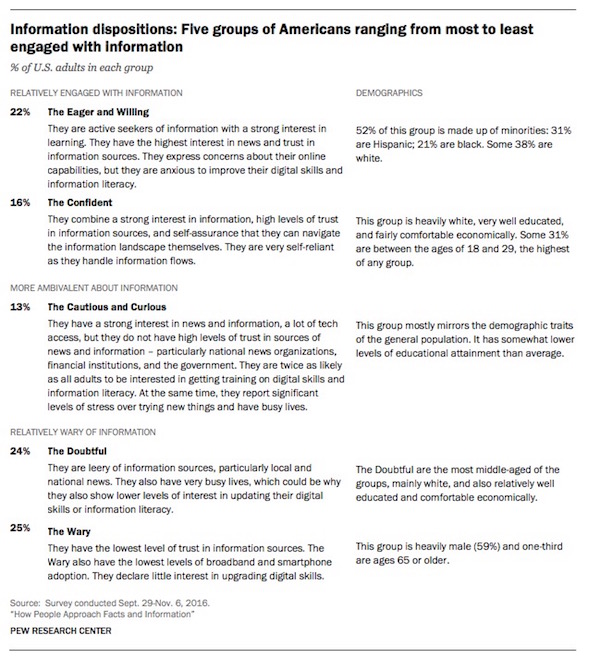 There doesn't seem to be a bucket for "Eager, Willing, and Wary."
"Tagging fake news on Facebook doesn't work, study says" [Politico]. "]The study] found that tagging false news stories as 'disputed by third party fact-checkers' has only a small impact on whether readers perceive their headlines as true. Overall, the existence of 'disputed' tags made participants just 3.7 percentage points more likely to correctly judge headlines as false, the study said. The researchers also found that, for some groups—particularly, Trump supporters and adults under 26—flagging bogus stories could actually end up increasing the likelihood that users will believe fake news. That's because the sheer volume of misinformation that floods the social media network makes it impossible for the fact-checking groups Facebook has partnered with—like Politifact, FactCheck.org and Snopes.com—to address every story. ." "Trump supporters and young people" is a pretty big bucket….
"Facebook Hires Former NYT Public Editor Elizabeth Spayd To Build User Trust" [Forbes]. Oh. Alright.
"Large, surprise layoffs are under way at RealClearPolitics, which has blossomed from the dream of two Chicago businessmen junkies into a journalism staple for politics junkies" [Poynter Institute]. "Co-founder Tom Bevan confirmed that 20 of 70 full-time employees will exit as an economically driven restructuring takes place, with two verticals closing, including one on sports.The bread and butter politics unit is not unscathed, and those notified included Alexis Simendinger, its respected White House correspondent." That's a shame.
Hurricane Alley
"Truck driver is FIRED for giving plywood to Hurricane Irma victims after he tried to deliver it to Home Depot that was shut for storm" [Daily Mail].
"There are 325,510 flood-damaged cars currently on the road — a 20% increase from last year, Carfax found in an analysis released Tuesday. That number doesn't include vehicles affected by Harvey and Irma, but there could be hundreds of thousands more water-damaged cars as a result of those floods. Historically, half of flooded cars have ended up back on the road, [Basso, a spokesman Carfax] said" [MarketWatch]. "Water damage can take weeks or months to affect a car. The moisture can short the car's electrical system and compromise safety features such as air bags and anti-lock brakes. Flood-damaged cars also present another, less obvious, concern: health issues. They can develop mildew and mold, which can trigger allergic reactions and asthma attacks. In Houston, recent tests have revealed that much of the floodwaters are toxic — not exactly the kind of stuff you want lingering beneath your floor mats."
The 420
"'It's high time to address research into medical marijuana," Hatch said today in the Senate. "To be blunt, we need to remove the administrative barriers preventing legitimate research into medical marijuana, which is why I've decided to roll out the MEDS Act. Our country has experimented with a variety of state solutions without properly delving into the weeds on the effectiveness, safety, dosing, administration, and quality of medical marijuana.'" [Quartz]. A staffer having a bit of gentle fun? Now, to be fair to Hatch: "Hatch also urged his colleagues not to ignore mounting evidence that cannabis has medicinal benefits. He cited to the case of 'a young man' from Utah who takes 17 epilepsy medications daily, none of which help with his seizures as much as medical cannabis could. The senator said his 'friend' and others continue to suffer while the federal government does nothing and there may be safe, effective treatment available."
Class Warfare
"A pain specialist at one of our nation's leading medical centers told me earlier this year that while many Americans become addicted to opioids after prescriptions to alleviate physical pain from injury or illness, many more are self-medicating for emotional pain, escaping lives barren of opportunity. Economists now say that a part of the decline in the labor participation rate in recent years is due to people who, because of opioid addiction, have left the workforce" [Cook Political Report].
"Cities still haven't recovered from the recession — their revenues last year (accounting for inflation) reached just under 98 percent of what they were in 2006, the year before the recession started — and if the expectations in this report bear out, they might never fully recover before the next downturn" [Governing]. Thanks, Obama! "Noting that cities have limited taxing power compared to states, the [National League of Cities], report says 'cities are stuck between a rock (property tax caps) and a hard place (limited online sales tax authority), often resulting in the increase of fees for services.' Such a 'patchwork approach,' therefore, isn't likely to capture the full value of the current economic expansion. (More on the report here.)"
News of the Wired
"Food Deserts and the Policy Power of Maps" [Governing]. "In partnership with the city, Hopkins researchers created 14 maps that break down food deserts and grocery locations by each council district. Being able to truly see the problem has helped the city address it, says Holy Freishtat, the city's food policy director. Using the maps, the city started offering tax credits in 2016 to food retailers who open or renovate stores in or near food deserts. Shortly after the incentive passed, a grocery store opened in East Baltimore in an area that was previously a designated food desert. "The maps are really the cornerstone of how we are driving policy," Freishtat says. "It was crucial for us to have numbers, to have need identified in some capacity." The city has also modified its building code and changed policy to allow hoop houses (less-permanent greenhouses), Freishtat says."
"Hackers could program sex robots to kill" [New York Post]. Gibson's next series, after he gets the Clinton novel out of the way.
"History of technology: How China sidestepped QWERTY" [Nature]. "Attempts to improve the Chinese typewriter, such as the MingKwai, paid off only after the 1970s, in the computer age. Then, the IME transformed the Chinese keyboard into a 'smart' peripheral, much more sophisticated at taking instructions from the user than its static, rather stupid alphabetic cousin."
* * *
Readers, feel free to contact me at lambert [UNDERSCORE] strether [DOT] corrente [AT] yahoo [DOT] com, with (a) links, and even better (b) sources I should curate regularly, (c) how to send me a check if you are allergic to PayPal, and (d) to find out how to send me images of plants. Vegetables are fine! Fungi are deemed to be honorary plants! If you want your handle to appear as a credit, please put it in the subject line. Otherwise, I will anonymize by using your initials. See the previous Water Cooler (with plant) here. Today's plant: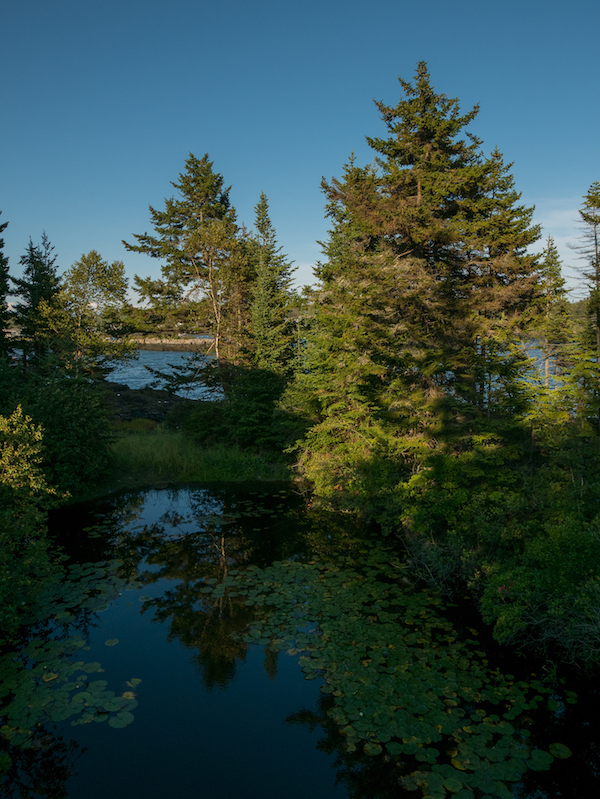 Readers: Do feel free to use the dropdown and click the hat to make a contribution today or any day. Here is why: Regular positive feedback both makes me feel good and lets me know I'm on the right track with coverage. When I get no donations for five or ten days I get worried. More tangibly, a constant trickle of small donations helps me with expenses, and I factor that trickle in when setting fundraising goals. So if you see something you especially appreciate, please click the hat!