One of Earth's Largest Living Organisms Is About to Have Its Genome Sequenced Motherboard (David L). Surprised this hasn't been done already.
CONFIRMED: A Huge Gravitational Wave Announcement Is About to Happen Science Alert (David L)
Why Your Orange Juice Might Be From Brazil: Florida's Trees Are Dying Wall Street Journal
Forget Countdowns – Climate Catastrophe Has Started in the High Mountains of Asia The Wire (J-LS)
Armed with wet sacks, India's poorest try to beat extreme heat Reuters
The Answers To Climate Change Are Here – They Aren't Telling You! Lee Camp, YouTube
End-of-life chatbot can help you with difficult final decisions New Scientist (Dr. Kevin)
IF DATA IS THE NEW OIL, ARE TECH COMPANIES ROBBING US BLIND? Digital Trends
'The real gender gap': Young men falling behind women in everything but STEM subjects Montreal Gazette (Liam)
Saudi Arabia driving ban on women to be lifted BBC. Note that contrary to the story above, women do better than men in math and science in high school in the Middle East.
North Korea
Time for China to talk Korean war plans with US? Asia Times

North Korea taps GOP analysts to better understand Trump and his messages Washington Post

What Vietnam Must Teach Us about North Korea and Iran LobeLog. Resilc: "The US leaders will lie and lie?"
Arun Jaitley May Be the Fall Guy, But Modi Is Truly to Blame for India's Economic Slowdown The Wire (J-LS)
Rohingya Crisis: Focus on 'Intolerant Religion' Disregards Complex Moral and Policy Challenges Engage
A Tax Cut for Cleaning? Italians Take Up Bartering in Stagnant Economy Wall Street Journal
Brexit
Theresa May 'took dictation' from Brussels in keynote EU speech when she agreed to pay Brexit divorce bill Telegraph

Brexit Conundrum: What to Do With Thousands of Derivatives Contracts Wall Street Journal (Li). Note it would serve the EU to create doubt as to whether an overall agreement will be reached so as to encourage new contracts to be signed with EU rather than UK banks.
Labour preparing for run on the pound, admits Corbyn The Times. The stock market was also supposed to crash if Trump won…
Fears for 4,000 British jobs as Bombardier hit with 219pc US tariffs in subsidy dispute Telegraph. So much for May's expectation of getting a great trade deal with the US.
Macron calls for new EU 'strategic culture' Politico
AfD politician says Germany should stop atoning for Nazi crimes Defend Democracy
New Cold War
The Rise of the New McCarthyism Consortium News (Sid S)

Economic Sanctions Against Russia Flop: The first comprehensive study of anti-Russia sanctions shows they hit EU much more than Russia Vineyard of the Saker (Kevin W)

The "Russian Influence" Story Falls Apart – A New Fairy Tale Is Needed Moon of Alabama (UserFriendly). Important. That mere $100,000 of ads by "Russian actors" included ones for Hillary and ones for and against Black Lives Matter.
Big Brother is Watching You Watch
NSA Targeted 106,000 Foreigners in Spy Program Up for Renewal Bloomberg

CD158: Rapid DNA Act Congressional Dish (Sean). "In this episode, we explore the expansion of DNA collection and storage by law enforcement and examine a new law that will further that trend."

New York City is ramping up efforts to collect genetic data for crime analysis, but the process is unregulated The Trace (David L)

DHS planning to collect social media info on all immigrants The Hill (UserFriendly)
Trump Transition
UserFriendly: "Looks like enlisted men can't support DSA":
Seeking IMMEDIATE counsel w/background in military law to rep servicemember re use of social media to support @DemSocialists. DMs open.

— DSA Legal ??⚖️ (@DSA_law) September 27, 2017
Moore wins Alabama primary The Hill. As my mother who lives in Alabama says, "There are a lot of crazies running around, but he's the worst. I hope like hell the Democrats beat him in December."
Nine Thoughts After the Alabama Senate Runoff Inside Elections (UserFriendly)
Moore's win spells trouble for GOP establishment in 2018 Politico
Corker to end Senate career with this term The Hill
GOP Tax Plan to Allow for Top Individual Rate Above 35% Wall Street Journal
Please watch the video. This is a disgrace:
"I know that leaders aren't supposed to cry…But we are having a humanitarian crisis here," San Juan mayor tells @DavidBegnaud pic.twitter.com/pa7Hd6HZ1n

— CBS News (@CBSNews) September 26, 2017
US won't waive shipping restrictions for Puerto Rico relief The Hill
New Mexico governor wants politicians off investment council Associated Press. This a an about face resulting from International Business Times' reporting.
The Feds Actually Expect Wall Street Bankers to Police Themselves Vice. Ahem, the Republicans know exactly what they are doing, which is creating an excuse to cut CFTC funding and lower banks' cost of doing business fines. A twofer!
Fed's Yellen says gradual hikes should continue, despite weak inflation Reuters (UserFriendly)
Is CalPERS Going Private? El Cerrito Progressives
Should We Move to a Mostly Cashless Society? Wall Street Journal (Li). Even the cash defender wants to get rid of $100 bills to reduce criminal activity. What about people who want to keep a stash for emergencies? During Sandy, there was no power in the dark zone for the better part of a week, so no Internet transactions were possible. I know well off people in August and September 2008 who pulled $50,000 out of their banks because thought a bank holiday was a real possibility.
Global economy at risk a decade on from financial crisis, says WEF Guardian
Class Warfare
Antidote du jour. Stephen L: "When you lied on your resume about having sheep herding experience…"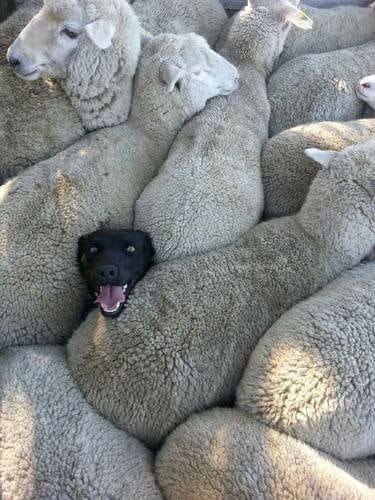 And a bonus (furzy):
See yesterday's Links and Antidote du Jour here.