By Lambert Strether of Corrente.
Trade
"America the Beautiful, but Divided" [Stratfor]. "Trump's trade policies have best exposed the competing interests that have long driven a wedge between rural and urban states…. But many of the states whose exports and imports make up the largest share of their gross domestic product are also the onetime manufacturing behemoths of the American heartland, such as Michigan, Tennessee, Kentucky and Louisiana, that steered Trump from the campaign trail to the Oval Office. Trade is thus the issue that could cause cracks to form in the White House's support base. By default, the president's constituents — some of whom favor free trade, while others prefer protectionism — will be impossible to fully please. But more to the point, no amount of negotiation over the trade policies of China, South Korea, Canada and Mexico will reverse the technological progress that has weakened the American middle class and manufacturing sector. And if, after four years, Trump's allies are unsatisfied with the results of his tenure, they may shift their support to another party yet again."
"Canada, Mexico and the United States have reached an impasse in their quest to renegotiate their nearly quarter-century-old free trade agreement, concluding the fourth round of NAFTA talks on Tuesday with a frosty press conference where ministers detailed 'challenges' and 'significant conceptual gaps among the parties'" [Politico]. "Recognizing sizable and potentially insurmountable disagreements on areas ranging from auto rules of origin to dairy market access and a sunset provision, ministers from the three countries agreed to delay their next round of talks by nearly a month, and they will extend negotiating rounds through the first quarter of 2018 — three months beyond their initial stated goal of wrapping up by year's end. The next round is now slated to begin Nov. 17 in Mexico."
Politics
2016 Post Mortem
"But now The Hill reports that the FBI in 2009 had collected substantial evidence — eyewitnesses backed by documents — of money-laundering, blackmail and bribery by Russian nuclear officials, all aimed at growing "Vladimir Putin's atomic-energy business inside the United States" in violation of the Foreign Corrupt Practices Act. The bureau even flagged the routing of millions from Russian nuclear officials to cutouts and on to Clinton Inc." [New York Post]. "There's more: Until September 2013, the FBI director was Robert Mueller — who's now the special counsel probing Russian meddling in the 2016 election. It's hard to see how he can be trusted in that job unless he explains what he knew about this Obama-era cover-up."

"The good ended happily, and the bad, unhappily. That is what fiction means." –Oscar Wilde

.@TomPerez appoints @donnabrazile to rules&bylaws committee. Brazile left CNN after it was revealed she sent a debate question to Clinton. https://t.co/5tT5TRjyo8

— Walker Bragman (@WalkerBragman) October 17, 2017

[bangs head on desk].

"The citizen's guide to Article 5, violating the norms edition" [Alice Marshall, Medium]. "A presidential election is not like some athletic contest wherein if you can prove the winner cheated you can strip him of his prize and award it to the runner up. It does not work that way." But Larry Lessig thinks it does.

"Bernie Sanders Is Just as Bad as Donald Trump, Former British PM Tony Blair Suggests" [Newsweek]. Does anybody still take Tony Blair seriously, and if so, why?
2018
"The threat by former Trump strategist Steve Bannon to go after sitting Republican senators with primary challenges is a textbook case of someone who holds a grand vision of politics but hasn't demonstrated the ability to put tactical bite behind his bark" [National Journal]. "To his credit, Bannon understands the grand contours of Republican politics these days better than many GOP insiders… But Bannon has never shown any expertise in the nitty-gritty work of winning congressional campaigns. At Breitbart last year, he promoted numerous primary challenges to sitting members of Congress, none of which were victorious."

"Bannon boosts Flake challenger, snubs Trump plea to back off" [AP]. Kayfabe. Amazingly, Trump is the face, and Bannon, the heel.
Trump Transition
"[MNUCHIN:] There is no question that the rally in the stock market has baked into it reasonably high expectations of us getting tax cuts and tax reform done. To the extent we get the tax deal done, the stock market will go up higher. But there's no question in my mind that if we don't get it done you're going to see a reversal of a significant amount of these gains" [Politico]. "If that sounds like a threat to Republicans — and perhaps some Democrats — to pass a tax bill, that's because it is. "

"Despite media bleating this is a tax cut for the rich, even moderate Republicans who helped kill health-care reform should support such small-business and middle-class relief so long as this case is made" [Bernie Marcus, The Hill]. "But given the multi-leg stool that is the Republican Party, it's not only moderates that must be convinced." Block that metaphor! Because I've gotta say, not all stools are multilegged….

"It's a Fact: Supreme Court Errors Aren't Hard to Find" [Pro Publica]. "In all, ProPublica found seven errors in a modest sampling of Supreme Court opinions written from 2011 through 2015. In some cases, the errors were introduced by individual justices apparently doing their own research. In others, the errors resulted from false or deeply flawed submissions made to the court by people or organizations seeking to persuade the justices to rule one way or the other….
Health Care
"After several failed attempts to wreck the U.S. health-insurance system, Congress now has a bipartisan agreement to help shore it up. The deal could still fall apart — victimized by the president's fickle support and committed opposition from conservatives in Congress — but it's exactly the kind of rational compromise that Washington needs more of" [Editorial Board, Bloomberg]. This take, from yesterday, has not aged well.

Trump today: "'While I commend the bipartisan work done by Senators Alexander and Murray — and I do commend it — I continue to believe Congress must find a solution to the Obamacare mess instead of providing bailouts to insurance companies,'Trump said" [Roll Call]. Trump yesterday: Trump called the Alexander-Murray move a 'short-term deal' that is needed to 'get us over this hump' until Republicans might find a way to send him a measure to partially or completely repeal the Obama-era law."
Realignment and Legitimacy
"Resisting #TheResistance: A suburban mom's views on where to put your pink pussy hats" [Washington Babylon]. What fun!

"Black voters' views on why voter turnout dropped in 2016 and how to turn it around in 2018" [Working America]. "Working America canvassers had face-to-face conversations with 582 working-class African-American voters in central Ohio and sought their views. Our conversations reveal a community that deeply distrusts the political process. Economic issues are their overriding concern, yet almost half of black voters say it makes no difference to their economic well-being which party is in power. One Columbus woman, echoing many of her neighbors, said of voting, 'Does it even matter?'"

"[THOMAS EDSALL:] A third-party candidate would need to start with $1 billion just to get off the ground. So you have to start with a billionaire. And they tend to be individuals and not party people—like a Ross Perot. They're not coherent in the sense of knowing how they want to allocate resources. As for a "centrist" third-party candidate, the trouble is that such a position is so bland that it won't appeal to anyone. We have a very polarized electorate. Michael Bloomberg, for example, could say, "I'm going to represent reasonable, thoughtful solutions." People just drop off to sleep. And then you have the challenges in getting on the ballot everywhere, and where do you campaign? You're no longer targeting the 15 battleground states; you might be all over the map. Our whole structure is geared to two parties" [City Journal]. Or you need a lot of $27-dollar donors who will give you a billion; Sanders got one-quarter of the way there in 2016. "[HENRY OLSEN: Sometimes [third parties] attract a committed following, but it's always far short of a majority. Trump did something different: he took a minority of voters and created a plurality within the Republican Party, launched a hostile takeover, and then used the party's institutional machinery to launch an attack on the other party. That cannot readily be duplicated."

"In Iowa, Heartland Democrats Ask 'What About the Economy, Stupid?'" [Roll Call]. "'Obama winning Iowa in 2008 and 2012 kind of papered over a lot of the very serious structural deficiencies in the Democratic Party,' said Pat Rynard, a former Democratic campaign staffer who now runs the website Iowa Starting Line. 'The county parties started to kind of wither away. The thing was it was all obvious, but Democratic campaigns here in the state did not change up their strategies. They were still running the same 'raise a bunch of money, poll test the top three issues and then run all of your campaign ads on those top three issues,' and it just hasn't been working,' Rynard said."

"Why are Democrats losing in the heartland? Here are some ideas" [Kansas City Star]. Third Way event. Grifters gotta grift.

"Real estate backs renegade Dems" [The Real Deal]. "The [Independent Democratic Conference's] eight members — along with rogue Democrat Sen. Simcha Felder — give Senate Republicans a majority and have recently come under fire from the progressive wing of the Democratic Party. Many have painted IDC members as self-interested collaborators who've handed control of the legislative agenda to the 'Party of Trump.'… But for New York real estate, the IDC has been a godsend. Through multiple election cycles, Klein and his colleagues have fallen in line behind Republicans and served as a key insurance policy on key issues like rent stabilization and tax abatements." Ka-ching.
Stats Watch
MBA Mortgage Applications, week of October 13, 2017: "Purchase applications for home mortgages rose a seasonally adjusted 4.0 percent in the October 13 week, lifting the year-on-year rate by 2 percentage points to 9.0 percent in what is a positive signal for underlying home sales" [Econoday]. "The week's strong results bode well for the recovery of a housing market that stumbled during the third quarter, partly as a result of hurricanes."
Housing Starts, September 2017: "Single-family permits continue to rise in what, however, is the main positive in an otherwise weaker-than-expected housing starts and permits report" [Econoday]. "Single-family homes are the backbone of the housing sector and strength here not only points to greater supply in the new home sales market but also to gains ahead for residential investment in the GDP report. Not good news are permits for multi-family units which fell 16.1 percent…. Housing has been generally slowing and looks to end 2017 no better than flat." And but: "The backward revisions this month were strongly downward.The nature of this industry normally has large variations from month to month (mostly due to weather) so the rolling averages are the best way to view this series – and it shows permits rate of growth declined, and completions rate of growth declining" [Econintersect]. "We consider this a weaker report than last month – and shows growth."
Atlanta Fed Business Inflation Expectations, October 2017: "Inflation expectations continue to weaken whether at the consumer level or, as in today's report, the business level" [Econoday]. "Stubbornly low expectations for prices do boost confidence in purchasing power but they work against Federal Reserve efforts at boosting inflation."
Architectural Billing Index: "Architecture Billings Index backslides slightly" [American Institute of Architects]. "After seven months of steady growth in the demand for design services, the Architecture Billings Index (ABI) paused in September. As a leading economic indicator of construction activity, the ABI reflects the approximate nine to twelve month lead time between architecture billings and construction spending." Just in time for 2018 (nine months) or not (twelve months).
Real Estate: "What cities fighting for an Amazon headquarters can learn from Seattle" [Curbed]. "According to the most recent Office Market Snapshot from Green Street Advisors, a real estate analytics firm, there's risk in Seattle's dependence on just a handful of tech clients (demand from Microsoft is also forecast to grow considerably). But Seattle is still expected to grow above the major market average for the next five years, fueled by strong income growth and a seemingly bottomless desire for high-end office space."
Commodities: "On Monday, the copper price surged to $3.25 a pound or $7,165 a tonne, its highest level in more than three-and-half years over optimism about the strength of the economy of top consumer China and worries about global supply" [Mining.com]. "Confirmation of mine disruptions came on Tuesday in Australia after world number two miner Rio Tinto announced copper production in the third quarter declined by 3% to 120,600 tonnes compared to the same three months in 2016, around 30,000 tonnes below market expectations…. Rio also cut back its guidance for the year."
Retail: "Wal-Mart trails rival Amazon in online market share, but [The retailer's U.S. e-commerce chief Marc Lore said] that a network of thousands of stores that can serve as hubs for online orders and distribution give the retailer a 'second-mover advantage.' Wal-Mart is shifting its focus from adding new physical stores to scaling up digital business, and it's projecting that e-commerce sales will grow 40% in its next fiscal year" [Wall Street Journal].
Shipping: "[Amazon] has won commitments to install delivery-locker systems in thousands of properties across the U.S., many of them before this year's peak holiday shopping season. [S]everal of the nation's largest apartment operators have signed on so far to a plan that could help Amazon consolidate its control over how goods make it from distribution centers to the front door" [Wall Street Journal]. "It would help apartment managers cope with a major problem: the surging pile of boxes that flood lobbies as online sales grow. If it works, the program called Hub by Amazon would shift how apartment operators deal with packages, and give Amazon an alternative to bringing goods straight to doors or to remote locations for pickup. It also would give Amazon the cost benefits that parcel carriers strive for by delivering big loads of packages to a single destination." I wonder how many of those "largest apartment operators" are private equity, whose rents Amazon is now reinforcing.
Shipping: "Often we hear, 'Do the math.' It would be better to forget the mathematics, do the simple arithmetic! If you are reaching for the orderbook, think about two years or so down the line when the new ship is delivered" [Splash 247]. "What if demand has not gone up and the dry bulk index has dropped to the average of the last five years. Can you offset your increased capacity by scrapping at the average scrap price for the last few years? If this little mental exercise doesn't pan out, close that cheque book and put it back in the desk. Bankruptcy courts are filled with petitioners who were overly optimistic."
The Bezzle: "Kobe Steel Scandal Is Now Subject of Justice Department Inquiry" [New York Times]. "The company is reviewing records to determine the extent of the data falsification and whether any substandard metals were used in end products such as cars, planes and trains. Kobe Steel has said some 500 companies may have been supplied metal products that had falsified quality records, some of which date back as far as 2007."
The Bezzle: "Child safety smartwatches 'easy' to hack, watchdog says" [BBC]. "Gator and GPS for Kids' watches transmitted and stored data without encryption." I'm beginning to wonder if these continued hacks and data breaches are in fact features, not bugs.
The Bezzle: "Your Computer Might Be Working for Currency Miners" [Bloomberg]. "Website publishers, for their part, are constantly seeking new ways to generate revenue. Subscriptions can be a hard sell. Ads are less than ideal: They often repel users, they can be hijacked by bots and Russians, and big players such as Google typically take a cut of the revenue. So some are resorting to an untapped resource: selling miners access to the computing power of the people who visit their sites." And the same question as above. Maybe we want to replace the "Big Data" concept with "Bad Data." Bad, bad, bad!
Concentration: " Impax Laboratories Inc. and Amneal Pharmaceuticals LLC agreed to merge in a deal that that would create the nation's fifth-largest generic-drug company by revenue" [Wall Street Journal]. "The merger comes as wholesalers and retailers are teaming up to become increasingly powerful forces in moving generics in the $84 billion market. Those operators have formed three 'buying groups' that are so large they have been able to squeeze generic-drug makers in negotiations. That's led to falling prices for generic drugs and cut out some smaller manufacturers."
Fodder for the Bulls: "30 years after Black Monday, could stock market crash again?" [MarketWatch]. By Betteridge's Law, the answer is no. Case closed! Then again: "The chief worry is that the current market system has never faced a crisis scenario on par with Black Monday, [said Nicholas Colas, co-founder of DataTrek Research]. How it would perform is simply unknown. Also, there were no exchange-traded funds [ETFs] in 1987. Since their introduction in 1993, they now hold nearly $4.2 trillion in global assets, according to research firm ETFGI, and accounted for nearly a third of all U.S. trading in terms of value in 2016, according to Credit Suisse. ETFs are securities that track an index or other basket of stocks or securities, much like a mutual fund. But unlike a mutual fund, whose net asset value is calculated at the end of each day, ETFs trade like a stock."
Five Horsemen: "Facebook's 20.18% gain in less than six months forced an expansion of the y-axis after FB ran off the top of the chart" [Hat tip, Jim Hyagood].
Today's Fear & Greed Index: 80 Extreme Greed (previous close: 78, Extreme Greed) [CNN]. One week ago: 83 (Extreme Greed). (0 is Extreme Fear; 100 is Extreme Greed. Last updated Oct 18 at 12:19pm.
Health Care
"The road to single-payer is being paved by two centrist Democrats" [Think Progress]. "Neither Sen. Tim Kaine (D-VA) nor Michael Bennet (D-CO) represents the Democratic Party's rightmost flank, but both have distanced themselves considerably from the Democratic caucus' left faction as well." And the plan:
Kaine and Bennet want to create a new public health plan, which they label "Medicare-X." This plan would be available to non-elderly individuals on the Affordable Care Act's health exchanges. As the Washington Post's Paul Kane summarizes this new health plan, it "would allow anyone to buy into a publicly provided plan using the network of Medicare providers and physicians, at similar rates, with lower-income workers receiving tax credits for the plan."

The plan would initially be available only in "areas where there is a shortage of insurers or higher health care costs due to less competition," according to a statement circulated by Bennet and Kaine's offices. By 2023, however, "Medicare-X would expand to every ZIP code in the country."
Wow. So slow-walking the public option to 2023 is the road to single payer. Honestly, how stupid does Neera think we are?
"Why Do Republicans (and Some Democrats) Vilify Single Payer?" [The Nation]. Let me guess… Ka-ching! (Not one single Democrat mentioned in the article, though.)
"[T]raditional Medicare still excludes hearing aids for Americans aged 65 and older. And in Oklahoma, the Medicaid program for the poor covers hearing aids only for children up to the age of 20. Private insurance plans vary, but most provide little or no help with hearing aids" [Oklahoma Watch]. "Today's advanced digital hearing aids, which provide more hearing enhancement than yesterday's analog devices, tend to cost from $3,000 to as much as $8,000 per pair when bundled with an audiologist's diagnostic, fitting and follow-up services…. Research published in the Archives of Internal Medicine estimates that only 14 percent of people who could benefit from hearing aids actually use them."
We have the greatest health care system in the world:
Centrists: US healthcare system is the best.

Me: Shooting victim needs fundraiser to pay medical bills

Centrists: Fundraisers are awesome! https://t.co/U51pgBXlGb

— Salam Morcos (@SalamMorcos) October 16, 2017
"Pennsylvania nurse's union director ousted amid alleged financial irregularities" [Daily Times Business]. "The action was taken after a routine audit revealed what union officials described as financial irregularities, according to Patricia Eakin, RN, BSN, CEN, president of the Pennsylvania Association of Staff Nurses and Allied Professionals. Those irregularities she said, included, 'unauthorized advances and expenditures' [by executive director Bill Cruice]. Mark Warshaw has been named interim executive director. He has been the union's organizing director for more than 10 years."
Class Warfare
"University of Chicago Grad Students, After Being Told Their Labor Isn't Work, Vote on Union" [In These Times]. "The election is being conducted against the backdrop of an ongoing court battle over grad student unionization that represents a double-edged sword for the university. A victory would decertify the union, and complicate grad student organizing at private institutions nationwide. But over the course of the case, the university's hardline anti-union statements both in and out of court may have helped the union's cause more than hurt it."
"A Black Man's Guide To Rape Culture: A Syllabus" [Medium]. With handy chart (like a Maslow's Hierarchy of Needs, except written from Hell).
Because markets:
incredibly bleak reddit content pic.twitter.com/GhLV6wjvAG

— Damon Beres ✨ (@dlberes) October 14, 2017
"While the White House rounds up and imprisons migrants, claiming deceptively that they 'take jobs' from Americans, human-rights advocates say that ICE's private-prison contractors are running a scheme that employs the same 'aliens' as a captive workforce in federal detention centers" [The Nation]. "According to POGO, although prison labor routinely occurs in both government-run and privately contracted facilities, a key difference is that federal prison authorities report extensively to the public on conditions of detention. But prison contractors, as private businesses, have relatively little oversight and operate opaquely (even as they profit massively from government contracts)." This is super-nasty 13th Amendment stuff.
News of the Wired
"Why You Can Focus in a Coffee Shop but Not in Your Open Office" [Harvard Business Review]. This is certainly true for me (when I worked in an open office). I can also focus better in my garden, which has a good deal of noise from the street, wind in the leaves, insects, birds, the cat, than I can in a quiet room indoors.
"I don't like reading logically. I love having a library of lots of odd books around me, and whenever I'm staying somewhere for a while, I buy a ton of books; I like to reproduce a kind of mini used-bookstore experience wherever I am. So I picked this book up on a whim" [The Paris Review]. One of the worst things about "search" is that it removes serendipity from the browsing process.
* * *
Reader Query
A reader writes in: "Do you have a clip from this Chris Hayes show anywhere? I can't find it." The clip is described in Business Insider, January 12, 2013: "Chris Hayes' Explanation Of Money Is One Of The Best Things We've Ever Seen On TV." Sadly, the Flash Player on the BI site displays nothing, and the URL to the clip (http://www.msnbc.msn.com/id/32545640) doesn't either. Can any readers, especiallly MMTers, help?
* * *
Readers, feel free to contact me at lambert [UNDERSCORE] strether [DOT] corrente [AT] yahoo [DOT] com, with (a) links, and even better (b) sources I should curate regularly, (c) how to send me a check if you are allergic to PayPal, and (d) to find out how to send me images of plants. Vegetables are fine! Fungi are deemed to be honorary plants! If you want your handle to appear as a credit, please put it in the subject line. Otherwise, I will anonymize by using your initials. See the previous Water Cooler (with plant) here. Today's plant (PH):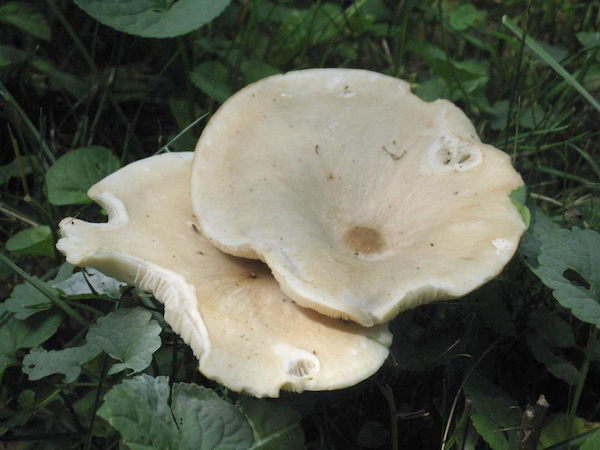 PH writes: "Wondering if I should fry these up for breakfast since someone out in the woods likes to eat them — or maybe I should look for a dead rabbit in the shrubbery?
* * *
Readers: The Naked Capitalism fundraiser is over, and let me express my personal thanks to all those who have helped keep Naked Capitalism getting better and better. Water Cooler, however, is a standalone entity not covered by the NC fundraiser. So do feel free to use the dropdown and click the hat to make a contribution today or any day. Here is why: Regular positive feedback both makes me feel good and lets me know I'm on the right track with coverage. When I get no donations for five or ten days I get worried. More tangibly, a constant trickle of small donations helps me with expenses, and I factor that trickle in when setting fundraising goals. So if you see something you especially appreciate, do feel free to click the hat!