Jeff Koons, the contemporary artist, has always given me the creeps, and Balloon Dog (Orange) — which fetched the highest price for a work of art by a living artist in auction history — is to me one of his creepiest pieces. Here it is: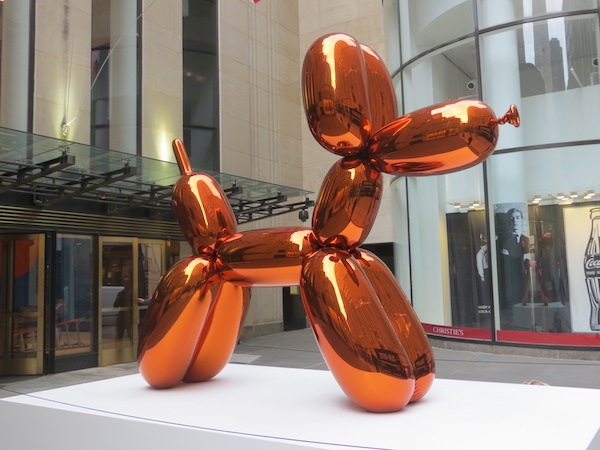 (Although the work was executed in 1994-2000, its color, orange, may be regarded as a peculiar harbinger, Koons then being one of Shelley's "unacknowledged legislator of the world," giving the ironic lie to Koons' claim that "a viewer might at first see irony in my work, but I see none at all. Irony causes too much critical contemplation.")
Balloon Dog (Orange) was a tremendous commercial, and therefore artistic, success, and vice versa. Said Brett Gorvy, Chairman and International Head of Post-War and Contemporary Art at Christie's, in the press release announcing the auction:
At a time when collectors are propelling rare master works to new price levels at auction, the sale of Jeff Koons' Balloon Dog will be a spectacular event for buyers around the world. This is a definitive icon of the 20th century. The Balloon Dog is the Holy Grail for collectors and foundations. In private hands, the work has always communicated the prominence and stature of its owner…. To own this work immediately positions the buyer alongside the very top collectors in the world and transforms a collection to an unparalleled level of [again?].
Koons remarks: "[T]he seriousness with which a work of art is taken is interrelated to the value it has. The market is the greatest critic."
Balloon Dog — just look at it — is also all about surface (because what is a balloon, but surface?). The Times, reviewing the bright shiny object, comments[1]:
But the "Balloon Dog," an elephantine stainless steel copy of a balloon twisted into the form of a big-earred creature, is unequivocally wonderful. With its bulbous volumes, like giant sausage links, coated in translucent, coppery orange lacquer, it has a breathtaking physical presence.
Balloon Dog (Orange)'s aesthetic is, therefore, Trumpian; it's all about the surface; and — see Gorvy, supra — it's all about the deal. Corey Robin comments on Trump's judgment in matters of surface:
When it comes to saying something with buildings, Trump is less concerned with size and scale than with surfaces. This is a man incapable of reading a summary of a briefing paper. But show him a window treatment, mention a slab of stone or pane of burnished glass, and his attention is rapt. Suddenly he becomes the most observant diarist, recording detail after loving detail of the beauty he sees and its effects on him:

Der, Ivana, and I looked at hundreds of marble samples. Finally, we came upon something called Breccia Perniche, a rare marble in a color none of us had ever seen before — an exquisite blend of rose, peach, and pink that literally took our breath away. . . . It created a very luxurious and a very exciting feeling.

Amid a complex account of the financial challenges of retail, Trump can't help noting that one of his atrium's tenants sells leather pants that are "soft and buttery."

Visitors to the Oval Office say Mr. Trump is obsessed with the décor. . . . He will linger on the opulence of the newly hung golden drapes, which he told a recent visitor were once used by Franklin D. Roosevelt but in fact were patterned for Bill Clinton. For a man who sometimes has trouble concentrating on policy memos, Mr. Trump was delighted to page through a book that offered him 17 window covering options.
And now let's look at the Trump and health care deals. We've essentially had four versions of a post-Apocalyptic wasteland neoliberal approach to health care (not counting what came before ObamaCare). (1): We had ObamaCare, originally a Republican plan, with its combination of Medicaid expansion and a highly regulated marketplace (covering, among other things, pre-existing conditions). Sold as providing universal care and "bending the cost curve," ObamaCare did neither. While expanding Medicaid, a successful program, ObamaCare's marketplace was absurdly complex, and while delivering undoubted benefits to some, its onerous eligibility process, narrow networks, and high co-pays and deductibles denied benefits to many others. It's benefits were also random with respect to jurisdiction, income, age, and ability to manage the complexities. (2) We had several iterations from the Republican establishment, first from Paul Ryan, and then from Mitch McConnell. Absurdly, despite voting to repeal ObamaCare umpty-million times and working their base into a lather about it, the Republican establishment couldn't deliver a bill, and what they proposed was in essence ObamaCare with less coverage. (As I said at the time: ObamaCare is the worst possible Republican plan. (Surely, if Trump had any illusions after election 2016 that the Republican Establishment is anything other than clueless, Ryan and McConnell together undeceived him.) (3) We had the comedic interlude of Graham-Cassidy, a "state's rights" approach to health care policy that turned out to contain savage cuts to Medicaid. And finally (4) we have Trump proposing to do a number on ObamaCare all by himself, upending the ObamaCare marketplace by ending the CRS subsidies to the insurance companies, and inducing a death spiral in it by introducing Paul Ryan's "association health plans," which, though worse, would be cheaper, and so the healthy would buy them, turning the ObamaCare marketplace into a high-risk pool. Of course, all those things can't be done with a stroke of the pen, since new rules and regulations must be written, and it's all going to be challenged in court anyhow, by the insurance companies, the states, and who knows who else.
So two points: Trump supported #2, #3, and #4. A President who cared about consistency on policy or principle couldn't possibly do that; it would be like me supporting Medicare for All today, and then supporting a combination of subsidized catastropic insurance plans and health savings accounts tomorrow. Na ga happen, but for Trump, no problemo. Why? Because for Trump, it's the fact of a deal that matters, not the deal itself[2]. He says so himself. Of his own approach, #4:
Q What do you say to critics who say that you ending the CSRs, the subsidies under Obamacare, will throw the markets into chaos?

THE PRESIDENT: What it's going to do is that's going to be good for everybody. That money is a subsidy for insurance companies. Take a look at their stocks. Look where they are. They're going through the roof, from past — I don't know about today. But the insurance companies that made a fortune, that money was a subsidy and almost, you could say, a payoff for insurance companies.

And what we have to do is come up with great healthcare. Now, that's what I did partially yesterday; that's going to cover a big segment. But now, for the rest, we have to come up with great — whether it's going to be block grants [Graham-Cassidy] or something else [who knows?]. And we just about have the votes.

where people could really get the kind of healthcare that they deserve, being citizens of our great country.
Yet what's most remarkable about Trump's political vision is how economistic it can be, especially at moments when he hews most closely to a hard image of the state. Where antimarket conservatives flew into the arms of the state (in both senses) as an end run around the market, Trump often sees the state as consisting of nothing but market transactions, or "deals." Money is the instrument of state power. Money is the end of state power. Anyone aspiring to wield state power should be an adept of money. Success or failure in the business world is the best test of one's political mettle.
As Jeff Koons says: "The market is the greatest critic." Back to Corey Robin:
Even when Trump tries to talk the language of hard power — violence, coercion — he cannot avoid sliding back into the anemic idioms of the market he knows so well.
"Negotiate something." Anything! And why? Because Trump is sending Democrats the message that he has leverage over them and their program[3]. Which is in fact true.
Now, I don't want to pretend I can forecast how such a negotiation would go, or whether there's an overlapping solution space between enough factions of both parties to matter. Clearly, Trump has set no preconditions on policy detail, because he doesn't care about policy. (If he did, he'd be consistent). He has, however, set the precondition that the Democrats must come to him ("come and negotiate something"). Even that may be too much for Democrats; Schumer has said that Trump should come to them, and work on whatever weak tea bipartisan scheme. Of course, at the highest level, both party establishments want to head off Medicare for All, so there may be some overlap there. Nevertheless, the Democrats might conclude that fighting Trump's unilateral rulemaking in court, and the delays in rulemaking itself, will be enough to carry them through to 2018, and so they won't deal. If they do, for Trump, as we have seen, what matters is that there be a deal, and that the deal possess, oh, a "soft and buttery" surface. Or a shiny one. Or whatever, the surface has to be "great," and sellable as great. What a "great" surface would look like — except Medicare for All — I don't know. It seems unlikely that either party has what it takes to devise — again, except Medicare for All — a surface that induces a "very luxurious and a very exciting feeling."
Summing up: I don't think we've ever had a President who was purely transactional, but perhaps, as with Jeff Koons, perhaps that's the best way to start thinking about Trump.
NOTES
[1] I'm going to leave "bulbous volume" alone. Make up your own jokes!
[2] "It's not the thing you fling, it's the fling itself."
[3] The Democrats seem not to have understood that what is done by rule can be undone by rule, and seem not have given consideration to the idea that they might lose control of the executive branch. This is quite remarkable, since they've lost control of everything else.