By Lambert Strether of Corrente.
Readers, I'm sorry this is a bit light. I'm having enormous workflow problems trying to transition away from Yahoo Mail, and I have all sorts of material hung up in Outbox limbo. (iOS has the pleasing UX characteristic of simply leaving mail it can't send in the Outbox without alerting you in any way, ever). Hopefully I'll get this sorted soon. –lambert
Trade
"Led by Japan, the TPP-11 trade ministers issued a joint statement on Saturday outlining their plan for bringing the deal into force under the new name of "Comprehensive and Progressive Agreement for Trans-Pacific Partnership." That includes a list of 20 provisions that would be "suspended" now that the United States is no longer part of the pact" [Politico]. "But the documents also referred to four more issues that must be resolved before countries are ready to sign the revised accord. Those include an issue on state-owned enterprises related to Malaysia; a commitment on coal affecting Brunei; a dispute settlement provision involving trade sanctions connected with Vietnam; and ." CanLit rules, eh?
"[Trump] encouraged Vietnam to buy more from the United States, adding: 'We make the best equipment, we make the best military gear and planes and anything you can name. The missiles are in a category that nobody even comes close'" [Politico]. If by missiles Trump means drones, I'm not sure he's right. If he plans to sell Vietnam ballistic missiles, that would be quite remarkable.
Politics
2016 Post Mortem
UPDATE 'The One County In America That Voted In A Landslide For Both Trump And Obama" [Cook Political Report]. "Howard County, Iowa (population 9,332), stands out as the only one of America's 3,141 counties that voted by more than 20 percentage points for Obama in 2012 and Trump in 2016. Democrats can't credibly blame Howard County's enormous 41-point swing in just four years on a last-minute letter to Congress, voter ID laws or Russia-sponsored Facebook ads…. Last month, [Laura] Hubka resigned her post as [Democrat County] chair and published a scathing blog post about Democrats' aloofness to voters in places like Howard County and the party's failure to come to grips with the election result. 'Can we just stop and admit we're part of the problem?' she vented to me. 'People who were longtime supporters didn't want to hear what we had to say anymore.'" Right. What they want to hear about is Russia, Russia, Russia! Also, Facebook.
2020
"Biden 2020? It's Not as Crazy as It Sounds" [Albert Hunt, Bloomberg]. "After three-and-a-half years of Trump, what will swing voters be looking for? A grown-up who is committed to getting things done by trying to bridge the bitter partisan divide. A person with experience in governing, savvy about the ways of Washington and wary of national-security booby traps. A reputation for incorruptibility to drain the ethical swamp of the Trump years." I'm totally certain that the Senator who condemned a generation of college students to debt slavery by making student loans non-dischargeable in bankruptcy can reinvent himself to appeal to millennials, even at the age of 74. In other words, Biden 2020 is exactly as crazy as it sounds.

"Yet Clinton is also looking forward, having started a new slush fund that could easily become a campaign super PAC. It's called Onward Together, and she cited it in a volley of tweets where she claimed credit for the Democrats' wins in the New Jersey and ­Virginia governor's races" [New York Post]. Or, as the Twitter-banned Peter Douche rehashtagged it; #OwnedTogether. Here's the Tweet:

Last night was a great reminder of what's possible when we come together and fight for what we believe in. So I wanted to take a few minutes to celebrate the extraordinary successes of a few groups I—and Onward Together—proudly fight alongside.

— Hillary Clinton (@HillaryClinton) November 8, 2017

So, if you want to know who the Clintonite front groups are, they are: @RunforSomething, @EmergeAmerica, @IndivisibleTeam, @ColorofChange (Philly only), as well as @theDemocrats, @EMILYsList, and @TheDLCC. I wonder how many of these "progressive" groups support #MedicareForAll? @IndivisibleTeam most certainly does not.
2017
"McConnell Says He Believes Roy Moore Accusers, Calls on Him to Quit the Race" [NBC]. "McConnell said Republicans are exploring a write-in option in Alabama. 'That's an option we're looking at — whether or not there is someone who could mount a write-in campaign successfully,' McConnell said."

The centrist war on the left continues:

A self-described socialist unseated the third-ranking Republican in the Virginia House of Delegates and helped Dems make historic gains — and the head of this Dem Party think tank wants you to think it was because of centrism. https://t.co/HWHGJp4s4W

— David Sirota (@davidsirota) November 13, 2017

Neera's tweet:

What is @Davidsirota going to do when he learns of analysis from @notlarrysabato that @Ralphnortham pulled votes for Carter (& outperformed him) not the other way round? https://t.co/SShewh2pjP

— Neera Tanden?? (@neeratanden) November 12, 2017

Centrist coat tails, a novel concept.
Trump Transition
"Polling shows that the president will need to do a slick sales job to convince the public that they'll benefit from tax reform. A recently-released NBC News/Wall Street Journal poll shows just 25 percent of registered voters approve of the Trump plan, while 35 percent oppose. A 40 percent plurality have no idea what's even in the emerging tax proposal. These numbers, suggesting public unfamiliarity with a crucial White House initiative, are eerily similar to the early numbers on the failed Obamacare rollback" [National Journal]. "Even more worrisome for Republicans: By nearly a 2-to-1 ratio, more voters think the plan will actually raise taxes (25 percent) than cut them (14 percent). Republican politicos desperately want to sell a "tax cut" to their constituents, but good luck making that case when tax cuts are being paired with the removal of deductions popular among many middle-class families."

"Trump dominates the GOP base. Party leaders live with the consequences." [WaPo]. "Republicans have been dealing with a split between their establishment wing and a populist insurgency for some time. This is a function of the widening socioeconomic coalition that now comprises the Republican Party, a coalition that includes what used to be called country club Republicans; evangelical Christians, who became a powerful force inside the party beginning with Ronald Reagan (and who are no longer a monolithic political force); and a 21st-century version of what once were called Reagan Democrats. Trump has added an additional layer…. Candidate Trump ran roughshod over those issues and questions. He attracted his own coalition, found a path through the states in the upper Midwest that secured his electoral college victory, and along the way rewrote the rules for how a Republican could win the presidency." A useful summary.

"Democrats, cut the cheer" [WaPo]. "whatever strength Democrats have gained from identity politics appears to have reached a natural ceiling. Candidate Trump built his campaign on his willingness to offend people. He bashed immigrants, linked Mexicans to violent crime, dog-whistled to white supremacists. Yet when the votes were counted, Trump outperformed 2012 GOP nominee Mitt Romney among African American voters and matched Romney among Latinos." We'll see how this plays out in a post-Weinstein world. I'd speculate that if Democrats do nothing more than create a 10% vs. 10% fight, and take down some celebrities and media figures — as opposed to that supervisor at Walmart — the current moral panic will make no difference at all in 2020. (Roy Moore figures are a separate issue.)
Realignment and Legitimacy
"A convicted felon-turned-environmental activist registered as a Democrat but running as a Republican defeated the black female Democratic incumbent in York's mayoral race on Election Day last week" [Washington Examiner]. "And he did it with a local coalition of Bernie Sanders and Republican supporters and a breakdown of trust in the leadership of the incumbent mayor." To be fair, this is an outlier.

DSA delivering concrete material benefits:

Scenes from the flu vaccine clinic today. We were able to help almost 50 people get shots today! Thank you to all who donated & volunteered. pic.twitter.com/xTWupakM0p

— DSA North Texas (@DSA_NorthTexas) November 11, 2017

"Trump's real constituency isn't the white working class at all" [E.J. Dionne, WaPo]. "Rather than just celebrate the good news, Democrats and anti-Trump Republicans should move next to undermine Trump's key asset. He needs to be exposed as a fraud whenever he says he has the backs of the "forgotten men and women" whose living standards have been shattered in the new economy. Admittedly, doing this will be harder for conservatives than for progressives." Dionne neatly lumps liberals and the left under "progressives." In fact, "doing this" is easy for the left, because putting the working class first is what the left is all about it. "Doing this" is nearly impossible for liberals; see Thomas Frank.
Stats Watch
Today is a very dull day for official statistics.
Shipping: "Some 82 percent of all assets have a random failure pattern, [Ralph Rio, vice president of Enterprise Software of ARC Advisory, a leading technology research firm for industry and infrastructure] said" [Logistics Management]. "That probability of failure can be reduced through increased IoT examination of these patterns to better do preventative maintenance in trucks, railroad cars and other transport assets, he said."
Shipping: "Heathrow's jubilant announcement that cargo volumes are up some 10% year-on-year has been tempered by severe congestion in the cargo area" [The Loadstar]. "One forwarder told The Loadstar this week: 'Heathrow is screwed currently, due to queues and congestion. They just started turning all vehicles away – which is not conducive to speeding-up already delayed air freight movements.'"
Shipping: "Freight volumes and rates are busting out all over. Shipper-carrier discussions are focused more on securing capacity than on pricing. Transport assets are now in big-time demand" [DC Velocity]. "Even the humble domestic trailer on flatcar, written off several years ago as an anachronism in a containerized world, has come roaring back to life. The equipment is experiencing double-digit traffic gains due to a shortage of containers in the U.S. trades and concerns that shippers and intermodal marketing companies will need a safety valve in the event truck capacity is inadequate on key lanes."
Retail: "Fewer major retailers have announced large-scale hiring announcements so far this year, which reflects the drop in the number of October employment gains in the sector. Gains fell 8 percent from last year to 136,700, the lowest October gain since 2011, when the sector added 134,200 jobs" [Econintersect]. Compensated for in warehousing and trucking, one hopes. Which it isn't, really, labor not being fungible.
Retail: "The turmoil [in changing technology and shifting consumer buying patterns] has been evident at U.S. seaports, where imports of traditional toys slumped 5% in September, according to trade analysts Panjiva, while videogame shipments rose 40%" [Wall Street Journal].
Retail: "Alibaba racked up more than $25.3 billion in sales in [the annual Singles Day promotion] 24-hour sales period, 42% more than a year ago, while JD's $19.1 billion in sales were up 50% from last year" [Wall Street Journal]. "Alibaba added incentives, including pushing preorders, marketing games and fresh promotions that produce big numbers but also come at a cost to margins. And the sudden spike in shipments can jam logistics operations."
Supply Chain: "Researchers at Texas A&M reported as part of a study for analytics group Inrix that driving times for U.S. commuters have been relatively constant over the past decade but the congestion has spread out beyond the traditional morning and evening busy periods. The WSJ's Jo Craven McGinty writes the delays are mounting, and Inrix's annual scorecard shows congestion now costs each U.S. drivers a total of nearly $300 billion" [Wall Street Journal]. "The expanding congestion clock is putting more pressure on distribution channels, complicating efforts by truck and delivery drivers to operate outside the busiest traffic windows."
Labor: "Which Firms Create More Jobs: Startups or Older Firms?" [Federal Reserve Bank of St Louis]. "Dvorkin and Gascon found that the startups accounted for most of the net job creation from 2011-2014." ZOMG!! Start-ups!!!!! Except: "Almost all the US jobs created since 2005 are temporary."
Honey for the Bears: "Still no sign of a rebound" (FRED chart of commercial and industrial loans, still cratering) [Mosler Economics]. And this handy chart: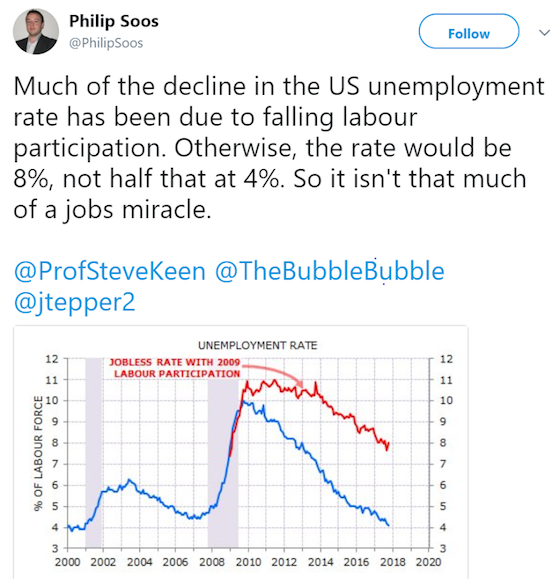 Thanks, Obama!
The Bezzle: "Tesla Approaches Terminal Decline" [Seeking Alpha]. Normally I wouldn't run a piece like this, but this seems well-researched. See especially section "4. Management" for personnel attrition. Readers, typical for the genre, therefore a steep discount to be applied? Or a good take?
Rapture Index: Closes down 1 on volcanoes. "There has been much rumbling, but few eruptions" [Rapture Ready]. Record High, October 10 2016: 189. Current: 184. That comment: I didn't know evangelicals did Zen.
Today's Fear & Greed Index: 59 Greed (previous close: 54, Neutral) [CNN]. One week ago: 66 (Greed). (0 is Extreme Fear; 100 is Extreme Greed. Last updated Nov 9 at 7:00pm. A modest swing toward greed before the weekend.
Health Care
"On the first day of enrollment alone, Nov. 1, one source close to the process told The Hill that more than 200,000 people selected a plan for 2018, compared with about 100,000 last year. More than 1 million people visited healthcare.gov that day, compared to about 750,000 last year, the source said" [The Hill]. "It is still early in the process and it is unclear how the final sign-up numbers will come out. Sign-ups early in the enrollment season are often people renewing their coverage, not new enrollees."
UPDATE Kevin Drum goes triumphalist, as ObamaCare reaches (roughly) 50% approval ratings: "After all, what's wrong with decent health care at a decent price for everyone, especially if it hasn't turned America into a socialist hellhole where we all have to wait months to see our government doctor?" [Mother Jones]. Kumbaya, Kevin…
Big Brother Is Watching You Watch
"The "PreCheck" program is billed as a convenient service to allow U.S. travelers to "speed through security" at airports. However, the latest proposal released by the Transportation Security Administration (TSA) reveals the Department of Homeland Security's greater underlying plan to collect face images and iris scans on a nationwide scale. DHS's programs will become a massive violation of privacy that could serve as a gateway to the collection of biometric data to identify and track every traveler at every airport and border crossing in the country" [Electronic Frontier Foundation]. "Officer, where does it say I can't wear my Nixon mask a public space?" Or my "adversarial," "perturbed" luggage, for that matter.
Our Famously Free Press
"THE BLOG NOBODY NEEDS. It's Wonkette" [The Outline]. "If you ever wanted to know how liberal bloggers in the MySpace era would have reacted to the news that Donald Trump would one day be president, [senior editor Evan Hurst] spells it out: 'Trump's First Days In Office Were Epic F!ck Show, And We Can't Stop LOLing.'"
News of the Wired
"Searx is a free internet metasearch engine which aggregates results from more than 70 search services. Users are neither tracked nor profiled" [Github]. I tried it out. Google News search has gone from merely bad to practically useless (and from an agnotological standpoint, actively malevolent):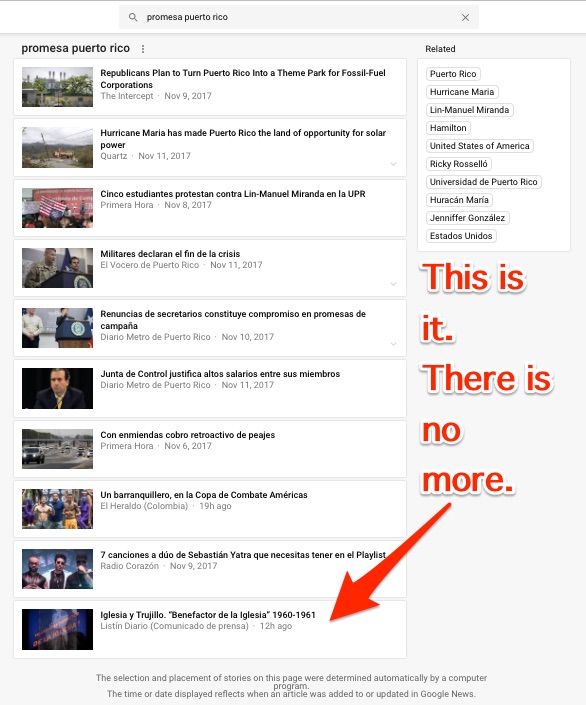 So I'm looking for alternatives.
"Seriously? I paid 80$ to have Vader locked?" [Reddit]. Top comment is said to be "The most downvoted comment in Reddit's history" (-368K points as of this writing).
"Patterns and Privilege, East and West: Jeffrey Milstein's LANY" [Lens Culture]. Gorgeous aerial photography. (All the pictures take a bit to load, though some appear right away.)
* * *
Readers, feel free to contact me at lambert [UNDERSCORE] strether [DOT] corrente [AT] yahoo [DOT] com, with (a) links, and even better (b) sources I should curate regularly, (c) how to send me a check if you are allergic to PayPal, and (d) to find out how to send me images of plants. Vegetables are fine! Fungi are deemed to be honorary plants! If you want your handle to appear as a credit, please put it in the subject line. Otherwise, I will anonymize by using your initials. See the previous Water Cooler (with plant) here. Today's plant (Bob):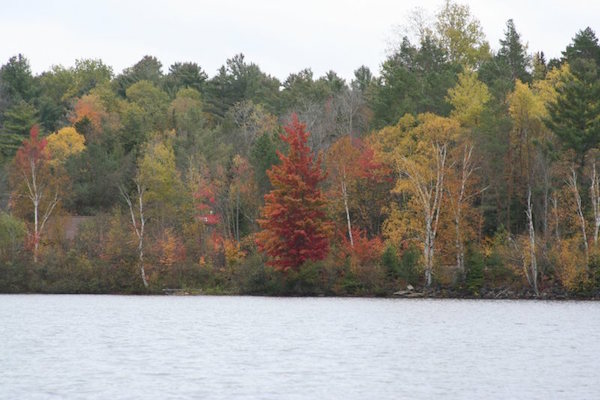 Bob writes: "Not a great fall for pictures. It got very cold, then summer started. Lots of washed out browns on bright, hot days. Not the best for pictures."
Readers, I'm doing OK on fall foliage now, but I'm so fascinated to learn that this map is off, I'm going to leave the request up just to see what there is to see…
* * *
Readers: Water Cooler is a standalone entity not covered by the NC fundraiser. So do feel free to use the dropdown and click the hat to make a contribution today or any day. Here is why: Regular positive feedback both makes me feel good and lets me know I'm on the right track with coverage. When I get no donations for five or ten days I get worried. More tangibly, a constant trickle of small donations helps me with expenses, and I factor that trickle in when setting fundraising goals. So if you see something you especially appreciate, do feel free to click the hat!