CalPERS is now engaging in Trump-level intellectual dishonesty and brazen disregard for beneficiaries' and the public's interest. At this Monday's Investment Committee meeting, staff will present its plan to use a measurement gimmick to pretend that private equity is much less risky than it actually is. No independent finance-literate professional would endorse such a move. 1 The apparent motivation is so that the giant public pension fund will hopefully no longer keep falling short of its private equity benchmarks, as it has done regularly over the last ten years.
Despite the technical sound of this change, it has huge practical significance. First, CalPeRS is admitting that it expects private equity returns to be significantly lower in the future.
Second, this is finance malpractice. This is tantamount to a doctor getting a EKG that shows his patient is at risk of getting a heart attack, but telling his nurse to recalibrate the machine and run the tests again so that it gives a normal reading. And worse, in this case, the doctor is fixing the results because he'll make more money from the false results, and the patient is, say, running for President and plans to release the deliberately misleading medical records to present himself as being in good health when he isn't.
The fact that CalPERS has consistently underperformed its private equity benchmarks since 2014 and its own consultants have projected that CalPERS will continue to do so over the next decade means that CalPERS is not making enough in private equity to justify the additional risks.2 That means CalPERS needs to stop investing in private equity or radically revise its approach. Because the fees and costs of investing in private equity funds are so mind-numbingly high, CalPERS has sound alternatives, such as bringing much more of its private equity program in-house (which would admittedly take time) or going to a public markets replication strategy, which several studies have found gives net returns higher than investing in private equity3 (which might only work for a few years since other funds would no doubt copy it but that would give CalPERS some transition breathing room).
But rather than do the right thing, which would be work, CalPERS is instead sticking doggedly with a failing status quo. And as we'll discuss further below, the only big change it is planning to make, that of moving some or all of its private equity program over to Blackrock, will only make its underlying performance problem worse by introducing another layer of fees and costs.
Specifically, CalPERS plans to make private equity look better than it is by understating its risks and changing its stock market component of its custom benchmark to one that is also more flattering. So CalPERS is cooking the books to favor private equity every way it can.
By reducing the risk premium for private equity from 300 basis points over its public equity benchmark to a mere 150 basis points, as you can see in the slide below from its board presentation No academic study has ever used such a low risk premium.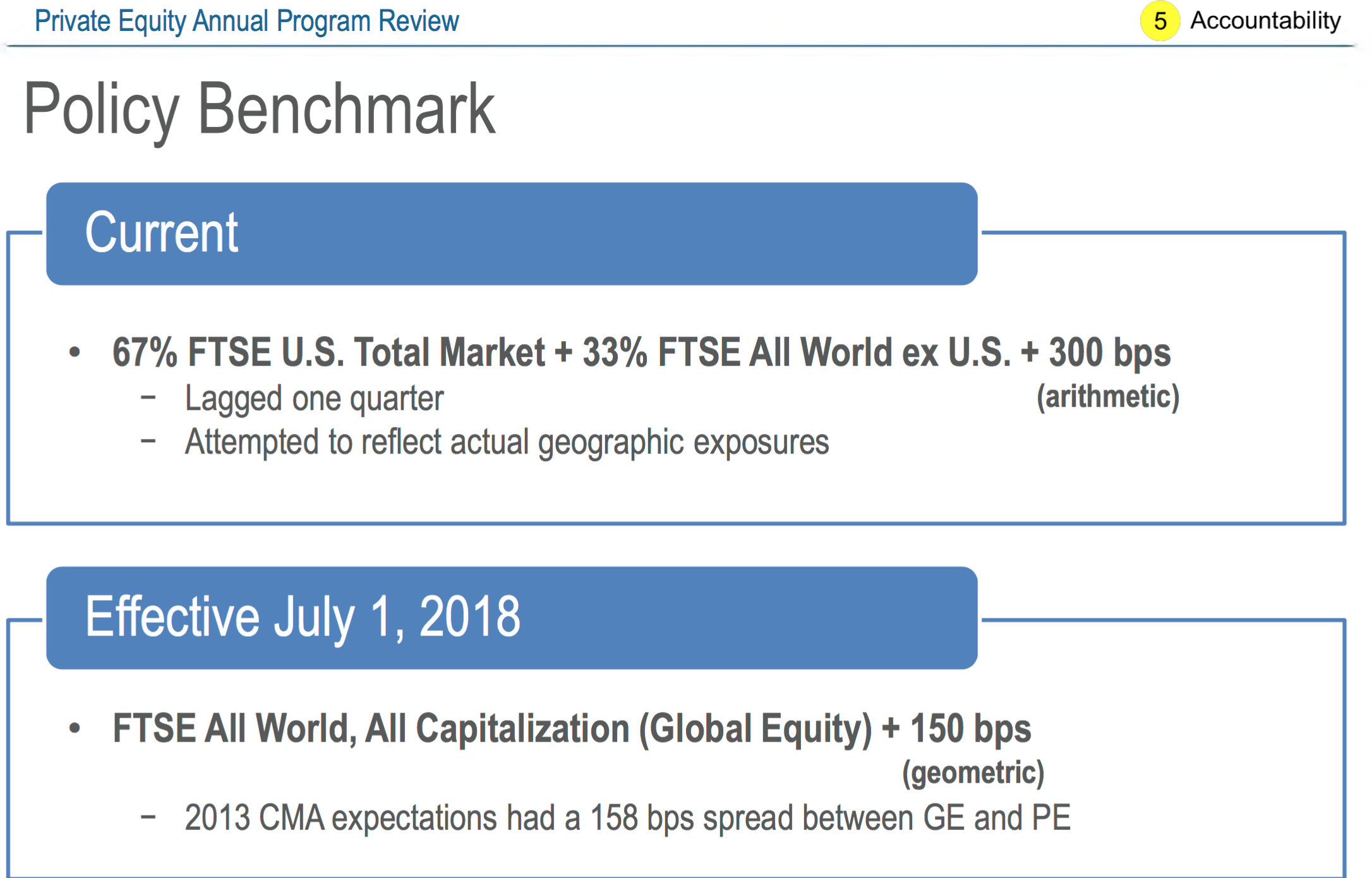 And mind you, as we have also written at some length, unlike other investment management strategies, where scholars are skeptical of fund managers, the academics that focus on private equity are frequently captured by virtue of earning hefty consulting fees. Nevertheless, all take as a given that private equity needs to produce a meaningful premium in returns to public stocks to justify its higher risk, namely its greater leverage and illiquidity. The most commonly used benchmark is the S&P 500 plus 300 basis, which is already flattering to private equity by virtue of using a reference stock index where the average company size is vastly larger than that of companies that private equity firms buy.
The other way this change is meant to make private equity look better than it is by changing the equity index. Notice that CalPERS acknowledged that its former reference stock index was constructed to mimic CalPERS' domestic versus foreign investment mix, so the international weighting made sense. By contrast, the new equity bogey, the FT All World, All Capitalization index is a market-weighted index that "covers around 7,400 securities in 47 different countries." That means it has much less US exposure than CalPERS does in its private equity or public equity portfolios. And that also means it is very flattering by virtue of not including the strong US stock market performance of recent years.
Why Is CalPERS Making This Indefensible Change?
It is impossible to know for certain why CalPERS is making this shift. But since it is to the detriment of beneficiaries and California taxpayers, and lacks any intellectual foundation, the only reasons left are self-serving ones. Here are some likely candidates:
Defending private equity investing as a way to forestall dealing with CalPERS' underfunding. CalPERS is still in massive denial about its underlying fix. Like long-term investors all over the world, it has been badly squeezed by now nearly ten years of negative real interest rates. This has amounted to a massive transfer from savers to the banking system.
Private equity has become like second marriages: an exercise in hope over experience. CalPERS own planned benchmark change, its consultants' forecasts, even private equity managers themselves all say lower returns are in store for the future, both on an absolute and more important, a risk-adjusted basis. The amount of private equity investment relative to total equity investment has more than doubled since 2006, and even more money keeps pouring into private equity funds. Too many dollars chasing too few deals means lower returns.
As we said earlier in this post, CalPERS has ways out of this fix, which is to go in the direction that other private equity investors, such as family offices, sovereign wealth funds, and even many public pension funds are going, which is to do more direct investing to lower fees and costs. Yet astonishingly, CalPERS is proposing to make its underlying problem worse by adding unnecessary expenses via its scheme to move some and potentially all of its private equity investment to Blackrock. The only way to interpret this move is an admission of incompetence by Chief Investment Officer Ted Eliopolous, which CEO Marcie Frost is enabling.
CalPERS' staff bizarrely, and incorrectly, continue to depict private equity investing as it is currently constituted as the only investment strategy that can beat its average returns. This ignores, as we have kept saying, that making investments that do not meet their risk-adjusted return requirements, is asking for long-term grief.
Building in phony margin to cover higher costs of Blackrock manage funds. We explained long form why having Blackrock manage money on behalf of CalPERS was an appallingly bad idea, even for CalPERS, which has a great fondness for bad ideas. Among other things, this amounts to a fund of funds. Anyone with any investment acumen will steer clear of a fund of funds, since it introduces an unnecessary layer of fees and costs. The usual rationale applies only to small fry, unsophisticated investors: they want to participate in a sexy investment strategy, but can't commit enough to get adequate diversification. It's embarrassing to see one of the most deeply staffed institutional investors go the fund of funds route for private equity.
That 150 basis point reduction gives CalPERS a lot of room to hide its Blackrock investment costs. From a September post:
CalPERS will pay more in fees with BlackRock and there is no reason to expect improved performance. As the former Chief Investment Officer for North Carolina, Andrew Silton, stressed, CalPERS is such a large investor in private equity that is unlikely to achieve better than index-like returns. And it's a no-brainer that introducing another intermediary means more fees and costs.

BlackRock would effectively be a dedicated fund of funds manager for CalPERS, an approach that is typically used only by small fry, like high net worth individuals and and smaller institutional investors, or for bigger players, to achieve adequate diversification for small, niche-y strategies (say if CalPERS decided to make an allocation to infrastructure in Latin America).

It is remarkable to see CalPERS consider outsourcing, since going in the direction of increasing its cost flies in the face of prudent investment management. It also contradicts the approach CalPERS takes in all other strategies in which it invests, where it has a strong focus on expense reduction and manages many of its investments in house because it is cheaper.

CalPERS board candidate and private equity expert Mike Flaherman explained why CalPERS would wind up paying more by turning to BlackRock:

BlackRock would be acting as a "middle man" standing between CalPERS and private equity managers, and this role doesn't come cheaply in the marketplace. Even if CalPERS is able to negotiate heroically and ends up paying BlackRock 20 basis points (0.2%) in annual management fees, that would amount to more than $50 million a year. On top of that, BlackRock would typically receive a cut of profits.

These costs would be substantially larger than the approximately $5 million annual expense of the internal CalPERS private equity team that BlackRock would replace. In addition, it is likely that BlackRock's compensation will rise over time, as CalPERS will likely pay a much lower fee for BlackRock to monitor legacy investments made by the CalPERS team compared to the compensation paid for new investments sourced by BlackRock. Over time, the CalPERS-sourced investments will be harvested and replaced by BlackRock-sourced ones, likely leading to large cost increases.

On top of that, despite having the veneer of a Big Finance Brand name, private equity is not an area where BlackRock is a top tier player. CalPERS' $26.2 private equity program is a full 20% of the size of Blackrock's entire alternative assets business, which includes real estate, hedge funds, and infrastructure along with private equity.
The results of a recent Public Records Act request on CalPERS' relationship with outsourced real estate manager GI Partners confirms Flaherman's analysis. 4
CalPERS can't take the heat of defending its private equity underperformance. This should be silly, but it isn't. Regular CalPERS watchers will recall Chief Investment Officer Ted Eliopoulos' astonishing, as in embarrassing, whinge to the board that he couldn't take transparency requirements and still manage to invest in private equity.
Understand this clearly: this is not a statement of fact. Private equity is far and away CalPERS' least transparent investment strategy. It not only has unheard-of protection from disclosure, starting with the secrecy of private equity agreements and other documents, but CalPERS also goes further by having a policy of making incomplete responses to Public Records Act requests, since few have the resources and stamina to sue CalPERS over Public Records Act abuses. In other words, this speech was a confession of Eliopoulos' managerial deficiencies. Yet the deeply captured board applauded!
As CIO for North Carolina, I faced frontpage stories questioning the pension's investment programs, as well as my decisions and motives. Without a doubt the stories were painful. As the leader of North Carolina's investment effort, it was my job to ensure that the attacks didn't distract staff. We simply continued to invest. Mr. Eliopolis's statement to the investment committee only serves to reinforce my critique of CalPERS. The pension plan has a leadership problem.
Preserving/enhancing staff bonuses. CalPERS already has lowered it targets so that CalPERS staff get performance bonuses merely for coming close to benchmarks, a standard that would be seen as ludicrous in most walks of life. Apparently there is still the risk that that is too demanding a standard, so the target is being lowered further.
* * *
Our very first post, in 2006, discussed how CalPERS own statements about hedge fund performance and the role it supposedly played for CalPERS was an admission that CalPERS needed to get out of hedge funds. It took CalPERS another eight years to act accordingly. However, CalPERS at least had taken interim measures that were consistent with not being happy about the risk/return tradeoff in hedge funds by having already reduced its allocation to a mere 1% of total assets.
By contrast, in private equity, CalPERS is not only in clear denial of what its data has been telling it for years, it is engaging in desperate fudges and planning actions that are 180 degrees in the wrong direction. And the board and CEO seem content to let CalPERS do the equivalent of practice self-mutilation rather than go in an obvious but admittedly more demanding direction.
____
1 Sadly, there are far too many people in the public pension fund business who wear their ignorance or at best willingness to prostitute themselves intellectually as a badge of honor. By happenstance, Leo Kovilakis of Pension Pulse had this section in his article yesterday, November 6, on CalPERS and CalSTRS bonuses:
In fact, CalPERS's Private Equity performed quite well, gaining 13.9% in FY 2016-17 but underperformed its benchmark by 640 basis points while CalSTRS Private Equity gained 17.2%, outperforming its benchmark by 460 basis points. Obviously, there is a PE benchmark issue at CalPERS.
It is remarkable to see Kovilakis, with a straight face, say CalPERS peformed "quite well" when it undershot public stocks by a full 340 basis points. It would have done much better to hand that money to its in-house S&P index fund.
Yes, someone does have a benchmark problem. It's CalSTRS, not CalPERS. This is CalSTRS' private equity benchmark, or more accurately, benchmarks:
The Private Equity Portfolio performance benchmark for measurement periods ten years and beyond shall be the dollar weighted return for the Russell 3000 Index plus 3 percent. Performance calculation will use the internal rate of return, IRR, methodology as recommended by CFA Institute's Global Investment Performance Standards.

The performance benchmark for time periods less than ten years shall be the State Street Private Equity Index SM. Performance calculation will use the internal rate of return, IRR, methodology as recommended by CFA Institute's Global Investment Performance Standards.
So what is wrong? The ten-year benchmark is the sort of thing you'd expect: a stock market index meant to approximate the sort of companies private equity invests in, plus a 300 basis point risk premium. However, we have to note that even this part errs on the flattering side, since among the smaller cap indexes that would normally be seen as an appropriate standard for measuring the results of investing in smaller companies, the Russell 3000 is one of the worst performers, and hence looks to have been chosen to make private equity returns look good.
But what is that State Street index CalSTRS is using for shorter periods? Per State Street: "It provides accurate representation of private equity investment and performance in a variety of categories" In other words, it is an index of industry results.
Now there is a legitimate use for an index that captures overall private equity industry results for places like CalPERS and CalSTRS: for measuring staff performance. CalPERS and CalSTRS are both such large PE investors that they are de facto indexers, so if their staffs actually do manage to beat a well-constructed index, they should be rewarded.
However, mixing indexes that measure whether private equity is performing adequately on a risk-adjusted basis, which is critical to determining portfolio allocations and investment strategy with ones prepared on a completely different basis and should be used only to measure private equity staff achievement, and not chief investment officer performance and adequacy of private equity returns, makes no sense.
2 More specifically, since we've been paying attention, CalPERS has almost always been reporting that private equity over the last 10, 5, 3, and 1 years. CalPERS' fallback has been to flog its 20 year performance. But that is rolling off. Private equity's glory years were 1995 to 1999. As those periods disappear from the 20-year record, the 20 year results look skimpy. With deal prices at nosebleed high levels, the risk of private equity performance surprises are skewed heavily to the downside.
3 CalPERS has confirmed Oxford professor Ludovic Phalippou's estimate that private equity fees and costs per annum are a stunning 7% of assets. If CalPERS were to bring private equity investing in house, it could easily reduce those to 3%, conceivably even 2%. That would make a significant difference in net performance.
4 GI Partners receives a minimum of $10 million annually for acting as the oversight manager, plus potential success fees, one of which is related to cash yield on the portfolio and the others of which are for achieving process-oriented goals. It appears that the portfolio is roughly $5 billion. If you extrapolate that, it puts the private equity portfolio oversight cost for BlackRock or whomever CalPERS hires right at the $50 million base fee number Flaherman predicted (he assumed a private equity portfolio of roughly $25 billion).