By Leith van Onselen. Originally published at MacroBusiness
15,364 scientists from 180 countries have put their names to a BioScience journal article calling for population growth to be limited, and governments to stop only focusing on economic growth. According to the ABC article attached to the report, "the number is believed to be the largest group of scientists to have ever put their names to a research paper focused on climate change". Below are some key extracts from the journal article:
Twenty-five years ago, the Union of Concerned Scientists and more than 1700 independent scientists, including the majority of living Nobel laureates in the sciences, penned the 1992 "World Scientists' Warning to Humanity" (see supplemental file S1). These concerned professionals called on humankind to curtail environmental destruction and cautioned that "a great change in our stewardship of the Earth and the life on it is required, if vast human misery is to be avoided." In their manifesto, they showed that humans were on a collision course with the natural world…

The authors of the 1992 declaration feared that humanity was pushing Earth's ecosystems beyond their capacities to support the web of life. They described how we are fast approaching many of the limits of what the ­biosphere can tolerate ­without ­substantial and irreversible harm. The scientists pleaded that we stabilize the human population, describing how our large numbers—swelled by another 2 billion people since 1992, a 35 percent increase—exert stresses on Earth that can overwhelm other efforts to realize a sustainable future…

Since 1992, with the exception of stabilizing the stratospheric ozone layer, humanity has failed to make sufficient progress in generally solving these foreseen environmental challenges, and alarmingly, most of them are getting far worse…

We are jeopardizing our future by not reining in our intense but geographically and demographically uneven material consumption and by not perceiving continued rapid population growth as a primary driver behind many ecological and even societal threats (Crist et al. 2017). By failing to adequately limit population growth, reassess the role of an economy rooted in growth, reduce greenhouse gases, incentivize renewable energy, protect habitat, restore ecosystems, curb pollution, halt defaunation, and constrain invasive alien species, humanity is not taking the urgent steps needed to safeguard our imperilled biosphere…

Sustainability transitions come about in diverse ways, and all require civil-society pressure and evidence-based advocacy, political leadership, and a solid understanding of policy instruments, markets, and other drivers. Examples of diverse and effective steps humanity can take to transition to sustainability include… estimating a scientifically defensible, sustainable human population size for the long term while rallying nations and leaders to support that vital goal.

To prevent widespread misery and catastrophic biodiversity loss, humanity must practice a more environmentally sustainable alternative to business as usual. This prescription was well articulated by the world's leading scientists 25 years ago, but in most respects, we have not heeded their warning.
This global report follows the latest Australian Government State of the Environment report. released in March, which found that Australia's natural environment is being placed under acute strain from rapid population growth and economic activity:
The federal government's State of the Environment 2016 report (prepared by a group of independent experts, which I chaired), released today, predicts that population growth and economic development will be the main drivers of environmental problems such as land-use change, habitat destruction, invasive species, and climate change…

We continue to lose agricultural lands through urban encroachment. Over the past five years land-clearing rates stabilised in all states and territories except Queensland, where the rate of clearing increased.

Coastal waterways are threatened by pollutants, including microplastics and nanoparticles…

Population growth in our major cities, along with Australia's reliance on private cars, is leading to greater traffic volumes, which increase traffic congestion and delays as well as pollution…
In 1994, when Australia's population was just under 18 million, the Australian Academy of Science (AAS) convened a symposium on the future population of Australia. Its analysis was extended to Australia's resources of water, minerals and arable land, and the interactions between present lifestyle and present environmental damage, and between future expectations and the costs of increasing population.
The AAS cautioned that "if our population reaches the high end of the feasible range (37 million), the quality of life of all Australians will be lowered by the degradation of water, soil, energy and biological resources" and concluded that "the quality of all aspects of our children's lives will be maximised if the population of Australia by the mid-21st Century is kept to the low, stable end of the achievable range, i.e. to approximately 23 million".
Just 22 years later, Australia's population is approaching 25 million, thus already exceeding the AAS' recommended maximum population mid-century.
The fact of the matter is that there are few better policy solutions to protect Australia's environment than limiting population growth and abandoning plans for a 'Big Australia', which necessarily means significantly cutting immigration.
Australia's birthrate of 1.8 is below replacement level and the nation's population would stablise at 27 million by 2060 under zero net overseas migration, according to the Productivity Commission. By contrast, if current mass immigration setting are maintained, Australia's population will exceed 40 million – a difference of at least 13 million people (see below chart).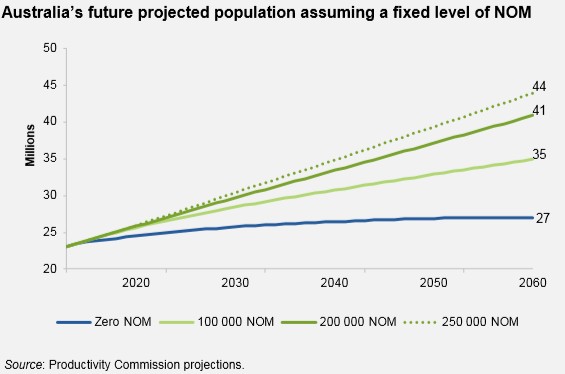 The above reports do also highlight the complete and utter negligence of The Australian Greens. Despite their purported concerns for the environment, The Greens have remained deafly silent on Australia's world-beating immigration program and have refused to argue the case publicly for a smaller and more sustainable population for Australia.
Will the real Greens please stand up?