Christine Keeler, the former model at the heart of the Profumo affair that rocked British politics in the 1960s, dies aged 75 Daily Mail. The companion long profile of Keeler is sad, the one at the Guardian (hat tip John L) more upbeat.
Archaeological Enigma Resolved: Meteorites Were the Origin of All Things Iron Predating the Iron Age Haaretz (Kevin W)
Chinese man repaints road markings to make his commute quicker South China Morning Post
La Mothe-Chandeniers – the French chateau now with 7,400 owners Guardian (Kevin W)
Arctic sea ice melt to exacerbate California droughts: study Reuters (EM)
40 Percent of America Will Cut the Cord by 2030, New Report Predicts Motherboard
Feds shut down allegedly fraudulent cryptocurrency offering ars technica
CryptoKitties craze slows down transactions on Ethereum BBC
How brands secretly buy their way into Forbes, Fast Company, and HuffPost stories The Outline (Chuck L)
Why a cooler climate makes you more likely to get cancer: Genes of people from colder nations put them at greater risk of the disease Daily Mail. Not persuaded. This is still a correlation and the discussion re the causal mechanism seems weak. We now have new data suggesting that regular consumption of alcohol increases cancer risk. People in cold climes drink more on average to get through the winters. That is pronounced in some cultures (the Finns, for instance). People in cold climates are also likely to eat higher fat diets (to fend off the cold, plus the native fish and animals will be fattier than those in hot climates). Toxins build up in fats and the higher up the food chain you eat, the more exposed you are (like tuna having high mercury levels by virtue of being 4-5 steps up in the food chain). People in cold climates also likely eat more meats as a total % of their food consumption due to the shorter growing year.
Gates Foundation Hired PR Firm to Manipulate UN Over Gene Drives Independent Science News (Jonathan L)
'I beat type 2 diabetes with 200-calorie drinks' BBC. This is huge if it pans out, and the results took place in a pretty large-scale trial. Here is the study: Primary care-led weight management for remission of type 2 diabetes (DiRECT): an open-label, cluster-randomised trial Lancet. Seems extremely promising.
India-Russia Multi-Modal Transportation Route All Set to Open Next Month Sputnik (Chuck L)
EU blacklist names 17 tax havens and puts Caymans and Jersey on notice Guardian
German pilots ground 222 flights after refusing to deport asylum seekers Independent (UserFriendly). Would never happen in America.
Greek debt crisis: 'Of all the damage, healthcare has been hit the worst' Defend Democracy
Brexit
Inquiry's conclusions about Manchester attack are damning for MI5 Guardian (JTM)
Syraqistan
Slapstick In Kiev Moon of Alabama (Chuck L)
Imperial Collapse Watch
Former U.S. Defense Secretary Explains Why Nuclear Holocaust Is Now Likely – but still can't help being economic with truth about causes OffGuardian (JTM)
Big Brother is Watching You Watch
Smile, you're on hidden webcam Airbnb TV! Naked Security (Glenn F)

Jeremy Hunt attacks Facebook over app aimed at children Guardian. UK health secretary on the offensive.

Germany Preparing Law for Backdoors in Any Type of Modern Device Bleeping Computer (Chuck L). Help me. "Force manufacturers to include backdoors"? How about "tell German authorities about the backdoors that already exist."
Trump Transition
Why Don't Sanders Supporters Care About the Russia Investigation? New York Times. UserFriendly: "Wow, shocked nyt published this. They actually admit some points even if they are trying to convert." Moi: Still disingenuous. Fails to correctly identify Masha Gessen as a prominent member of the Moscow intelligensia and a fierce Putin critic.

Trump Dumps Plan to Prevent Banks From Seducing Regulators Bloomberg

Democrat plans to force impeachment vote against Donald Trump this week Guardian

Sources in Trump's White House report meetings to assemble a network of deniable wetwork/black ops spooks to target Trump's political enemies in the US and elsewhere Boing Boing

White House Press Secretary Issues Bizarre Non-Denial of Private Spy Network Plans, While White House Official Confirms It Intercept. So do they just want to mess with people's heads?
Right scrambles GOP budget strategy The Hill
Tax "Reform"
The Tax Bill Compared To Other Very Expensive Things StateStarCodex (Plutonium Kun). "Although it's not quite enough money to solve world hunger, t's enough to end US homelessness four times over or fund nine simultaneous Apollo Programs." Ignore the rest of the narrative and focus on the chart.

Liberals need to get a grip about the GOP tax bill The Week (resilc). Not on target. The big issue is that the liberulz have had the histrionics meter at 11 since Trump took office, producing outrage fatigue and dulling responses on those occasions when there really are egregious offense being perpetrated. And the tax reform bill is super terrible, not just in and of its own, but because, as Sanders is stressing in his rallies, it is intended to set up the gutting of social safety nets, with Medicare and Social Security the biggest orders of business.

Chief Senate Tax Writers Prefer AMT Repeal Bloomberg

Republicans need Roy Moore to pass their tax bill Vox (UserFriendly). Matty needs to do his homework. The Republican plan is to pass a bill by year end. If Jones won, he'd be unlikely to be seated before January. If Jones won, the pressure to get the bill passed by year end would be intense. The best hope is for a shutdown to throw an additional wrench into the works.

EDITORIAL: How about a military tax? Military.com (resilc)

Tax Bill Provision From Texas Senator Would Enrich Pipeline Giants International Business Times (UserFriendly)

The GOP tax bill appears to have given Democrats an 8-point lead on the issue of taxes. (It was tied in August.) https://t.co/o4s8QUmkaZ pic.twitter.com/cK9KYlPQEj

— Will Jordan (@williamjordann) December 5, 2017
Mercers vs. Kochs vs. Adelsons: The three ultra-rich families battling for control of the Republican party Quartz (resilc)
Conservatives Balk at Christmas Shutdown Deadline Atlantic (resilc). Keep your fingers crossed. Radicals overplaying their hand.
DC has highest percentage of heavy drinkers WTOP. BC: "To be fair, DC probably NEEDS the highest percentage of heavy drinkers just to make it through the day."
Meet the progressive Democrat taking on one of her party's most conservative Congress veterans Independent (JTM)
GEORGIA'S BIGGEST DEMOCRATIC BASTION MAY HAND DEMOCRATIC CANDIDATE FOR MAYOR A BIG DEFEAT Intercept (UserFriendly)
This is the seventh rural hospital to close in Alabama in eight years, devastating those communities & forcing people to drive several counties away for care, with other hospitals on the brink. Doug supports health care plans that assist these hospitals.https://t.co/nwGpz9hmqO

— Doug Jones (@GDouglasJones) December 5, 2017
New McCarthyism
How Russia-gate Rationalizes Censorship Consortiumnews (UserFriendly). Long but important.
Class Warfare
The Ballot and the Break Jacobin

Aetna's Outgoing CEO Set to Reap About $500 Million if CVS Deal Closes Wall Street Journal
Antidote du jour. A candy crab, courtesy A New Kind of Human: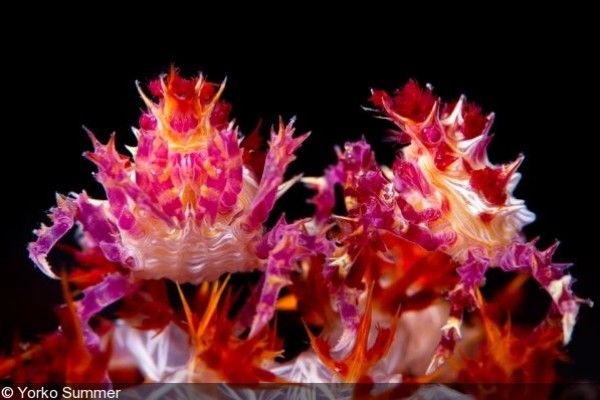 See yesterday's Links and Antidote du Jour here.