By Lambert Strether of Corrente.
Trade
"President Donald Trump took his first major step toward fulfilling his promises to crack down on China and other countries to protect U.S. producers when he moved Monday to slap hefty tariffs on imports of solar panels and washing machines. The decision is being seen as a prelude to coming actions on steel and aluminum imports as well as on China's intellectual property practices — and it gives Trump a hammer to swing when touting his "America First" worldview in Davos, Switzerland, later this week" [Politico]. "But the decision to impose the tariffs, while still a boon for U.S. manufacturers, were not as extreme as they could have been. Both actions hewed closely to the recommendations of the U.S. International Trade Commission… What the decision could do is embolden other U.S. manufacturing sectors, who have not yet had the spotlight under this administration, to petition for similar measures."
Politics
2018
"It's a Blue House Wave, but Not Yet a Senate One" [Inside Elections]. "Even assuming Senate seats in both Arizona and Nevada fall to Democrats — not a certainty, but more likely than not — Republicans can maintain control of the Senate by swiping a Democratic seat in West Virginia, Indiana, Missouri, North Dakota or one of the half-dozen other states carried by Donald Trump in 2016. Republicans don't need to win all those states or most of them or even some of them. They need only one, unless another GOP-held seat comes into play. While Democratic strategists are trying to flip the House by targeting districts Hillary Clinton carried and seats where minorities, younger voters and suburbanites are anti-Trump, Senate Democratic strategists must hold on to a handful of rural, religious, conservative and very white states to have any chance of flipping the Senate. That's quite a challenge."

"Republicans desperately need people to focus on the fact that their tax bill passed, and that with President Obama out of office and Congress is Republican hands, businesses no longer feel under siege. Instead, they feel confident enough to hire, expand, invest and compensate their employees better, and voters shouldn't jeopardize that by electing a Democratic Congress. The past three quarters showed economic growth of about 3 percent, and if the economy continues on this pace through the midterm elections, it is plausible that enough voters—even those who may not like President Trump or approve of much of what he says, does, or tweets—will decide that they like where the economy is enough to give Republicans the benefit of the doubt" [Cook Political Report].

"To date, 390 women are planning to run for the House of Representatives, a figure that's higher than at any point in American history. Twenty-two of them are non-incumbent black women — for scale, there are only 18 black women in the House right now. Meanwhile, 49 women are likely to be running for the Senate, more than 68 percent higher than the number who'd announced at the same point in 2014" [Rebecca Traister, New York Magazine]. "It's certainly true that the policies that are enacted depend on which women run and win — the country is full of Sarah Palins, not just Elizabeth Warrens. According to the Rutgers Center for American Women and Politics, however, so far it's the Warrens who are getting into the game. Of the 49 women currently planning to run for the Senate (including incumbents, challengers, and those running for open spots), 31 are Democrats. Well over half of the 79 women slated to campaign for governor are Dems, as are 80 percent of the women setting their sights on the House." Not one word on policies these candidates support in the entire article. It would be nice if the cynic in me were wrong: "The future Blue Dog is female. The article lists many of the candidates. Can readers comment/

"Democrats, give moderate GOP voters a reason to lean your way" [Neil Baron, The Hill]. But read beyond the clickbait headline: "The Democratic National Committee wants to persuade Republicans to vote for Democrats. The party's leaders have very little credibility with Republicans, yet they want to remain the party's spokespersons and lead it to victory. That's unlikely to work…. Luckily for Democrats, they will get help from outside the party. Sen. Bernie Sanders (I-Vt.) is a party outsider, and is running for the Senate as an Independent in 2018, though he called himself a Democrat in 2016. He's currently the "Democrat" with the most credibility among Republicans…. Twelve percent of those who voted for him in the primaries voted for Trump in the presidential election. It follows that those voters are more likely to listen to Bernie than top Democratic leaders — or possibly any Democrat. He frequently appears on talk shows to promote his Senate candidacy, which will be helpful to the Democrats in 2018. They should watch and learn."

This Austin Frerick (IA-3) guy is like Jon Ossoff's good twin:

I keep hearing from political professionals that corporate power is too complicated to explain. Then, a 22 year old filmed this incredible ad. https://t.co/2vfdBodpCv

— Matt Stoller (@matthewstoller) January 21, 2018

More on Frerick from Bleeding Heartland.
2017
"Rick Saccone, the GOP nominee in Pennsylvania's 18th congressional district, is a former intelligence support consultant for the U.S. Army at the infamous Abu Ghraib prison. He has written extensively in support of interrogation tactics widely condemned by human rights experts as torture" [The Intercept]. Last I checked, George W. Bush was Commander-in-Chief when Abu Ghraib happened. But liberal Democrats rehabilitated him. So what's the issue, here?

"Why Democrats keep winning special elections" [The Hill]. "Republicans across the country were shaken this week when Democrat Patty Schachtner won a special election in a rural Wisconsin district that President Trump won by 17 points…. Pollsters routinely measure how enthusiastic voters are about upcoming elections. This year, those surveys have found a gap between an energized Democratic base and a comparatively demoralized Republican electorate."
2016 Post Mortem
"Update on Twitter's Review of the 2016 U.S. Election" [Twitter]. "As previously announced, we identified and suspended a number of accounts that were potentially connected to a propaganda effort by a Russian government-linked organization known as the Internet Research Agency (IRA). Consistent with our commitment to transparency, we are emailing notifications to 677,775 people in the United States who followed one of these accounts or retweeted or liked a Tweet from these accounts during the election period. Because we have already suspended these accounts, the relevant content on Twitter is no longer publicly available." I never got my notification! Readers, did any of you?
Government Shutdown
"[House Majority Whip Steve Scalise (R-LA) told us the House doesn't feel at all bound by Senate Majority Leader Mitch McConnell's (R-KY) agreement with Senate Democrats to consider immigration legislation by Feb. 8. 'March is really the timeline. … The House wasn't part of that deal.'" [Politico]. "We asked Scalise if Graham-Durbin — the bipartisan immigration deal du jour — stands a chance, and he said 'not in the House.' 'It's good for everybody to put their ideas on paper but ultimately there are things that can and cannot pass in the House. And we have to work through those details and we're working through them.'"

"Democrats didn't cave on the shutdown" [Ezra Klein, Vox]. Unexpectedly giving Ezra a hearing here: Six years of CHIP is not a bad deal, especially if DACA was not there to be had.

Obama's 2012 National Latino Vote Deputy Director:

I'm leaving the Democratic Party today.

They're complicit w/ every single young person living in fear. Every pain Latino & immigrant families feel from here out is 100% due to @TheDemocrats not fully embracing us as American. Implicit racism is equally as harmful. I'm done. pic.twitter.com/4mrNaz6rO6

— Alida Garcia (@leedsgarcia) January 22, 2018
Realignment and Legitimacy
"ActBlue Fundraising Platform Strikes Gold — for Liberals" [RealClearPolitics]. "By ActBlue's own most-recent figures, it has been hugely successful. For 2017, the amount of money it raised from more than 16 million clicks on 'Contribute' to 7,892 Democratic candidates and liberal advocacy and 501 (c)(3) nonprofit groups, totaled over $522 million. That staggering total is up from nearly $207 million in 2015 – itself an impressive amount — and more than $91 million in 2013. The average contribution size was a very-'grassrootsy' $31.95. More than half of all donors gave for the first time in 2017, and just over 40 percent of all contributions were made from a mobile device." Leaving the party apparatus for the squillionaires, I suppose. And the press, of course.

"Florida Takes Big Step Toward Expanding Voting Rights To Over 1.5 Million People" [HuffPo]. "Floridians will get to decide in November whether they want to amend the state constitution to automatically restore voting rights to felons once they complete their sentences, a move that could significantly expand the franchise to over 1.5 million people. Florida election officials verified Tuesday that organizers had gathered enough petitions to put the referendum on the ballot this year. Just gathering those signatures was a herculean task for the grassroots effort…. Florida's disenfranchisement policies have roots in the Jim Crow South. After the Civil War, Congress forced Florida and other southern states to ratify the 13th and 14th amendments and to write new state constitutions guaranteeing universal male suffrage. Florida lawmakers did so, but also created criminal codes targeting black voters and then stripped people convicted of certain crimes of their right to vote."

"The #Resistance Trump ignited will shape politics for a generation" [McClatchy]. "But the impact of the Resistance will be deeper and more significant than a single election cycle. The birth of millions of activists, many of them concentrated in cities, is remaking local elections — and will put urban politics on a new trajectory for the foreseeable future. It will reverberate, liberals say, for a generations, perhaps most of all in the leadership and approach of a Democratic Party that is now under almost as much scrutiny from the left as Trump himself." Maybe. "Reverberate" is a neutral word with respect to policy (and class interest). And if Democrats already own the cities, what is doing to be "new" about the "trajectory"? Please forgive my skepticism; I would be very, very happy to be wrong! But this from yesterday's Gods and Radicals haunts me: "Nearly every activist organization in the US is a Democratic front group. After all, even if they didn't want to be, their commitment to 'conventional activism' demands it. When you spend your time waving signs and, perhaps, lobbying officials or supporting candidates, what's your mechanism for enacting change? The only way you can bridge the gap between protest and power is through the support of Democratic politicians – and you can't get that support if you won't align with their Party. And, of course, activist groups don't typically want to be independent in the first place. After all, their leaders and staffers are Democratic cadres. Their careers will take them across the whole extended Party structure." Neera Tanden is a Resistance enforcer for a reason. That said, the analysis is a bit schematic; my landfill activist group spanned parties (although the "activist" groups parachuted in from out-of-state most definitely did not).

Here is a (self-reported) Google doc of Women's March events and crowd totals [Jeremy Pressman and Erica Chenoweth].

Then again:

Content warning: Not an isolated incident. pic.twitter.com/ttBYDe4xOZ

— Katie Halper (@kthalps) January 22, 2018

OK, just one tweet and two signs…
Stats Watch
Richmond Fed Manufacturing Index, January 2018: "Growth of manufacturing activity in the Fifth District slowed more than analysts expected in January" [Econoday]. "Despite the moderation seen in current company conditions, manufacturing executives expressed continued optimism regarding stronger growth six months ahead." And but: "The important Richmond Fed subcategories improved or remained the same, The internals are better than last month" [Econintersect].
Banks: "Europe's central banks are starting to replace dollar reserves with the yuan" [Quartz]. I don't know if I'd read too much into this; the amounts are small. More: "China still faces several hurdles in having a truly international currency. Capital controls and a lack of regulatory transparency make financial institutions reluctant to invest in Chinese assets. However, last week China showed signs that it was relaxing some of its rules used to control the currency. As the yuan gains more international clout, and value, Beijing might be emboldened to open up further." Any currency mavens care to comment?
Commodities: "Russia to invest $250 million in uranium exploration, production in Argentina" [Mining.com]. "Russia and Argentina signed Tuesday a memorandum of understanding to advance uranium exploration and production in the South American country, which already generates 5% of its electricity with three heavy-water nuclear reactors."
Commodities: "The owner of a pair of Philadelphia refineries has found itself cut out of the rapidly evolving global energy supply chain. Philadelphia Energy Solutions LLC affiliates filed for bankruptcy protection, blaming federal environmental regulations… But the refineries' problems run much deeper than the cost of complying with ethanol blending rules. East Coast refineries, which mainly process oil imported from Russia, Nigeria and other foreign sources, have been undercut by competitors that have easy access to cheaper domestically produced crude. The lifting of a ban on U.S. oil exports further doomed the Philadelphia refineries" [Wall Street Journal]. I remember my first flight into Philly, back in the dot com era, coming down the Schuykill, seemingly about to brush the black and twisted pipes of the refineries with the landing gear, and seeing flames rising up from the flare stacks, and thinking "Oh. My. Lord. What have I come among?"
Retail: "Amazon says it's trained the [Amazon Go] system to recognize subtle differences in packaging and shoppers' unpredictable movements.The technology has the potential to accelerate a shift already underway in the retail world, where brick-and-mortar chains are shifting employees and resources from the storefront to warehouses. Still, former Amazon executives say the Amazon Go store concept would be difficult to scale up to a larger footprint" [Wall Street Journal].
Retail: "Amazon Go and the Future" [Stratechery]. Well worth a read. "In every case [of successful tech companies] a huge amount of fixed costs up front is overwhelmed by the ongoing ability to make money at scale; to put it another way, tech company combine fixed costs with marginal revenue opportunities, such that they make more money on additional customers without any corresponding rise in costs. This is clearly the goal with Amazon Go: to build out such a complex system for a single store would be foolhardy; Amazon expects the technology to be used broadly, unlocking additional revenue opportunities without any corresponding rise in fixed costs — of developing the software, that is; each new store will still require traditional fixed costs like shelving and refrigeration. That, though, is why this idea is so uniquely Amazonian." And cashiers are marginal costs, not fixed costs.
Retail: "Amazon Would Boost the U.S. Economy by Choosing Toronto" [RealClearMarkets]. "[S]uch a move by Amazon would signal to a political class eager to control the inflow of goods, services and people that the only closed economy is the world economy. If politicians want a say about whom Amazon can recruit to work in the United States, then Amazon can reply by virtue of setting up shop outside the United States."
Shipping: "Logistics giant DHL has introduced what it claims is an early indicator for the current state and future development of global trade" [Air Cargo News]. "The DHL Global Trade Barometer, published quarterly, is based on large amounts of logistics data from the deepsea container market that are evaluated with the help of artificial intelligence. The January 2018 barometer indicates that global trade will continue to grow within the next three months. On its initial release, the index scored 64, which is slightly below the values calculated for previous months. 'That means that world trade is still considered to be in an expansive mode, but growth loses momentum,' said a spokesperson for DHL."
Shipping; "More carriers may pressure shipyards to postpone newbuild box ship deliveries" [The Loadstar]. "[ClipperMaritime consultant Neil Dekker] added that pushing back the ULCV deliveries would greatly improve the cashflow of the container lines, given that they would be able to defer their commitment to make final stage payments, which could be as much of 25% of the total cost, into the next financial year."
Shipping: "Air freight capacity concerns prompt new forwarder strategies" [Lloyd's Loading List]. "Reflecting concerns expressed by other freight forwarders, SEKO Logistics' VP for marketing, Brian Bourke told Lloyd's Loading List that despite infrastructure and cargo handling constraints at several airports recently in Europe and elsewhere, the biggest concern facing the industry was not accommodating higher volumes of air freight through the airports, where he argued there was sufficient ground handling provision in place, but a lack of aircraft capacity and lift."
Shipping: "Federal regulators have granted the Truck Renting and Leasing Association a 90-day electronic logging device exemption for rentals not exceeding 30 days" [Transport Topics]. "The exemption took effect Jan. 19 and will last until April 19." So not a loophole you can drive a truck through. At least not for long.
Shipping: "Tanzania suspends foreign ship registration" [Splash 247]. "Tanzanian president John Magufuli has issued an order to suspend the registration of foreign vessels in Tanzania after ships flying the Tanzanian flag were involved in drug trafficking… The country has started investigations into 470 vessels currently registered to the flag to check if their activities are above board." Shocked, shocked!
The Bezzle: "If self-driving vehicles are to succeed, they must be able to work in all types of weather" [DC Velocity]. "Most of the current navigation systems for automated vehicles rely on road markings. Visual cameras and sensors "see" the lines to make sure the vehicles stay where they should. That might work well for trucks and cars in California, but what happens when the lines are obscured by ice and snow? For automated vehicles to be commercially viable, they must be able to travel in all kinds of weather—including the six inches of heavy white stuff we were shoveling from our driveway. Researchers in Finland understand this need and are now testing autonomous cars designed for severe weather conditions. Key to their research is linking self-driving vehicles to 'smart roads.' If you're not familiar with smart roads, they are experimental roadways or sections of existing highways where sensors are either embedded in the pavement or arrayed alongside. The sensors pick up all sorts of information about the condition of the road and the traffic traveling on it." There's that word, "smart." If your algo sucks, control your inputs…
Globalization: "Globalization's decades-long winning streak appears to be over. Businesses cut back on overseas investments for a second consecutive year in 2017….. The United Nations report showed foreign direct investment, covering everything from new factories and international mergers, declined by 16% last year to $1.52 trillion" [Wall Street Journal]. "The drop is surprising in that it comes at a time when the world economy is growing, and may indicate that a backlash to globalization is having some tangible effects on where businesses choose to invest.
Globalization: "Richard Bistrong: My friend, the agent, blackmailed me" [FCPA Blog]. A cautionary tale, and a grooming process. One is reminded of how — back in the day, naturally — the price of an investment from a pension fund was a steak dinner.
Fodder for the Bulls: "The International Monetary Fund (IMF) has bumped up its estimate for global gross domestic product (GDP) growth in 2018 and 2019" [247 Wall Street]. The forecast did come with several warnings. The IMF's warnings rely primarily on whether 'we' can set in place policies to 'counter' the next downturn. Since recessions are a normal, although periodic, part of the world's economic cycle, any effort along those lines will be less than entirely successful." I like that "we" in quotes. I thought I was the only one….
Honey for the Bears: "Economic Policy Uncertainty on the Rise" [Econbrowser]. See the post for implications. Handy chart: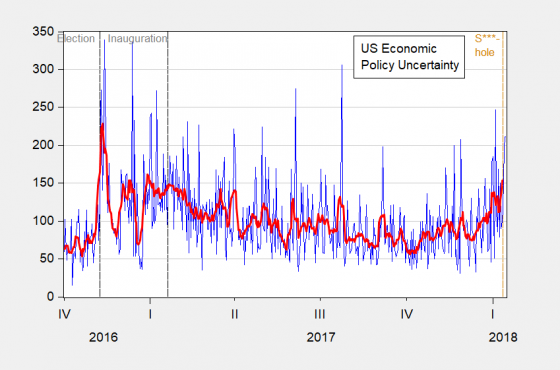 Five Horsemen: "Amazon blows the top off the chart again, as Microsoft and Alphabet chase it in second and third place" [Hat Tip, Jim Haygood].
Today's Fear & Greed Index: 78 Extreme Greed (previous close: 79, Extreme Greed) [CNN]. One week ago: 66 (Extreme Greed). (0 is Extreme Fear; 100 is Extreme Greed. Last updated Jan 23 at 11:50am.
Health Care
"Making Medicaid a Tool for Moral Education May Let Some Die" [Eduardo Porter, New York Times]."[Kentucky's Medicaid] initiative is, of course, not about saving the state money by pushing poor people off the insurance rolls. It is providing moral education. In the words of Gov. Matt Bevin, the HEALTH plan will free Kentuckians from the "dead-end entitlement trap" and give them "a path forward and upward" so they can fend for themselves." As do means-testing and eligibility requirements, much beloved of liberal Democrats. The way to avoid creating second-class citizens and letting them die is universal concrete material benefits. Since he doesn't support them, Porter is shedding crococile tears.
MMT
A moment of sanity from Paul Krugman?
Meanwhile, what backstops a cryptocurrency's value? Paper money is ultimately backed by governments that will take it in payment of taxes (and central banks that will reduce the monetary base in case of inflation) 8/

— Paul Krugman (@paulkrugman) January 21, 2018
Neoliberal Epidemics
"Deaths of despair redux: a response to Christopher Ruhm" (PDF) [Anne Case and Angus Deaton]. Important, but and an oddlly limited view of "economics."
Class Warfare
"The Advantages of Losing" [The Daily Yonder]. "They shared their pilgrimage story and I realized that not only had they been beaten up by the economy but also by their former big box mega-church. When the bottom fell out they made an appointment to meet with one of the church's many pastors. After listening to their story, the pastor paused and concluded that they had not had enough faith. The next Sunday in church, a sharp, young preacher whose coolness Pam had always admired proclaimed that amidst the economic crisis, prayer would sustain the faithful because God wanted his own to be WINNERS not losers. That was the moment. That was it. Pam said that she wasn't angry. She was done. She knew that they were big-time losers in the economic collapse, but she also knew that her material losses had stirred and awoken her faith in ways that she had never experienced. It was time for a change." By a Presbyterian pastor… .
"There Are 2 Vacant Investor-Owned Homes for Every Homeless Person in America" [GritPost]. "According to [ATTOM Data Solutions, which publishes comprehensive housing data], 76 percent of all vacant homes in America are owned by investors — amounting to approximately 1.1 million vacant residential investment properties. Many of these vacant homes are in economically distressed Rust Belt cities with high poverty rates, like Detroit, Michigan, neighboring Flint, and Youngstown, Ohio. The states with the highest investment property vacancy rate also have high poverty rates. Michigan leads the pack with 10.3 percent vacancy, Indiana at 9.8 percent, Alabama at 6.9 percent, and Mississippi at 6.6 percent."
"Unions reach $2.3m settlement on Bangladesh textile factory safety" [Guardian]. "The settlement was agreed after a two-year arbitration process under the legally binding Bangladesh Accord for Fire and Building Safety. The accord was set up in the wake of the fatal collapse of the Rana Plaza textile factory complex in 2013, which killed 1,135 people in what is considered the world's worst textile industrial disaster. Many of the world's largest brands, including Adidas, H&M, Marks & Spencer, Tesco, Top Shop and Uniqlo are signatories to the accord. There is no evidence that any of these brands is the company involved in the settlement. The brand, which cannot be named under the terms of the settlement, has agreed to pay $2m to fix issues at more than 150 garment factories in Bangladesh." Two million bucks? That's petty cash!
"The bloody clash that changed Britain" [Guardian]. The Peterloo massacre. "If later estimates that 60,000 people gathered at St Peter's Fields that day are correct, it means that practically half the population of Manchester and the surrounding towns (a crowd somewhat larger than that at Manchester City home matches today) had come to attend a meeting calling for parliamentary reform. Having the vote mattered, they believed; it would change everything and force politicians to listen to their views and needs – and respond…. The people were expecting speeches and a good day out. What they were not anticipating was violence, carried out by troops sent in to disperse them, so aggressively that 18 people would be killed and more than 650 injured in the bloodiest political clash in British history."
News of the Wired
Patient readers, hopefully I haven't messed up the markup today, and the Comments work!
My battery decided to charge!
The light on my WiFi hotspot isn't solid red, as in stopped!
* * *
Readers, feel free to contact me at lambert [UNDERSCORE] strether [DOT] corrente [AT] yahoo [DOT] com, with (a) links, and even better (b) sources I should curate regularly, (c) how to send me a check if you are allergic to PayPal, and (d) to find out how to send me images of plants. Vegetables are fine! Fungi are deemed to be honorary plants! If you want your handle to appear as a credit, please place it at the start of your mail in parentheses: (thus). Otherwise, I will anonymize by using your initials. See the previous Water Cooler (with plant) here. Today's plant (Diptherio):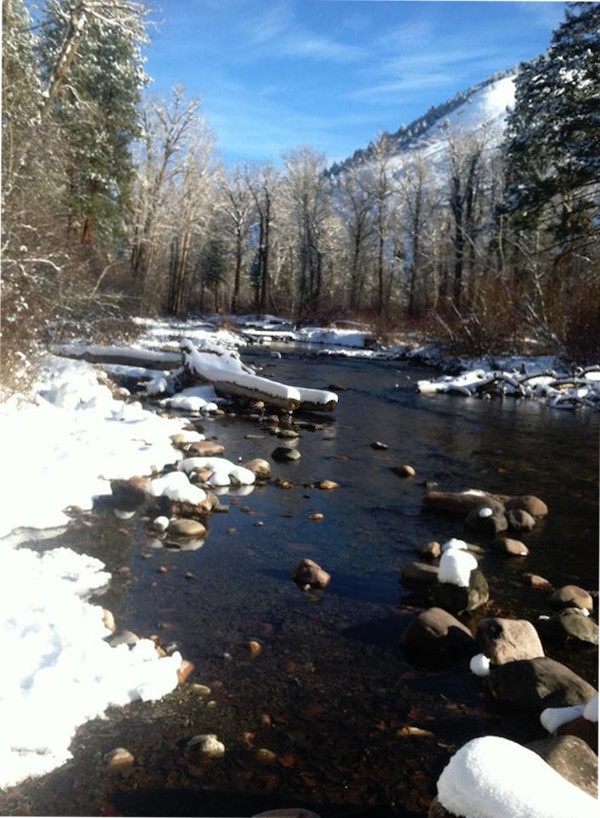 Rattlesnake Creek. It's nice to see ice breaking up. At least I hope it's breaking up.
Readers: Water Cooler is a standalone entity not covered by the NC fundraiser. So do feel free to use the dropdown and click the hat to make a contribution today or any day. Here is why: Regular positive feedback both makes me feel good and lets me know I'm on the right track with coverage. When I get no donations for five or ten days I get worried. More tangibly, a constant trickle of small donations helps me with expenses, and I factor that trickle in when setting fundraising goals. So if you see something you especially appreciate, do feel free to click the hat!