By Lambert Strether of Corrente.
Patient readers, I started today filled with good intentions, and then got a late start. I will add more material in a bit! –lambert UPDATE 2:52PM All done!
Trade
"China's got a trade problem that can't be solved by Belt and Road" [South China Morning Post]. "That's Belt and Road for you, a storm of hot air that sycophants emit as evidence of their eagerness to obey commands from Beijing, a reactive measure started only because the national authorities were annoyed that a multinational trade pact proposed by the United States would exclude China. Well, if you exclude us, we'll exclude you, they said. We'll do business with Uganda and the stans instead, so there. And all I can say for this is that it has wasted much less money than it has wasted breath so far and may yet be wound down before real money is lost." Looks like whichever, er, Mandarins decided that OBOR would be funded by loans instead of directly did Xi a favor…
UPDATE "The slate of recommendations Commerce Secretary Wilbur Ross gave President Donald Trump to impose restrictions on steel and aluminum imports reverberated around the world over the weekend, with U.S. allies and trading partners in Asia and elsewhere warning the administration against taking drastic action" [Politico].
UPDATE "EU prepares response to possible US tariffs" [Deutsche Welle]. "Should EU nations be affected by higher tariffs, the EU executive would 'come up with an adequate response within days,' [Frankfurter Allgemeine Zeitung] reported, adding that the focus would most likely be on agricultural produce including tomatoes and potatoes."
UPDATE "In a letter to U.S. Trade Representative Robert Lighthizer, the U.S. Food and Agriculture Dialogue for Trade urged him to re-engage in trade talks with other member-nations of TPP, which is driven by Japan, Australia, and Canada" [Farm Journal]. "At the World Economic Forum in Davos, Switzerland last month, Trump made the suggestion of re-entering TPP 'if it is in the interests of all.' Legislatures from Australia, Brunei, Canada, Chile, Japan, Malaysia, Mexico, New Zealand, Peru, Singapore and Vietnam still need to ratify the deal."
Politics
2018
"How Much Will Redrawn Pa. Map Affect the Midterms?" [RealClearPolitics]. "The Supreme Court of Pennsylvania recently revealed its newly drawn maps for the commonwealth… The bottom line is this: The court acted largely within the confines of its initial order, which demanded compactness, contiguity and minimal jurisdictional splits. Within those confines, however, it repeatedly made choices that increased the Democrats' odds of winning districts…. In an election where Democrats win all of the districts that lean Republican by three points or more – which is roughly the environment they need to win the House, this map only nets them one seat over what they would expect to win under the current map." In other words, a wave would be sufficient to overcome any gerrymandering in the first place.

UPDATE "The New Pennsylvania House Districts Are In. We Review the Mapmakers' Choices." [New York Times]. "Democrats couldn't have asked for much more from the new map. It's arguably even better for them than the maps they proposed themselves. Over all, a half-dozen competitive Republican-held congressional districts move to the left, endangering several incumbent Republicans, one of whom may now be all but doomed to defeat, and improving Democratic standing in two open races. Based on recent election results, the new congressional map comes very close to achieving partisan balance." Of course, the Times doesn't mean "move to the left." The Times means "move toward Democrats."

UPDATE "Pennsylvania's new congressional district lines are not a game-changer" [Harry Enten, CNN]. "While the new map gives Democrats a better chance of taking back the House in 2018, it doesn't change the odds greatly You can do different types of fancy calculations, but Democrats are now probably favored in two seats that were at best toss-ups for them before: the new PA-5 and PA-6. Clinton would have won these districts by around 28 percentage points and 9 percentage points respectively under the new lines. Under the old lines, these were seats were carried by Clinton, but by just 2 percentage points or less. A shift of two seats isn't small, though it's not exactly that large in the grand scheme. Democrats need a net gain of 24 seats to win the House in November."

* * *

UPDATE "House Democrats Just Had Their Best Ever January Fundraising Haul" [HuffPo]. "The Democratic Congressional Campaign Committee announced Tuesday that it had raised $9.3 million last month, the largest ever January haul for the campaign arm of House Democrats. Of that total, the DCCC raised $3.4 million online in average donations of $18, a figure that points to enthusiasm among grassroots activists in addition to well-heeled donors."

UPDATE "Republicans control 32 state legislatures heading into the November 2018 midterms. Over the eight years of the Obama presidency, Republicans picked up 948 seats in state legislatures" [BallotPedia]. "Takeaways: In Illinois, Kentucky, Texas, and West Virginia, where candidate lists are now final, the number of Republican candidates running has increased 7.3 percent. The number of incumbents retiring has increased 50 percent. The number of Republican incumbents facing challenges has increased 7.1 percent and the number of Republican primaries has increased 9.7 percent." That's rather a lot of retirements.

UPDATE "San Francisco voters will settle what local media describes as a contest between progressive and moderate factions for control of the Board of Supervisors" [BallotPedia]. "Each faction currently controls five of the board's 11 seats. District 2 supervisor Catherine Stefani, sometimes identified as a moderate, maintains ties with both sides."

"Republicans Are Coming Home To Trump" [FiveThirtyEight]. "It's not totally clear why Trump is getting a boost among Republicans. Perhaps positive economic news has brought some wary GOP voters home. Perhaps Republican partisans are happy that Trump and the GOP-controlled Congress passed some major legislation. But that increased support is showing up in Trump's overall approval rating. It was stuck in the high 30s for a lot of last year but is now in the low 40s.

UPDATE "Trump endorses Romney's Senate bid _ and Romney accepts" [AP]. "Within minutes of Trump's tweet Monday night, Romney sent one of his own: 'Thank you Mr. President for the support. I hope that over the course of the campaign I also earn the support and endorsement of the people of Utah.'" Mental flexibility. I like that in a politician.

UPDATE "Poll: Most Americans now support GOP tax law" [Axios]. The effects of the tax cut were always going to show up in people's paychecks immediately. So, in retrospect, liberal Democrat yammering about the sky falling later might not have been the smartest tactic. Of course, the "issue" appears in a different light when you understand that Federal taxes don't pay for Federal spending, but liberal Democrats are deeply wedded to the false narrative that they do.
Gunz
Creative tactics, always a sign of health in a movement:

Students are staging a "lie-in" protest in front of the White House to call for stronger gun control in the wake of the deadly Florida school shooting. pic.twitter.com/ja5dLPxU8x

— AJ+ (@ajplus) February 19, 2018
New Cold War
Holy moley. Obama's law professor:

This @MaxBoot op-ed is a MUST READ. He nails it with his unnerving comparison of Russia's war on our democracy with the 9/11 attack on the Twin Towers. Imagine if Bush 43 had done NOTHING to punish al Qaeda but had embraced Osama bin Laden. . . https://t.co/kKiFOLNrg6

— Laurence Tribe (@tribelaw) February 20, 2018

A phrase I've noticed liberal Democrats like Tribe using a lot recently is "our Democracy." That bothered me when I considered, say, superdelegates, or the general election rigging by the Democratic nomenklatura in 2016. But then I figured out that liberal Democrats meant the phrase quite literally. They mean " democracy," as in the Iron Law of Institutions. So now it doesn't bother me so much.

UPDATE Where do I sign up for the Russian front?

Yes, Trump should respond to the Russia revelations W. style:
– Create Dept. of Memeland Security
– Send suspected Facebook trolls to black sites for enhanced interrogation
– Invade, I dunno, Kazakhstan?

— bitteranagram (@bitteranagram) February 20, 2018



Realignment and Legitimacy
"US veterans answer political call to arms in era of Trump" [Financial Times]. "[Dan Ward] is battling three other Democrats to challenge Dave Brat, a congressman who spectacularly ousted Eric Cantor, then House majority leader, in the Republican primary four years ago in their central Virginian congressional district. 'It's going to take a background like mine to win,' he says about the conservative area. 'I grew up in the country, I'm a veteran, and I'm a small farm owner. That gives me the ability to talk to the 20 per cent of Republicans who don't support Trump.'" What bullshit. Bernie Sanders doesn't have Ward's background at all, and he does just fine talking to electorates like Ward's based on policy. Readers, am I right in my recollection that the DNC discourages candidates' "On the Issues" pages? Google doesn't come up with anything, but…

It's good to have some veterans of 2003 around:

1. This is a tweetstorm on the difference between the anti-Bush and anti-Trump political opposition and why I'm confused right now. Bush, unlike Trump, was very popular for his first five years.

— Matt Stoller (@matthewstoller) February 7, 2018

My hot take is that liberal Democrat tactics are the same now as they were in 2003; basically, calling their opponents stupid and/or evil and ladeling on the snark. What I would label the left critique — liberal and left were not so clearly distinguished then as now — was a Constitutional one centering on Bush's abuses of President power, in particular his theory of the unitary executive. Pelosi took that critique out in 2006 by taking impeachment off the table, and Obama signalled he would normalize everything Bush did by voting for retroactive immunity for the telcos who assisted Bush's felonious warrantless surveillance program, in July 2008. What's different this time is the open alliance of factions in the intelligence community with the Democrats, and the merger of both with factions in the press.

"How Democrats use dark money — and win elections" [NBC News]. "Alabama's special U.S. Senate election in December is a case study in the lengths national Democrats, who this year are racing to win back Congress from Republicans, are willing to go to hide their cash in the name of political expediency… Senate Majority PAC's biggest donations come from a handful of active billionaires: Newsweb Corp.'s Fred Eychaner with $2 million, Paloma Partners' Donald Sussman with $1.5 million and billionaire businessman George Soros with $1 million. The super PAC's donor list also includes pages and pages of comparatively small donations, and it boasts of how unambiguous its operations are."

UPDATE "Amazon's Jeff Bezos Can't Beat Washington, So He's Joining It: The Influence Game" [Bloomberg]. "Amazon has fought for favorable rules regarding online sales taxes since 2000. But its rise as a Washington powerhouse really began amid a flurry of activity in 2013. That fall, Bezos acquired the Washington Post for $250 million from its longtime owners, the Graham family, and two months later, unveiled Prime Air, a nascent project to speed deliveries using drones. At the time, the Federal Aviation Administration required unmanned aircraft to be flown within the line of sight of operators. Amazon argued the rules were designed for hobbyists, not commercial operators."
Stats Watch
No official statistics today.
UPDATE Chemical Activity Barometer: "Industrial Activity Signals Further Gains in U.S. Economy; Pullback in Equity Markets Betrays Strong Fundamentals" [American Chemistry Council]. "Applying the CAB back to 1912, it has been shown to provide a lead of two to fourteen months, with an average lead of eight months at cycle peaks as determined by the National Bureau of Economic Research. The median lead was also eight months. At business cycle troughs, the CAB leads by one to seven months, with an average lead of four months. The median lead was three months." And: "The year-over-year increase in the CAB has been solid over the last year, suggesting further gains in industrial production in 2018" [Calculated Risk].
UPDATE Retail: "Hasbro Inc., Mattel Inc. and other companies are rushing to collapse production times and gets to market with uncommon speed as they try to keep up with the rapid rise and fall of trends driven by social media. [T]he big companies are acting as the $27 billion U.S. toy industry copes with a slowdown that comes along with steep and potentially long-lasting changes. The overall business grew only 1% last year, and there's like slime-making kits rather than big-budget marketing campaigns behind big brands like 'Star Wars.' That means jumping on trends in weeks, and moving faster and more nimbly. That may demand big changes in the industry's supply-chain fundamentals, and may call into question the long cycles built around manufacturing in Asia and shipping across the Pacific" [Wall Street Journal].
UPDATE Shipping: "The surge in goods flowing into the U.S. doesn't appear to be slowing down in the new year. Imports at the nation's seaports in January kept up the strong pace that began midway through last year" [Wall Street Journal]. "Trade analysts Panjiva set overall U.S. import growth at 7.7% in January, a signal that international shipments remain a major force filling domestic road and rail distribution networks. Trucking measures show highway shipments remain at elevated levels for the first quarter and intermodal volume on railroads is also strong. The 10% gain in imports at Georgia's Port of Savannah suggests more goods are on the way. The port is a major gateway to Southeastern U.S. manufacturing sites, where factories appear in position to boost output to match the growing economic demand."
UPDATE "[V]isibility into real-time information on an industrial scale is a growing focus in the supply-chain technology world as companies try to bridge a gap between broad enterprise planning and the nuts-and-bolts of implementation. Walmart Inc. recently highlighted the issue when it put new demands on suppliers for more precise delivery of goods" [Wall Street Journal].
The Bezzle: "What's Behind One of the Biggest Financial Scams in History" [Wharton School]. "It was staggering seeing just the kind of depths of depravity that some of these bankers and traders demonstrated." Must-read. Note that the LIBOR was revealed in 2012, long-forgotten ancient history at this point (although this lowly humanities major had spotted LIBOR's potential for fraud in 2008).
Banks: "Does More "Skin in the Game" Mitigate Bank Risk-Taking?" [Liberty Street]. "[B]y comparing national (double liability) banks to banks in a state with limited liability, such as Missouri, we can better isolate the effect of liability on risk‑taking while holding economic conditions more or less constant…. Overall, however, it's not clear whether the extra skin in the game for double liability banks made them safer—they were more liquid than state member banks but also slightly more levered. We emphasize, however, that this interpretation is tentative; we are currently collecting data for a more detailed, rigorous analysis across multiple states."
UPDATE Tech:
Wow. Facebook eroding much faster than anyone expected. Pivotal's analysis of Nielsen data shows core app dropped 11% in time spent per person in November. Without Instagram/WhatsApp, a complete cliff dive in share of time. pic.twitter.com/tEd5UclZ3p

— Jason Kint (@jason_kint) February 20, 2018
Concentration: "The Case Against Google" [New York Times Magazine]. "Once [Moeran and Raff's product search site] Foundem.com was available to everyone, the company's honeymoon lasted precisely two days. During its first 48 hours, the Raffs saw a rush of traffic from users typing product queries into Google and other search engines. But then, suddenly, the traffic stopped. Alarmed, Adam and Shivaun began running diagnostics. They quickly discovered that their site, which until then had been appearing near the top of search results, was now languishing on Google, mired 12 or 15 or 64 or 170 pages down." Odd!
The Fed: "Is the U.S. Due for a Recession?" [Federal Reserve Bank of St Louis]. "So far, the current economic expansion is the third-longest in the U.S. since World War II. The concept of positive duration dependence does suggest that the U.S. economy has become more likely to contract soon, but it's not a guarantee. It is entirely possible that the U.S. economy will continue to expand for the foreseeable future." Truman: "Give me a one-handed economist!"
Five Horsemen: "Amazon up, Walmart down — it's as basic as four legs good, two legs bad" [Hat Tip, Jim Haygood].
Rapture Index: Closes unchanged [Rapture Ready]. Record High, October 10, 2016: 189. Current: 186.
Today's Fear & Greed Index: 18 Extreme Fear (previous close: 15, Extreme Fear) [CNN]. One week ago: 10 (Extreme Fear). (0 is Extreme Fear; 100 is Extreme Greed. Last updated Feb 15 at 7:00pm. Holy moley, lagged by five days.
Our Famously Free Press
"With its latest series The Upside, the Guardian will focus on solutions journalism in five key areas" [Journalism]. "The Upside will focus on finding innovative but replicable approaches around the world, [Guardian special projects editor Mark Rice-Oxley] added, so that an interesting project or idea can be picked up by councils, organisations or entrepreneurs who can try and put it into practice in their local area."
"Billionaires gone wild" [Columbia Journalism Review]. "The ones who are doing a pure influence play—and have enough money stockpiled to afford not to care if it works as a business—have the advantage over everyone else. The fact that Gawker had the readership and revenue to sustain itself didn't, in the end, make a whit of difference to the people who made the decision to kill it off, just as the Gothamist network's modest profitability made no difference to Ricketts—and just as, in another sense, the financial viability of Breitbart News means little to billionaire backer Rebekah Mercer, nor that of The Federalist to whichever wealthy interests are secretly bankrolling that conservative publication. In this world it makes more sense, from the billionaire's perspective, to fund Breitbart than own DNAinfo. Both will probably lose money, but one of them might help get a president elected."
Neoliberal Epidemics
A very good thread that starts with Parkland, and branches out:
You know how folks still struggle with defining neoliberalism? Consider, for a moment, our response to Parkland, and to school shootings in general.

— Patrick Blanchfield (@PatBlanchfield) February 17, 2018
The conclusion:
And I can't imagine a more nutshell example of neoliberalism than this: demanding a nation's citizens – training our children – to throw themselves like human sandbags against a problem that shouldn't exist in the first place, but that does, because of profit. /end

— Patrick Blanchfield (@PatBlanchfield) February 17, 2018
Well, that's a fine exposition of Rules #1 and #2 of Neoliberalism, though I hadn't thought of applying them in this context.
Imperial Collapse Watch
"The Americans and their terrible, horrible, no good, very bad Games" [Globe and Mail]. "Now it feels like nothing could be harder than to represent the U.S.A. – a country that no longer understands what it's supposed to be on the international stage, or how it should act while out in public. Russia may have been reduced to a winless and smouldering resentment at these Olympics. But it plays better than American cringing." Being slapped around by Canadians may be a new experience for us…
Class Warfare
"How Dental Inequality Hurts Americans" [New York Times]. Bad teeth are one of the most brutal class markers of all.
UPDATE "This is the real reason many Americans stay poor" [MarketWatch]. "In reality, however, the Prosperity Now report said, 'the dominant narrative about low-wealth people is nothing but a series of myths.' Poor choices, the analysts there say, aren't why people are poor…. Low-wage jobs are a chief reason so many low-income Americans have trouble making ends meet these days, according to [Kasey Wiedrich, director of applied research at Prosperity Now]." Seems unexceptionable to me, but it's interesting to see in a publication titled "Market Watch." Then again, no demand, no market…
News of the Wired
"The Beauty of the COBOL Programming Language" [DevOps.com] "The more I learn about COBOL, the more I like it. The language continues to evolve to meet the needs of our fast-changing times, with revisions as recent as 2014. Since its inception there have been a dozen enhancements to COBOL including a continuing stream of formal standards." And what's really beautiful about COBOL is that you can still bill for it! Maybe I should go back to school….
"How the Porn Industry Evolves With the Internet" [RealClearLife]. Porn adapts to and exploits every new medium, often driving the medium's development. So, if — and I have no data on this, personal or otherwise — we don't see porn in holograms, virtual reality, or augmented reality, that's a good indication those media aren't going anywhere.
UPDATE "'The ebook is a stupid product: no creativity, no enhancement,' says the Hachette Group CEO" [Scroll.in]. Arnaud Nourry: "In the US and UK, the ebook market is about 20% of the total book market, everywhere else it is 5%-7% because in these places the prices never went down to such a level that the ebook market would get significant traction. I think the plateau, or rather slight decline, that we're seeing in the US and UK is not going to reverse. It's the limit of the ebook format. The ebook is a stupid product. It is exactly the same as print, except it's electronic. There is no creativity, no enhancement, no real digital experience. We, as publishers, have not done a great job going digital. We've tried. We've tried enhanced or enriched ebooks – didn't work. We've tried apps, websites with our content – we have one or two successes among a hundred failures. I'm talking about the entire industry. We've not done very well. I'm convinced there is something we can invent using our content and digital properties beyond ebooks but I reached the conclusion that we don't really have the skills and talents in our companies because publishers and editors are accustomed to picking a manuscript and creating a design on a flat page. They don't really know the full potential of 3-D and digital." But we already do 3-D and digital in video games, movies, and the teebee. Idea: Write and edit better books? Books are about reading. 3-D and "digital" are not.
* * *
Readers, feel free to contact me at lambert [UNDERSCORE] strether [DOT] corrente [AT] yahoo [DOT] com, with (a) links, and even better (b) sources I should curate regularly, (c) how to send me a check if you are allergic to PayPal, and (d) to find out how to send me images of plants. Vegetables are fine! Fungi are deemed to be honorary plants! If you want your handle to appear as a credit, please place it at the start of your mail in parentheses: (thus). Otherwise, I will anonymize by using your initials. See the previous Water Cooler (with plant) here. Today's plant (DK):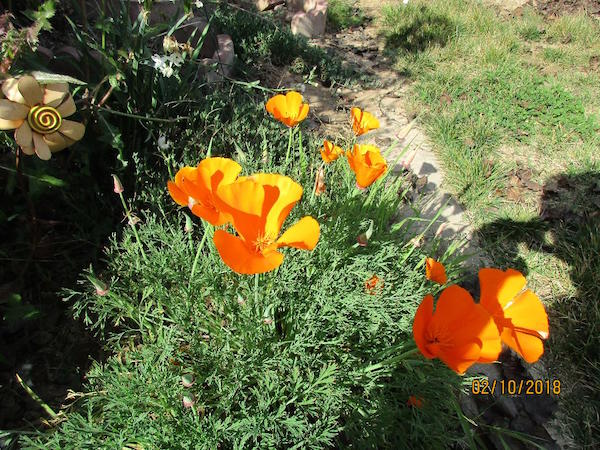 DK writes: "I intend to get rid of the front lawn and replace with succulents and poppies. Poppies are remarkably easy to grow and carefree – I'm always amazed I don't see more of them." Attaboy!
* * *
Readers: Water Cooler is a standalone entity not covered by the NC fundraiser. So do feel free to use the dropdown and click the hat to make a contribution today or any day. Here is why: Regular positive feedback both makes me feel good and lets me know I'm on the right track with coverage. When I get no donations for five or ten days I get worried. More tangibly, a constant trickle of small donations helps me with expenses, and I factor that trickle in when setting fundraising goals. So if you see something you especially appreciate, do feel free to click the hat!