Economists have not been as vocal in the climate change debate as one might expect. That seems surprising given their eagerness to weigh in on topics like marital relations, which was once seen as outside their purview. Whether the world needs to curb growth in order to mitigate climate change would seem to be a centrally important issue for economists to consider, yet it has gotten at best passing interest. As we'll discuss today, a 2016 paper by Servaas Storm and Goher-Ur-Rehman Mir, which has not gotten the attention it warrants, suggests that complacency is ill-advised.
Both the Intergovernmental Panel on Climate Change and the Conference of Parties to the United Nations Framework Convention on Climate Change in Paris, commonly referred to as the Paris Agreement, focused on national targets that are ambitious: that of reducing carbon emissions by 50% by 2050. Many advanced economies have been patting themselves on the back for moderating their carbon emissions and relying more on "green" energy sources. However, these countries consider themselves to be responsible only for the carbon they produce, not the carbon they consume. As Storm and Mir explain, that difference is crucial.
As we'll discuss, economists' faith in a model that has only weak empirical support (the Carbon Kuznets Curve), the choice not to hold countries responsible for trade in setting their emissions targets, and the reluctance of policymakers to admit that fighting climate change probably means accepting lower growth, have all supported making only modest responses to the threat of climate change even as temperatures are coming in at or just off record highs. The data in recent years are in line with the grimmer end of the range of climate change forecasts. And it's hard not to notice the freakishly warm weather: I was just in Alabama, where it hit an unheard of 80 degrees in February, and the flowering trees are in bloom more than a month early.
When debate about climate change started to get serious, as a result of the release of the first set of reports from the International Panel on Climate Change in 2007, the fact that the devastating effects didn't appear to kick in until late in the 21st century bizarrely allowed economists to ignore them.
As most readers know, financial economics is based on net present value models, where you take future benefits or costs and discount them back to the present by an assumed interest rate. Anyone who has run financial models will tell you that results beyond 30 years (in more normal interest rate environments, more like 15 years) have pretty much no impact.
Nicolas Stern, who wrote the Stern Review, argued for urgent action on climate change, had to assume a discount rate of 0.5% in order to make the damage done by climate change roughly 100 years out to matter in economic terms. The use of what was deemed at the time to be a ridiculously low discount rate allowed many to dismiss Stern as having had to cook the numbers in a big way to make his case for Doing Something Now. Mind you, Stern was not calling for hairshirt remedies. He estimated that the investment needed to lower the amount of carbon emissions as 1% of global GDP per annum, but action needed to be taken soon, particularly regarding investments made by power generation players.
I don't recall anyone pointing out subsequently that the move in the decade following to super-low interest rates, and for one quarter of the advanced economies, negative policy rates, made Stern's discount rate seem not crazy, particularly since the early years in any financial model have disproportionate impact on results. Separately, the bigger issue is that the use of a NPV model was wrongheaded. That presupposes that climate change should be treated in "return on investment" terms: we spend now, in terms of incurring costs to lower our carbon footprint, in order to have the payoff later of less climate change-related damage.
But in fact the more appropriate model is insurance: we would be paying now to ward off bad outcomes in the future. Insurance is always priced at more than it is "worth" in NPV terms, because the cost of the bad outcomes (the over $1 million bills for cancer treatments, replacing your house and everything in it) is catastrophic, and it therefore makes sense to overpay. Even though the odds statistically may seem low, you cannot afford to be in that position.
And that's before you get to the fact that the odds of bad climate change outcomes are way more likely than having your house burn down.
Economists based their hope of not having to give up much in growth in order to address climate change on an idea they call decoupling, which is that it is possible to generate more growth while using less energy and/or cleaner sources of energy. Economists had even posited that this sort of thing would happen on its own as countries became more prosperous. The Carbon-Kunzets-Curve hypothesis contends that as countries industrialize, they generate more greenhouse gasses per capita, but eventually hit a threshold level of income where citizens start demanding cleaner output. Think of how smog in Los Angeles in the 1960s helped propel the adoption of the Clean Air Act and its considerable expansion in 1970.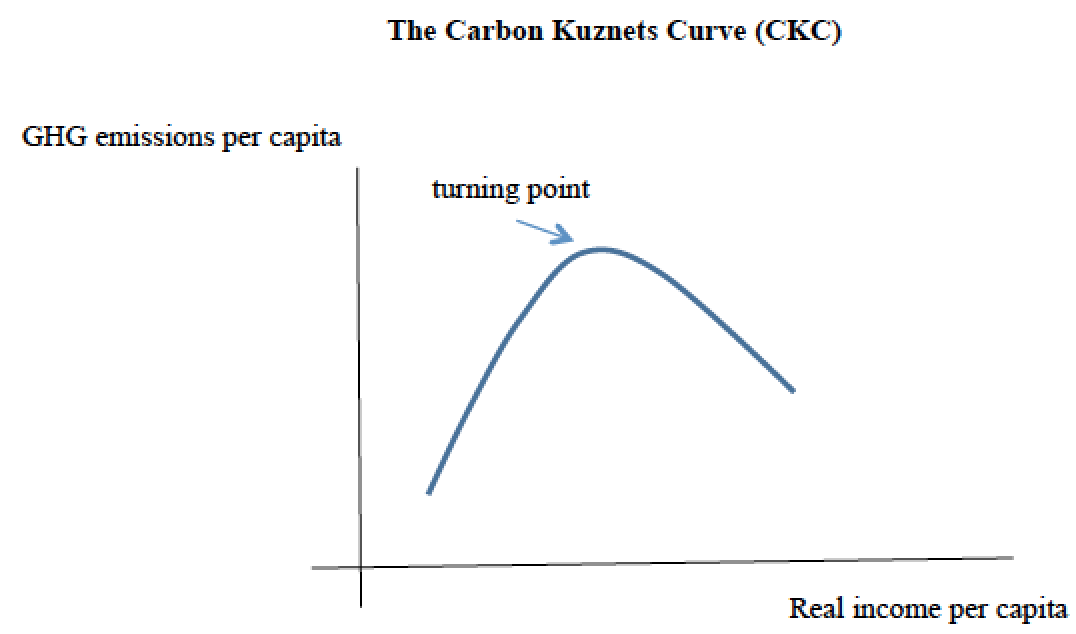 Storm and Mir used the CKC hypothesis as the focus of their inquiry, but I suspect most readers will find their findings on what they call production based versus consumption based greenhouse gas measures much more important.
Storm and Mir start by noting that the empirical evidence for CKC isn't overwhelming:
It is fair to conclude, finally, that there is no unambiguous and robust evidence in support of the CKC—notwithstanding the fact that eleven out of 20 studies report findings (partly) in support of the CKC.
Their study focuses on the fact that the way greenhouse gas emissions are measured on a national level, both for the purpose of agreements like the Kyoto and Paris accords, as well as in past CKC studies, is to look at production based emissions.
That means these measures omit the carbon these countries consume via importing. In effect, advanced economies1 have outsourced their greenhouse gas emissions, just as they have often outsourced pollution-heavy types of manufacturing to emerging economies. On top of that, trade, and in particular the sort of extended supply chains that have become a staple of modern commerce, are an additional source of carbon emissions that aren't captured in these national computations.
The authors used a comprehensive source, the World Input Output database, which includes carbon output from international air travel, fishing ships and even marine bunkers. They looked at 1995 to 2008; the collapse in trade and growth right after the crisis and the widely differing emergency responses made it hard to interpret the data reliably in those years.
Not surprisingly, Storm and Mir found that by leaving out trade, national governments were airbrushing out a big part of the climate change picture. Trade accounted for 26% of global CO2 emissions in 2008. Net carbon imports have also been rising strongly relative to domestic production of carbon: doubling from 11% to 22% in the EU-27 from 1995 to 2007, and in the US, rising from 6% to 16.3% over the same period. In other words, these economies were outsourcing more of their greenhouse gas generation over time.
Here is where the econowonkery gets interesting. Using production-based data, Storm and Mir find support for the Carbon Kuznets Curve, as you can see from the left-hand plot below. The paper describes how they had tested several models and settled on one, and using it, determined that the threshold level of income at which greenhouse gas emissions begin to decouple from growth is at a per capita income level of roughly $36,000.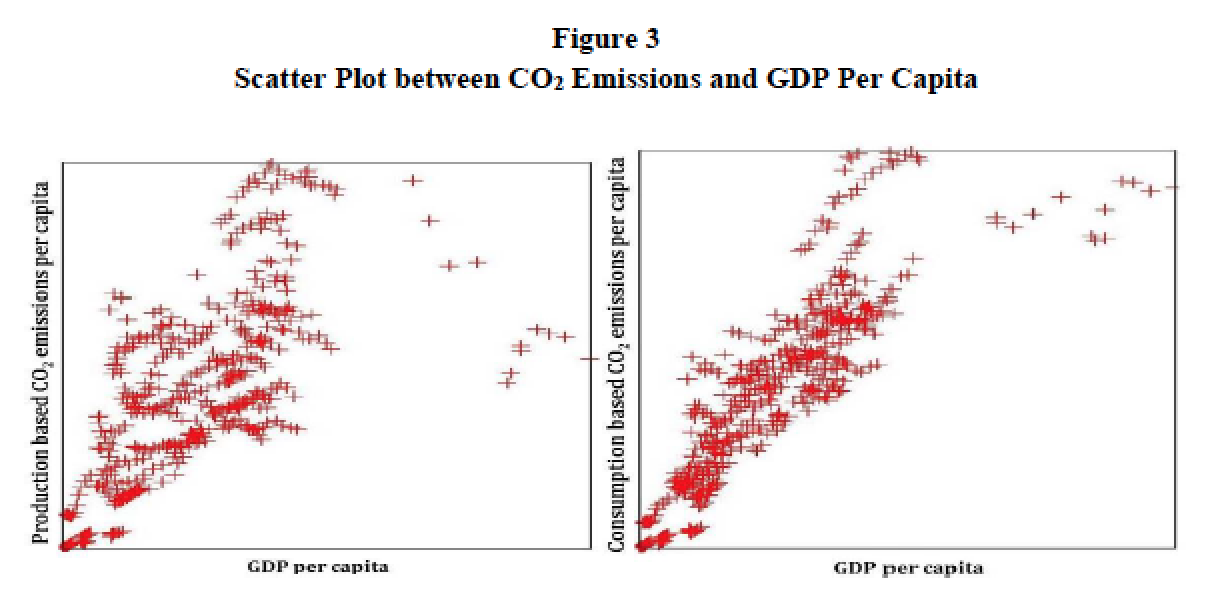 However, the right-hand chart, which is based on consumption-based carbon output v. per capita income, presents a much less cheery picture. It shows what looks an awful lot like a linear relationship: more income leads to more carbon consumption. As the authors drily note:
We cannot therefore reject the hypothesis that there is a monotonically increasing relationship between per capita income and per person consumption-based carbon emissions.
They then try plugging the data into the model they had used to determine the inflection point for the production-based carbon emissions. The result isn't much more reassuring. It shows that there is a tipping point, but at such a high level of income so as to be useless in terms of climate change mitigation:
When we calculate the threshold level of per capita income (using equation (2)), we obtain a high level of real income per person of $113,709. This level of income is outside the per capita income range of the whole sample (as maximum GDP per capita in the sample is $96,246; see Table 3).
The implications are grim:
Our CO2 emissions data include emissions embodied in international trade and along internationally fragmented commodity chains—and hence represent the most comprehensive accounting of both production- and consumption-based GHG emissions to date. While there is econometric evidence in support of a CKC pattern for production-based CO2 emissions, the estimated percapita income turning point implies a level of annual global GHG emissions of 70.3GtCO2e, which is 40% higher than the 2012 level and not compatible with the COP21 [Paris Accord] emissions reduction pathway consistent with keeping global warming below 2oC. The production-based inverted Ushaped CKC is, in other words, not a relevant framework for climate change mitigation. In addition, we do not find any support for a decoupling between living standards and per capita consumption levels on the one hand and GHG emissions per person on the other hand….The generally used production-based GHG emissions data ignore the highly fragmented nature of global production chains (and networks) and are unable to reveal the ultimate driver of increasing CO2 emissions: consumption growth (or "affluenza") in the rich economies. What appears (at first sight) to be the result of structural change in the economy is in reality just a relocation of carbon-intensive production to other regions—or carbon
leakage….

These results should be sobering as they strongly indicate that there is no such thing as an automatic decoupling between economic growth and GHG emissions. It means we have to give up on the notion of the CKC (see also Storm 2009; Lohmann 2009). To keep warming below 2oC de-carbonization has to be drastic and it has to be organized by deliberate (policy) interventions and conscious change in consumption and production patterns…. The rich Annex-I countries which are in the forefront of technological innovation, are in the position to take the lead and also encourage the developing non-Annex-I countries to participate by investing heavily in the development of new energy technologies that are clean, efficient, and are also affordable for the developing countries. Without such change, the business-as-usual scenario looks bleak, as GHG emissions will continue to increase with economic growth and world population growth (Figure 5) and there is hardly any time or global carbon budget left. Recent projections, based on new modeling using long-term average projections of economic growth, population growth and energy use per person, by Wagner, Ross, Foster and Hankamer (2016), point to a 2oC rise in global mean temperatures already by 2030. Their results suggest that we may be much closer than we realized to breaching the 2oC limit and have already used up all of our room for maneuver (see Pfeiffer et al. 2016 for a similar warning). This carries considerable risk, as warming becomes self-reinforcing and dangerous beyond the 2oC limit, and it is the precise outcome COP21 wishes to avoid—but quite in line with our findings.
The truly disconcerting bit about reading this analysis is that this sort of comprehensive look should have been the basis for policy formulation. Instead, the officialdom has adopted the unduly flattering metrics of national production, which has the convenient effect of leaving trade-related carbon emissions out of the picture entirely. Yet if you've had even casual contact with data about transportation, you know that shipping is hugely costly in carbon emission terms. Only now have efforts begun to address the big carbon footprint of container ships. Cruise ships, which are even more wasteful than travel by air, have been under pressure longer to get greener, but even there, the successes seem to be limited to routes where the operators can be brought to heel, like Alaska and the US West Coast.
In addition, the national production frame pits advanced economies, that have already achieved high income levels, against emerging economies, who argue that they have a right to pollute to get richer. Shifting to a consumption framework would put the onus on rich country denizens to cut back on purchases from developing countries in general, and in particular of goods with a lot of embedded carbon. That focus would in turn put pressure on the developing countries to adopt cleaner energy sources and production methods.
Sadly, the fact that information as basic as is contained in this paper came to light only in 2016 and has not gotten the play it deserves indicates that the policy die is already cast. Or to switch to a more apt metaphor, our collective goose is already cooked.
_____
1 Canada is an exception and is a greenhouse gas exporter.
WP_41_Storm_and_Mir_1