The world's most extreme dog sled patrol BBC (furzy). Great photos.
Chernobyl's abandoned dogs create their own exclusion zone community Inhabitat (resilc)
It's time to put our roads on a low salt diet TreeHugger (resilc)
Melting Permafrost Could Release Massive Amounts of Dangerous Mercury, Study Says Weather.com (Kevin W)
Google's move to bring Nest back into the fold is a sign it's taking the huge threat from Amazon seriously Business Insider (Kevin W)
Why Elon Musk's SpaceX launch is utterly depressing Guardian (EM)
Tesla Averts Cash Crunch as Musk Mystique Makes Up for Late Cars Bloomberg
SELF-DRIVING CARS USE CRAZY AMOUNTS OF POWER, AND IT'S BECOMING A PROBLEM Wired (David L)
Get Ready for Most Cryptocurrencies to Hit Zero, Goldman Says Bloomberg
Food may influence cancer spread BBC (David L)
A New Push for Play-Based Learning: Why Districts Say It's Leading to More Engaged Students, Collaborative Classmates … and Better Grades The 74 (Chuck L)
FDA Releases Kratom Death Data, Undermines Its Own Claims About Drug's Deadly Harms Huffington Post. Oregoncharles: "Huffpo is deeply unimpressed. Moi: it would be nice if the FDA wasn't openly corrupt." Moi: Hardly the first case. GHB was another. It was a fundamental threat to prescription sleeping pills, since it produced a higher quality sleep and was out of your system in 4 hours. No side effects. So Big Pharma started a bogus "date rape drug" scare, and now it's a Schedule 1 drug.
The Brief – Anger grows towards the European Man Bank Euractiv
German conservatives smart at coalition concessions Financial Times
Ireland on a path to being the 4th country in the world to ban fossil fuel exploration The Journal (PlutoniumKun)
Brexit
Leave-voting areas to be hit hardest by Brexit Financial Times
Potters Bar, Ukraine's stolen billions and the Eurovision connection BBC. Our Richard Smith is now officially an "illicit finance expert"!
Westminster scandal: Report shows one in five people in Parliament have experienced sexual harassment Independent
Syraqistan
Imperial Collapse Watch
The US Navy Bought Its First Big Laser Cannon Motherboard (resilc)
Big Brother is Watching You Watch
Chinese police are using facial-recognition glasses to scan travelers Business Insider (David L)
Trade Traitors
Trade by the people, for the people Politico

The Trade Deficit Is Up Under Trump Public Citizen
Trump Transition. Weirdly quiet on this front…
The Memo: Nunes 'bombshell' fails to move debate The Hill

Donor Vessel Mike Pence Fights to Keep the Throne Warm Vanity Fair (resilc)
Senate leaders agree to two-year budget deal The Hill
Budget Deal Hits Turbulence in House From Pelosi, Conservatives Bloomberg
20 Years Of Congress's Budget Procrastination, In One Chart FiveThirtyEight (resilc)
The Reboot of the Elites The Baffler (resilc). A great rant.
Frank Rich: GOP Has Become the Anti-Law Enforcement Party New York Magazine. Resilc: "Never thought I'd see the FBI as Democratic party heros. Maybe when we get a Demo pres we can have an FBI parade."
Democrats and Republicans: United on Glorifying Authoritarian Systems Counterpunch
Trump wants to cap lifetime Medicaid benefits, even for disabled people, the chronically ill, and people with Alzheimer's Boing Boing. Resilc saw a shout-out to NC!
Seattle says Facebook is violating city campaign finance law Reuters. EM: "While this seems eminently sensible on the surface, note the Russia! Russia! backdrop."
There are Ajit Pai "Verizon puppet" jokes that the FCC doesn't want you to read ars technica (Chuck L)
Utility Sues Nuclear Energy Institute For Extortion OilPrice
Special Report: In Puerto Rico, a housing crisis U.S. storm aid won't solve Reuters (EM)
I Spent Two Years Trying to Fix the Gender Imbalance in My Stories Atlantic (Chuck L)
Police State Watch
Sheriff Caught Saying 'I Love This Shit' After Cops Shoot an Unarmed Man Splinter (Chuck L)

Citing U.S. Prison Conditions, British Appeals Court Refuses to Extradite Accused Hacker Lauri Love to the U.S. Glenn Greenwald, Intercept (Dr. Kevin). Wowsers.
Economic predictions with big data: The illusion of sparsity VoxEU
Class Warfare
No wages breakout in sight in US labour market Bill Mitchell
Zeno's Laughter Ecosophia (UserFriendly)
Antidote du jour. Tracie H: "Oh look! An Abyssinian disguised as a rabbit! I wonder if the bottoms of her feet are black. ? (Cottontail Rabbit in Rancho Palos Verdes, California.)"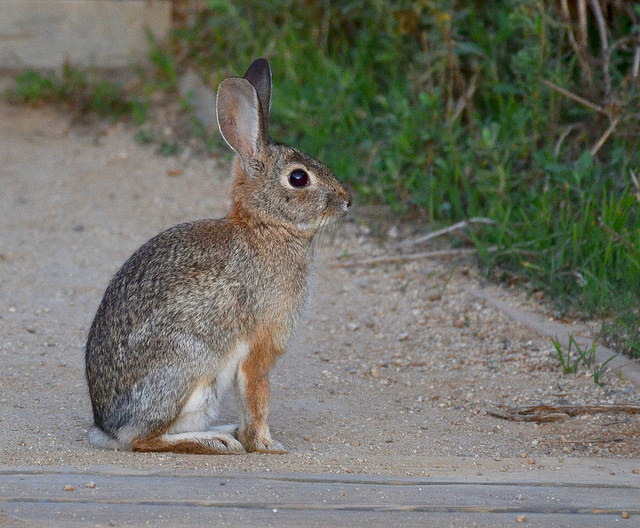 See yesterday's Links and Antidote du Jour here.