Messy Hawk Love Affair Plunges NYC Park Into Absolute 'Chaos' The Cut (Chuck L)
USS Lexington, first aircraft carrier sunk in WWII, found near Australia Stars & Stripes (Kevin W)
New Report Predicts Rising Tides, More Flooding NPR (David L)
Taiwan Announces Ban on All Plastic Bags, Straws, and Utensils Global Citizen (furzy). !!!
'Plastic, plastic, plastic': British diver films sea of rubbish off Bali Guardian. Not surprised but still sad to read. Kuta Beach and its surf was totally disgusting in 1993 and 1994 due to garbage in the water. This is 20 miles off Bali, but I didn't pull out a map to see what part of the island it is near. I wonder if the fancy beaches, like the ones at upscale resort areas like Nusa Dua, are also gross now.
We Can Now Store Light as Sound, And It's a Game Changer For Computing – Science Alert (Kevin W)
The MacBook Air doesn't need a price cut, it needs a redesign Digital Tends (Kevin W). How about "The OS needs to suck less"?
Bitcoin is based on the blockchain pipe dream Nouriel Roubini and Preston Byrne, Guardian. Important.
New Giant Viruses Further Blur the Definition of Life Quanta Magazine (David L)
He's not just saying he feels her pain—he really is ars technica
China?
China is ramping up its military spending to $224 billion per year News.com.au (Kevin W)
North Korea
Kim Jong-un, senior South Korean officials meet for first time Asia Times
Absolute hell: the toxic outpost where Mumbai's poorest are 'sent to die' Guardian. Coming to the rest of the world sooner than you think…
From Politico's e-mailed newsletter: IS EU RETALIATION PLAN 'WTO COMPATIBLE'? Officials in Brussels and other major European capitals told POLITICO's trade team that the EU will define Trump's tariff action as a "safeguard measure" — in trade jargon that's a temporary step intended to protect a domestic industry — allowing Brussels to issue counter-tariffs more quickly that a traditional WTO lawsuit. Trade experts are split on whether the plan is legal. Malmström told the BBC on Monday the EU didn't have time for the WTO's half-empty appellate courts to deal with a traditional complaint. The EU's College of Commissioners will decide the bloc's course of action Wednesday.
Breaking the Stalemate on European Deposit Insurance Bruegel
Martin Selmayr's appointment vs. the press Politico. How fickle. After those phenomenal leaks about the dinners with Theresa May…
Brexit
Brexit brain drain: elite universities say they are losing future research stars Guardian. PlutoniumKun calls your attention to the comments too.

As Brexit approaches, the gulf between Britain and Ireland widens Financial Times

I've walked the Irish border – Brexiters are trampling on fragile territory Guardian (PlutoniumKun)
Are builders really to blame for the UK housing crisis? Independent
Italy's political earthquake will shake the old European hegemony to its foundations Ambrose Evans-Pritchard, Telegraph. AEP does like to focus on apocalyptic possibilities…recall he also thought the Greek would break the EU in 2015. Italy is obviously a force to be reckoned with, but it isn't at all clear that 5 Star can govern (Trump is an extreme example of how inexperienced players spend a lot of time spinning their wheels) or that it and Lega can agree on enough to move forward together.
New Cold War
Former Russian double agent critically ill in Britain after exposure to unidentified substance Reuters
Big Brother is Watching You Watch
Facebook regrets asking how to handle men asking girls for smut pix The Register (Kevin W). Wowsers.
Tariff Threat
GOP urges Trump to abandon tariffs The Hill
EU Raises Stakes With Tariffs Targeting GOP Heartland Bloomberg. Don't underestimate Eurocrats…
Trump links planned steel tariffs to Nafta negotiations Financial Times
Trump Transition
Trump-Russia: Ex-aide refuses to co-operate with Mueller probe BBC

Six Ways the 'Resistance' Gave Trump a Dictator's Toolkit TruthDig

Critics tap decades-old law to stall Trump bid to undo Obama regulations NBC (furzy)
Tree 'planted by George Washington' toppled in winter storm BBC. For those who believe in portents…
VIDEO: Rep. Tulsi Gabbard Introduces Securing America's Elections Act to Ensure Integrity of 2018 Elections Tulsi Gabbard. Calls for paper ballots!
The California Democrats Aren't In Disarray New York Magazine (UserFriendly). The lady doth protest too much…
Redistricting battles heighten the stakes for 2018 gubernatorial racesWashington Post (UserFriendly)
Mid-Terms
Cochran to retire from Senate next month The Hill

Left faces off with Dem establishment in primary fights The Hill (UserFriendly)
New McCarthyism
The New Blacklist Matt Taibbi, Rolling Stone (FluffytheObeseCat)

Coming this fall: "nutrition labels" for news Axios (TF). Way worse than the headline would have you believe.

Yale's David Swensen Gets Into Spat With Student Paper Over Endowment Bloomberg. Wow, is Swensen a jerk. No one gets to run an opinion piece without having it edited. Now the paper also behaved badly by editing it and not running the edits by him for his approval (which would have led him to withdraw the piece). This does not speak well for the bargaining/managerial skills of the elites-in-training. The students should have told Swensen he had two choices: either they edited the piece, subject to his approval, or if he insisted on running an unedited piece, the way to do that was to buy a full page ad.
Ending Harassment Helps #TheEconomyToo IMF
SEC Subpoenas 80 Cryptocurrency Firms, Including TechCrunch Fund CNN (furzy)
Megabanks Get One Big Win in Senate Rollback Bill Wall Street Journal
Class Warfare
Congress should set the standard in being a good employer Economic Policy Institute

Income Inequality in the U.S. Is Even Worse Than You've Been Led to Believe Alternet

Burger-flipping robot begins first shift BBC (David L)
Antidote du jour (margarita). "Swimming near Bratislava, Slovakia, in 10F temperatures."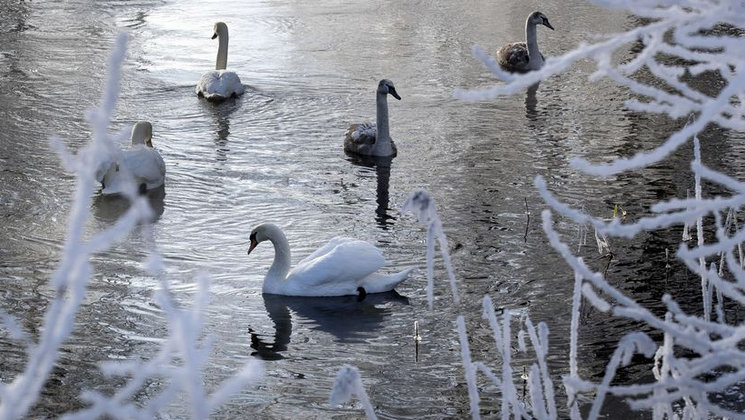 And a bonus video. One cat seems a lot more mindful of the baby's safety than its parent is:
See yesterday's Links and Antidote du Jour here.