By Lambert Strether of Corrente.
Readers, thanks for your patience yesterday, and for holding the fort in the comments section with your links. –lambert
UPDATE Readers, I updated my post on "Worksheet for the 2018 Midterms (More Democrat Biographies and #MedicareForAll Support)" with a new figure (which is why the Politics section today is so light; I did my politics over there!) I rarely toot my own horn [lambert blushes modestly] but I think this series of posts is important both to understand the Democrat Party, and to push policies like #MedicareForAll. And after the additions, I'm a bit more optimistic in my conclusions. So do go read.
Politics
2018 Midterms
IL-12: "Dems Boost 'Conor Lamb Clone' in Illinois Race" [RealClearPolitics]. "[Brendan Kelly] is a state's attorney and former naval officer running in a blue-collar district that has historically been favorable to Democrats but that Trump won by 15 percentage points" [RealClearPolitics]. "'I meet a lot of guys that love their union, they support the Second Amendment and they want to be able to smoke weed without being prosecuted. That's the kind of district I live in,' Kelly told RealClearPolitics in an interview. 'It is not left versus right. It's a much more complicated world, and we're in the middle of the country geographically and we're in the middle of the country politically and that's why this is a really fun place to be able to run for office.'" If the Democrats actually supported unions, that would be nice.
2016 Post Mortem
"Did Obamacare Implementation Cost Clinton the 2016 Election?" [SSRN]. "We also offer evidence that consumers purchasing coverage through the exchange were sensitive to premium price hikes publicized shortly before the election — despite most receiving a federal tax credit that shielded them from the increases. We attribute this to the design of the HealthCare.gov website, which reduced the salience of federal subsidies and likely made consumers needlessly sensitive to media coverage focusing on rising premiums. Placebo tests using survey responses collected before the premium information became public suggest that these relationships are indeed causal."
Realignment and Legitimacy
"'Chappaquiddick': The Trial of Ted Kennedy" [Politico]. Anybody been to Chappaquiddick?

UPDATE I should have run this, um, earlier:

BREAKING: It started leaking out last night that SCOTUS will hear a case that challenges West Virginia's separation from Virginia. The Court is going may well order the states reunited. ARTICLE about the history of the separation and backstory here https://t.co/IgMaXKmWLF #wvpol pic.twitter.com/oHuqBlkr5V

— Matthew Isbell (@mcimaps) April 1, 2018



Stats Watch
Motor Vehicle Sales, March 2018: "[U]nit vehicle sales are running moderately above February's pace" [Econoday]. "Vehicle sales have been very soft in recent months and more of the same is expected for March."
Construction Spending, Februrary 2018 (yesterday): "Construction spending has been soft" [Econoday]. "The weakness in February's overall report comes from home improvements, which fell a monthly 1.5 percent for only a 1.4 percent yearly gain…. Public spending also weakened in February with educational and highway spending both slipping into slightly negative ground on the month. But private nonresidential spending is a positive… [T]otal year-on-year spending is still subdued." And: "Worse than expected, weak, and decelerating" [Mosler Economics].
Purchasing Manager's Manufacturing Index, March 2018 (yesterday): "The manufacturing PMI finishes March steady and firm" [Econoday]. "The are piling up showing accelerating factory conditions including building signs of inflation. This index has been on the climb over the last half year but is still running noticeably cooler than the ISM report which has been running very hot." This is a survey, not "data"! And: "The results of this survey continue to correlate to district Federal Reserve manufacturing surveys – and generallly aligns with the overall trend of the ISM manufacturing survey" [Econintersect].
Institute For Supply Management Manufacturing Index, March 2018 (yesterday): "ISM manufacturing eased back from February's 14-year high, slipping 1.5 points and back below 60 to what is nevertheless an outstandingly strong 59.3 in March" [Econoday]. Questions of capacity stress have to be raised given a second 60-plus reading for supplier deliveries which indicates lengthening times and suggests that the supply chain is increasingly jammed up… This report proved its worth last year, being among the very first to report unusually strong conditions that actual data from the government is now increasingly confirming." And but: "Based on these surveys and the district Federal Reserve Surveys, one would expect the Fed's Industrial Production index growth rate remain about the same as last month. Overall, surveys do not have a high correlation to the movement of industrial production (manufacturing) since the Great Recession" [Econintersect]. And but: "Tim Fiore, chair of the ISM's Manufacturing Business Survey Committee, said that despite the sequential declines, manufacturing remains in a good place….'Demand is fine and not a concern. What this is really saying is we are maintaining really high PMI levels, because suppliers are continuing to struggle to deliver, whether it be because of the new tariffs or transportation issues or whether it is sub-suppliers who can't hire the proper amount of people or cannot get the right skills'" [Logistics Management], Fiore: "It is primarily being reflected in the inventory count, which is up 7 points since December. Inventory tends to be where all the 'ugliness' gets reflected. Inventories are what's driving it up, and that is what you expect inventories to do….is be negatively impacted really by inefficiencies in the supply chain and suppliers struggling to deliver.'"
Commodities: "Growth in the U.S. manufacturing sector is coming at a higher price. U.S. factories are reporting robust demand for their products but say rising prices for materials cast a cloud over industrial expansion" [Wall Street Journal]. "But prices for materials also rose nearly four percentage points to the highest level in nearly seven years, and factory operators appear to be taking actions that may slim down manufacturing supply chains. Manufacturer and customer inventories both pulled back, and measures for new orders and production also declined. The survey came before new U.S. tariffs on steel and aluminum imports took effect, suggesting that prices still have room to rise. Factories are still pushing out plenty of goods, but it's costing more to keep up the pace."
Debt: "Subprime New-Car Buyers Going Missing From U.S. Showrooms" [Bloomberg]. "Rising interest rates and new-vehicle prices are squeezing shoppers with shaky credit and tight budgets out of the market. In the first two months of this year, sales were flat among the highest-rated borrowers, while deliveries to those with subprime scores slumped 9 percent, according to J.D. Power."
Retail: "Mall Vacancies Reach Six-Year High as Retail Slump Batters Local Economies" [Wall Street Journal].
Retail: "H&M sits on billions of unsold clothes as profits plummet" [Deutsche Welle]. "Swedish fast fashion giant H&M is not having a great 2018 — first-quarter operating profit tumbled by 62 percent to its lowest level in over a decade — and on Wednesday it emerged that it was sitting on $4.3 billion (€3.5 billion) worth of unsold garments." That's real money!
Debt: "People have stopped paying their mobile home loans, and it's a warning sign for the economy" [Business Insider]. "The delinquency rate on mobile home loans has increased by 200 basis points, or two percentage points, over the past year, according to research cited by UBS, with the 30-day-plus delinquency level now at around 5%, the highest level since 2005. The increase in the number of struggling mobile home borrowers suggests that a large chunk of these individuals haven't benefitted from the economic growth of the past few years, despite the current low level of unemployment."
Shipping: "Construction activity stalls, with implications for freight markets" [Freight Waves]. "Much of the disappointment in yesterday's report stemmed from the public sector, as spending on infrastructure projects fell during the month. In the private sector, construction of both single and multi-family housing actually posted solid gains in February and remain on a general upward trend headed into the 2nd quarter. Construction on building improvements continued to struggle, however, declining for the second consecutive month."
Shipping: "About , according to the New York Shipping Exchange (NYSHEX), which has created a digital capacity-allocation platform supported by real-time market data and binding contracts with incentives for shippers to ship on the contracted vessel and carriers to make the contracted capacity available. No-shows cost carriers about $23 billion a year, NYSHEX has estimated" [DC Velocity]. That's real money, too!
Transportation: "Transportation Tragedies Shine Light on Pedestrian Infrastructure Needs" [Governing]. "The Governors Highway Safety Association estimates there were 6,000 pedestrian deaths in 2017. That's essentially unchanged from the year before — but 2016 saw a higher level of pedestrian deaths than the country had seen in 25 years…. For many safety advocates, [both the FIU bridge collapse and the Tempe Uber death] appeared to be the result of transportation officials prioritizing the quick movement of cars over the safety of pedestrians…. [National Association of City Transportation Officials (NACTO)] has long pushed for autonomous vehicles to be limited to 25 mph or less in areas where pedestrians are likely to be present — not just in downtowns. At that speed, pedestrians are much more likely to survive a crash with a vehicle, which is a major reason why many cities that have adopted the Vision Zero safety strategy have lowered their speed limits to 25 mph."
Transportation: "Host Railroad Report Card & FAQ" (PDF) [Amtrak]. "[T]he largest cause of delay to Amtrak trains on host railroads is Freight Train Interference, typically caused by a freight railroad requiring an Amtrak passenger train to wait so that its freight trains can operate first. …. By Federal law, with only very few exceptions Amtrak passenger trains must be given preference over freight trains in using any rail line. Unfortunately, only the Department of Justice can enforce this law, and it has brought only one enforcement action against a freight company in Amtrak's history, and that was nearly 40 years ago As a result, freight railroads suffer no significant consequences for prioritizing their freight over our country's rail passengers." That exclamation point converts this document from a "Report Card" to a cri de couer, and not unjustly.
The Bezzle: "'Being cash-free puts us at risk of attack': Swedes turn against cashlessness" [Guardian]. Finally. "[A]n opinion poll this month revealed unease among Swedes, with almost seven out of 10 saying they wanted to keep the option to use cash, while just 25% wanted a completely cashless society. MPs from left and right expressed concerns at a recent parliamentary hearing. Parliament is conducting a cross-party review of central bank legislation that will also investigate the issues surrounding cash. The Pirate Party – which made its name in Sweden for its opposition to state and private sector surveillance – welcomes a higher political profile for these issues. Look at Ireland, [party leader] Christian Engström says, where abortion is illegal. It is much easier for authorities to identify Irish women who have had an abortion if the state can track all digital financial transactions, he says. And while Sweden's government might be relatively benign, a quick look at Europe suggests there is no guarantee how things might develop in the future. 'If you have control of the servers belonging to Visa or MasterCard, you have control of Sweden,' Engström says."
The Bezzle: "2 Tesla drivers tried to recreate the fatal Model X accident and showed a potential limitation with Autopilot" [Business Insider]. "While they're certainly not an official investigation, both [YouTube] videos show the potential limitations of Autopilot. While the software's Autosteer feature can keep a vehicle in its lane on the highway, it does so by reading the lane markings on either side of it. If a lane marking has faded, it's more difficult for the vehicle to recognize it, and if the faded lane marking is close to one that's more prominent, the vehicle may assume the more prominent marking is the one to follow…. The videos also emphasize Tesla's point that Autopilot is not a fully autonomous system and should not be treated as one." Just spitballing here, but maybe the word "autopilot" — short for "automatic pilot," "a device for keeping an aircraft on a set course " — is marketing hype with safety implications?
The Bezzle: "Tesla raises production but falls short of Model 3 goals" [Associated Press]. "The Palo Alto, California, company says it made just under 9,800 Model 3s from January through March. That's four times what it made in the fourth quarter. But it's still only a fraction of the 20,000 per month that CEO Elon Musk promised when Tesla first started making the car. The news, released just before the markets opened Tuesday, pushed Tesla's shares up about 3 percent to $259.54 in early trading. Still, they have fallen nearly 15 percent since the start of the year on a string of bad news for the 15-year-old company."
Mr. Market: "Stocks rebound after huge tech-driven selloff" [MarketWatch]. As of 11:38 a.m. ET. Still plenty of time for all kinds of excitement!
The Fed: "NY Fed names Williams to top post amid political backlash" [Reuters]. "John Williams, the genial president of the Federal Reserve Bank of San Francisco and a top monetary economist, was promoted on Tuesday to head the New York Fed in a politically explosive decision likely to ramp up criticism that the bank ignored more diverse candidates." Or, as the FT deck has it: "Decision suggests central bank has prioritised economics expertise over diversity."
Five Horsemen: "Amazon stabilizes as the tweetstorm rages" [Hat Tip, Jim Haygood]. Sorry I missed the excitement yesterday. Wheeeee!
NakedCap Mania-Panic Index: "The mania-panic index fell to 20 (panic) as the S&P 500 closed less than a point above its Feb 8th low" [Hat Tip, Jim Haygood]. (The NakedCap mania-panic index is an equally-weighted average of seven technical indicators derived from stock indexes, volatility (VIX), Treasuries, junk bonds, equity options, and internal measures of new highs vs new lows and up volume vs down volume … each converted to a scale of 0 to 100 before averaging, using thirty years of history for five of the seven series.)
Rapture Index: Closes down 1 on earthquakes. "There has [sic] been no major quakes in recent days" [Rapture Ready] Record high, October 10, 2016: 189. Current: 183.
Facebook Fracas
"Ever Record a Video on Facebook? Facebook Still Has It." [New York Magazine] "Have you downloaded your Facebook data archive yet? Facebook makes it easy to obtain a ZIP file of all the data it has on you: your status updates, your friend list, your messages … and, as I and several people I spoke with were surprised to discover, every video you ever filmed on the platform — including videos you never published."
"Facebook Data Scandal Has Left Zuckerberg Isolated in Tech" [Bloomberg]. Facebook friends aren't friends…
Big Brother Is Watching You Watch
"A radical proposal to keep your personal data safe" [Richard Stallman, Guardian]. "I propose a law to stop systems from collecting personal data. The robust way to do that, the way that can't be set aside at the whim of a government, is to require systems to be built so as not to collect data about a person. The basic principle is that a system must be designed not to collect certain data, if its basic function can be carried out without that data…. To restore privacy, we must stop surveillance before it even asks for consent."
"Panerabread.com Leaks Millions of Customer Records" [Krebs on Security]. "Panerabread.com, the Web site for the American chain of bakery-cafe fast casual restaurants by the same name, leaked millions of customer records — including names, email and physical addresses, birthdays and the last four digits of the customer's credit card number — for before it was yanked offline earlier today…. KrebsOnSecurity learned about the breach earlier today after being contacted by security researcher Dylan Houlihan, who said he initially notified Panera about customer data leaking from its Web site back on August 2, 2017." Wowsers.

Class Warfare
"The Only Way to Survive Janus" [Labor Notes]. "Even if West Virginia's teacher union leaders had wanted to, they couldn't have called members out on a sudden, two-week unlawful strike by decreeing it from the top. The strike wave worked because teachers devised the strategy, owned the strategy, and believed in it. It was theirs. This is why democracy is not simply a moral question—we need it if we're going to survive. Union members need to exponentially expand the number of us who have the skills, confidence, and authority to be the union. Leaders need to welcome, not begrudge, rank-and-file initiative, and to do everything they can to help it happen. Lead, follow, or get out of the way."
News of The Wired
If I see one more of this photographic trope:
Spotify to go public in an unusual New York listing that could see it valued well over $20 billion https://t.co/JS77hOCaJv pic.twitter.com/l55Iw54zAY

— AFP news agency (@AFP) April 3, 2018
The shaven-headed tech dude, the T-shirt, the tiny sphere of the head-mike, the Leni Riefenstahl-style camera angle, the general air of overlordship… It all gives me the creeps.
A current face meme:
— Data for Progress (@DataProgress) March 31, 2018
Going meta:
— pixelated boat [ASMR] binaural ~4 hours~ (@pixelatedboat) April 3, 2018
I like this meme; it's, dare I say it, dialectical (a heuristic, mind you, not science). Exactly like Distracted Boyfriend, which seems to have taken off with this one:
— HevalStalin (@SadStalinist) August 19, 2017
Neither meme is binary in its thinking. That's an important cultural shift.
"Metaphors We Think With: The Role of Metaphor in Reasoning" [PLOS One]. "The way we talk about complex and abstract ideas is suffused with metaphor. In five experiments, we explore how these metaphors influence the way that we reason about complex issues and forage for further information about them. We find that even the subtlest instantiation of a metaphor (via a single word) can have a powerful influence over how people attempt to solve social problems like crime and how they gather information to make "well-informed" decisions. Interestingly, we find that the influence of the metaphorical framing effect is covert: people do not recognize metaphors as influential in their decisions; instead they point to more "substantive" (often numerical) information as the motivation for their problem-solving decision. Metaphors in language appear to instantiate frame-consistent knowledge structures and invite structurally consistent inferences. Far from being mere rhetorical flourishes, metaphors have profound influences on how we conceptualize and act with respect to important societal issues." "Poets are the unacknowledged legislators of the world" [Percy Bysshe Shelley, A Defense of Poetry].
Give me this over Le Corbusier any day, or Robert Moses:
The old walled city of Shibam, Yemen, has been inhabited at least since the 3rd c., an example of perfect desert urbanism. A pop. of 7000 living on 0.03 square km (three times as dense as the the most crowded Wards of London), with houses clustered around the five public squares. pic.twitter.com/OZYlfPRBfA

— Wrath Of Gnon (@wrathofgnon) March 26, 2018
* * *
Readers, feel free to contact me at lambert [UNDERSCORE] strether [DOT] corrente [AT] yahoo [DOT] com, with (a) links, and even better (b) sources I should curate regularly, (c) how to send me a check if you are allergic to PayPal, and (d) to find out how to send me images of plants. Vegetables are fine! Fungi are deemed to be honorary plants! If you want your handle to appear as a credit, please place it at the start of your mail in parentheses: (thus). Otherwise, I will anonymize by using your initials. See the previous Water Cooler (with plant) here. Today's plant (EW):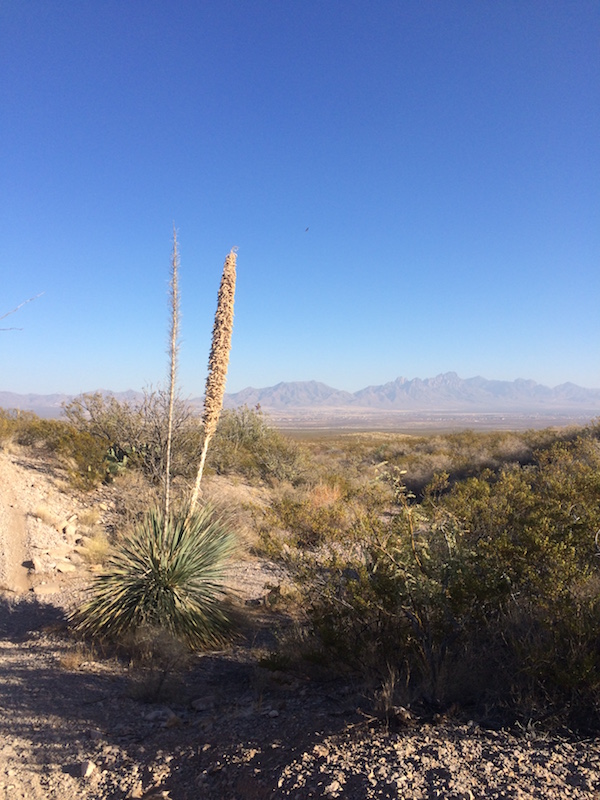 EW writes: "A yucca and its stalk with a backdrop of the Organ Mountains."
* * *
Readers: Water Cooler is a standalone entity not covered by the NC fundraiser. So do feel free to use the dropdown and click the hat to make a contribution today or any day. Here is why: Regular positive feedback both makes me feel good and lets me know I'm on the right track with coverage. When I get no donations for five or ten days I get worried. More tangibly, a constant trickle of small donations helps me with expenses, and I factor that trickle in when setting fundraising goals. So if you see something you especially appreciate, do feel free to click the hat!