Yves here. This story is a great example of a news organization using FOIA to do original reporting. And the Philadelphia police department gets credit for turning the sought-after records promptly. It's all too common for government bodies to fight or slow-walk document requests.
The results also support our hypothesis about the Starbucks incident, in which a now-fired manager called the cops on two men whose crime appeared to be waiting at a Starbucks while black, and using the restroom. The evidence below indicates this manager was a disaster waiting to happen and had been calling the police at a vastly higher frequency than her predecessor.
We had discussed briefly that one Malcolm Gladwell's books included a case study of biased policing in the Los Angeles Police Department, which has a a terrible record in that regard. He found was that a very few cops were responsible for virtually all the incidents. Gladwell argued that that meant the conventional approach, of more training for all the police, was all wet. Those rogue policemen needed to be taken off the street.
Starbuck's rush to hold a training program may be good optics, but it isn't likely to be the best approach. The coffee chain should require managers to write an incident report any time they call the police. That would enable them to see if any managers were making a lot of requests and they could then look as to whether the calls were warranted or not.
News reports have pointed out that part of the problem is that Starbucks never gave its store managers any policy on what to do about people who stay in a Starbucks without buying anything. I'm skeptical that promulgating rules on a national basis is the right answer. As I mentioned when I had nearly a week of having to work in Starbucks thanks to Verizon-induced connectivity woes, there was often one or two homeless people in an area that was a bit removed from the cash registers. There were also plenty of customers back there, most working solo like me, but also a few groups of two or three people chatting. No one was bothered by the homeless people sitting nearby. In fact, I thought it was a good thing that some of the money I spent at Starbucks was helping the homeless. However, it isn't hard to think that in an affluent suburb, the locals would go nuts if a homeless person were to hang out in a Starbucks, and management would almost be forced to run them off because customers were certain to make a stink.
By Patrick Duff, a researcher and civil rights activist who currently lives in NJ. His activism has focused on ending mass incarceration, preserving African American history and making government more transparent. Edited by Naked Capitalism reader aliteralmind, aka Jeff Epstein. Jeff is an independent and progressive journalist with Citizens' Media TV. Originally published at Citizens' Media TV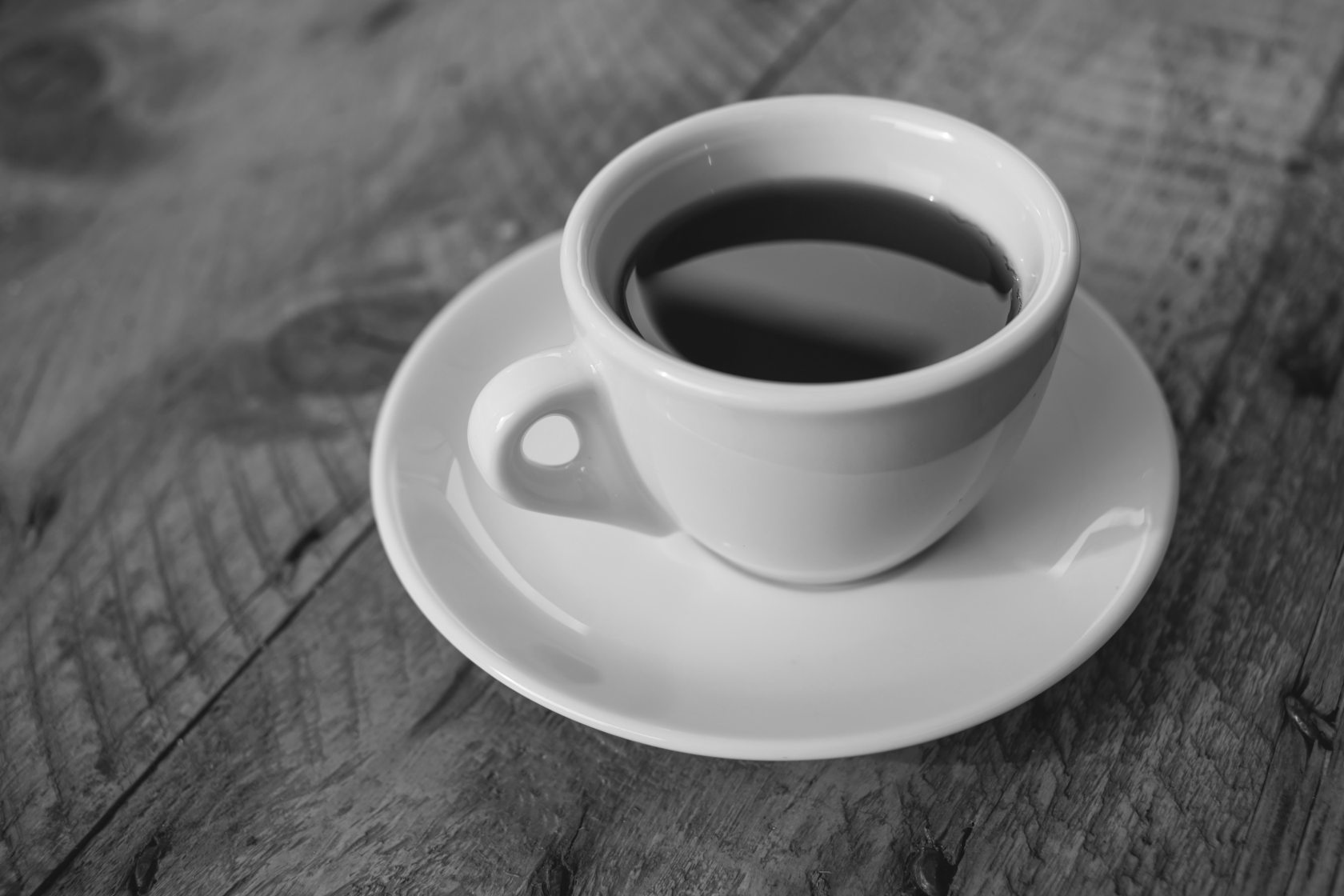 Derived (cropped) from Pexels (license) (inspired by the photo at the top of this article
On April 12th, a video went viral of two black men being arrested at a Center City Philadelphia Starbucks. The incident has caused an international debate (England, Canada, China) as to just how such a thing could happen. After initially defending the arrests, the Philadelphia Police apologized to the men. Starbucks is even closing thousands of stores to provide racial sensitivity training in response to this one event.

Viral arrest video Link to video
The real problem for Starbucks though, along with the Philadelphia Police, is that this was far from just one event; it was a pattern that snowballed into two black men finally saying no when confronted with blatant discrimination.
According to public 911 records obtained from the Philadelphia Police, in the year of 2016 only 11 calls were made to 911 from 1801 Spruce Street, 2 of them for a 3306, which stands for "disturbing a crowd. Something changed though in 2017, which is just about the time it is reported that the new manager, Holly Hylton, started at that location.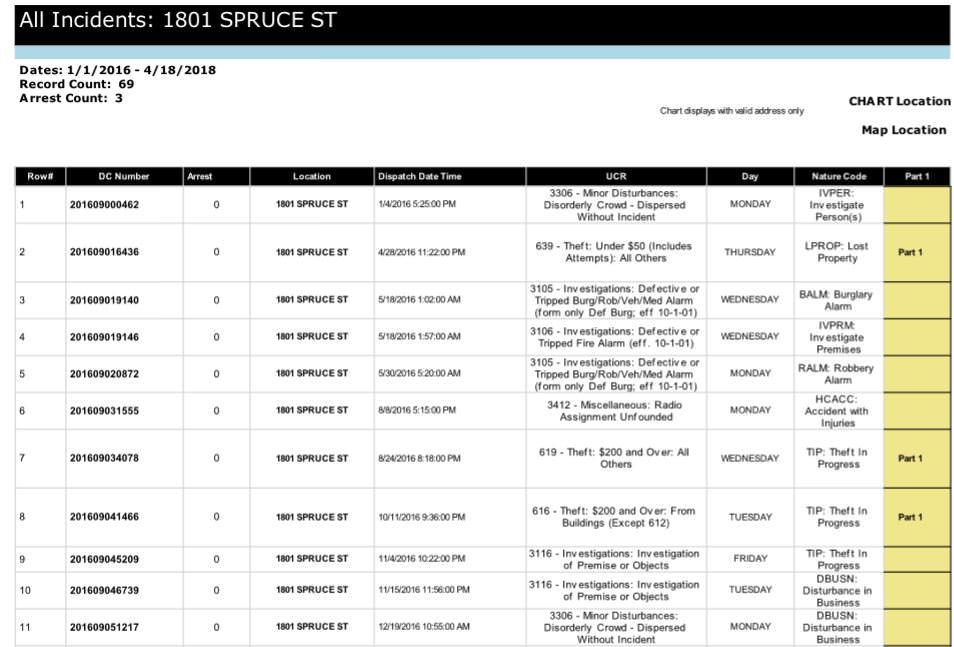 Screenshot of the 911 call data retrieved from the Philadelphia Police. The full request and response are in an appendix at the bottom of this article. Here is a link to all spreadsheet data imported into Google Sheets, and a link to the original Microsoft Excel spreadsheet received from the police.
In 2017 at least 28 calls were made for the same 3306 code, with 12 other calls being made for similar minor offenses. Two of these calls were determined to be "unfounded by the police (that is, unworthy of pursuing), according to the 911 reports. In the first three and a half months of 2018, another 15 calls were made from that same Starbucks, with at least 3 being made for the same 3306 call, and one code being changed for the 2 men arrested.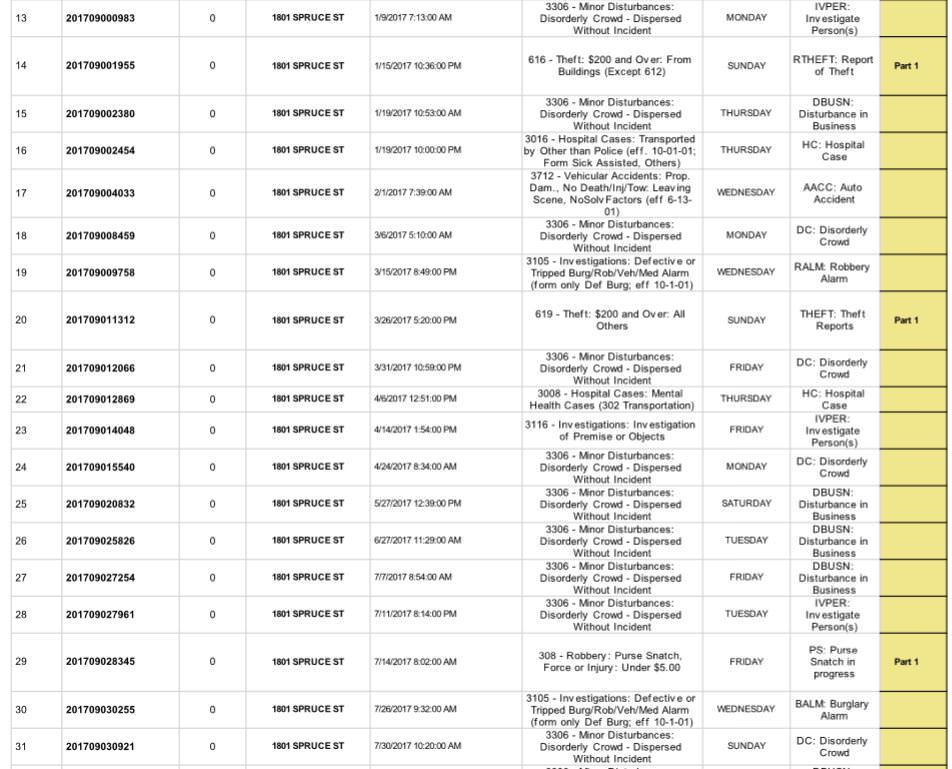 In the entire year of 2018 up till April 18th, four 3306 calls were made to 911, with two of those calls being made on, 4-12-2018, the day the two men were arrested – once immediately before they were arrested, and another call 18 minutes later.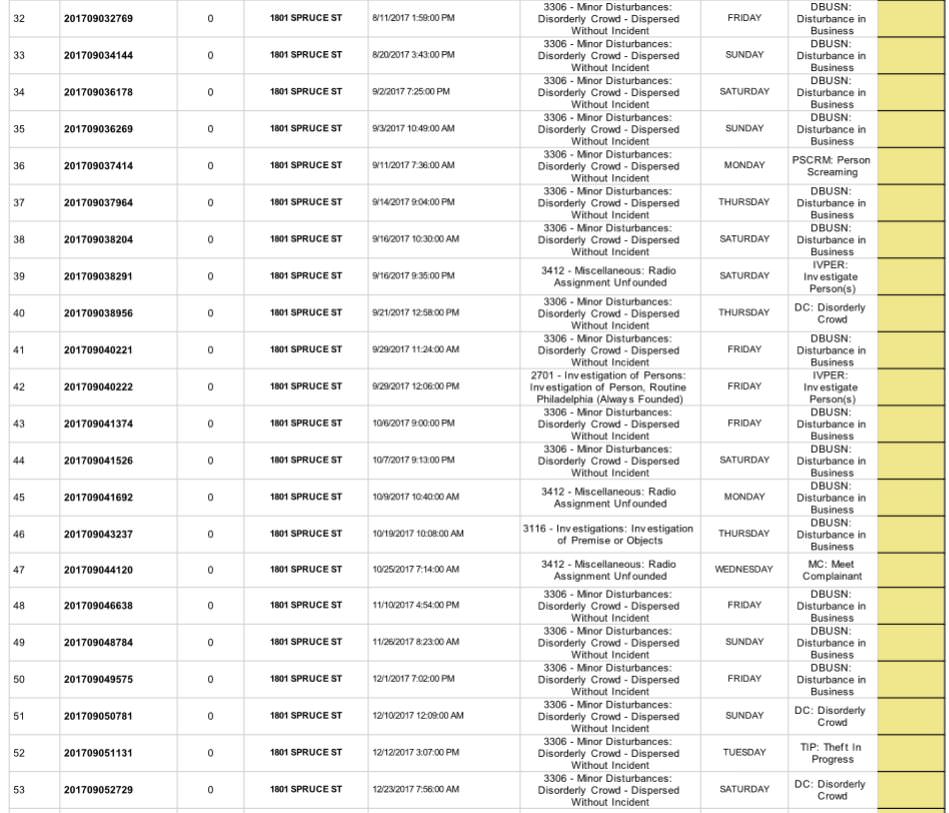 A total of 58 calls to 911 were made to this property in just 15 and a half months, with a total of 3 arrests. This includes the 2 men who were arrested for "waiting while black" that were never charged. This means that there may be dozens of more people who possibly were victims of the same type of police-justified discrimination at just this one Starbucks location.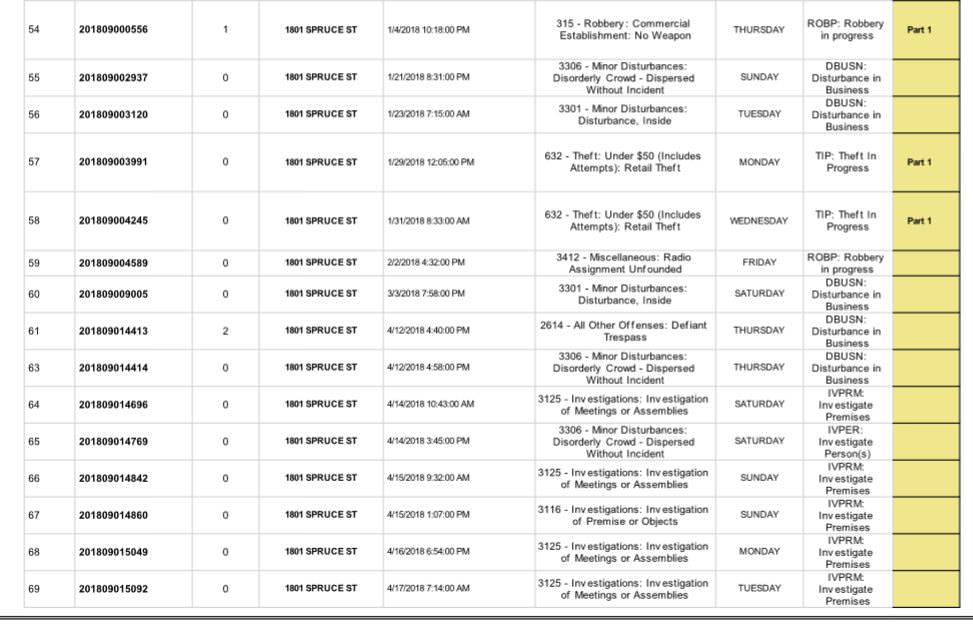 The Rittenhouse Square section where this Starbucks is located has only a 3% African American population, yet African Americans accounted for 67% of all police stops in the same section in just the first half of 2017, according to the ACLU. In fact, two thirds of all arrests in entire city of Philadelphia were of African Americans, despite being less than half its population.
I reached out to the Philly PD for comment, but as of 1:30 pm they have not responded. I also reached out to Starbucks for a comment, to which they responded:
While we understand your concern, as we have shared previously, we consider your claim having been investigated and now a closed matter.
APPENDIX: Full records request
Request
From: Patrick Duff <XXX>
Sent: Wednesday, April 18, 2018 3:35 PM
To: Police RightToKnow
Subject: Request

I am making this request under the PA right to know law.

Please provide me with all 911 calls made from the Starbucks at 1801 Spruce St, Philadelphia, PA 19103 between 1-1-2016 and 4-18-2018.

Thanks,
Patrick Duff
Response
From: Police RightToKnow <Police.RightToKnow@phila.gov>
Date: Wed, Apr 25, 2018 at 1:28 PM
Subject: Your Request for Information
To: Patrick Duff <XXX>
Cc: Police RightToKnow <Police.RightToKnow@phila.gov>

Mr. Duff :

Attached to this correspondence is the Philadelphia Police Department's final determination to your request for information.

Best :

Philadelphia Police Department
Open Records/Right-to-Know Section

750 Race Street, Rm. 203
Philadelphia, PA 19106
Full formal response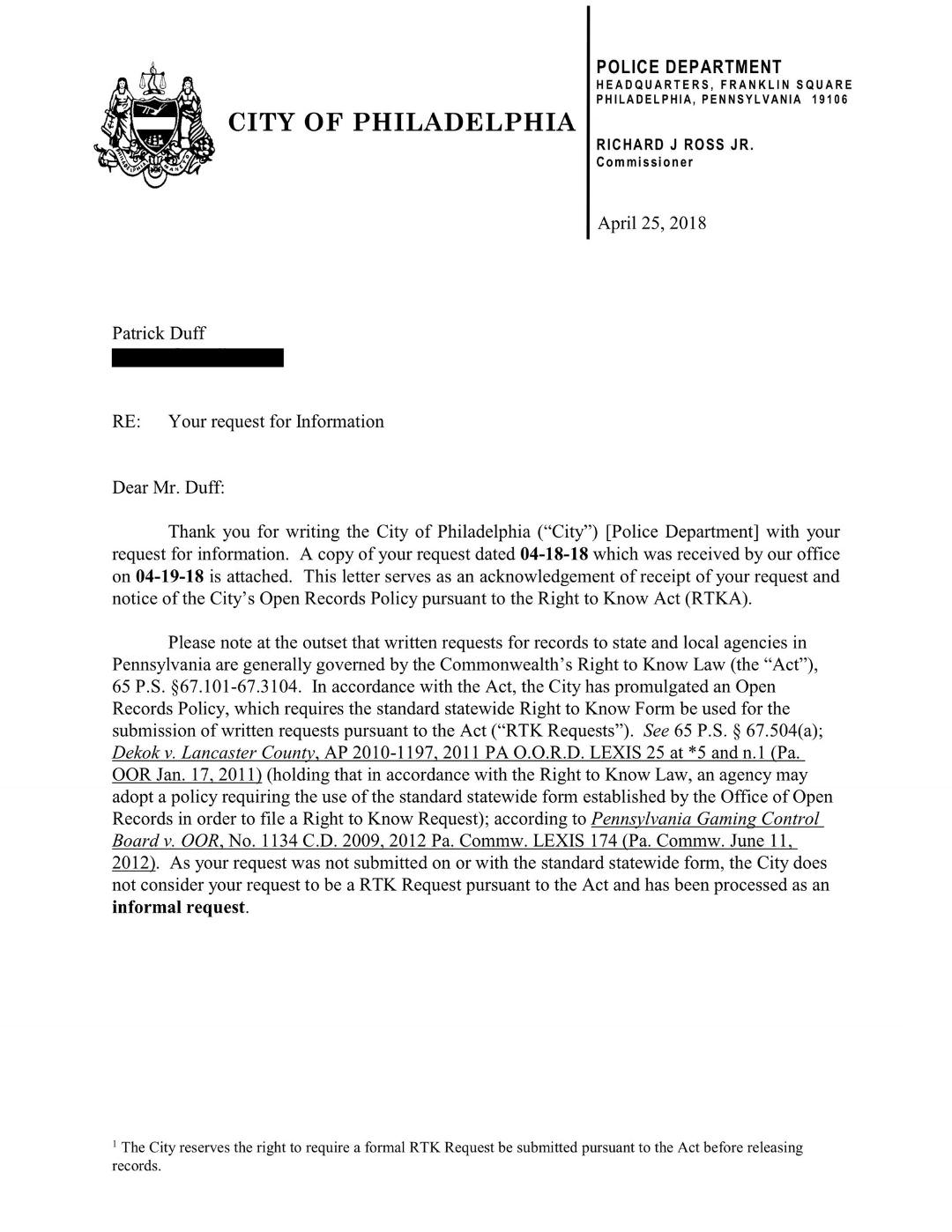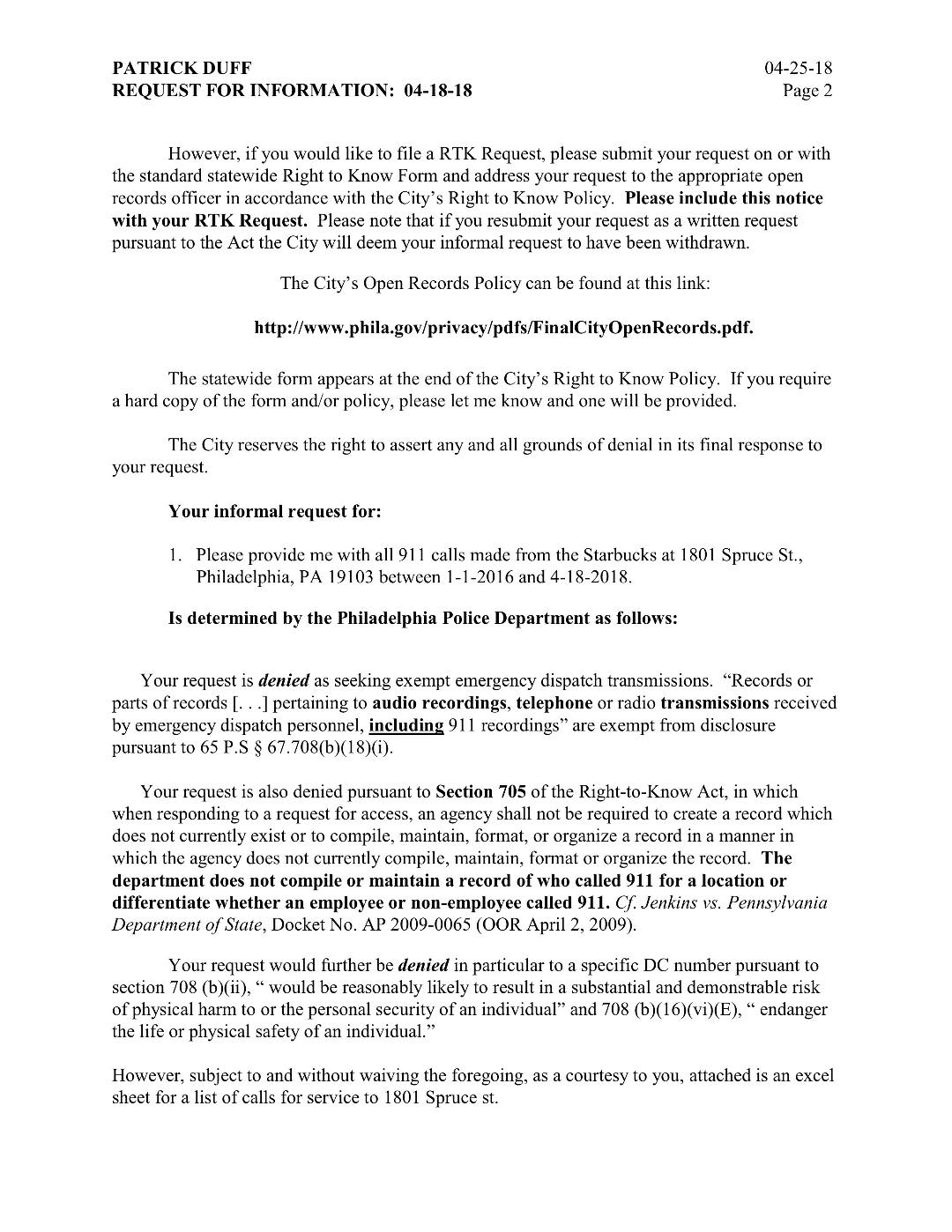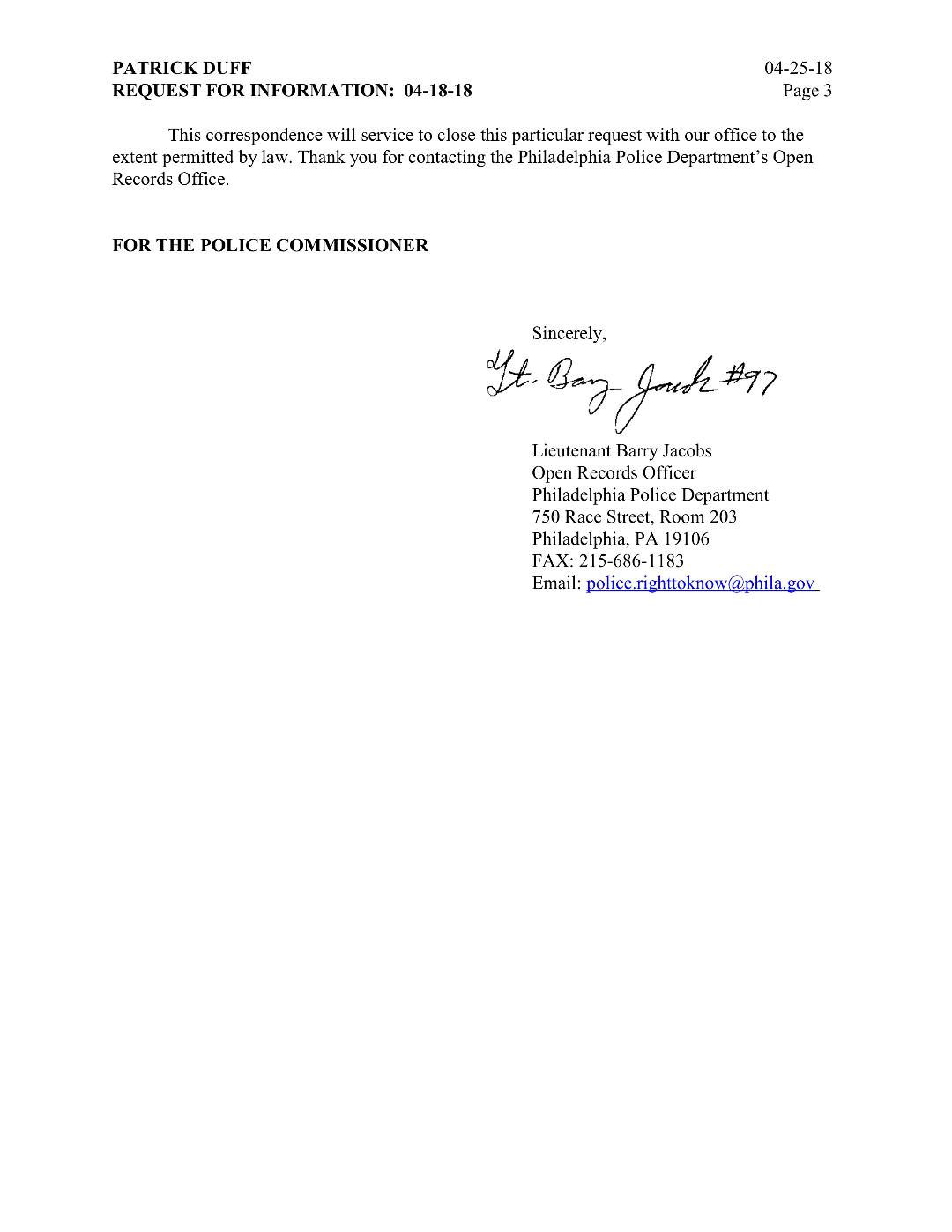 )