"I would never trust him with my money."

Unsolicited reaction of a former Palabora Mining Company executive when told Charles Asubonten was CFO of a $300 billion pension fund
We will document some of the misrepresentations and inconsistencies in the resume that Charles Asubonten, the new Chief Financial Officer of CalPERS, provided when applying for the position. We have embedded this document at the end of this post.
The most glaring discrepancies involve Asubonten's tenure from 2006 to 2009 as Chief Financial Officer at Palabora Mining Company, then listed on a Johannesburg stock exchange and majority owned by Rio Tinto. We will discuss that record detail today, along with some selected additional disparities.
In our next post, we will focus on how Asubonten operated as a man of many names, both for his "private equity firm" and potentially even personally. This is puzzling behavior for any business, since establishing an identity is important for building a reputation and allowing prospective clients to verify one's track record.
As you can see from his resume, Asubonten graduated from North Carolina Central University, magna cum laude. After working for KPMG as an accountant and then Dow Chemical, he attended what is now called the Ross School of Business at the University of Michigan, which has a strong reputation in accounting. He rose through the finance function at Ford and DTE Energy while also serving as a adjunct faculty member at Wayne State University and the University of Michigan.
However, Asubonten's career trajectory suffered when he joined Rio Tinto to be posted to Palabora Copper Mines in South Africa as Chief Financial Officer under a three and one half year contract.
As the embedded court ruling at the end of this post shows, Asubonten's employment with Rio Tinto terminated at the end of 2009 when his contract expired after he received poor performance reviews for his last two of those three and one half years. Notably, in 2008, Rio Tinto had already notified Asubonten that it planned to end his employment. As the decision states, "in 2008 he [Asubonten] got an indication from [Managing Director Matt] Gili that his contract would be terminating in 2009 and this was confirmed in July 2009."
Following Asubonten's exit from Palabora and subsequent lawsuit, his resume states he was the managing director of a private equity firm in 2010 to 2012 despite the lack of any prior experience or any evidence of actual business dealings. The labor court ruling indicates that Asubonten in fact was looking for full-time employment during 2010. CalPERS CEO Marcie Frost has said that Asubonten has admitted to a period of unemployment, which may cover most of these two plus years.
In May 2012, Asubonten joined Mopani Copper Mines in Zambia as its Chief Financial Officer.1 A Mopani executive stated that Asubonten had a two year contract that was terminated after 13 months.2
In this post, we will focus on the inaccuracies of Asubonten's presentation of his time at Palabora, which he also depicts as one of his most important achievements. We will discuss some other important inconsistencies in a separate section.
Asubonten's Resume on His Time at Palabora Versus Public Record and Executive Accounts
Palabora was a relatively small operation. Rio Tinto struck a deal to sell its 57.7% interest in 2012 at a valuation for the company of $611 million. Even though Palabora had substantial minority owners, including public shareholders, Rio Tinto was involved in many of its activities, to the degree that it co-branded the mine as "Rio Tinto Palabora Mining Company Limited" on its annual reports and stationery (see here and here for examples; see also discussion in the court filing).3 As a consequence, there appears to be some tension between the presentation of Palabora as an independent entity in its public financial statements and some of the practices that resulted from a fair bit of integration into and dependence upon Rio Tinto.3
Asubonten has misstated both his job scope at Palabora and his accomplishments.
Exaggeration of job scope
1. Asubonten repeatedly depicts himself as leading the development of strategy and the turnaround at Palabora. For example, Asubonten's resume specifically states "Led from near-bankruptcy….to solvency" and describes him as being "co-responsible with the MD for strategy and the day-to-day operation of the South African mining company and the two subsidiaries in the USA and Singapore repectively."4
– The managing director led Palabora, with considerable input and assistance from Rio Tinto. To depict the head of a staff function as leading a mining operation is a remarkable claim.

– Asubonten was not "co-responsible with the MD." Asubonten was in a senior staff position and was not responsible for mining operations, which were under the supervision of several specialized production managers plus a safety director. Asubonten was subordinate to the MD and on the same level as the six other direct reports who served on the executive committee. As the 2009 Annual Report stated, "The board delegates the day-to-day management of the business of the Group to the managing director assisted by the executive committee."

– Asubonten did not play any meaningful role in the turnaround. One former executive stated that the finance function had nothing to do with it. Specifically, the turnaound was the result of investments and operational changes that began and were bearing fruit before Asubonten joined, which is at odds with his claims of having input into, let alone "leading" the strategy.

As the 2005 annual describes, and is confirmed by insider input, Palabora had invested heavily to go from open pit to underground copper mining, which was coming on stream in 2005. Operating profit from continuing operations went from a loss of 2,346 million rand in 2004 to a profit of 275 million rand in 2005. Cash flow from operations went from negative 42 million rand in 2004 to positive 256 million rand in 2005. Even after deducting interest expenses and income taxes, cash flow from operating activities was positive in 2005.

– The Chief Financial Officer of Palabora did not play a major, much the less leading, role in strategy development. The five and ten year plans were developed at the Rio Tinto group level, with the executive committee at Palabora (of which Asubonten was one of eight members) having input. (Note that both Asubonten and Palabora's head of HR stress in the filing at the end of this post how Rio Tinto and Palabora operated in an integrated manner).
2. The resume further states that Asubonten "Developed turnaround strategies and drove results that saw the share price move from the 20s to over 100 rand in three years (CAGR of 70%)." Bloomberg data shows that Palabora's stock price closed at 47.50 rand the day Asubonten started at Palabora. The closing price was never below 34.50 during his tenure as Chief Financial Officer. In addition, the trading range for Palabora's stock in 2007, for which Asubonten does not attempt to claim credit, was virtually identical to 2009, which was three years after he joined (see numbered page 97 in the 2010 annual report).
3. Asubonten's resume says he was "responsible for…company secretary." That was a separate role that reported to the Managing Director, not to the Chief Financial Officer.
4. Asubonten's resume says he was "responsible for…investor relations." A former Palabora executive stated that investor relations was handled primarily out of London (i.e, by Rio Tinto) with the Managing Director having primary local responsibility. In addition, a South African took the lead role in communicating with local media and investors. Asubonten's role in investor relations was reportedly minor.
5. Asubonten's resume states, "As chairman of the Palabora Foundation….". Former executives say the Managing Director, not the Chief Financial Officer, was the chairman. That is confirmed by the 2009 annual report, in which the review by the Managing Director (numbered page 10) discusses the Palabora Foundation, while the Chief Financial Officer's letter (by interim Chief Financial Officer M. Bruce Snyder) is silent on that topic. A former executive further stated that most of the work of the Palabora Foundation was outsourced and the parts for which Asubonten was responsible got complaints. "He did not do a good job. If I were him, I would not be proud of that."
6. The resume claims Asubonten "Managed a hedge book of over $2 billion." A former official says hedging was done by Rio Tinto, not Palabora. Moreover, it appears that most if not all of this "hedge book" was long-term hedges that Palabora entered into as required by a 2005 financing (see numbered page 33). That means they had been executed well before Asubonten joined Palabora. In addition, they were not "managed" in the sense of traded, but simply accounted for. This account is consistent with the 2009 annual report (see numbered page 11, under "Derivative financial instrument") which describes a single swap contract, set to expire in 2013 and further indicates that Palabora was not contractually obligated to enter into other hedges. Footnote 3.2.3 (numbered page 73) refers to "the hedge book" and mentions only the hedging of copper.
Exaggeration of performance
Asubonten's claims of leadership, "driving results" and being singularly responsible for profit improvement, which is what saying he engineered and implemented a turnaround amounts to, is contradicted by his performance ratings. Rio Tinto not only let his contract with Palabora expire, but it also did not post Asubonten to another assignment.
Some of the details of Asubonten's performance reviews became public when he tried, unsuccessfully, to dispute his 2008 and 2009 bonus awards and Rio Tinto's refusal to extend his return flight benefit beyond the six months it had agreed to (three more than he was contractually entitled to) to a full twelve months. 5
Below we have embedded the 2014 decision, "In the matter between Charles Achireko-Asubonte and Palabora Mining Company Ltd."
According to the filing, the Palabora Managing Director in 2008, Matt Gili, told Asubonten that his contract, which was set to expire at the end of 2009, would not be renewed and confirmed that in 2009. Asubonten said he had not been told in his 2007 performance review that there were any shortcomings. However, Asubonten never asked Rio Tinto why his contract was being terminated.
in 2009, Asubonten received a personal performance score of 55 in 2009 out of a possible 150, with 100 being average. Since the performance of the business unit was also a factor in computing his bonus, Asubonten received an award of "just over 20%" of his salary for 2009.
The decision does not provide Asubonten's personal performance rating for 2008, but his bonus that year was only 22% of his salary. However, the judge did say that Asuboten's performance score was "not much better" in 2008 than in 2009.
The judge gave Asubonten the opportunity to support his claim that his personal performance score should have been average, as opposed to well below average, in both years. Asubonten apparently cited the achievement of a clean audit as a key achievement, which Palabora did not dispute. But it is not clear how important that alone would have been in his total score, which was a source of frustration to the judge.
The only other accomplishments Asubonten cited to justify getting his score increased to average were his role in "pushing up the share price" and negotiating BEE (Black Economic Empowerment) participation. Palabora depicted "lack of traction" on BEE as one of the reasons for Asubonten's poor performance rating in 2009. The judge appeared to regard the only accomplishment that Asubonten might claim as the clean audit (which he regarded as important) but did not adjust the personal performance rating, noting that Asubonten was not able to muster anything beyond "the most sketchy evidence."
Other Questionable Material in Asubonten's Resume and on LinkedIn
Due to the need to keep the discussion to manageable length, we will touch on only a few more examples of inconsistencies and misrepresentations.
In the summary on the first page of his resume, Asubonten claims "value creation….across the business continuum…in America, Africa, Europe, and Asia." This degree of achievement would require meaningful local experience. Yet Asubonten lived in America until he worked for Palabora from mid 2006 to the end of 2009, and per the court filing, was in South Africa looking for a job in 2010. From mid 2012 to mid 2013, he worked for Mopani in Zambia. Rental records show that he leased a house in Ellicott City, MD starting in July 2013, shortly after his contract at Mopani was terminated early. The only period of time not accounted for is 2011 and the first few months of 2012. Are we to believe that Asubonten racked up such impressive accomplishments in two continents in a mere 16 months?6
Asubonten also claims to have been the Chief Financial Officer of a "private equity company across multiple geographies."
Although it is difficult to prove a negative, we have found no evidence whatsoever that Asubonten was part of a "private equity firm," as in one that had sufficient committed capital from third parties over which it had investment discretion that paid enough in fees and expenses to support investment professionals along with administrative staff. If Asubonten's firm had as little as $150 million under management, it would have had to register with the SEC. There is no SEC registration for any of the many names Asubonten has used for his business.
In addition, the description of activities under "Transmax-Maxium Transformation" on his resume is not that of a private equity professional, where you would typically see a discussion of assets under management, funds raised, fund focus, investment performance, and perhaps some signature transactions. The text specifically refers to "private equity clients" as opposed to investors or limited partners. Private equity industry professionals we've asked to look at his resume volunteered that this section s a describes a business providing advisory services to investors, much as consulting and accounting firms do, and not a concern that can be properly called a private equity firm.
Although Asubonten can assign himself whatever titles he chooses in his own business, if he is indeed running only a very small consulting firm or at best investing family funds, it would be misleading to present himself as a "private equity CFO" in a resume, particularly for a major financial institutional like CalPERS.
We will discuss the mystery of Asubtonen's "private equity firm" in greater detail tomorrow.
Some small but telling misrepresentations come at the end of Asubonten's resume, in the section "Professional & Civic Memberships." One item is "Independent Board Member – Solar Light Africa Inc."
As Asubonten presumably knows, an "independent board member" sits on the board of the corporate entity and is "independent" by virtue of not being involved in the management of the business. Asubonten is merely on the advisory board of Solar Light:

Asubonten presenting himself as an "independent director" depicts him as having legal authority which he lacks.
Similarly, Asubonten listed himself as "Independent Board Member – Palabora Mining, January 2010-July 2010." While Asubonten "retired" from the board in June 2010, when his term expired (see numbered page 9), it is misleading to depict him as an "independent board member" then.
First, as a result of having had his CFO assignment terminated, Asubonten attended no board meetings in 2010: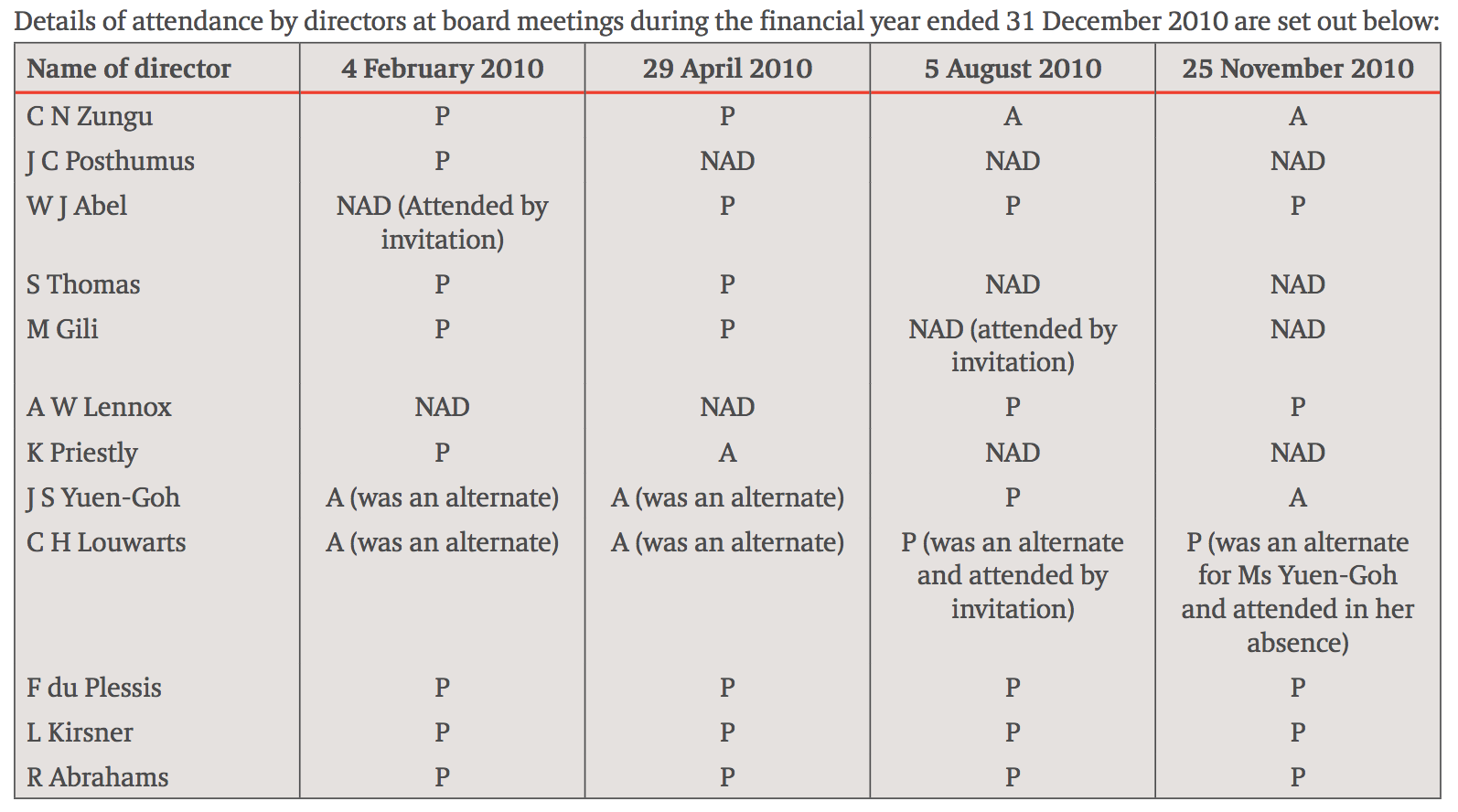 Second, Palabora differentiated among "executive directors." as he was when he was CFO, "non-executive directors," such as Rio Tinto executives who were on the Palabora board, and "independent non-executive directors". Asubonten was never an independent director, as this screenshot from the 2010 annual confirms:

CalPERS CEO Marcie Frost told a contact that CalPERS also looked at Asubonten's LinkeIn profile during the assessment process. That makes it legitimate to regard it as part of CalPERS' evaluation process. It will feature more prominently in our next post.
This tagline at the end of Asubonten's 2016 LinkedIn article should have caught CalPERS' attention. Asubonten claimed he was responsible for the turnaround of Palabora and its sale in 2012 despite the fact that he had not been with the company since 2009:
Charles Asubonten, an expert in value creation was the turnaround CFO of the then JSE- listed Palabora Mining Company, led Palabora's "Long Walk to Profitability" using the financial strategies and tactics advocated here to lead the company from near bankruptcy to be sold for about $650M to a consortium of Chinese and South African investors, creating value for all shareholders (including Rio Tinto and Anglo American) and preserving and creating jobs in the Ba-Phalaborwa area in the Limpopo Province of South Africa.
Needless to say, Rio Tinto and Palabora appear not to agree with this assessment.
_____
1 A Mopani official said Mr. Asubonten's contract started April 1, 2012 and was terminated in May 2013, which is a 13 month period but oddly not the same 13 months shown on his resume (May 2012 to June 2013).
2 This interviewee made clear that he knew and liked Asubonten and tried to depict the early termination of his contract as resulting from a new CEO coming in and wanting to bring in his own people. However, that account does not match up against public information, which shows that there was only one CEO during Asubonten's tenure at Mopani, and that he joined in July 2011, nine months before Asubonten's assignment began, and was CEO through at least late 2014, more than a year after he departed (Bloomberg shows him as still the CEO of Mopani but he had clearly departed by the end of 2017; the acting MCM was apparently named CEO in January 2018). A second Mopani source has agreed to speak with us but not until he returns from holiday next week.
3 There is tension between the presentation of Palabora as an independent entity in its public financial statements and some of the practices that resulted from a fair bit of integration into and dependence upon Rio Tinto. For instance, the managing directors and Asubonten were paid for by Rio Tinto and charged to Palabora (see numbered page 51 here). The court ruling also makes clear that the negotiation of Asubonten's exit were handled by Rio Tino, not Palabora. Those roles thus appeared to serve at the pleasure of Rio Tinto, and not Palabora's board.
4 A former Palabora executive said that the two subsidiaries were sales operations with one employee each.
5 It may strike some readers as curious that this case went forward, since it states that Asubonten had entered into a settlement agreement with Rio Tinto in February 2010 that "waived any right to make any claims against Rio Tinto or its 'subsidiaries, affiliates, agents, employees, representatives, and foreign based subsidiaries of the parent companies to whom the employee may have been assigned' (collectively referred to as 'Related Parties' in the Separation Agreement)." Language like that would have stopped a suit like this dead in its tracks in the US.
6 Our surmise is that Asubonten's claim to Asian experience rests on having supervisory responsibility for a one-employee Palabora unit in Singapore, and for Europe, either or both of having been hired by Rio Tinto's UK office (although there is no evidence he ever worked there) and having Swiss-based Glencore as one of the large share owners of Mopani. However, the Mopani executive we interviewed depicted Mopani as autonomous.
Asubonten resume

Asubonten v. Palabora