By Lambert Strether of Corrente.
Politics
2018
"Here's why I don't worry about healthcare getting lost in Democrats' campaign" [Josh Barro, Business Insider]. "'Trump scandal' is probably a better issue for Democrats than they realize. No, incremental developments in scandals don't seem to be hurting the president's numbers at the margin. But the president's baseline position, having such low poll numbers even though the public is pretty satisfied with the economy, is a testament to the electoral penalty he and his party pay for all of his … stuff. So, it's good and important to have all that stuff stay in the conversation — and healthcare can be added, through ads, as necessary." Hell yeah, why should the Democrat Party ever take a stand on an issue? [guffaw]

"Playbook: Oh, to be a House Republican" [Politico]. "There was nothing definitive to take away from last night, vis a vis the internal party dynamics. Some establishment folks won, others who aligned themselves with the Freedom Caucus triumphed…. The biggest winner of the evening wasn't on the ballot. Mitch McConnell and establishment Republicans beat back insurgent Don Blankenship, who had made the West Virginia primary a referendum on the Kentucky Republican in sharp — and often racist — tones."

"Cooperating With Trump on Immigration Takes Political Toll on Sheriffs" [Governing]. "The question of local cooperation with federal Immigration and Customs Enforcement was central to the outcome of three races for sheriff in North Carolina on Tuesday. Many voters objected to the program known as 287(g), under which local law enforcement agencies contract with the feds on immigration enforcement…. Issues surrounding race and immigration clearly helped motivate local activist groups to get involved — something that is often not the case when it comes to elections for sheriff. Given the extremely low turnout often involved in these races, local groups that can motivate even a small percentage of voters to cast a ballot can have an outsized impact."

"Why spending on this year's midterm elections should shatter records" [MarketWatch]. "One slice of data suggests the 2018 spending increase could be particularly dramatic. [Sarah Bryner, research director at the Center for Responsive Politics] took a look at what candidates have spent for the 2018 cycle to date, compared to the past couple of election cycles. The difference is major: through early May, House and Senate candidates have spent north of $745 million. Through May 28, 2014, by comparison, they'd shelled out close to $578 million. In other words, spending to date by candidates is up 29% over the last time midterms were held. That's just one kind of spending that goes into elections; it doesn't include what super PACs or parties shell out."
Realignment and Legitimacy
"Ohio Voters Approve New Process for Drawing Congressional Districts" [Governing]. "The passage of Issue 1 does not guarantee that all gerrymandering will end. If the legislature, and/or a seven-member commission consisting of three statewide officeholders and four lawmakers, cannot reach a bipartisan agreement on a map, then the majority party can draw a map on its own. However, that map would last only four years, instead of the normal 10, and it would be subject to tighter restrictions. Supporters of Issue 1 say a key to the proposal is that it puts in place new restrictions on how maps can be drawn, such as limiting how many counties can be split, and how often."
Stats Watch
Consumer Price Index, April 2018: "There may be new attention to inflationary overshooting but there's no indication of any building risk in the April consumer price report" [Econoday]. "It was the giant 3 tenth jump in the March core PCE year-on-year rate to 1.9 percent that triggered new emphasis from the Federal Reserve against the risk of rising inflation. But today's results don't point to any new threat, instead they reawaken concern, despite gasoline and housing, that inflation isn't up to speed." And: "Using these measures, inflation increased year-over-year in April. Overall, these measures are close to the Fed's 2% target" [Calculated Risk]. And: "Even though the prices for oil decreased this month, they were the main driver for iyear-over-year inflation. Core inflation is now above 2.0 % year-over-year" [Econintersect]. "As a generalization – inflation accelerates as the economy heats up, while inflation rate falling could be an indicator that the economy is cooling. However, inflation does not correlate well to the economy – and cannot be used as a economic indicator." But: "Over the past year, the CPI was boosted largely by rising prices for essentials" [MarketWatch]. "Here's the list of the items that pushed the CPI higher":
• Shelter: prices up 3.4%, contributing 1.12 percentage points, almost half of the total 2.5% rise in the CPI.
• Gasoline: prices up 13.4%, contributing 0.5 percentage point.
• Car insurance: prices up 9%, contributing 0.22 percentage point.
• Food away from home: prices up 2.5%, contributing 0.15 percentage point.
• Hospital services: prices up 4.5%, contributing 0.1 percentage point.
• Tuition and child care: prices up 1.9%, contributing 0.06 percentage point.
• Food at home: prices up 0.5%, contributing 0.04 percentage point.
• Prescription drugs: prices up 2.7%, contributing 0.04 percentage point.
• Water and sewer: prices up 3.1%, contributing 0.04 percentage point.
• Electricity: prices up 1.2%, contributing 0.03 percentage point.

Those 10 items (out of some 300) contributed 2.3 percentage points of the 2.5% increase. In other words, those 10 necessities were responsible for almost all the increase in the CPI. If you are living paycheck-to-paycheck, which of those items can you forgo or cut back on? Not many.
Jobless Claims, week of May 5, 2018: "Initial jobless claims beat expectations" [Econoday]. "Readings throughout this report are at or near historic lows which means that employers are holding very tightly to their employees in further evidence that the labor market is at, or very near, full employment."
Bloomberg Consumer Comfort Index, week of May 6, 2018: "The consumer comfort index continues to slide back from expansion highs" [Econoday]. "Still, the latest reading is nevertheless very strong, reflecting the strength of the jobs market and this year's tax cut."
Shipping: "[P]rices for making and moving goods have been growing faster than consumer price increases, with some pipeline costs rising at two or three times the rate of consumer inflation. Food-service distributor Sysco Corp. says high demand for trucks has pressured every part of the supply chain, straining profits in the thin-margin perishables trade. Costs for some refrigerated trucks have hit 40-year highs" [Wall Street Journal].
Shipping: "Why LNG represents a bridge of pragmatism on shipping's road to decarbonisation" [Splash 247]. "There are no viable alternatives to LNG in the forseeable future if the maritime industry is to continue to contribute significantly to air quality while moving forward in a positive way on CO2. SOx, NOx and PM reductions need to happen now – we must continue our decades-long drive to improve air quality. We need to finish this initiative while also taking a major step forward in terms of GHG reductions. In this context, LNG is unrivalled. It is available now, commercially viable, and scalable to meet the industry's needs…. The current reality is that major ports around the world are embracing LNG with actual investments or funded plans and studies to close the so called 'last mile' of bunkering."
Shipping: "Kion reiterates growth forecast for 2018" [DC Velocity]. "German material handling giant Kion Group AG today reiterated its positive forecast for earnings growth in 2018 and said it plans to step up its use of digital technologies at customers' warehouses and in its corporate procedures."
Shipping: "Freight Forwarding: Keeping shippers top of mind" [Logistics Management]. Well worth a read on digitalization in the freight forwarding industry, but goodness, what a lot of jargon ("Freight digitalization winners will be the providers who fully implement a customer-facing strategy through a comprehensive strategic transformation"). I can think of any number of ongoing IT debacles that should serve as cautionary tales, but the possibility of failure doesn't seem to be part of the pitch.
Supply Chain: "Shortages in some medical supply chains may be approaching epidemic proportions. The EpiPen emergency allergy device is the latest healthcare product to end up in short supply…, after production problems at a Pfizer Inc. plant in Missouri reduced distribution" [Wall Street Journal]. "The U.S. Food and Drug Administration expects the shortage to sort out fairly soon, but for the medical world it marks the latest hurdle in getting needed quantities of pharmaceuticals and equipment in place. Shortages of drugs have plagued the U.S. health-care system for years, caused by a winnowing of suppliers for certain products and . The problem has grown since factories in Puerto Rico were damaged in a hurricane last year, leading to shortages of basic medical supplies like saline bags." So where's the capital go? Stock buybacks?
Tech: "Apple will reportedly launch a credit card with Goldman Sachs" [The Verge]. "The new credit card — which marks the end of Apple's credit card partnership with Barclays — would use the Apple Pay branding, and it's expected to be released early next year. Goldman Sachs will also offer in-store loans to Apple customers, according to the report."
The Bezzle: "Who's Winning the Self-Driving Car Race?" [Industry Week]. "[T]he perceived stakes are so enormous, with the promise of transport businesses needing little in labor costs, that many players are racing to master the technology and put it to work. Without drivers, operating margins could be … more than twice what carmakers generate right now." Without protein, operating margins on dogfood could be twice what dogfoodmakers generate right now. But will the dogs eat the dogfood?
The Bezzle: "Tesla: Unsafe at Every Speed?" [Industry Week]. "[T]he National Council for Occupational Safety and Health (National COSH) recently tagged Tesla as one of the "Dirty Dozen" companies who are the worst at putting their workers and communities at risk with unsafe practices. So a company whose reputation was built on having cool cars that were the safest thing on the road is now having to defend itself against killer robot cars built in dangerous factories." Of course, to a certain mentality, that is cool.
Mr. Market: "Volatility Strikes Back" [IMF Blog]. "The bouts of volatility in early February and late March that spooked investors were confined to equity markets. Nevertheless, they illustrate the potential for sudden market moves to expose fragilities in the financial system more broadly. With central banks in advanced economies set to normalize their monetary policies just as trade and geopolitical tensions flare up, economic and policy uncertainty may rise and financial conditions may tighten abruptly. All this could lead to a period of renewed volatility."
Mr. Market: "Wall Street's 'fear index' drops to levels not seen since before stocks fell in to correction" [MarketWatch]. "Based on one popular metric for volatility in the equity market, investor anxieties seem to have dropped precipitously of late, helped by a continuing recovery in stock prices…. Historically, the VIX's average value is between 19 and 20, meaning that the current level [13] is extremely low by historical standards."
Honey for the Bears: "Economic policies for tectonic change" [Financial Times]. "[T]here are deep transformations under way in the economy that are far from finished. That is so even if restructuring of manufacturing may have largely played itself out — and our current political turmoil reflects how poorly we designed policy to deal with that first phase. We must do better this time round, and forestall the economic dangers posed by the structural transformation still under way. What are these dangers? First, an increased concentration of wealth. Second, a shift in the balance of power between different individuals and groups in the economy. And third, more and greater risks that are likely to hit those least equipped to bear them if policy does not provide a remedy."
The Fed: "Forecasts of the Lost Recovery" [Liberty Street Economics]. "The years following the Great Recession were challenging for forecasters for a variety of reasons, including an unprecedented policy environment. This post, based on our recently released working paper, documents the real-time forecasting performance of the New York Fed dynamic stochastic general equilibrium (DSGE) model in the wake of the Great Recession. We show that the model's predictive accuracy was on par with that of private forecasters and proved to be quite a bit better, at least in terms of GDP growth, than that of the median forecasts from the Federal Open Market Committee's (FOMC) Summary of Economic Projections (SEP)…. The fact that New York Fed DSGE forecasts were more accurate than those of the SEP, at least for output growth, during the recovery is interesting in light of the pushback that DSGE models suffered after the Great Recession. DSGE models were criticized for their inadequacy during the financial crisis (there was even a congressional hearing about it!). While that criticism was in many ways warranted in that most (if not all) DSGEs developed before the crisis were useless in terms of understanding many aspects of the crisis, this exercise shows that some later models, including the New York Fed DSGE model, got one thing right: the transmission of the financial shock to the macroeconomy."
Five Horsemen: "Apple has gone off with a bang since news of Buffett's buying emerged several days ago, pulling its Silicon Valley sisters Alphabet and Facebook up with it" [Hat Tip, Jim Haygood].
NakedCap Mania-Panic Index: "The mania-panic index strengthened to 62 (complacency) as the S&P 500 index continues rising versus its own moving average and outperforming Treasuries by a larger margin" [Hat Tip, Jim Haygood]. (The NakedCap mania-panic index is an equally-weighted average of seven technical indicators derived from stock indexes, volatility (VIX), Treasuries, junk bonds, equity options, and internal measures of new highs vs new lows and up volume vs down volume … each converted to a scale of 0 to 100 before averaging, using thirty years of history for five of the seven series.)
Gaia
"As Predators Rebound, You're More Likely to See Alligators at the Beach" [National Geographic]. "The encounter got [Brian Silliman of Duke University's Nicholas School of the Environment] thinking about other large animals cropping up in unlikely habitats. By combing through data from scientific studies and government reports, he found that large predators were being spotted in other ecosystems where they weren't seen previously…. The reason for these unusual sightings, he found, is not because these predators are expanding their ranges in search of food, which was the previous consensus. Instead, the animals are recolonizing ecosystems they once inhabited before humans came along and stripped them of resources. In addition to alligators, Silliman and his team found that sea otters, river otters, gray whales, gray wolves, mountain lions, orangutans, and bald eagles, among other predators, were being spotted more often in habitats outside of their traditional ones. Archaeological evidence says alligators and sea otters are returning to places that are now populated by humans, but were once the predators' typical habitat. Larger predators top the food chain and can adapt more easily to environmental changes. They're often the smartest animals, Silliman adds, and their larger bodies can handle bigger swings in temperature. With these resilient characteristics, it makes sense that the animals can handle habitats other than the ones they're commonly found in today."
"Can Rivers Be People Too?" [The New Republic]. "In 1972, Christopher Stone, a law professor at the University of Southern California, wrote a law review article that's become seminal to the subject, "Should Trees Have Standing?" The extension of rights always sounds crazy, Stone argues. "Throughout legal history, such successive extension of rights to some new entity has been, theretofore, a bit unthinkable." But the rights have been extended nonetheless. Stone walks so methodically through these historical unfoldings that it starts to seem downright inevitable for red hawks and giant Sequoia to be showing up on courthouse steps."
"7 Tips for a Successful Monarch Butterfly Pollinator Garden" [U.S. Fish and Wildlife Service]. This is much more about making a garden friendly to all beneficial insects. In the end, they only got six monarch caterpillars late in the season, but I don't think that's a useful metric: More important is "the augmentation of the complexity and intensity of the field of intelligent life" (which doesn't only include humans, obviously).
"Dutch rewilding experiment sparks backlash as thousands of animals starve" [Guardian]. "According to Olff, the biodiversity of Oostvaardersplassen is still burgeoning. Bird declines are not because of "overgrazing" by the large herbivores but due to a loss of reedbed because it's grazed by geese. And while bird species such as reed warbler have disappeared from the heavily grazed areas, they are still present in the marshes, and new species – lapwing, avocet, shellduck – have arrived because the grass is tightly grazed. The trees that have died are species that can't adapt to grazing but those that can, such as blackthorn, are very slowly replacing them."
Big Brother IS Watching You
"Alexa and Siri Can Hear This Hidden Command. You Can't." [New York Times]. "Over the past two years, researchers in China and the United States have begun demonstrating that they can send hidden commands that are undetectable to the human ear to Apple's Siri, Amazon's Alexa and Google's Assistant. Inside university labs, the researchers have been able to secretly activate the artificial intelligence systems on smartphones and smart speakers, making them dial phone numbers or open websites. In the wrong hands, the technology could be used to unlock doors, wire money or buy stuff online — simply with music playing over the radio. A group of students from University of California, Berkeley and Georgetown University showed in 2016 that they could hide commands in white noise played over loudspeakers and through YouTube videos to get smart devices to turn on airplane mode or open a website. This month, some of those Berkeley researchers published a research paper that went further, saying they could embed commands directly into recordings of music or spoken text. So ." Holy [family blog].
Book Nook
Thread:
started reading this too, which has been interesting so far pic.twitter.com/uqph4udOs4

— the peace candidate (@haircut_hippie) May 10, 2018
This looks like summer reading material for me.
Class Warfare
Since it was the Old Mole's birthday recently:
"Marx's ecology: recovered legacy" [Monthly Review]. "In volume 3 of Capital, [Marx] opposes to the capitalist logic in agriculture, based on brutal exploitation and exhaustion of the soil, a different logic, a socialist one grounded on 'the conscious and rational treatment of the land as permanent communal property'—a treatment that considers the soil not as the source for short-sighted profit, but as "the inalienable condition for the existence and reproduction of the chain of human generations."
"It's time to normalize Karl Marx" [Ryan Cooper, The Week]. "Today, as against the neoclassicals who view the capitalist economy as a perfect self-regulating machine, Marx reminds us that capitalism has an inherent tendency towards crisis — and the purer the capitalist institutions, the worse these crises are. His historical grounding is refreshing in an economics profession that is far too often obsessed with arid mathematical theories bearing little or no relationship to reality…. To be sure, the brutal tyrannies of Stalinist Russia and Maoist China did have some recognizable Marx-derived characteristics. For anyone studying Marx, it's important to identify and isolate those things to understand where they came from, and why those countries turned out so badly — just as it would be for anyone studying the works of classical liberal economists like John Stuart Mill to investigate their connection with trade-fueled disasters like the Irish Famine or the Congo Free State." Or the Indian famine.
"Marxism without revolution: repost" [Crooked Timber]. From one of the three links, Class (2011): "An effective political movement would mobilise the direct interests of the 80 per cent or so of the population who are losing ground in relative terms (and in the US in absolute terms) combined with the broader interest of those in the top 20 per cent of the population in a juster and more stable social order – unlike the top 1 per cent, this group can't easily insulate themselves from society as a whole or count on passing on their own social position to their children. There is no obvious political vehicle for such a movement." I recently turned eagerly to the final chapter — "Classes" — of Capital, Volume III. It's a single page, famously ending "[Here the manuscript breaks off.]" The ending paragraphs:
The first question to he answered is this: What constitutes a class? – and the reply to this follows naturally from the reply to another question, namely: What makes wage-labourers, capitalists and landlords constitute the three great social classes?

At first glance – the identity of revenues and sources of revenue. There are three great social groups whose members, the individuals forming them, live on wages, profit and ground-rent respectively, on the realisation of their labour-power, their capital, and their landed property.

However, from this standpoint, physicians and officials, e.g., would also constitute two classes, for they belong to two distinct social groups, the members of each of these groups receiving their revenue from one and the same source. The same would also be true of the infinite fragmentation of interest and rank into which the division of social labour splits labourers as well as capitalists and landlords-the latter, e.g., into owners of vineyards, farm owners, owners of forests, mine owners and owners of fisheries.
So, follow the money. That makes sense. But how much forrader are we, really?
News of The Wired
"History of reading: The beginning of silent reading changed humans' interior life" [Quartz]. "People think of reading as the introvert's hobby: A quiet activity for a person who likes quiet, save for the voices in their head. But in the 5,000 or so years humans have been writing, reading as we conceive it, an asocial solo activity with a book, is a relatively new form of leisure."
"Varieties Of Argumentative Experience" [Slate Star Codex]. With handy chart. "Most people are either meta-debating – debating whether some parties in the debate are violating norms – or they're just shaming, trying to push one side of the debate outside the bounds of respectability. If you can get past that level, you end up discussing facts… and/or philosophizing about how the argument has to fit together before one side is 'right' or 'wrong'…. Either of these can be anywhere from throwing out a one-line claim and adding "Checkmate, atheists" at the end of it, to cooperating with the other person to try to figure out exactly what considerations are relevant and which sources best resolve them. If you can get past that level, you run into really high-level disagreements about overall moral systems, or which goods are more valuable than others, or what 'freedom' means, or stuff like that. These are basically unresolvable with anything less than a lifetime of philosophical work, but they usually allow mutual understanding and respect."
"Apple, Influence, and Ive" [Hodinkee Magazine]. A splendid example of corporate hagigraphy. Fortunately, the Twitter has read it so you don't have to:
— Ed Zitron (@edzitron) May 9, 2018
* * *
Readers, feel free to contact me at lambert [UNDERSCORE] strether [DOT] corrente [AT] yahoo [DOT] com, with (a) links, and even better (b) sources I should curate regularly, (c) how to send me a check if you are allergic to PayPal, and (d) to find out how to send me images of plants. Vegetables are fine! Fungi are deemed to be honorary plants! If you want your handle to appear as a credit, please place it at the start of your mail in parentheses: (thus). Otherwise, I will anonymize by using your initials. See the previous Water Cooler (with plant) here. Today's plant (TH):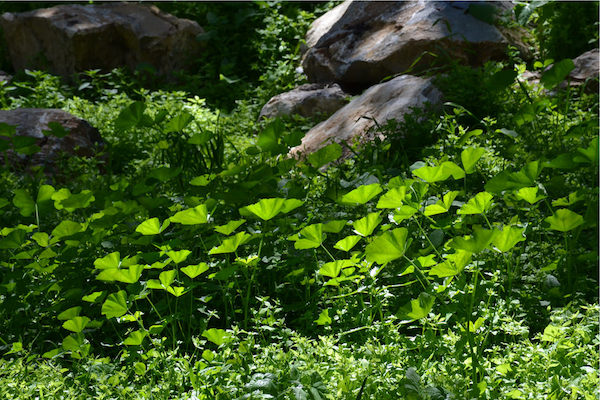 TH writes: "It's hard to be sure without the flowers, but I think, although they are taller than I'm used to seeing, that these are Nasturtium leaves along a horse trail in Palos Verdes, California."
* * *
Readers: Water Cooler is a standalone entity not covered by the annual NC fundraiser. So do feel free to make a contribution today or any day. Here is why: Regular positive feedback both makes me feel good and lets me know I'm on the right track with coverage. When I get no donations for five or ten days I get worried. More tangibly, a constant trickle of small donations helps me with expenses, and I factor that trickle in when setting fundraising goals. So if you see something you especially appreciate, do feel free to click the hat!

To give more, click on the arrow heads to the right of the amount.
If you hate PayPal — even though you can use a credit card or debit card on PayPal — you can email me at lambert [UNDERSCORE] strether [DOT] corrente [AT] yahoo [DOT] com, and I will give you directions on how to send a check.