By Lambert Strether of Corrente.
Too-patient readers, I got a late start on Water Cooler, and will add more material shortly. –lambert UPDATE 3:11PM Done.
Trade
"Delays and 'poison pills': team Trump runs out of road in NAFTA talks" [Reuters]. "WASHINGTON (Reuters) – President Donald Trump is running out of time to deliver a revamp of the North American Free Trade Agreement (NAFTA) he promised for this year and people involved in the talks say the crunch is largely of his administration's own making….. Negotiators, industry lobbyists, trade experts and lawmakers briefed on the talks described how precious months passed before the U.S team presented its proposals and how the talks stalled because the demands far exceeded what Canada and Mexico had expected and Washington signaled no readiness to compromise. In the end, an unusually tight timetable allowed little space to bridge differences on the core issues, such as U.S. and regional content requirements for the auto industry."
Politics
2020
"Elizabeth Warren is quietly working to defang Trump's 'Pocahontas' slur as 2020 looms" [CNN]. "Warren delivered her most forceful rebuttal yet during a speech at the National Congress of American Indians in February. The speech opened a new chapter of Warren leaning into her heritage — a move that could help her defuse a political landmine ahead of a potential 2020 presidential run by building goodwill with Native American leaders who could validate her claims and vouch for her advocacy on issues important to their communities….. Since March, Warren has met 16 times with Native American groups and tribal leaders, at times bringing up the issue in those meetings. Warren also attended Cherokee Day in Washington and toured Choctaw Nation in Oklahoma."
2018
"Breaking a Promise, Tom Perez Puts His Thumb on the Scale for Andrew Cuomo" [The Nation]. Really shocking that Perez would do this.

"First-time, liberal candidates are flooding the Democratic primaries" [WaPo]. Interesting, but note the hidden assumption: Political ideology can be placed on a "spectrum," a linear scale from conservative to liberal. Why do we assume that?

FL-27: "Donna Shalala Won't Discuss Working for Lennar During Housing Bust, Profiting Off Health-Care Work" [Miami New Times]. "Here's a sentence that perfectly explains the state of Democratic politics in 2018: Former Clinton Foundation chief Donna Shalala, who helped lead a major homebuilder during the 2008 housing crash and also made $5 million after sitting on the board of a massive, for-profit health insurance company, is poised to steamroll a crowded field of Democratic competitors in a race for the U.S. House." From March, but it is what it is.
Our Famously Free Press
Uh oh:

Fake news is a non-partisan issue, and we're building technology to protect all groups affected as we fight for the truth.

We're excited to see the @DNC work with us and take a leadership role on a problem that attacks democracy itself. pic.twitter.com/LtDKmO1PzK

— Ash Bhat (@theashbhat) April 9, 2018
Obama Legacy
"Hail the Obama temple, and silence at City Hall" [Chicago Tribune]. "Chicago may not have enough cops to patrol the streets, taxes are going up and residents are fleeing for safety and jobs. But you really can't say City Hall ignores the important things. . It's vitally important to Mayor Rahm Emanuel and aldermen seeking re-election, whether taxpayers like it or not. And Wednesday's speeches honoring the Chicago Sun-Times chairman without ever mentioning that he's now being paid by the mayor's money man, Michael Sacks, is important. Silence is always important."
Realignment and Legitimacy
"Facing Student-Led, Anti-NRA 'Die-In,' Publix Suspends Political Donations" [Talking Points Memo]. #BlackLivesMatter had escalated to die-ins very effectively, just before the liberal Democrat establishment managed to decapitate it.

"Hax Philes: Talking politics in a bipartisan relationship" [Carolyn Hax, WaPo]. (I'm a big Hax fan, and her commentariat is well-moderated, although naturally not in our league.) The topic for discussion: "The political climate seems to be getting more acrimonious by the day. For many bipartisan couples, conversations that used to be run-of-the-mill political exchanges with good-natured 'agree to disagree' outcomes have become more heated and personal. How do you suggest spouses who are on opposite sides of the aisle deal with opposing political views in this increasingly tense environment?"

"The spillover of race and racial attitudes into public opinion about climate change" [Journal of Environmental Politics]. "Results show that racial identification became a significant predictor of climate change concern following Obama's election in 2008, and that high levels of racial resentment are strongly correlated with reduced agreement with the scientific consensus on climate change. These results offer evidence for an effect termed the spillover of racialization. This helps further explain why the public remains so polarized on climate change, given the extent to which racial grievances and identities have become entangled with elite communication about climate change and its related policies today." Hmm. "Spillover" seems a bit squishy to me.

"The Right-Wing Millennial Machine" [HuffPo]. "Progressives aren't just out of sync with their own need to recruit and retain young people. They're also lagging behind conservative interests. A 2017 study found that between 2008 and 2014, conservative donors gave three times more to millennial outreach groups than liberal donors. Much of that funding, Thompson says, went to things like paid fellowships, travel stipends and study grants ― creating the feeder system that will guide young people into actual jobs with political campaigns and think tanks."

"Imagining class: A study into material social class position, subjective identification, and voting behavior across Europe" [Lorenzo D'Hooge, Peter Achterberg, Tim Reeskens Social Science Research]. "[M]aterial class only seems to predict economic voting behavior when it coincides with subjective class."
Stats Watch
Dallas Fed Manfacturing Survey, May 2018: "Regional indications point to a very strong month of May including the Dallas Fed's general activity index" [Econoday]. "How long can these rates of growth go on before business expansion — because of lack of capacity especially for employment — begins to slow is the question especially for this sample."
Consumer Confidence, May 2018: "as expected" [Econoday]. "Of all the measures on consumer spirits, this report has been and remains the strongest…. Significantly more consumers says jobs are currently plentiful, at 42.4 percent vs April's 38.2 percent, and about the same say they are hard to get, at 15.8 vs 15.5 percent. Expectations also moved higher, up 1.3 points to 105.6 with sizably more, at 19.7 percent vs April's 18.6 percent, seeing more jobs opening up in the next six months."
S&P Corelogic Case-Shiller HPI, March 2018: "Home-price appreciation is slowing going into the Spring housing season" [Econoday]. "[E]arly traction in the Spring housing season appears to be less convincing than usual which, for policy makers committed to sustainable economic growth, is probably a plus given what may have been a pattern of overheated price appreciation last year."
State Street Investor Confidence Index, May 2018: "Global institutional investors slowed their accumulation of equities significantly in May" [Econoday]. Sell in May and go away? Is that one real?
Retail: "People Aren't Paying Their Bills at Bankrupt Stores" [Bloomberg]. "The severe delinquency rate — those 60 days or more past due or in collections — increased to 4.65 percent in March for private-label retail credit cards, up 57 basis points from last year. Late payments have been rising steadily, on a seasonal basis, since 2013 and are now at the highest level since early 2011, according Equifax data collected in March."
Retail: "2018 could be a record year for store closings" [Business Insider]. "As the 'retail apocalypse' rolls on, 2018 could see more retail space open up than any year before, according to CoStar Group data cited by CNBC. At least 94 million square feet of retail space will be closed in 2018, according to data released in April, already moving in on 2017's record of 105 million square feet, with much of the year still left to go. This surge was powered by the liquidation and closing of retailers like Toys "R" Us and Bon-Ton, with many more stores set to close soon….
Retail: "India's Biggest Competitors to Walmart and Amazon? Mom and Pop" [Wall Street Journal]. "Tiny stores known as kiranas dot every Indian street, village and slum. Usually family-run, these micro-businesses range from street vendors selling vegetables to shops the size of a one-car garage. They pay low wages and have little or no rent, which helps keep costs down. And since they cater largely to neighborhood populations, many offer instant delivery, interest-free credit and other personalized services that the global giants are unable or unwilling to provide. 'The kirana store has better economics than a supermarket,' said Rajiv Lal, a professor of retailing at Harvard University. 'There is no way to beat them.'"
Retail: "Facebook's Scandal And GDPR Are Creating New Opportunities For Retail" [Forbes]. Not quite a Facebook story. "According to a recent article by the National Retail Federation, retail accounts for only 4.8 percent of data breach incidents compared to 24.3 percent for the financial services industry. Yet, because breach laws require only retailers to notify the public of breaches, and not banks, many assume retailers have more breaches. While unfair at its core, retailers are now further ahead of the game than other industries."
Shipping: "The Engines of the Largest Container Ships in the World, and Challenges their Manufacturers Face" [Wolf Street]. Well worth a read (even if you're not a container ship maven or fan; sheds light on the Daewoo bankruptcy). The image of the MAN SE crankshaft, however, strikes me as an example of gigantism; like the A-380 or the USS Gerald R. Ford, gigantism always strikes me as a bad sign; technology reaching its limits.
UPDATE The Bezzle: "Why Uber's self-driving car killed a pedestrian" [Economist]. "According to the NTSB report, the Uber vehicle struggled to identify Elaine Herzberg as she wheeled her bicycle across a four-lane road. Although it was dark, the car's radar and LIDAR before the crash. But the perception system got confused: it classified her as an unknown object, then as a vehicle and finally as a bicycle, whose path it could not predict. Just , the self-driving system realised that emergency braking was needed. But the car's built-in emergency braking system had been disabled, to prevent conflict with the self-driving system; instead a human safety operator in the vehicle is expected to brake when needed. But the safety operator, who had been looking down at the self-driving system's display screen*, failed to brake in time. Ms Herzberg was hit by the vehicle and subsequently died of her injuries." Isn't 4.7 seconds rather a long time, in computer terms? Even in human terms? I remember being taught in Drivers Ed (yes, I did take it) that human reaction time is 1/30 of a second. NOTE * Also dangerous on Teslas.
UPDATE The Bezzle: "Tesla deaths.xlsx" [Google.dox]. Links for all deaths.
The Bezzle: Happy customers are all alike; every unhappy customer is unhappy in their own way:
In which $TSLA messes with the wrong customer pic.twitter.com/mBRvFgbFXN

— "Elon Says" (@ElonBachman) May 26, 2018
The Bezzle: "U.S. Launches Criminal Probe into Bitcoin Price Manipulation" [Bloomberg]. "The investigation is focused on illegal practices that can influence prices — such as spoofing, or flooding the market with fake orders to trick other traders into buying or selling, said the people, who asked not to be identified because the review is private. Federal prosecutors are working with the Commodity Futures Trading Commission, a financial regulator that oversees derivatives tied to Bitcoin, the people said." Since Bitcoin ownership is highly concentrated, it will be interesting to find out who's doing the manipulating.
The Bezzle: "The great meal-kit shakeout continues as Kroger plans to buy Home Chef for at least $200 million" [Recode]. "Blue Apron's struggles, in addition to Amazon's acquisition of Whole Foods, appear to have dissuaded several other smaller players in the space from continuing on a path as an independent business, where distribution typically comes with high customer acquisition costs. Big grocery companies can give these startups a way to reach mass audiences by selling their meals a la carte in brick-and-mortar stores." So next the groceries bring meal-kits in-house, and that's the end of this stupid idea, no?
Five Horsemen: "Amazon and Microsoft are at new record highs in late morning trade as the broader market droops" [Hat Tip, Jim Haygood].
NakedCap Mania-Panic Index: "The mania-panic index eased to 61 (complacency) on Friday as new 52-week lows continued to exceed new 52-week highs" [Hat Tip, Jim Haygood]. (The NakedCap mania-panic index is an equally-weighted average of seven technical indicators derived from stock indexes, volatility (VIX), Treasuries, junk bonds, equity options, and internal measures of new highs vs new lows and up volume vs down volume … each converted to a scale of 0 to 100 before averaging, using thirty years of history for five of the seven series.)
Facebook Fracas
"Facebook, Cambridge Analytica, and the Regulator's Dilemma: Clueless or Venal?" [Harvard Law Review Blog]. "I spent nearly four years as director of the Federal Trade Commission's Bureau of Consumer Protection, where I worked on several hundred enforcement cases…. sometimes I wondered whether the company was simply completely clueless or actually venal. Clueless companies acknowledge that problematic conduct took place, but claim that they were unaware of it, and for that reason they shouldn't be punished—or, at most, should get a slap on the wrist. Venal companies deny all wrongdoing, no matter how egregious the violation, incontrovertible evidence against them, or the toll exacted on consumers. And like all regulators, I struggled with deciding which was worse—cluelessness or venality…. I didn't think that Facebook fell into the "venal" category when the FTC first investigated the company eight years ago. The company seemed to understand that it had pushed too hard to force users to make private data public and was willing (if not happy) to rein in the company's drive to increase data sharing. But Facebook's enabling of the Cambridge Analytica campaign suggests that I may have been wrong. Facebook is now a serial offender. And for much of the company's fourteen-year life span, Facebook has faced justified criticism that it is not candid about the extent to which user data is shared with app developers and other third parties."
"Zuckerberg set up fraudulent scheme to 'weaponise' data, court case alleges" [Guardian]. "'Zuckerberg weaponised the data of one-third of the planet's population in order to cover up his failure to transition Facebook's business from desktop computers to mobile ads before the market became aware that Facebook's financial projections in its 2012 IPO filings were false,' one court filing said." Big if true.
UPDATE "Facebook is now labeling political ads to try and prevent another Russian situation" [Recode]. "The major issue still facing the company, though, is how it will identify issue ads that don't necessarily endorse a specific candidate but that touch on a wide range of political themes, such as civil rights, immigration, the environment and the military. A lot of the ads purchased by the Internet Research Agency, the Russian troll farm, were ads focused on divisive issues, not specific candidates Facebook is aware of the challenge. 'Deciding what is or is not a political issue is inherently controversial, and not everyone will agree with our approach,' the company wrote in a blog post. To figure out what issues to look for, Facebook worked with an outside organization called the Comparative Agendas Project. The organization measures 'trends in policy-making' globally; it helped Facebook come up with a list of 20 issues to monitor for, including topics like abortion, guns, taxes and civil rights."
MMT
UPDATE "EPISODE 78: Burn the Debt Clock! with special guest economist Stephanie Kelton" [ElectaBlog]. It's good to see Kelton out there on the hustings. It's not so good to see the front page of ElectaBlog, which bills itself as "the indispensable Michigan politics source," devoted to the moral panics generated by liberal Democrats from the Beltway. The first Michigan story ("Michigan GOP stoops to blackmailing Gov. Snyder and the federal government to hurt Medicaid recipients") is from May 9, twenty days ago. Oh well, the "indispensable Michigan" quote is from Maddow.
Gunz
"Gun Control in the Crosshairs: Christian Nationalism and Opposition to Stricter Gun Laws" [Andrew Whitehead Landon Schnabel Samuel Perry, SocArXiv]. "Using data from a national population-based survey, we show that Christian nationalism is an exceptionally strong predictor of opposition to the federal government enacting stricter gun laws. In fact, of all the variables we considered only general political orientation has more predictive power than Christian nationalism. We propose that the gun control debate is complicated by deeply held moral and religious schemas that discussions focused solely on rational public safety calculations do not sufficiently address."
Police State Watch
UPDATE "Policing and Gentrification" [Autonomous Tenants Union, Medium]. "The police — and those happy to call them at every turn — are part of the engine that drives gentrification and, ultimately, displacement…. San Francisco's Anti-Eviction Mapping Project documented a dramatic increase in arrests and citations for petty misdemeanors in gentrifying black and brown neighborhoods. In the Mission, a historically Latinx neighborhood, 311 complaints about minor infractions increased by 291 percent from 2009 to 2014 as wealthy techies moved in."
Health Care
UPDATE "Doctors propose new Medicare direct-contracting model" [Modern Healthcare]. Capitation isn't all that new.
Our Famously Free Press
UPDATE "Is the Washington Post Soft on Amazon?" [Counterpunch]. Throwing a flag on the Betteridge's Law violation; lots of icky detail. "In failing to consistently inform readers of Bezos's connection to Amazon, the Post is continuing a pattern of not disclosing its owner's ties to companies at convenient times. Last year, as ride-hailing giant Uber faced increasing scrutiny over a series of scandals, the Post suddenly stopped disclosing that Bezos was an early Uber investor." And Cambridge Analytica couldn't have done its work without Mechanical Turk, an Amazon product. And on and on and one.
Class Warfare
"Four MIT graduates created a restaurant with a robotic kitchen that cooks your food in three minutes or less" [Business Insider]. "The robotic kitchen serves salad and grain bowls… The only human in the kitchen is the 'garde manger' or 'garnish employee.' They add your toppings." The restaurant is named "Spyce," forsooth.
"You're Going To Use That Self-Checkout Machine Whether You Like It Or Not" [HuffPo]. "But to a certain degree, the choice is already being made for them. Vankleeck says that at her store, management wants 65 percent of all customers going through self-checkout rather than traditional registers. Since ― even if it means siphoning work away from wage-earning cashiers."
UPDATE "Another Taxi Driver in Debt Takes His Life. That's 5 in 5 Months" [New York Times]. "Mr. Chow bought a medallion in 2011, just as Uber was beginning to operate in New York City. By last year, Mr. Chow was realizing that his $700,000 investment was not paying off. He could not afford his daughter's college education. He could not afford the medical bills after his wife was diagnosed with cancer, Ms. Desai said. Ms. Desai said Mr. Chow went to make a payment on his medallion loan a few days before he went missing. His credit card was declined." Yeah, well. Creative destruction.
News of The Wired
"How Stanley Kubrick's Early Photography Influenced His Moviemaking" [RealClearLife]. I don't think the text proves the claim made in the headline
"Mutants and Grotesque Monsters: The Soviet Artist who rebelled against the fall of Communism" [Dangerous Minds]. "Korzhev's painting developed from the basic propagandist needs of Socialist Realism into a more personal and highly artistic style. His work ranged from the traditional Soviet style to a more Impressionistic studies. Then in later life he progressed towards a highly surreal and almost Bosch-like approach with a series of allegorical works. These attacked the political corruption and folly of the new Russia. They depicted weird parasitic creatures devouring the flesh of citizens and bizarre monsters celebrating their worst excesses. His paintings were disturbing, thought-provoking and radical in their revolt against the new capitalist politics of the time." Korzhev may remind readers of Goya, as well as Bosch, and possibly Francis Bacon.
Meta at last:
by age 35 you should be 35 years old

— leon (@leyawn) May 23, 2018
So how was your weekend? Thread:
You know when you get a press release to cover a Guinness world record attempt for tallest stack of waffles & expect it to be some big commercial thing & then it's just a guy's house? This is SO MUCH BETTER. Follow along, #Denver! Things might get weird! pic.twitter.com/xcxqZCMJZM

— Elizabeth Hernandez (@ehernandez) May 26, 2018
There's a lot about America that is, actually, great, already. Events like this!
And to top it all off, brunch:
I kept calling ObamaCare a Rube Goldberg machine for good reason….
* * *
Readers, feel free to contact me at lambert [UNDERSCORE] strether [DOT] corrente [AT] yahoo [DOT] com, with (a) links, and even better (b) sources I should curate regularly, (c) how to send me a check if you are allergic to PayPal, and (d) to find out how to send me images of plants. Vegetables are fine! Fungi are deemed to be honorary plants! If you want your handle to appear as a credit, please place it at the start of your mail in parentheses: (thus). Otherwise, I will anonymize by using your initials. See the previous Water Cooler (with plant) here. Today's plan (petal):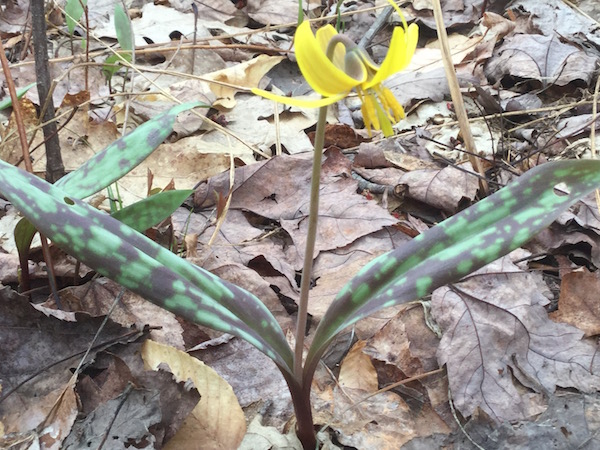 petal writes: "This is a trout lily. I found a few of them blooming yesterday evening where I walk my dogs." As readers know, I encourage dogs. (As to the name, the pattern on the leaves is said to resemble a brook trout's coloring. Live and learn.)
* * *
Readers: Water Cooler is a standalone entity not covered by the annual NC fundraiser. So do feel free to make a contribution today or any day. Here is why: Regular positive feedback both makes me feel good and lets me know I'm on the right track with coverage. When I get no donations for five or ten days I get worried. More tangibly, a constant trickle of small donations helps me with expenses, and I factor that trickle in when setting fundraising goals. So if you see something you especially appreciate, do feel free to click the hat!

To give more, click on the arrow heads to the right of the amount.
If you hate PayPal — even though you can use a credit card or debit card on PayPal — you can email me at lambert [UNDERSCORE] strether [DOT] corrente [AT] yahoo [DOT] com, and I will give you directions on how to send a check.