By Lambert Strether of Corrente.
Much-too-patient readers, I've got to finish the latest primaries worksheet, after which I'll add more material. But there's something to look at under "News of the Wired." –lambert UPDATE 4:17PM All done.
* * *
Trade
"Trump Plows Ahead on China Tariff Threats, Investment Curbs" [Industry Week]. "It's the latest twist in a trade dispute between the U.S. and China that has roiled financial markets and prompted the International Monetary Fund to warn of a trade war that could undermine the broadest global upswing in years. The announcement raises the stakes for the third round of talks between the two economies. Commerce Secretary Wilbur Ross is scheduled to meet with officials in Beijing on June 2-4 to continue negotiations."
"Commerce Secretary Wilbur Ross' skills as a salesman will be on full display when he travels to Beijing in the coming days to try to clinch long-term contracts for U.S. agriculture and energy exports amid the pall of President Donald Trump's decision to move forward with U.S. tariffs on $50 billion worth Chinese goods" [Politico]. "Further complicating the picture is that no single administration official, not even Trump, has emerged a reliable spokesman on the China issue, since the administration has changed course so many times in recent months, said Phil Levy, a former Treasury Department official who's now a senior fellow at the Chicago Council on Global Affairs. The result of that confusion 'is that if you're trying to send signals, you've completely muddied this and nobody knows what signal you're sending,' he said."
Politics
2020
"Bernie Sanders 'is considering another run for the presidency,' former campaign manager says" [Yahoo News]. "[Weaver] has been keeping tabs on 2020 issues too. He has been a constant presence at a series of meetings of the Democratic National Committee's Rules and Bylaws committee this year, as it works through potential changes to the presidential primary, including a likely reduction in the number of superdelegates. Weaver was more than an observer at these meetings — he frequently huddled and conversed with members of the committee, a clear sign of interest on the part of Sanders's top adviser in how the primary will be structured."

"Tracking Trump's Unusual Poll Patterns" [Charles Cook, Cook Political Report]. "To recap, Trump never got the honeymoon that most new Oval Office occupants get. After his first week in office, his first Gallup job-approval rating was 45 percent and the same share disapproved, a point lower than his share of the overall national popular vote…. But the lack of a honeymoon means that the inevitable downward slope that presidents usually see in their first two years in office, heading into the midterm election, might not happen the same way for Trump. He's had a decline less steep than normal and ("Events, my dear boy. Events."), rather than a relatively constant slide."
2018
"Realistically, the best possible scenario for House Republicans would be a net loss of 15-20 seats, hanging onto control by the barest of margins. The worst case would be a loss in the 40-50-seat range. Current district lines and natural population patterns would seem to make a loss on the level of the worst post-World War II midterm House defeats like 55 seats (1946), 54 seats (1994), and 63 seats (2010)—suffered by Democrats in all three cases—pretty unlikely. The worst post-World War II losses for Republicans were 30 seats (2006) and 48 seats (in both 1958 and 1974)" [Cook Political Report]. "Under that best-case scenario for House Republicans, they would certainly be even more impotent than they are today. Under the best case for Democrats, it's hard to see how they could move much legislation with a small majority, especially if they decide to pursue an agenda of investigations and impeachment."

"Democrats Are Running a Smart, Populist Campaign" [David Leonhard, New York Times]. "Yes, there are some tensions on the political left. But these tensions — over Obama-style incrementalism vs. Bernie-style purism, over the wisdom of talking about impeachment, over whether to woo or write off the white working class — are most intense among people who write and tweet about politics. Among Democrats running for office, the tensions are somewhere between mild and nonexistent." Purism.

"Spurning left, centrist Dems tout bank law for midterms" [The Hill]. "Three vulnerable Senate Democrats hailing from states President Trump won in the 2016 election are touting their work on a new bipartisan banking law, portraying it as proof of their independence in Washington. Democratic Sens. Heidi Heitkamp (N.D.), Jon Tester (Mont.) and Joe Donnelly (Ind.) co-authored the bipartisan legislation, signed by Trump on Thursday, that eases the regulatory oversight imposed on banks and credit unions by the Dodd-Frank Act." I don't know what the Democrats are. But I'm increasingly coming to doubt that they're a political party at all. d

""Medicare for All" is a winner in Democratic primaries" [Axios]. "Candidates who support a single-payer health care system — or at least some expansion of government health coverage — are winning important Democratic primaries. And there are plenty more still competing in California and New York districts that are key to Democrats' push to win the House." I think the key question is whether Pelosi can install enough Blue Dogs to prevent #MedicareForAll from passing in the next few cycles.

CA: "'Medicare at 55' now on Dianne Feinstein's agenda" [Sacramento Bee]. Why not 54? Or 42. That's a good number. Why not 0?

CA: "Clues From the Upcoming California Primary" [Larry Sabato's Crystal Ball]. "The general rule in California is that one would expect the primary turnout to be more Republican-leaning than the general election. The reason is the same reason why one might expect that in other parts of the country: The Republican electorate is older and whiter, two demographic factors that generally predict more reliable voter turnout. This year, we'll probably see something similar: Politico reported that 32% of the roughly 650,000 returned absentee ballots have been from registered Republicans according to the nonpartisan California data source Political Data, a turnout that is outpacing statewide Republican registration, which is about 25%. That the primary electorate likely will be more Republican than the general electorate is an additional wrinkle that could hurt Democratic chances to advance candidates to November in one or more of the aforementioned districts."

NY: "Cynthia Nixon doesn't get a mic at state Democratic Convention"" [NY Daily News]. Classy! And reading all the way to the end: "The speakers offering the opening invocation repeatedly praised the governor during the prayer, while former New York City Council Speaker Christine Quinn ran through a PowerPoint presentation of what she described as Cuomo's liberal accomplishments. ',' she said." Out of touch, much?

NY: Note the source:

tfw Tom Perez puts his thumb on the scale in the NY gov primary, then sends me a fundraising email that begins, "If you're worried sick about the future of our democracy, I don't blame you, Richard."

I don't blame me either, Tom. .@DNC

— Richard (RJ) Eskow (@rjeskow) May 26, 2018

Also of note is the fecklessness and stupidity of whichever DNC consultant crafted that message.
Our Famously Free Press
Probably the same hacker sold Roseanne her Ambien. But this time he's getting away with it!

As it happens, it's been one month and Joy Reid's hacker — the one who made her old anti-gay blog posts slightly more anti-gay and manipulated the Wayback Machine — remains at large. This morning I asked MSNBC for an update in the investigation, but haven't heard back https://t.co/r69h8q2HJ8

— Steven Perlberg (@perlberg) May 29, 2018
2016 Post Mortem
"Trump won because he cared – lessons from Levittown" [Unherd]. "This sense of abandonment – of being 'left behind' – came up time and again in my discussions with local people. "They want officials to pay attention to them," Anthony, a young 30-year old anti-Trump Republican, told me. 'They aren't seeing any direct benefit from any of the policies' politicians talk about. In fact, the disaffection goes deeper. Levittowners, one astute local politico named Greg told me, tend to believe that 'if I work hard and play by the rules it will work out.' But, as Greg said as we drove round the old steelworks, 'there's a sense that not everyone is playing by the same rules. Many of these folk think 'I'm working my ass off, and this just isn't working for me'." That's a common view among the White blue-collar workers who turned to Trump…. Disaffection with the status quo – the 'establishment' – drove voters to Trump the outsider: 'The institutions that used to help you are now working against you, many people think. The game is rigged and it's time to change it." Interestingly, as both Bill [a retired carpenter] and Greg told me, . I was told about exchanges on primary day where Democratic voters told their GOP counterparts that they were voting for Hillary Clinton's challenger, Sanders, but they were voting for Trump in November if Clinton won."
Realignment and Legitimacy
Institutionally, this is very impressive:

After months in the making, we're excited to announce the next evolution of the Indivisible movement ???

… the official, on-the-ground launch of Indivisible435, our 50-state political program! pic.twitter.com/v3fypxuUOL

— Indivisible Guide (@IndivisibleTeam) May 29, 2018

Indivisible, however, opposes #MedicareForAll. Its funding sources are opaque. And from its inception, it's gotten surprisingly good coverage, coverage that amounts to a free pass. (Where's the Political hit piece?). I don't like any of that at all.

I'd ask Chuck to sit down, but he's already prostated himself:

As soon as the Trump administration ends their sabotage, Democrats stand ready to work in a bipartisan way to make health care more affordable for the American people.

— Chuck Schumer (@SenSchumer) May 23, 2018

Jeebus, I thought Trump was a fascist and a Russian stooge. Guess not.

"Yes, There is a Civil War Within the Democratic Party — it's Just Not What You Think" [Medium]. "[T]here seems to be unanimous consent that the Clintonites represent the 'Democratic Establishment.' While this may be true in the present moment and from a purely operational perspective, the Clinton Wing of the Party (which also includes Obama) by no means represents historically Democratic principles or indeed the 'traditional' Democratic Party positions, policies and philosophies. Instead, today's Democratic elites are 'moderate Republicans' who regularly praise Ronald Reagan as their philosophical model while they rarely even mention FDR. These Democratic revolutionaries have created a Party in which the likes of Richard Nixon, George H.W. Bush and even Barry Goldwater might feel at home. It is the Sanders Wing, the ones the Media call the 'upstart activists,' who represent traditional, dyed-in-the-wool Democratic principles and values."

"The Teachers' Strike and the Democratic Revival in Oklahoma" [The New Yorker]. "n 2016, when Oklahoma voted for Donald Trump over Hillary Clinton by a thirty-six-point margin, one candidate for the state legislature flipped his district from red to blue. That was Mickey Dollens, who had just been laid off from his job as an English teacher at U. S. Grant High School, in south Oklahoma City, in a round of state cuts to education." Campaign tip: "In the summer of 2016, Dollens knocked on around twenty thousand doors. 'In the beginning, people weren't answering, even though I could tell they were home,' he told me. One day, Dollens noticed that some four out of five doors were being opened. At one house, the resident laughed and said that he had opened the door because he thought Dollens was the mailman. Dollens was wearing dark-blue shorts and a white polo shirt. 'I started dressing like that every day," he said.'" Good to see Pelosi and Schumer all in on Dollen's side. Oh, wait…

"When North Dakota Farmers Blew up Partisan Politics" [Zócalo Public Square]. "During the early years of the 20th century, a broad impulse for popular government transformed election law—particularly primaries—in many northern and western states, but North Dakota took it further than some. Rejecting the notion that politics belonged only to professionals, citizens put themselves in the thick of things—replacing the mediating force of a political party with a self-organized polity. Parties, which had formerly controlled candidate selection, remained powerful, but voters could now challenge the establishment players who often used backroom deals and convention shenanigans to stay in power. From the start, the movement backed anyone who supported farm-friendly economic policies, regardless of that candidate's party affiliation." This is very interesting.

"Why Tom Steyer Doesn't Care What Nancy Pelosi Thinks" [Politico]. Wait, I've got it. Because he's a squillionaire?

"I am a liberal. But I know Democrats in office are no better than Republicans" [Guardian]. "Pattern No 1: elected officials believe in ethics until someone they like breaks the rules…. Pattern No 2: elected officials also honestly believe, when they run for office, that they will finally bring transparency to government. But once in, they quickly discover that they'd rather not tell the people everything. Doing so – particularly when controversial decisions haven't yet been hammered out – just complicates their lives…. Pattern No 3: government accountability? Here again, Democrats are as Republicans. As soon as the oath of office is administered, they seem to become incapable of admitting mistakes, especially those of their own party…. Pattern No 4: And then there's the cronyism problem. True graft is relatively rare; I've not seen it in my city. But what we see every day is how people in power take care of the people to whom they feel some loyalty."

"Groups fight huge expansion of police drone monitoring of protests" [Chicago Reader].
Stats Watch
GDP, Q1 2018 (Preliminary): "A lot of jostling in the components isn't apparent in the headline which, at 2.2 percent annualized growth, hits Econoday's second-estimate consensus for first quarter GDP" [Econoday]. "All in all, it was a strong quarter for business, with investment perhaps getting a boost from this year's corporate tax cut, and a soft one for the consumer as spending sputtered and residential investment went into reverse. But the early outlook for the second quarter is positive with most forecasts calling for a return to the 3 percent area." And but: "There was minor change between the advance and this second GDP esitmate. The big change was a reduction in the inventory build (down 0.3%). I am not a fan of quarter-over-quarter exaggerated method of measuring GDP – but my year-over-year preferred method showed moderate acceleration from last quarter" [Econintersect]. And: "The big changes in first-quarter GDP took place on the business side. Fixed investment in things like equipment, structures and software was revised higher show a 6.5% increase instead of 4.6%. Yet stronger investment was offset by weaker inventory growth" [MarketWatch].
ADP Employment Report, May 2018: "Moderate strength is ADP's call for Friday's employment report" [Econoday]. "The outsized strength in prior readings is evident in ADP's revision to April which is unusually severe." And but: "This month the rate of ADPs private employment year-over-year growth remained in the tight range seen over the last year. Last month's employment numbers were significantly revised downward" [Econintersect]. "ADP employment has not been a good predictor of BLS non-farm private job growth." And: "U.S. jobs growth continues in May as labor market tightens, ADP says" [MarketWatch]. "What happened: Hiring was spread across industries and company size. Medium-sized businesses — those with 50 to 499 employees — added 84,000 jobs, while large businesses added 56,000 positions and small ones added 38,000 employees."
International Trade in Goods, April 2018: "Second-quarter net exports open up on the positive side…. But the mix of the results are less favorable as exports of goods fell" [Econoday]. And: "An early look at U.S. trade patterns in April showed a small drop in the nation's trade deficit, perhaps another small sign that the economy will grow faster in the second quarter" [MarketWatch].
Corporate Profits, , Q1 2018 (Preliminary): "First-quarter corporate profits, despite getting a major boost from lower taxes, inched only 0.1 percent higher year-on-year" [Econoday]. "Pre-tax profits were actually down sharply."
Retail Inventories [Advance], April 2018: "Retail inventories open the second-quarter with strength, rising" [Econoday]. "Vehicles are not distorting the results with April inventories… Retail sales in April proved moderate which hints perhaps at a slowing build for retail inventories in May."
Wholesale Inventories [Advance], April 2018: "Wholesale inventories in April won't be contributing to second-quarter GDP, coming in unchanged" [Econoday].
Retail: "Best Buy Keeps Store Shelves, Distribution Centers Stocked" [Wall Street Journal]. "The electronics giant reported its inventories rose ahead of even its fast-surging sales in its most recent quarter, as the company sought to drive more sales by having goods in place both online and in its physical stores even at the expense of higher supply-chain costs…. Best Buy is seeing its in-store pickup grow. But its first quarterly results suggest the retailer believes it needs to have goods both on shelves and in fulfillment centers helps drive sales."
Retail: "Last Recession Effect: New Car Buyers Hold Cars Longer" [Federal Reserve Bank of St Louis]. "In 2005, this average age equaled 5.5 years. Beginning with the overall decline in the U.S. economy starting in 2008, the age increased to over 6.8 years by 2012. On average, people who bought new cars were holding their cars longer."
Shipping: "Is the F-150 production shutdown visible in freight market data?" [FreightWaves]. "We feel confident that the F-150 production shutdowns perceptibly affected freight markets in at least two markets, and most likely impacted spot prices in associated lanes." With charts.
Shipping: "Maersk to Cut Services as It Battles Shipping Glut" [Wall Street Journal]. "The world's biggest container operator said its underlying loss widened to $239 million from a loss of $139 million a year earlier, with Chief Executive Soren Skou blaming rampant overcapacity as the main culprit and warning that a trade war between the U.S. and China would dash any hopes of a recovery in the shipping industry after a long down cycle. 'In the short term we will be closing down some services,' Mr. Skou said in an interview. 'Overcapacity is the biggest defect.'" What, again?
Shipping: "Change or pay up: UPS aims to modify shipper behavior through new measures" [DC Velocity]. "UPS will raise surcharges by more than 40 percent on the handling of packages that exceed the company's maximum dimensional requirements. Surcharges for handling oversized pallets will also rise by 40 percent. …. In its service announcement, UPS said it wants to encourage its shippers to use the company's less-than-truckload (LTL) network for these items rather than its small-package infrastructure. The company's small-package network was never designed to efficiently handle big and heavy goods, and it requires what the company called 'extraordinary special handling' at high labor expense to process them." People are sending sofas by UPS?! Imagine the extra work for the driver!
The Bezzle: "Uber, beset by safety criticisms, introduces panic button" [MarketWatch]. "Ride-hailing service Uber has introduced a new '911 button' on its app to allow riders to easily call for help in emergencies. The addition was first announced in April and went live on Tuesday across the U.S. Users can now find the emergency button by swiping up on the center icon and tapping '911 assistance.' After confirming the call, they will be patched through to emergency dispatchers… The vast majority of emergencies in Uber rides are related to road accidents, a spokeswoman told MarketWatch. But the new panic button could also be used in cases of sexual assault perpetrated by drivers, an issue that has been brought to light by a number of high-profile cases."
The Bezzle: "Amazon's Relentless Pursuit of Largesse" [The American Conservative (via Internet Archive)*]. "contra the libertarian ethos that Amazon and its leader purport to embody, the company has not emerged as one of history's preeminent corporate juggernauts through thrift and elbow grease alone. Although the company's harshest critics must concede that Amazon is the world's most consistently competent corporation—replete with innovation and ingenuity—the company's unprecedented growth would not be possible without two key ingredients: corporate welfare and tax avoidance" NOTE * Google picks this article up still, but it doesn't seen to exist at TAC. Odd.
"The financial scandal no one is talking about" [Guardian]. "'What do they say about hubris and nemesis?'* pondered the unconvinced insider who had taken me into the club. There was certainly hubris at Number Twenty. But by shaping the world in which they operate, the accountants have ensured that they are unlikely to face their own downfall. As the world stumbles from one crisis to the next, its economy precarious and its core financial markets inadequately reformed, it won't be the accountants who pay the price of their failure to hold capitalism to account. It will once again be the millions who lose their jobs and their livelihoods. Such is the triumph of the bean counters." NOTE * The time-gap between hubris and nemesis is where The Bezzle lives, IMNSHO.
Transportation: "Boeing Deploys Executive to Rolls-Royce as 787 Engine Woes Mount" [Industry Week]. "Boeing Co. has dispatched a prominent executive to help Rolls-Royce Holdings Plc work through escalating engine problems that have grounded dozens of 787 Dreamliners…. [Keith Leverkuhn's] special assignment to Rolls signals the importance Boeing is placing on containing the disruption to its marquee jetliner — and placating airline customers as the crucial summer travel season approaches. About 34 Dreamliners are parked and awaiting repaired engines, and the number is at risk of rising in the coming months, said people familiar with the matter, who asked not to be identified because the details are private… Dreamliner operators that rely on the power plant for so-called ETOPS routes, typically over ocean routes with few diversionary airports, are now required to check for signs of cracking or unusual wear after every 80 flights. That means taking the planes out of service on a near-monthly basis — far more onerous than the previous standard required by regulators of checks every 200 flights."
Tax: "Here's what businesses did with Trump tax-cut windfall. Hint: they didn't spend it" [MarketWatch]. "American businesses got a huge tax cut in the first quarter, but they didn't do much with the extra cash. Most of the dough ended up in their bank accounts…. For the most part, the tax savings fattened up the bottom line. Cash flow rose at a $100 billion annual rate while dividends increased at a scant $3.4 billion pace."
Five Horsemen: "Amazon is at a third consecutive record high in late morning trade" [Hat Tip, Jim Haygood].
NakedCap Mania-Panic Index: "In yesterday's market decline, the mania-panic index plunged to 46 (worry) as VIX, the put-call ratio, and new 52-week lows soared" [Hat Tip, Jim Haygood]. (The NakedCap mania-panic index is an equally-weighted average of seven technical indicators derived from stock indexes, volatility (VIX), Treasuries, junk bonds, equity options, and internal measures of new highs vs new lows and up volume vs down volume … each converted to a scale of 0 to 100 before averaging, using thirty years of history for five of the seven series.)
Gaia
"Cores From Coral Reefs Hold Secrets of the Seas' Past and Future" [Quanta]. "Marine science expeditions like this one collect all kinds of biological samples, from ocean water to reef fish to coral microbes. But coral cores are distinct from the rest. They are organic time capsules, containing records of local pollution, geology, temperature and reef health that go back hundreds or thousands of years. As researchers refine the surprising methods available to extract this kind of information from coral skeletons, the advice for climatologists, geochemists and paleontologists who want to plumb the oceans' past has increasingly become: Look to the cores. 'I call them natural reef history books,' said Janice Lough, a climatologist and coral core expert at the Australian Institute of Marine Science. 'They've got lots of stories to tell.'"d
Health Care
Anybody else gotten one of these? Via DK:
Got this in the US mail today from the maker of a drug I'm not even taking any more. THIS is where my insurance $$ are going. pic.twitter.com/QH4uvDAlSK

— Wendy Nather (@wendynather) April 15, 2017
"Iowa wanted to funnel $1 billion in Medicaid money into private nursing homes. Why the feds said no." [Des Moines Register]. The endpoint of a lot of sleazy maneuvering by nursing home lobbyists writing legislation: "On April 30, CMS rejected that response and noted that federal law has what amounts to a , restricting states' ability to finance their Medicaid spending through 'donations' from, or state taxes imposed on, the recipients of the new money." So that's the legislation they tried to write: Kickbacks.
Guillotine Watch
"Yes, Sears is likely to collapse, but its CEO will be just fine" [MarketWatch]. I can't bring myself quote from this, it's so convoluted and vile and horrid. As I keep asking: Is everything like CalPERS?
Class Warfare
"More Governments Turning to Gig Economy for Help" [Governing]. "A new national survey from the Center for State and Local Government Excellence provides the first-ever snapshot of the gig economy's developing role in the public sector. It suggests that while only a few governments have started hiring gig workers, they're already plugging some staffing holes in nearly every segment of the public workforce. "It's an emerging issue and is one there has not been much attention paid to," says Gerald Young, a senior research associate at the center. Gig economy and temp workers are most commonly employed in office and administrative support functions, with 20 percent of states and localities surveyed indicating their use. Other positions more frequently filled with these workers include accounting, cleaning and maintenance work."
"If the job market is so great, why aren't many people getting pay raises?" [MarketWatch]. Because it isn't? "Research by the Kansas City Federal Reserve found that an abnormally high share of employees still in the same jobs haven't received a pay raise in the last 12 months despite a 3.9% unemployment rate that is the lowest in almost two decades. Economists refer to the phenomenon as 'wage rigidity.' What's more, the rate of future wage growth in the U.S. also tends to rise more slowly than usual when a high number of people aren't getting any raises at all, the research suggests. The report might help explain why average U.S. wages still aren't growing all that fast and it could have implications on how fast the Fed raises interest rates."
News of The Wired
"The Slippery Math of Causation" [Quanta]. "[C]learly defined causes may not always exist. Complex, interdependent multifactorial causes arise often in nature and therefore in science." With mathematical problems at the end, for those so inclined.
From The Department of Making It Look Simple, thread:
Here's a micro-tutorial thread on how to do a snowy winter day scene (plus weird tech of course). (I've never done a heavily gif animated thread like this, I hope it doesn't crash your connection) pic.twitter.com/8Pj1tMrJJP

— Simon Stålenhag (@simonstalenhag) May 25, 2018
(Click through for the GIFs. They don't crash my machine, and I'm not over-powered.)
* * *
Readers, feel free to contact me at lambert [UNDERSCORE] strether [DOT] corrente [AT] yahoo [DOT] com, with (a) links, and even better (b) sources I should curate regularly, (c) how to send me a check if you are allergic to PayPal, and (d) to find out how to send me images of plants. Vegetables are fine! Fungi are deemed to be honorary plants! If you want your handle to appear as a credit, please place it at the start of your mail in parentheses: (thus). Otherwise, I will anonymize by using your initials. See the previous Water Cooler (with plant) here. Today's plant (TF):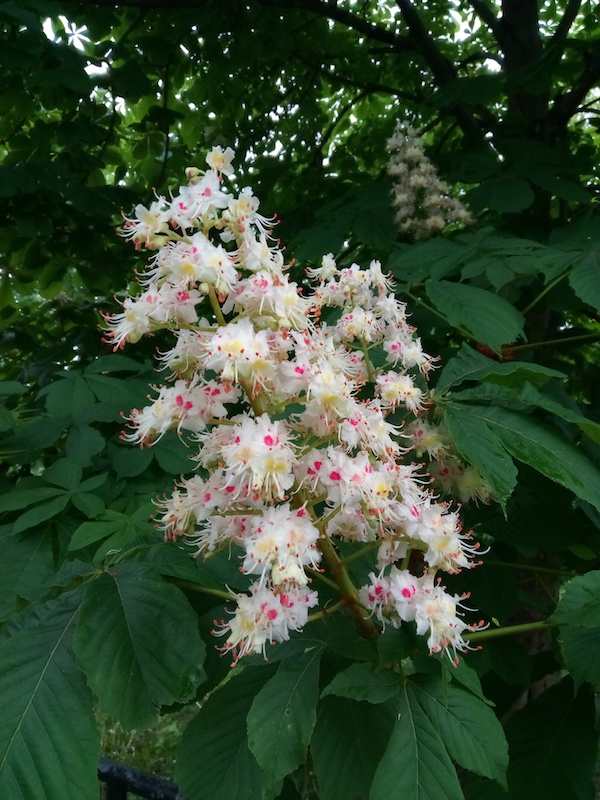 A horse chestnut.
* * *
Readers: Water Cooler is a standalone entity not covered by the annual NC fundraiser. So do feel free to make a contribution today or any day. Here is why: Regular positive feedback both makes me feel good and lets me know I'm on the right track with coverage. When I get no donations for five or ten days I get worried. More tangibly, a constant trickle of small donations helps me with expenses, and I factor that trickle in when setting fundraising goals. So if you see something you especially appreciate, do feel free to click the hat!

To give more, click on the arrow heads to the right of the amount.
If you hate PayPal — even though you can use a credit card or debit card on PayPal — you can email me at lambert [UNDERSCORE] strether [DOT] corrente [AT] yahoo [DOT] com, and I will give you directions on how to send a check.