By Gaius Publius, a professional writer living on the West Coast of the United States and frequent contributor to DownWithTyranny, digby, Truthout, and Naked Capitalism. Follow him on Twitter @Gaius_Publius, Tumblr and Facebook. GP article archive  here. Originally published at DownWithTyranny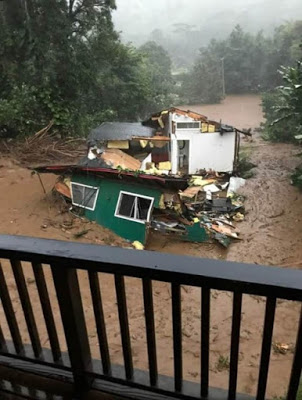 "Landslides forced the closure of Kuhio Highway from the area north of Hanalei known as Waikoko to the end of the road at Haena. That left residents and tourists stranded with no way in or out… This home was in the path of one of those slides in Wainiha" (source).
This is your periodic reminder that:
The global warming wolf is already at the door, and
The people who rule this world will never drive him away.
Which means:
People who want to fix this problem will have to use force. That's just a fact.
If you remember nothing else from this piece, remember this. Force them to fix it or remove their control — those are the only choices for strong, effective climate action, and given the state of our government, wholly captured by wealth and its interests, those two options are the same.
We can despair or take control. Those are the choices. It's going to take force to fix this.
The Global Warming Wolf Is at the Door
Kauai is one of the wettest islands in the Hawaiian Island chain. Its residents have experienced devastating hurricanes, but nothing like the torrent of rain that fell last April 14 and 15.
From the LA Times (emphasis added):
Since the 1940s, the Hawaiian island of Kauai has endured two tsunamis and two hurricanes, but locals say they have never experienced anything like the thunderstorm that drenched the island this month.

"The rain gauge in Hanalei broke at 28 inches within 24 hours," said state Rep. Nadine Nakamura of the North Shore community. "In a neighboring valley, their rain gauge showed 44 inches within 24 hours. It's off the charts."

Actually, it was even worse. This week the National Weather Service said nearly 50 inches of rain fell in 24 hours.

Now, as Kauai continues to recover, scientists warn that this deluge on April 14 and 15 was something new — the first major storm in Hawaii linked to climate change.

"The flooding on Kauai is consistent with an extreme rainfall that comes with a warmer atmosphere," said Chip Fletcher, a leading expert on the impact of climate change on Pacific island communities.
According to Kawika Winter, a natural resource manager, "This is the most severe rain event [in Hawaii] that we know about since records started being kept in 1905…. Climate change is affecting us, and has been for some time. There are striking similarities with the flooding that we experienced on Kauai and the recent flooding in California. The warmer atmosphere is holding more moisture and that builds up until it meets with cold dry air, creating this massive unstable system, which causes what some meteorologists are now referring to as a 'rain bomb.'"
As Chip Fletcher, a professor at the University of Hawaii, put it, "Just recognize that we're moving into a new climate, and our communities are scaled and built for a climate that no longer exists."
Meanwhile, Atmospheric CO2 Is Now Above 410 ppm
The climate organization 350.org was founded in 2007, when the goalwas to reduce atmospheric CO2 from 385 ppm to 350 ppm, a target already well above the range of atmospheric CO2 for the last 5 million years.
Since the founding of 350org, atmospheric CO2 touched 400 ppm in 2013 and breached it solidly in 2014. Last year, atmospheric CO2 touched 410 ppm and this year will breach it solidly. Note in the animation below, CO2 reaches its peak in May. This year, CO2 reached 410 ppm in March, with May still two months ahead.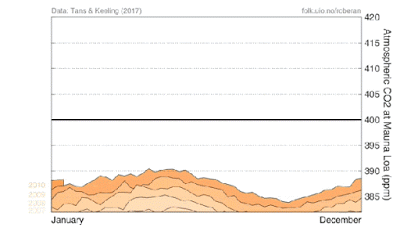 Note also that this is average monthly data. The weekly averages are much worse. According to NOAA, in the week beginning April 22 the weekly average was 411.68, with one daily average spiking above 412.
The increase is relentless, and if you do the math, it appears to be accelerating. In 2015, the Scripps Institute at UCSD wrote (emphasis mine):
The rate of growth in carbon dioxide concentrations in the atmosphere has accelerated since the beginnings of the Keeling Curve. The rate has gone from about 0.75 parts per million (ppm)/yr in 1959 to about 2.25ppm/yr today.
That was written in 2015. The recent increase in CO2 from 400 ppm to 410 ppm, which occurred between 2014 and 2018, took just 4 years, at a rate of 2.50 ppm/year. This is already significantly higher than the rate of 2.25 ppm/year noted by the Scripps Institute in 2015. For comparison, consider that the rate of increase in 1959 was just 0.75 ppm/year.
It's Going to Take Force
If there's any hope at all, it's going to take force to fix this problem. Mayer Hillman, an 86-year-old fellow emeritus of the Policy Studies Institute, and a man renowned for his forward-looking prescriptions, has famously said, in effect, it's over.
Why does he say that? "Standing in the way is capitalism. Can you imagine the global airline industry being dismantled when hundreds of new runways are being built right now all over the world? It's almost as if we're deliberately attempting to defy nature. We're doing the reverse of what we should be doing, with everybody's silent acquiescence, and nobody's batting an eyelid."
It's true that many are complacent, and true as well that a strong structural force stands in the way (in my view, the pathological greed of the very very rich). But unlike Hillman, I see a clash of forces on the horizon, not no action at all.
Today, people are either complacent ("We have time; the next generation will help out") or resigned ("It's not bad now, so nobody's doing anything"). What happens when it gets "bad now"? What happens when this generation realizes it's paying the price today, with thisgeneration's money and this generation's lives? What happens when this war "comes home," as the other one will as well?
What happens when, in Vietnam Era terms, the whole of a generation is directly affected by the self-serving policy of its elites, and the bodies of the victims pile higher and higher? As that era taught us, complacency turns quickly to anger and conflict.
Now consider what happens when the generation affected is global, encompassing everyone alive today? Expect a battle that will enter the books as the greatest global war ever fought.
Now Is the Time. Non-Violence Is the Way.
As we move forward, my suggestion is this. If you're among those who haven't given up, start that battle now, and wage it non violently. Let the violence of the wealthy and their governments remove the last veil of legitimacy from their actions, and let your non-violence entice their enemies to join you. If both sides' combatants are violent, the ensuing chaos will make any further solution completely impossible. in this conflict, when violence erupts on all sides, it truly is Game Over.
Some global warming cannot now be prevented; too much is "baked in" already for a return to Holocene days, when a predictable human-friendly climate arrived, after hundreds of thousands of years, to give us agriculture and the iPhone. Much of the gift of that climate is going to be lost forever.
But not all of it. With effective applications of force, global warming can be made to stop at a far friendlier place than it otherwise would if carbon emissions are allowed to continue unchecked.
After all, we'll either stop of be stopped. The natural stopping place for human-caused global warming sans deliberate intervention, is after our species is either pre-industrial … or extinct. That's not a friendly place at all.